Serving Las Vegas Visitors and Residents Since 1999
Welcome to the Insider Vibe! This is the official newsletter of AccessVegas.Com. We talk about the Las Vegas activities you really care about.
---
AccessVegas.com Quick Info Menu:
| | |
| --- | --- |
| Las Vegas Essentials | Featured Shows |
Newkirk's Notes – comments on Las Vegas from AccessVegas.Com publisher Ted Newkirk:
Hello From Las Vegas! Well… summer ended. In a matter of a couple weeks, we went from these glorious days in the high 70's and 80's with warm evenings to temps that are barely reaching 60 and downright cold overnights. Is it March yet? Hey, at least we didn't get dumped with two feet of snow. To those in the Northeast U.S. who did, we hope that you've been able to dig out and that your power wasn't off for too long.
Rebirth Of The Sahara – Sahara owners SBE Entertainment went before the county and got permission for major renovations to the property. Side Note: There was no way they were going to implode it despite so many people saying that the building was too old to refurbish. You can gut and refurbish and old house just as well as an old hotel. In fact, it might make a good documentary. Rebuilding would cost billions. Anyway…
They are going to renovate the towers top-to-bottom, renovate the gaming space, and rip out the roller coaster, which will probably be sold and put into use somewhere else. (I think i would be a great downtown attraction). No word on how much they are going to spend and I'm guessing that the Sahara name will go bye-bye. Otherwise, they wouldn't have sold off just about everything related to the property.
We do have a clue that they are holding to their original intentions to make the property a "boutique" upscale hotel (read: trendy and expensive). How do we know? They noted plans to put in a brand new pool area and 21,000 sq. ft. nightclub. (Nightclubs with pool components are all the rage in Las Vegas). You don't put that kind of nightclub into a hotel aimed at the value-conscious crowd.
I won't belabor too heavily on my past comments, but I simply don't see how an upscale property is going to thrive in that location. Not unless the Fountainbleau (the big unfinished blue monster on the North Strip) is finished. And at a price tag of a billion to finish F-bleau, no one is holding their breath on that happening anytime soon.
Bye-Bye Fitzgerald's, Hello Lady Luck Downtown Grand – Major changes are getting ready to happen in the downtown hotel scene with a number of properties. You can read my latest blog post Las Vegas Downtown Hotels: Luck May Not Be A Lady Much Longer detailing it all. Feel free to post your thoughts in the comments area at the bottom of the blog page.
Halloween Was Incredible – We were out both Friday and Monday nights and there were costumes galore both on The Strip and downtown. Yes, we have lots of photos. No, we haven't had the time to process and post them yet. Outside of the normal costumes you see every year, we noticed three trends:
Party Rock

– Inspired by the electronic music duo LFMAO (who had a big summer hit with

Party Rock Anthem

– click for video), this involves big lensless glasses and lots of animal prints. A family in Riverside, CA actually lit up their entire house for Halloween with a light show choreographed to the song and the video has gone viral (watch here).

Cheek To Cheek

– Since there is only so much cleavage one can legally show, ladies are showing more and more "booty" in costumes including a few that were borderline thong bottoms. Parents, don't bring your kids here for Halloween if they are too young to be seeing some skin.

Meet The Flintstones

– Unless there is a current Flintstones craze that I'm missing (I grew up watching them), for some reason we saw a pretty good sprinkling of Fred, Wilma, and even Pebbles and Bam Bam (the teenage versions from the later TV series).
Good News For Drive-In Visitors From Arizona And Beyond – The new Hoover Dam bridge has cut a nice chunk of time off of your trip if you drive in through/from Arizona. Also, U.S. 93 was four-laned all the way from I-40 to the bridge. However, the road still then narrows to two lanes from the bridge on into Boulder City. This section is being widened and should be completed by the end of the year, if not sooner, eliminating the backups in that area.
Beef, Booze, and Broads – Former Mayor Oscar Goodman's new steakhouse at The Plaza opens in mid-December. While the "joint" will be called simply Oscar's, the tagline will be "Beef, Booze, and Broads". The beef will be prime, drinking will be encouraged, and the hostesses will be well versed on current events and sports and will actively converse with customers.
Of interest is the No-Bama signature cocktail. After President Obama's comments caused convention attendance in Las Vegas to plummet (a number of conventions scheduled for here actually moved their conventions to other cities), Goodman refused to meet Obama at the airport on Obama's next Las Vegas visit. Ironically, the ONLY politician who met Obama at the airport on his recent visit was Goodman's wife, current Mayor Carolyn Goodman. Word is that she politely gave him an earful about telling people that Las Vegas is indeed a great place to visit.
Enjoy This Issue!

Associate Editor: Amy Rayner-Cooley
News Researcher/Editor: Rick Ziegler
---
---
Grand Opening of the Race and Sports Book at The Venetian – The official grand opening and ribbon-cutting ceremony took place this morning as Cantor Gaming and The Venetian (click link to book) unveiled their revolutionary Race and Sports Book on the Las Vegas Strip.
On October 14th, Margaritaville Las Vegas Reclaimed the Guinness World Record for the Largest Margarita Ever Made in Celebration of the Margaritaville Casino Opening at Flamingo – On Oct. 14th at 5 O'clock in the evening Margaritaville broke the World Record for the largest margarita ever made as verified by Guinness World Records. The event was part of the Grand Opening festivities for the new Margaritaville Casino at Flamingo in Las Vegas.
Blue Man Group Opens New Visually Stunning, Interactive Retail Store At The Venetian – Blue Man Group (click link to book) opens a new visually stunning, interactive retail store at The Venetian. Located in front of the Blue Man Group Theatre, the retail store features an interactive video wall with two high-definition monitors and a "fan cam." The fan cam records video of visitors and broadcasts it live on one of the screens.
Lynyrd Skynyrd BBQ and Beer To Rock Las Vegas Strip With The South's Best Barbecue, Rockin' Bar Scene – Barbecue, Beer Joint to Celebrate Opening with Week-Long Party in December – One of the most iconic rock bands in American history will bring Southern barbecue and entertainment to the Excalibur Hotel & Casino (click link to book) on the Las Vegas Strip with the grand opening of Lynyrd Skynyrd BBQ & Beer in early December.
"With Lynyrd Skynyrd BBQ & Beer, we wanted to create the kind of place that we'd like to hang out at," says Johnny Van Zant of Lynyrd Skynyrd. "With Southern-style barbecue and great music, this will be the perfect spot for rock and barbecue fans to kick back and have a great time in Vegas."
Ethel M Chocolates Opens 18th Annual Holiday Cactus Lighting Event to General Public – Bring a new, unwrapped toy to the chocolate factory and receive a family four-pack of tickets to the Nov. 15 event – This year, giving is receiving as Ethel M Chocolates invites the general public to experience the Nov. 15 Cactus Lighting event by donating a new toy to a child in need. Recognized as the ultimate holiday destination in Southern Nevada, the 18th Annual Cactus Lighting will be hosted by funny man George Wallace , with holiday performances by Strip headliners Human Nature and Zowie Bowie.
Shout it Out Loud! KISS By Monster Mini Golf is Swinging Into Vegas – Featuring the "Rock & Roll All Nite" Cafe and "Hotter Than Hell" Wedding Chapel – KISS By Monster Mini Golf, a unique rock æn roll themed amusement attraction based around the world renowned band KISS, is swinging into Las Vegas. Scheduled to open in January 2012, KISS By Monster Mini Golf is the first of its kind and will include an indoor glow-in-the-dark custom-designed, rockin' 18-hole miniature golf course, a state-of-the-art arcade, the largest KISS gift shop in the world, A KISS Gallery, "Hotter Than Hell" Wedding Chapel, a private VIP Room, FANtastic KISS themed event rooms and the "Rock 'n Roll All Nite" CafÚ. A live DJ will rock the house, throughout the days and many "Crazy, Crazy Nights" with continuous KISS music, trivia, contests and prizes creating a place embraced by locals, tourists, and rockers of all ages.
ARIA Offers Appetizer and Drink Specials on 11/11/11 – Six specialty restaurants at ARIA Resort & Casino (click link to book) are celebrating the rare – and maybe even lucky – date of 11/11/11 with $11 appetizers and $11 drink specials. And because the day deserves more than just 24 hours to celebrate, ARIA is extending the specials through November 13 which means guests have three days to commemorate the once-in-a-lifetime date.
---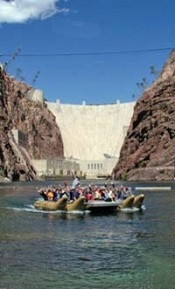 Hoover Dam Top to Bottom by Luxury SUV with Colorado River Float û Travel to Hoover Dam from Las Vegas in style and comfort aboard a luxury SUV. Your experienced guide will share many points of interest along the way so you can truly appreciate the extra care and comfort of the luxury vehicle. The Hoover Dam by Luxury SUV and Colorado River Float offers ample time for exploring this National Historic Landmark and engineering wonder of the world. See live presentations, a fascinating film on the Dam's construction and history, exhibit gallery, observation deck, and venture down to the observation room in the power plant to view the massive generators. You'll also encounter dramatic views of both the Colorado River and Lake Mead, the largest man-made body of water in the Western Hemisphere. From the Lake Mead Overlook, you're transported to the Colorado River by van on the Lower Portal Road, where construction crews traveled each day. You'll see the original gauging station used to measure water level and flow, and dynamite storage bunkers used during construction.
---
What We're Watching – Vegas Videos You'll Enjoy
---
Members Mania – We Love Our Readers!
Just wanted to say Thanks for your newsletter! It's always full of great info and ideas and truly appreciated.
I just returned from a 1 week vacation Sept. 29-Oct. 7 and wanted to comment on a few things we did that other readers might like. First I HIGHLY recommend The Rat Pack is Back at the Rio. Awesome show!! If you want to feel like you stepped back in time to an old Vegas show- this is it. The two men who impersonated Dean Martin and Frank Sinatra were dead on and I actually thought I was watching and listening to the 'younger' Dean & Frank. When the doors opened for seating "Dean Martin" was out front to have your picture taken with (for sale after the show of course) but it was truly eerie standing next to him. I grew up in love with handsome Dean Martin and now I was standing next to him! After the show you could have your picture taken with the entire cast (Frank, Dean, Sammy & Joey). Anyway the show was well worth it and had a great mix of singing, comedy and banter between the guys.
Then one night when we were walking back to the Luxor from Caesars we walked past The Cosmopolitan – wow what a beautiful casino!! It drew us in and we played there for a bit. Next year when we go back I've already stated that I want to spend more time in that casino- just the beautiful sparkly dÚcor is enough for me. I'm a girl that loves GLITTER!! LOL!
Lastly I went through the Titanic exhibit again at Luxor. It still gives me goosebumps but I love it. Now I highly recommend getting 1/2 price tix on the Strip for this because even though it's a good exhibit I just can't justify paying full price for it. But it's a nice way to kill an hour and see a part of history.
The only sad part of my trip was that they are redoing the the Food Court upstairs in Luxor and our favorite ice cream place Swenson's was closing. In fact they are closed now but we enjoyed their Swiss Orange Chip ice cream until our last day there. They were always on our 'must do' list ever since I started going to Vegas in 1999 – they will be missed.
Thanks for letting me get the word out about The Rat Pack Is Back and The Cosmopolitan!! Keep up the great work and when you go to a paid subscription I'll gladly be sending in my money!!
Cheryl from Loveland, Colorado
Ted Responds:
Thanks for the great report! The Rat Pack shows are a lot of fun and bring back the spirit of "old Vegas" in a big way. For those wanting to go retro, we also suggest catching Name That Tune, the afternoon show at the Imperial Palace. Host Chris Phillips would be a member of The Rat Pack if it existed today.
Cosmopolitan continues to get raves. The three-level chandelier bar in the center is a one-of-a-kind experience. What many don't know is that each level had its own drink menu. In fact, each bar in the property has a specialty cocktail specific to that bar which changes seasonally. This has proved to be very popular among those who love the new "craft cocktails" trend (where various fresh fruit or juice may be muddled and mixed with unusual liquors to create unique tasting drinks). In fact, they'll comp you even these specialty drinks if you are playing video poker (max coins in) but keep in mind that their video poker pay tables aren't the best in town.
Thanks for the support on our pending transition to a paid-subscriber model (early next year). We publish every week on a "wing and a prayer" as far as getting the information together and we get regular requests to carry certain types of helpful information that we simply don't have the resources to do at this time. When you think of how valuable your time in Las Vegas is (what it costs to visit for the amount of time you are here), the subscription will pay for itself easily in time saved helping you KNOW what to do and see as opposed to just wandering aimlessly like so many visitors do!

---
Returned from Las Vegas last Saturday (Oct. 15). Great weather all week. Stayed at the IP. I don't know why everyone complains about the IP. Rooms not fancy but clean and good room service. We get comped for most of our week. Where else can you stay for around $100. for a week. All we basically do while in the room is sleep and shower.
Had a great time and would recommend the IP to anyone not looking for fancy. We are always treated with great service. Can't wait to return for a visit in the Spring. Hope when they knock down O'Sheas it won't change the IP except for updating. Don't need more fancy shops. Vegas needs to get back to basics. Mary Ann and Dave from Cleveland, Ohio
Ted Responds:
I think that (Imperial Palace owners) Caesars Entertainment understand that they can't try to turn the property into a high-priced joint. Although with the hotel renovations, I imagine room rates will be higher once they have dumped some money into the property.
We do know that the Asian theme is pretty much going bye-bye as they change the name. We're seeing a trend of Las Vegas properties dumping names they don't have the right to (which means they are paying royalties to use those names). They do own the "Horseshoe" brand and speculation is that they might use it on the renovated IP.

We love to hear from you, and value your feedback! Here's how to participate:
Want to comment on a current reader post? Use the comment box on that particular web page. Many of the stories we post also have comment boxes at the end of the story. Make your voice heard!
Drop us an email at AccessVegas@AccessVegas.com – We read them all!
Call our recorded comment line at 702-507-0055. We listen to every call.
---
More Las Vegas News – Shows – Events
Donny and Marie Osmond – Paper Roses and Puppy Love

Book Donny and Marie Osmond Las Vegas Tickets Now
Fall Kaleidoscope – Colorful Las Vegas Shows

Book Blue Man Group Las Vegas Tickets Now
Book Frank Marino's Divas Las Vegas Tickets Now
Book Legends in Concert Las Vegas Tickets Now

Vegas Lady Luck hotel becomes Downtown Grand (with video)
Fitzgeralds Hotel and Casino to get facelift (with video)
School of Rock Comes to Las Vegas (with video)
Curling Comes to Las Vegas (with video)
Men of Sapphire Male Review Gears Up for the Biggest Wedding Day of the Year in Las Vegas with a FREE Show for All Ladies!
McFadden's Hosts 'Gi Joes And Army Hoes' – McFadden's Shows American Pride with Drink Specials Saturday, Nov. 12
Infamous Bullet-Riddled Car Driven by Legendary Crime Duo, Bonnie and Clyde, returns to Primm Valley Casino Resorts – Death Car on Display Now at Whiskey Pete's Resort and Casino
MGM Resorts International Teams with American Airlines and USO for 2011 Salute to the Troops Event – The Mirage Hotel & Casino to Host More Than 60 Wounded Warriors
Smoldering grill – Embers twists the usual suburban fare enough to warrant a trip to the otherwise bland Boca Park
No related links found