Serving Las Vegas Visitors and Residents Since 1999
Welcome to the Insider Vibe! This is the official newsletter of AccessVegas.Com. We talk about the Las Vegas activities you really care about.
---
AccessVegas.com Quick Info Menu:
Las Vegas Essentials

Seasonal Vegas Information

Featured Shows
Newkirk's Notes – comments on Las Vegas from AccessVegas.Com publisher Ted Newkirk:
Hello From Las Vegas! – May exits as a very pleasant month with the highs rarely getting up to the 88 degree (F) average. Maybe we'll get lucky and see a cooler-than-usual summer. For the record, June averages 99, July 104, and August 102 before September drops off to 94. Just as important is that we're heading into a three month stretch where we won't feel any cool weather even in the dead of the night. Overnight lows average 72 for June, 78 for July, and 77 for August before dipping to 69 in September.
Veer Into Living On The Strip – Veer Towers (the ones at CityCenter that lean) are aggressively marketing residential leases starting at around $1500 a month. I assume these are for the studio units which start at around 550 sq. ft. (or for comparison, about the size of my home's rec room). However, I could see the attraction for an on-the-go person who wants a cosmopolitan (no pun intended) lifestyle in the heart of the action.
Two "strikes" against living at CityCenter have been the traffic and the lack of basics like a grocery store, but both can be overcome. Quick access to Harmon (both directions) will get you off The Strip in a hurry, and two different grocery store chains in our area deliver your order to your doorstep for around $10-15. Find out more at CityCenter.com/residential. PS If any of our readers enjoy high-rise living on or near The Strip, we'd love to hear about your experience. Please drop us a note using our contact info later in the newsletter.
The Lion Won't Roar Forever – Just a reminder that Disney's "The Lion King" ends its Mandalay Bay run at the end of this year to make way for the Michael Jackson Cirque show. You can click on The Lion King graphic in the right-hand sidebar to book tickets directly.
Speaking Of Show Tickets – A recent news article in the R-J did an expose on the 1/2 price ticket booths you'll find both on The Strip and downtown. Evidently, many think they can waltz into town and get tickets to major shows like Garth Brooks both at discount and at the last minute. Not going to happen.
Also, the majority of tickets were discounted but certainly not 1/2 off. Our advice? If you want to go to one of the better shows (and if you want decent seats), book online well in advance of your trip. When buying a same-day ticket at a discount booth, you'll be getting what's left of the leftovers when it comes toáshows and especially seating.
Telling Numbers – In 2005, our local water district hooked up over 24,000 new homes. How many new hook-ups are they projecting this year? Just under 1000. Growth has effectively ground to a halt for now. A glut of homes on the market in almost all price ranges due to foreclosures (and often the foreclosed upon leaving town) continues to make it an incredible time to get some property. My research shows that habitable homes in reasonably decent shape in many of the older neighborhoods are available in the $80k range.
You can get a decent condo for as low as $30,000 (vacation home, yeahhhhh) and if you can spend double that, you can do well for yourself. Example: 4200 S Valley View is a 2 bed, 2 bath condo literally right across the street from The Rio/Gold Coast/Palms in the shadow of The Strip. (I have no association with the property or owners. This is just an example). Important note for those looking at condos: According to local Realtor (and real estate guru) Bridget Magnus, you need to buy a condo for CASH. Banks will not finance them here.
Memorial Day Weekend Uptick – Hotel room occupancy for the holiday weekend is noted at 96%, up a couple of points from last year. Considering that rates are up about 15% (for this particular weekend), that is an amazingly strong showing. Traffic to McCarran Airport was up slightly over 2% in April (compared to April 2010) as well. Of course, I predicted all of this in March when my very own eyes told me how busy things were getting again.
We still get a couple of emails each month saying "Airfare it too high, things are too expensive, we won't be coming to Las Vegas this summer". If you can't make it, stay subscribed and we'll keep you prepared for your next trip. But…
Evidently, we don't have a current shortage of people who want to visit. We're seeing this personally with AccessVegas.com. Subscribership to this newsletter is on an upswing (after being pretty flat during the recession) and our IT guy just said we need to upgrade our server situation to handle increased traffic. Thanks for subscribing, visiting the site, and telling your friends!
Smoking Ban Update – We've had significant interest in the proposed changes to Nevada's smoking ban. For the most part, visitors won't notice any difference. Casino floors will still be exempted and smoking will be prohibited in non-gaming areas. The change (most likely to pass the current legislature) simply allows bars/taverns to allow smoking and food service at the same time. After the passage of the ban, many bars simply stopped serving food as to comply. (Fantastic… now you have the roads filled with hungry, drunk people who otherwise could have gotten something to eat and soak up the booze with). Others have flouted the law and continued to turn a blind eye at smokers while continuing to serve food. The law has never been enforced. Hence, this legislation is merely changing the letter of the law to match current practices regarding the law.
Over the past decade, Nevada saw a huge influx of residents from "nanny states" where excessive regulation and piles of "don't do this, don't do that" laws exist. This should be a lesson to those thinking of moving here: Nevada is still a very libertarian state. Live and let live. If you want to come in and vote in super-restrictive laws (I bet most of the people who voted for the smoking ban don't even frequent bars and taverns), we'll figure out a way to put things back the way they are supposed to be.
Don't get me wrong: I'm not advocating for smoking in schools and government buildings and similar. But to tell the owner of an (age) 21+ establishment which legal, adult activities he can allow in his own business is reaching way too far. 77% of the adult U.S. population does not smoke. If non-smoking bars were in demand, they would be all the rage without any government regulation.
Enjoy This Issue!

Associate Editor: Amy Rayner-Cooley
News Researcher/Editor: Rick Ziegler
---
Pussycat Dolls Burlesque Saloon to Celebrate Grand Opening Saturday, June 4, with Special Guest Carmen Electra – Pussycat Dolls Burlesque Saloon will bring extra sizzle to the Strip with an over-the-top grand opening celebration featuring a performance by internationally-known beauty, Carmen Electra, at Planet Hollywood Resort and Casino on Saturday, June 4, 2011. "Carmen Electra is synonymous with sex appeal,ö says Pussycat Dolls founder, Robin Antin. ôShe is an amazing dancer and performer and I am so honored to have her as our special guest for the Pussycat Dolls Burlesque Saloon grand opening."
Playboy Comedy Las Vegas announces June 2011 headliners including Andrew "Dice" Clay – Award-winning Playboy Comedy announces the June 2011 schedule of comedians. Hosted by Cort McCown and Paul Hughes, all shows take place inside The Lounge at the Palms Casino Resort.
Playboy Comedy:
* June 2-4 û Bret Ernst
* June 9-11 û Harland Williams
* June 16-18 û Bryan Callen
* June 23-25 ûAndrew Dice Clay* This show has special pricing
* June 30 û July 2 û Ian Bagg and Ryan Hamilton
Show Times:
* Thursday û 10 p.m.
* Friday û 10 p.m.
* Saturday û 8 p.m. and 10 p.m.
Jersey Boys Star to Produce "NF Hope Concert" on June 12 at the Las Vegas Hilton û Las Vegas Stars Gordie Brown, Rich Little and Cast of Jersey Boys Are Among Performers – Jeff Leibow of JERSEY BOYS is producing the ôNF Hope Concertö set to take place on June 12 at 1:30 p.m. at the Las Vegas Hilton Proceeds from the concert will be donated to NF, Inc., an organization that serves families and individuals with neurofibromatosis, which is more commonly known as NF. ôNF Hope Concertö will be hosted by Improv Comedy veteran Matt Donnelly and KTNV Channel 13 Anchor Lisa Remillard, include performances by some of Las VegasÆ biggest stars and also have a great silent auction. The star-studded concert will include performances by Gordie Brown, Rich Little, Dezmond Meeks, Human Nature, Santa Fe and cast members from Jersey Boys, Phantom – The Las Vegas Spectacular, and The Lion King. Silent auction items include tickets to Celine Dion, Donny and Marie, Terry Fator, Phantom, The Lion King, and Jersey Boys show memorabilia, restaurant certificates, spa certificates and more. Tickets start at $39 and are available by calling the Las Vegas Hilton box office (702) 732-5755
DisneyÆs, THE LION KING, at Mandalay Bay Welcomes Its One Millionth Guest with Ultimate Summer Vacation Package – DisneyÆs THE LION KING at Mandalay Bay Resont and Casino in Las Vegas welcomed its one millionth guest Saturday, May 21 during ôFan Appreciation Monthö as part of its two-year anniversary celebration. THE LION KINGÆs run in Las Vegas marks the productionÆs longest sit-down engagement off Broadway in North America.
The Welch family of Las Vegas was named the lucky winner and received an ultimate summer getaway. The family û comprised of parents Robert and Shaneka, and daughters Rachael, 7, and Kaitlynn, 6 û saw THE LION KING for the first time as their MotherÆs Day gift to Shaneka. The 16-year Vegas residentsÆ prize package includes an all-expenses-paid trip to New York City where they will enjoy DisneyÆs Mary Poppins and THE LION KING on Broadway. Before jetting off to the Big Apple, the family will celebrate with a relaxing two-night staycation at Mandalay Bay in a luxurious suite. The Welch family poses with Zaire Adams, Lauryn Hardy and Jelani Remy of THE LION KING.
---

Maverick Wind Dancer Sunset Helicopter Tour û Enjoy an extended landing time in Hualapai Indian Territory. Champagne, beverages and hors d'oeuvres will be served. Adventure concludes with a sunset flight over Downtown Las Vegas and the Las Vegas Strip.
---
What We're Watching û Vegas Videos You'll Enjoy
---
Members Mania – We Love Our Readers!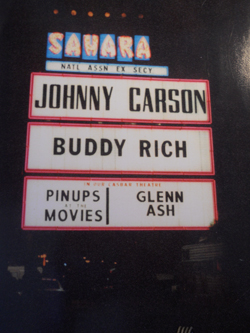 I really enjoyed the latest issue. Especially the articles about The Sahara. People don't know how cool that place was.Thanks for enlightening everyone.
I remember going there in 1979. I took this picture. I'm a drummer and wanted to see the show. Buddy Rich was, and still is my hero. Johnny Carson,was a drummer too! The maitre d' told me the show was $75.00 and was sold out. I was sad, but $75.00 was lotáfor just a kid. I was 20 pears old but i was tall. So they never kicked me out,of the casinos.
A few years ago, i attended a show called Saturday Night Fever. I went with Monti Rock who was in the original movie. We had a great time. He like myself,áliked the place. One thing i remember: The buffet was the best deal,on the strip. At least, I thought it was.
Feel free to use the picture if you like. Have a great summer.
Jim Dougherty from Ohio
I miss The Westward Ho, also!!……..
---
My wife and I along with our children (8 and 5) are planning a trip to California to visit DisneyLand. The kids however, want to see Las Vegas as my wife and I have frequented on several occasions. Our new plan is to fly into Vegas, spend a night or two then drive on to California. We will do our thing in California and return to Vegas for a night or two and fly home.
Can you or any of your colleagues offer advice on:
A- Rental Cars. Where is the best spot to get them. I recall reading in a previous newsletter of yours that the airport is substantially more expensive. Can you offer advice as to where to go for rental cars and the relative ease of obtaining it. It is mind numbing enough traveling with the kids,
B- Attractions to see on the drive from Vegas to California. Is Route 66 an option? The kids loved the movie Cars and if it is not too far fetched they would love to travel it.
Anything you and your team can offer in advice would be appreciated. The kids tend to be more excited to visit Vegas than DisneyLand at this point. That says a great deal for my parenting skills.
Love the news,
Keith Middleton
Ted Responds:
Hertz, Avis, and Dollar have locations at various strip hotels. Enterprise (as they say) will come pick you up from their near-strip locations. All of which let you avoid the airport rental car tax.
I'd get online or call around to compare rates with Hertz, Avis, and Dollar (about their hotel locations) plus see what Enterprise will do.
There are pretty much no attractions between here and Southern California except a ghost town at Calico. Save the fun for Disney.
Route 66 would be a significant detour. It would turn the 5-6 hour trip to Anaheim into a 10-12 hour trip. Save it for another Vegas trip and make a day trip of it. For those so inclined, break out Google Maps and follow along:
* Las Vegas to Kingman, AZ (old Route 66 town, have lunch). You can add in a stop at Hoover Dam on the way to make a morning out of it. 2 hour drive without Hoover Dam stop.
* Kingman to Oatman, AZ. Oatman is probably the most famous old western mining town on all of 66 and still has a general store, old hotel, gift shops. Highly recommended. I've been there before and look forward to visiting again. This is the oldest alignment of 66 and very scenic through the mountains. 1 hour drive.
* Oatman to Laughlin, NV via Topock, AZ and Needles, CA. You'll continue to follow the "old road" to Topock where you'll cross the Colorado River (on the freeway) and get to see the original bridge that was viewed in Grapes Of Wrath (which can also be seen in the opening credits of Easy Rider). 2 hours.
* Laughlin to Las Vegas. Dinner at Laughlin (most of the casinos have cheap buffets) then the 90 minute drive back to Las Vegas. Don't speed through Searchlight. Everybody gets stopped there.
Notes: All of the route noted is paved and maintained. Do not do this in June – August because of the heat. Even the old parts of 66 are pretty well traveled but be safe and carry a couple extra gallons of bottled water and some snack food and breakfast bars. Fill up with gas in Kingman. No gas in the middle of nowhere! If you need to cut the trip short or just get thatáOK, I've seen enough of Arizona feeling, use a more direct route from Oatman to Laughlin.
Hope this helps. Have fun!

We love to hear from you, and value your feedback! Here's how to participate:
---
More Las Vegas News – Concerts – Events