Serving Las Vegas Visitors and Residents Since 1999
Welcome to the Insider Vibe! This is the official newsletter of AccessVegas.Com. We talk about the Las Vegas activities you really care about.
---
AccessVegas.com Quick Info Menu:
Las Vegas Essentials

Seasonal Vegas Information

Featured Shows
12'th Anniversary Issue!
Newkirk's Notes – comments on Las Vegas from AccessVegas.Com publisher Ted Newkirk:
Hello From Las Vegas! – We've had over a week of global warming unusually cool weather. Temps in the 60's and low 70's F, far and away below our May average of 88 degrees. Add this to the unusual brutal cold this winter (many nights under freezing including New Years Eve) and I'm thinking that maybe global warming isn't so bad after all. (Please don't bother with the 10 page emails full of environmental "facts" — I'm not trying to get into a debate here). Fortunately, the next 10 day forecast revealsá highs returning to normal.
Time Flies When You Don't Know What You're Doing – Happy Anniversary to this very newsletter! The first issue of AccessVegas.com Insider Vibe was published on May 20, 1999 and we're now marking 12 years. We started as a combination blog/newsletter way back before "blog"s existed. Each issue has gone out via email and posted simultaneously online since day one. During the boom, many jumped on the Las Vegas new media bandwagon. I'm here to tell you that along with guys like Bill "Billhere" Mandel (who originated the very first Las Vegas email newsletter, no longer published), Randy Shandis Matt Weatherford, and a few others, we didn't jump on the bandwagon. We built the first wheels on this bandwagon back in the 90's!
Don't get me wrong… I'm a big fan of the proliferation of Las Vegas information on the internet. I follow much of it. So many niches have been carved out covering just about every aspect of this city forávisitors, locals, and those interested in the business side.
Us? We're going to stick to our original plan: Giving you the best variety of all the latest and greatest things to do in my fine city with a dose of "insider" commentary thrown in for good measure. Our readership continues to grow. Thank you all so much for both reading and telling your friends to head over to AccessVegas.com where they can subscribe themselves!
Hilton Pool Party – Once again, the Las Vegas Hilton is doing their "all are invited" pool party (no charge, don't have to be staying there) daily from 4-8 PM featuring 2-for-1 drink specials, $2 shrimp cocktails, $3 ceviche, and live entertainment 5:30PM to 8:00PM. We checked it out last year, enjoyed it, and plan to return.
Tweet For Drinks – PBR Rockbar at The Aladdin Planet Hollywood offers an open bar from 10 PM to Midnight on Thursdays. The catch? You must have your smart phone with you, show that you are following them on Twitter (@PBRrockbar), and tweet that you are there. Still, small price to pay for free booze right on The Strip!
Vegas A Coffee Hot Spot? According to Mint.com, Las Vegas comes in 5'th on the list of cities where the average person spends the most at coffee shops each month ($32 average). We are behind Seattle (wow, what a shock), San Jose, Phoenix, and my hometown of Portland, Oregon.
Vegas and coffee? More responsible are the influx of entrepreneurs who will settle into a coffee shop for an hour, use the wi-fi, and get something to eat. Self-employed people from around the country who can live anywhere (IE, simply need internet access, their computer, phone, and a good airport nearby) are finding Las Vegas an incredibly desirable place to live with no personal income taxes, nice climate, and bargain homes.
Yet Another Arena Proposal – Hot on the heels of a proposed three stadium/arena complex on the campus of UNLV, yet another developer is touting pretty much the same thing just across the I-15 from Mandalay Bay. The goal (among other things) is to bring a major league sports franchise to Las Vegas. Look… markets our size (around 2 million residents) generally clamor for a "big league" sports franchise because if it weren't for the nightly mentions on ESPN, people would forget the city existed. I truly don't think we have that problem here. Having said that, if the new facilities help us draw (or keep) significant events such as the National Finals Rodeo andácan be built without substantial public money, go for it.
Welcome Back! – Visitor numbers were up 5.6% in March (as compared to March 2010) and hotel occupancy is creeping back up toward the 90% range. Note: Most markets would KILL for an occupancy rate like that. A minor concern exists that visitors aren't spending as much as they were per visit during the boom. To that I say So What? If you have a restaurant with 100 guests per night and you start to get 110 guests each evening with an unchanged average in the check, you're still doing better than you were!
Too many people still hold the boom to be "normal" (mainly because so many people moved here during the boom that it was all they knew). I've said it before and will say it again: Things are a lot more "normal" right now. We're seeing nice numbers. People in the local tourism industry are starting to be able to make a living again. As far as visitors and tourism are concerned, let's enjoy the uptick.
Enjoy This Issue!

Associate Editor: Amy Rayner-Cooley
News Researcher/Editor: Rick Ziegler
---
Oh What A Night! Jersey Boys Celebrated Three Smash Hit Years In Las Vegas On May 12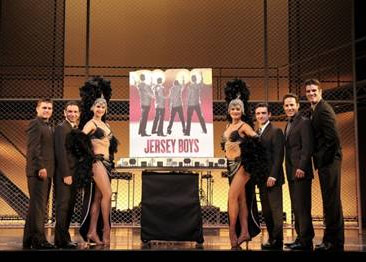 (From L to R: Deven May, Travis Cloer, showgirl, cake by Freed's Bakery, showgirl, Rick Faugno, Jeff Leibow, Peter Saide)
JERSEY BOYS celebrated its third anniversary on Thursday, May 12 in front of a full house at The Jersey Boys Theatre at The Palazzo Resort-Hotel-Casino. In honor of the milestone, a one-of-a-kind JERSEY BOYS cake was presented on stage to the talented cast and crew by Vegas showgirls.
Fremont Street Experience Hosts "Nina Blackwood's Absolutely 80s" Summer – 100 Days Of Free Entertainment Kicks Off Memorial Day Weekend And Runs Through Labor Day Weekend – The music and culture of the 1980s will take over downtown Las Vegas this summer as Fremont Street Experience hosts "Nina Blackwood's Absolutely 80s" concert series and festival. The 100-day flashback to the '80s kicks off Memorial Day Weekend and runs through Labor Day Weekend. Original MTV VJ Nina Blackwood will be guest host to a series of free headliner concerts at Fremont Street Experience.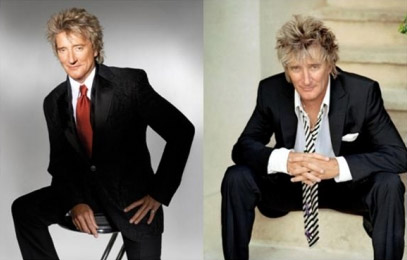 Rod Stewart Returns To Las Vegas With "The Hits." To Celebrate His First Residency At The Colosseum At Caesars Palace – Legendary rock icon Rod Stewart confirmed his long-rumored return to The Colosseum at Caesars Palace for the first 18 concerts of his two-year Las Vegas residency, kicking off on August 24, 2011. Rod Stewart: The Hits. will be a concert celebration featuring a set list of the rock and R&B favorites which have defined Stewart's unparalleled five-decade-long career.
Rockhouse Las Vegas Is Las Vegas' One Stop Spot For Everything NBA Finals – Diehard basketball fans can look no further because Rockhouse is hosting NBA Finals parties for every fanatic from the East to West coast. From June 2 û 16 Rockhouse will show every NBA Final game on their 28 flat-screen TVs while basketball fans can also enjoy $5 shots and two-for-one beers during game time. Additionally, any patron that wears their team's jersey during the game will receive their first drink for free and anyone wearing a winning jersey will receive a free shot to celebrate their teams big win.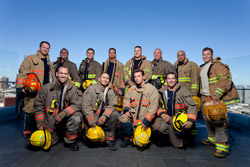 The Annual "Fire and Rain" Firefighter Bachelor Auction Returns June 4 And Is "Hot Hot Hot" – On Saturday, June 4 from 6 p.m. û 10 p.m. Southern Nevada's most eligible firefighters will strut their stuff in the 12th Annual "Fire and Rain" Firefighter Bachelor Auction, hosted by the Firefighters of Southern Nevada Burn Foundation. The event will take place at RAIN Nightclub inside the Palms Casino Resort with proceeds benefiting the Firefighters of Southern Nevada Burn Foundation's programs and services as well as the UMC Lions Burn Center, Las Vegas' only burn care center.
Caesars Entertainment Shows Military Appreciation With Free And Discounted Show Tickets And Spa Treatments – In appreciation of America's armed forces and in celebration of Memorial Day, Caesars Entertainment Las Vegas resorts invite military members to enjoy several spa and entertainment offerings free of charge or at discounted prices. Military personnel, including active members and retirees, can present their government issued military identification cards in exchange for the following offers:
El Cortez Hotel & Casino Kicks Off 70th Anniversary Celebrations With Wine Walk And Viewing Of "Bugsy" – El Cortez Hotel & Casino will begin its 70th anniversary celebrations with a wine walk and special viewing of the film "Bugsy" on the Jackie Gaughan Parkway on Friday, May 27 at 7 p.m. Admission to the wine walk is $20 per person, and the event will feature a large selection of wines from California, Oregon, Washington State and Europe. Additionally, Lulu's On The Move food truck will be on the Jackie Gaughan Parkway to offer guests a delicious selection of dining options.
---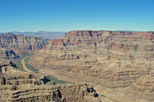 Overnight Sunset at the Grand Canyon West Rim Self Drive Package û This self-drive package from Las Vegas gives you the flexibility to create your own itinerary for exploring the Grand Canyon West Rim. When you hit the road you will pass Boulder City and Lake Mead to Hoover Dam. Your day is free to explore before heading to Hualapai Ranch.
---
What We're Watching û Vegas Videos You'll Enjoy
We usually use this section to highlight a number of fun Las Vegas videos we've found all over the internet. This week, we'd like to highlight a couple of cool new shows on the Vegas Video Network that we're already big fans of:
---
Members Mania – We Love Our Readers!
Mick writes in response to our note about all the food specials at Fitzgerald's in our previous issue.
Its great to hear about some food deals coming back. When will the casinos realize that good deals on food is what made Vegas what is was. We have three casinos in Central Illinois ,and one casino gets most of the business because they have great food at great prices. Most of the people that go there for great food and prices end up gambling, including myself. Oh by the way my next visit to Vegas will include a trip to Fitzgerald's.
Mick from Illinois
---
Thank you for the newsletters every week! Have a question: Are they still building the Echelon or what is happening with this? With the cost of flying, we might not be traveling to Vegas this summer. It will be our first summer in years not to visit. My friend was there for 9 days at the end of February and he said that the machines suck! He stayed at the Vegas Club. We are always comped there.
Again, thank you for the newsletters!
Bevy from Pittsburgh, PA
Ted Responds:
No question airfares are spiking between the cost of oil and the demand for summer travel. I'll expect to see room rates moderate to help make up for it. Plus, since you are comped at Vegas Club, that holds down the cost. Certainly hope you can return soon.
Speaking of the Vegas Club downtown, they have heard the complaints and a few weeks ago loosened all of their slots by around 40%. And, all of downtown still generally sports looser slots than The Strip.
Every once in a while, we get an email saying "Vegas has tightened the slots, I couldn't win anything this trip". Keep in mind that anything can happen on a given visit. If you visit regularly, you'll have the occasional stay where it almost seems like you can't lose and you'll have some great runs and take home a profit. On the flip side, you'll have that occasional trip where you can't hit a thing.
I enjoy video poker from time-to-time. I'll go out and take $40 and put it in a (nearly) full-pay machine either downtown or at a local casino. Usually, it lasts quite a while before I finally lose it all. Almost to the point that I'm getting bored of playing for so long! Sometimes I get a nice win (like the last time I played, hitting 5 four-of-a-kinds in less than 10 minutes). But… every once in a while, it will suck down the money so fast that I don't know that happened. The low of averages simply states that once in a while, you get the short end of the stick.
My advice? If you just can't seem to win on a certain trip, lay off the tables/machines and find other things to spend your money on. See a show. You're guaranteed to get the entertainment you paid for. Same with dining. Go enjoy a really nice meal where once again, you pretty much know exactly what you are getting for your money.

We love to hear from you, and value your feedback! Here's how to participate:
---
Closing of the Sahara Hotel Stories
More Las Vegas News – Concerts – Events