Serving Las Vegas Visitors and Residents Since 1999
Welcome to the Insider Vibe! This is the official newsletter of AccessVegas.Com. We talk about the Las Vegas activities you really care about.
---
AccessVegas.com Quick Info Menu:
| | |
| --- | --- |
| Las Vegas Essentials | Featured Shows |
Newkirk's Notes – comments on Las Vegas from AccessVegas.Com publisher Ted Newkirk:
Hello From Las Vegas! Running a bit late this week due to a few technical difficulties. So for those who enjoy reading the newsletter with their Sunday coffee, we apologize.
No Complaints! – About the weather. We made it all the way through May without hitting 100 degrees (F), which is the first time in a long time we pulled that off. The first 10 days of June look to barely be hitting 90 (almost 10 degrees below normal) so we'll see how long we can pull this off. I'm sure enjoying it and I'm sure our visitors are also.
Everything Must Go – Sahara owner Sam Moronzian Nazarian and his happy band of hotel mismanagers are putting the final nails in the coffin of The Sahara. Starting on June 16, they are literally selling everything down to the walls. Now, don't get me wrong: It is normal for a shuttered hotel (or one that is supposedly going to be undergoing a remodel) to sell off lots of stuff. Clear the rooms, old kitchen shelves, ranges and appliances, restaurant furniture and similar. Same with barware, gaming tables and anything else that will be outdated and not worth keeping.
However, they are taking it quite a bit farther, selling everything including the chandeliers and lighting fixtures in the casino. First of all, do they really need the money that bad? Do you have to toss every last vestige of the property? Are the new plans for the property (ha, ha, ha… we're not holding our breath) so radical that you can't re-purpose a few artifacts as a tribute to a Las Vegas institution of over 50 years? My understanding is that after imploding The Stardust, owners Boyd Gaming held onto a few "this and thats" which would have a place in the (currently on hold) Echelon project that was planned to replace The Stardust.
Do these guys even know what they are doing? The Tropicana sunk $180 million into an absolute and complete makeover of their property (and a beautiful one at that). Current Sahara owners are claiming to have already spent $30 million just on the plans to redo the property. This whole Sahara debacle continues to make absolutely no sense. From closing it at a time when Las Vegas is seeing a tangible uptick to completely gutting the place to claims that they are going to build a fantastic new high-end resort while we already have a high-end glut. And at a time when I believe we'llábe seeing a growing demand for the mid-range áas the U.S. recession lingers.
If you want to pick up some old Sahara stuff when they start selling it off, visit the Sahara Liquidation Sale
Cash Out That Ticket! – I just uncovered a $20 ticket from when I played some video poker at Binion's. Last October. The ticket also happens to say Void After 30 Days. Make sure to take the extra few minutes to cash out your tickets. I thought that I'd be back downtown much sooner than I was and I'm out $20. If you do happen to screw up and end up back home with a still-valid ticket, they usually have an address on the back which will let you claim them by mail. (Same with most sports betting tickets). But my advice? Get the cash back in your hand.
Enjoy This Issue!

Associate Editor: Amy Rayner-Cooley
News Researcher/Editor: Rick Ziegler
---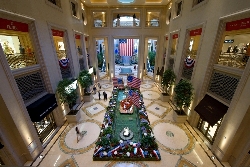 The Palazzo Las Vegas Joins with the USO Las Vegas to Honor America's Deployed Soldiers – Guests can send letters to troops through July 4 – The Palazzo Las Vegas invites guests to send words of encouragement to soldiers overseas while visiting the resort's waterfall atrium and gardens. Surrounded by more than 1,500 vibrant red, white and blue blooming foliages, the waterfall atrium and gardens will feature two digital kiosks for guests to write letters to deployed American soldiers stationed throughout the world. The United Service Organizations Las Vegas center (USO LV) will distribute these letters written by guests to troops as they deploy, arrive home and while currently overseas.
Experience the John Lennon Educational Tour Bus at the Mirage June 6-11 – In conjunction with The BeatlesÖ LOVEÖ by Cirque du Soleil« 5th Anniversary, the John Lennon Educational Tour Bus is pulling up to The Mirage for public tours and recording sessions June 6 û 11. Guests will be able to try out the latest in recording and video technology including products from Avid, Epiphone, Apple and more. Additionally, guests will have the opportunity to bring the studio experience home by entering to win an Epiphone guitar signed by Yoko Ono.
The Spa at Ravella Offers Massage Therapy Training Series Throughout the Summer – Beginning May 31, The Spa at Ravella (ravellalasvegas.com) will launch a series of massage therapy seminars to educate participants in the techniques of Thai Reflexology, Table Thai Yoga Massage, Asian Reflexology and Fusion Massage. For as low as $140 per series, guests will receive hands-on lessons in difficult spa techniques and treatments and can stay overnight with rates starting at $59 during the retreat.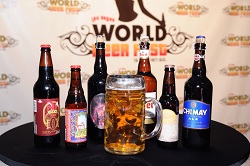 Las Vegas Hosts WorldÆs Only Year-Long Beer Festival Beginning October 2011 – The Entertainment Capital of the World will let the good times flow with "Las Vegas World Beer Fest," an international Oktoberfest-styled showcase of micro brews, stouts, ales and moreùopen every Thursday through Sunday for one year beginning October 13.
Aficionados, enthusiasts and those who simply enjoy a cold one will have access to more than 500 different beers from 100 different brew masters across the globe, including Germany, Belgium and the U.S.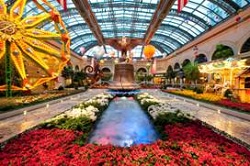 Spring Into Summer at Bellagio's Conservatory and Botanical Gardens – Attraction unveils new elements in its timeless tribute to the season – Bellagio's Conservatory and Botanical Gardens reveals new elements to its summer display, featuring a spectacular floral exhibition filled with bright blooms and a playful carnival. Reminiscent of the lazy days of the year's longest season, the vibrant exhibit features a moving 11-foot tall carousel, a 40-foot full-scale Ferris wheel and patriotic displays of the Stars and Stripes.
---
What We're Watching – Vegas Videos You'll Enjoy
---
Members Mania – We Love Our Readers!
As a response to feedback about current changes to the smoking ban, I've written an update and clarification:
A Smoking Misunderstanding – Either I did a really, really bad job of explaining the possible smoking ban changes, or people just decided to send me the usual boiler-plate anti-smoking talking points regarding the proposed changes (which I discussed last issue) without reading my piece very well.
Our smoking ban generates tons of reader interest. When we even link to a story about it in our local paper, it gets 3-4 times the clicks of most stories. (We don't know which reader clicks on what, but we are able to track total clicks from all readers). So, we're going to take another crack at this:
For the record, I do not smoke cigarettes. My grandfather died of a smoking-related illness. I'm not really fond of the smell of cigarette smoke. But that doesn't spur me to make laws telling people that they can't smoke on private property.
The History: Las Vegas (as an area) is home to more taverns (bar and grills) than I've ever seen anywhere. Pretty much one (or more) on every major cross-street intersection all over the area. These have traditionally been open 24 hours per day and offered slot machines (video poker) and a 24 hour kitchen in addition to the libations.
When the Nevada smoking ban was passed, it dictated that if a business served foodáfrom their own kitchen, they they could not allow smoking on the premise. The idea was to eliminate the smoking in bars and restaurants. However, given the choice between going non-smoking or eliminating food service, the vast majority of these neighborhood taverns simply closed their kitchens. To the tune of 1700 people laid off.
Eventually, some bars "complied" with the law by building a sealed off "restaurant" room that was non-smoking. People would order their food and simply bring it back into the smoking area of the bar so they could eat and drink and play video poker and (if desired) smoke all at the same time.
Then, the state dictated that enforcement of the ban to be done by the Health Department, which is in no way equipped to enforce the ban. (The thought was that the police need to be catching carjackers, not ticketing smokers with their limited manpower resources). Hence, not one citation has every been written. On that news, some bars simply started serving food again. And if people lit up (despite the mandatory no smoking signs), so what?
At the end of the day, no one stopped smoking. Bars did not go smoke free. The only change that this portion of the ban made was eliminating food service in lots of bars and tossing 1700 people out of work.
Given that this portion of the smoking ban 1. Failed to do what it was designed to do (make bars smoke-free) and 2. Had a negative economic impact, legislation is currently under consideration to once again allow adults-only bar/grill operations to once again legally do what they are already doing: Serve food in a smoking-permitted environment. Pure and simple.
Last I checked, visiting a bar was neither a right nor a necessity. If you dislike (or are worried about) second-hand smoke, I strongly encourage you to boycott these bars. If they are unwilling to cater to your desire for a non-smoking environment, hit them in the pocketbook with your lack of business.
When Will We See Smoke-Free Casinos? – For those who wish gaming properties would go smoke-free, here's a couple of attempts to keep your eyes on: As of June 14, The Palace Casino Resort in Biloxi will go smoke-free including the gaming floor. The new Revel in Atlantic City (scheduled to open in just about a year) is also seriously toying with the idea of going smoke-free. If this is an important amenity to the general public, they will vote with their wallet and with their feet and Las Vegas will take notice.

We love to hear from you, and value your feedback! Here's how to participate:
---
More Las Vegas News – Concerts – Events