Serving Las Vegas Visitors and Residents Since 1999
---
AccessVegas.com Quick Info Menu:
Las Vegas Essentials

Seasonal Vegas Information

Featured Shows

Photos and Wallpaper
Newkirk's Notes – comments on Las Vegas from AccessVegas.Com publisher Ted Newkirk:
Hello From Las Vegas! Spring is giving way to summer although it is going to try to hold on for one more week with highs in the 70's and 80's F. Soon to be hot, hot, hot in the day, just simply hot at midnight, and in the 80's late night. Many of us who live here and have a flexible schedule shift our workdays to take advantage of this. Working in the afternoon and evening allows us to miss the hottest part of the day plus rush hour. (Yes, we have rush hour here).
You know how crowded the grocery store is at 5:30 PM and the lines for your favorite restaurant at 6 PM? I don't! Plus, the summer weather is perfect about 2 AM. But hey, that is why you come here — to get away from that everyday grind and enjoy warm weather, late-night fun on The Strip and Downtown! Somebody has to keep "Vegas Hours" so we can keep you informed on Vegas happenings.
We're Almost "Yo Eleven"! – Between 17 years of living here and a penchant for the occasional roll of the craps dice, I inadvertently put the word "Yo" in front of the word "eleven" when I speak. For those not familiar with craps, the roll of an 11 is also called a Yo, and you'll hear dealers bellow "Yo Eleven" when a player tosses the number 11. Why am I getting sidetracked on this crazy idiosyncrasy? Next week will mark the 11'th anniversary of our newsletter! Many newsletters put the issue number in the mast. Me… I have completely no clue (it has to be near 500). It's been a blur, I couldn't dream of doing anything else, and here's to another 11 years!
Ouch – The jobless rate in the Las Vegas area stands at over 14%. I can't emphasize this enough: Come visit and have a blast. Your fun helps locals pay their bills. But don't dream of moving here right now unless you independently wealthy, have a retirement income, or have a business that is doing OK and allows you to live anywhere. Speaking of, we're doing our part to work on that employment number:
Aloha Jennifer – We have a new staff member! Hawaii native Jennifer Miller just graduated from UNLV with a Broadcast Journalism degree. She's worked on the UNLV Rebel Yell (student newspaper), interned with Fox 5's MORE! (live mid-morning show)áand has had stories appear in local print media.
But I took her away from all that. My name is Charlie. (OK… bad joke for those of you old enough to remember the Charlie's Angels TV show. The rest of you can Netflix it).
She'll be our Junior Managing Editor in charge of growing the content not just for AccessVegas.com but the pending sites in Reno, Laughlin, Biloxi, and Atlantic City. If you hit any of America's favorite gaming/resort destinations, we'll have you covered. She and our other writers are also going to get a lot more active in covering all of the cool, crazy events that happen here.
One problem we face is that we often get notified of awesome events (often free or cheap) with only a day or two notice and really have not had the staff to get short-notice info to you (via Twitter or text). And, we'd like to be more active on our social networking sites. After all, you guys are our friends! And, we're going to fine-tune a comprehensive event calendar available online and on your phone.
Plus truckloads more positive changes and improvements we have to keep under wraps a little bit longer. Oh, and once Jennifer is running full-tilt, I'll start podcasting again. We had to drop that years ago and I'm still getting requests to start it back up again. Plus some video blogging (the prospect of which has forced me onto a needed diet) and lots more.
Diamonds Are Forever – Speaking of Netflix, it's just about time for me to put the 1971 James Bond film Diamonds are Forever in my queue. The core of the movie was shot on location in and around Las Vegas and it is really interesting to see what everything looked like back then (and see just how little Circus Circus has changed in 30 years).
Memorial Day Tip – Our advice? Come to Las Vegas the week following Memorial Day weekend. The week after a major holiday is often a big lull here. Lower room rates and more elbow room abound. Go visit our friends at Las Vegas Hotel Deals and punch in the dates June 1 through June 4 of this year and see for yourself.
My pick? The Tuscany All Suites Hotel is 2 minutes from The Strip (by car or city bus) or a 7 minute walk. Features upgraded amenities in each room, full casino, right across the street from Las Vegas Restaurant Row, and (hold onto your hat for this one) currently going for $30 a night on the search I just did (above paragraph). Plus they'll toss in * $20 Food Credit at Tuscany Gardens restaurant * Two Entrees for the price of one at Marilyn's Cafe or The Cantina * Two Free Drinks at any casino bar * Free Match Play on table games.
So what that airfares are on the high side? Tell me where else you're going $30 suites at a nice place like this? Everybody quit your airfare bitchin' and come scoop up our dirt-cheap rooms!
Members Mania News – We'll soon be moving "Members Mania" online to a blog format. Don't worry — we'll link to all the postings here in the newsletter. You'll have no problem accessing it. However, the sheer number of emails that we don't get to (and so many of them are so good) has prompted this move. We'll be able to answer so many more people and make so much more information available.
Enjoy This Issue!

Associate Editor: Amy Rayner-Cooley
News Researcher/Editor: Mark Jacobs
---
Las Vegas Is On Sale!
Get Great Rates At All Hotels:
---
Celine Dion Voted America's Favorite Singer/Musician – New Las Vegas Show To Premiere March 2011 At Caesars Palace
– The results are in and Celine Dion has been named America's favorite singer by a new Harris Poll released May 6, 2010. In great company U2 followed in second place, Elvis Presley and the Beatles tied for third and Tim McGraw charted fifth. Rounding out the top ten, Lady Gaga finished in sixth place, George Strait and Rascal Flatts came in seventh and eighth and Alan Jackson and Frank Sinatra tied for the ninth place spot . This is great news for Americans who now have the opportunity to see their favorite singer in Las Vegas as Celine embarks on a three year residency at
The Colosseum at Caesars Palace
beginning March 15, 2011.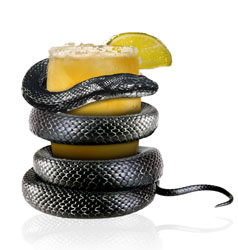 Tacos & Tequila Introduces The "Black Mamba Margarita" – The mouth-watering drink menu at Tacos & Tequila (T&T) at Luxor is about to get more exciting with the "Black Mamba Margarita." The exotic new drink combines Hennessy Black and Hornitos Reposado for a striking new margarita taste just in time for summer. "Black Mamba Margarita" recipe:
0.75 oz Hennessy Black
0.75 oz Hornitos Reposado Tequila
0.75 oz Triple Sec
3 oz fresh sour
Lime wedge for garnish
Shaken to perfection and poured over ice with a lime wedge, this specialty drink pairs well with T&'s spicier selections such as the pulled pork tacos or chile relleno.
City's Hottest Chefs Cook To Fight Childhood Hunger In Las Vegas – With a passion to fight childhood hunger, Las Vegas' hottest chefs, restaurants, and mixologists will gather for Share Our Strength's Taste of the Nation«, the city's premier culinary benefit. Taste of the Nation Las Vegas will raise critical funds needed to support Share Our Strength's efforts to end childhood hunger in the Las Vegas valley and across the nation. This year's event will be Wednesday, June 2 at Rain Nightclub at the Palms Casino Resort from 6:30 pm to 9:00 pm, with a VIP reception beginning at 5:30 pm. More than 30 of the city's finest chefs and restaurants will participate in the gastronomic event.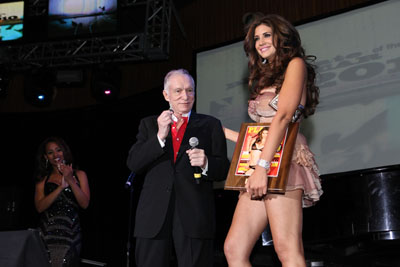 Photo Credit: Shane O'Neal
Hope Dworaczyk Named Playmate of the Year 2010 – Over at Rain Nightclub, Playboy's most iconic tradition took place and Playmate of the Year 2010 was announced by Playboy founder and legend, Hugh Hefner. Hefner honored winner, Hope Dworaczyk (Playmate of the Month April 2009) by presenting her with a framed cover issue of her June 2010 magazine cover, keys to a new BMW motorcycle and a check for $100,000. Singer Robin Thicke serenaded guests with a special performance and Dworaczyk joined him on stage . Additional entertainment included a performance by Sony recording artist, The White Tie Affair as well as The Playmate Dancers.
Roger Waters To Bring "The Wall North American Tour" To MGM Grand Garden Arena Friday, November 26 – Roger Waters, co-founder and principal songwriter of the progressive rock band Pink Floyd, will commemorate the 30th anniversary of the original release of The Wall with a monumental tour including a stop at the MGM Grand Garden Arena Friday, Nov. 26. The Thanksgiving weekend show, scheduled to begin at 8 p.m., will feature a full band and a newly mounted state-of-the-art production of his 'masterpiece of alienation and transformation' performed in its entirety.
Lagasse's Stadium At The Palazzo Welcomes UFC Fighter Shane Carwin – The Palazzo welcomes UFC Heavyweight Champion Shane Carwin on Saturday, May 29, 2010 at 7:00pm as he hosts the UFC 114 Rampage v. Evans Viewing Party inside Lagasse's Stadium. Carwin, the UFC Interim Heavyweight Champion, will welcome the crowd and recount his favorite UFC moments, who he think will win UFC 114, and his thoughts on fighting Brock Lesnar on July 3rd for UFC 116. Following, fans will have an opportunity to meet Carwin in person for photos and autographs. Prior to Carwin's welcome, guests are invited to watch pre-commentary and analysis of the UFC fights.
UFC, Red Rock Harley-Davidson And High Rollers Motorcycle Club Host 8th Annual Poker Run On June 6 – Fighters from the Ultimate Fighting Championship (UFC) and Harley-Davidson motorcycle riders know toughness when they see it. And to them, no one is tougher than those who are fighting cancer. That toughness is why the UFC and Red Rock Harley-Davidson will join the High Rollers Motorcycle Club on Sunday, June 6, for the eighth annual High Rollers Poker Run. The event will support The Caring Place, a local nonprofit that provides no-cost, adjunctive therapies to those touched by cancer. The Poker Run will kick off at 10 a.m. at Red Rock Harley-Davidson, located at 2260 S. Rainbow Blvd., and conclude with a party at The Orleans Hotel and Casino pool.
Fremont Street Experience Is Getting Groovy With "Summer Of The '70s" – Festival And Free Concert Series Begins Memorial Day Weekend – The music and culture from the decade of the 1970s will return to downtown Las Vegas this summer as Fremont Street Experience presents the "Summer of the '70s" festival and free concert series. The 102-day promotion will kick off Memorial Day Weekend and run through Labor Day Weekend. "This year, as a follow-up to last year's successful 'Summer of '69' which drew record nightly crowds to downtown Las Vegas, we decided to move to the next decade and focus on the 1970s," said Jeff Victor, president of Fremont Street Experience. "Throughout this summer, we will present headliners and tribute bands who will bring back the diverse music of the '70s, everything from classic rock to disco."
The Forum Shops At Caesars Announces More Retailers, Expansions, Restaurant Openings For 2010 – Premier Retail Destination Announces More 2010 Openings Including the Largest H&M in the U.S. and Las Vegas' First P.J. Clarke's and More. Maintaining its position as one of the nation's top-selling shopping centers, The Forum Shops at Caesars continues its winning streak as the premier retail, dining and entertainment destination. The Forum Shops is now welcoming eight new retailers and restaurants. In addition, due to increasing sales and demand, six current world-renowned retailers are expanding and remodeling their space.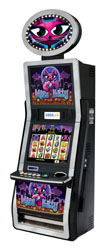 Gambling Talk: Video Slots – Miss KittyÖ – with Victor H. Royer. Cut yourself a swath of rich winnings from this great multi-line slot machine from Aristocrat! Some people are dog people, and others are cat people. I have always been a cat person, although I have no problems with any of our four-legged friends. But cats are my thing à I just like them as pets, and basically anything with that motif. I am one of those people who are attracted to any item, or merchandise, with a "cat" theme. My best pet ever was a stray tabby cat that found its way to our back porch as a tiny kitten. We rescued it, and it was a valued part of our family for all the 14 years of its life. It was a wonderful cat, and a good friend.
So, whenever I have a chance to find a slot machine with a "cat" theme, it's one that I always investigate, and like to play. Click to Read Complete Article…
---
Featured Tour û Enjoy Las Vegas!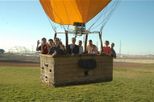 Las Vegas Sunrise Hot Air Balloon Ride û The Sunrise Hot-Air Balloon ride is the most romantic way to fly over Las Vegas. This spectacular balloon flight begins in the southwest valley, you will enjoy scenic views of Las Vegas' residential areas, the renowned Las Vegas Strip to the east and the majestic Red Rock Mountains and Red Rock Canyon to the west.
---
Members Mania – We Love Our Readers!
I was in Las Vegas with my 48 year old son a week ago, and we, too, encountered the people handing out the hooker ads. My son accepted each little card, explaining, "The guys at work get a kick out of these." Yeah. Right. But when they'd try to hand one to me, I'd just say in my best mid-seventies voice, "I'm too old." It always seemed to satisfy them. They never seemed very pushy about it.
The people I resented were those who accepted the cards and dropped them on the ground, I suppose in an act of contempt. I felt the children going by were more exposed to the lurid pictures on the ground than they were to the ones in vendor's hands. My suggestion is to ignore the vendors or just say no thanks.
The thing that really upset me on this trip was to discover how thoroughly the 6 to 5 blackjacks have taken over the strip. I was especially amazed, at the Flamingo, to see that while they offered both 6 to 5 (on single-deck) and 3 to 2 (on shoes), the single-deck rip-offs had players even when the good shoes had plenty of room. I made it a point to ask pit personnel in every place we were in what they paid, and told those who were 6 to 5 that I couldn't play their games. I also congratulated any pit boss whose games gave fair odds.
By the way, I came home a small winner. Beats any sized loss, right?
Keep up the good work.
Caravan 520 from Michigan
Ted Responds:
In the next letter, we have a novel solution for at least part of the "girls to your room" cards. One that the hotels and county officials could easily introduce.
Unfortunately, the lower pay blackjack really has taken over The Strip. (Not so much downtown, although you have to look at each table to see what it says the payout is, or ask the dealer before sitting down).
Since we always have new readers, I'll briefly explain: Blackjack should pay 3-2. This means that if you get a blackjack on (for example) a $10 bet, you should get paid $15. Been that way for many decades. However, many casinos are offering blackjack at 6-5. In real numbers, $12 payout on a $10 bet. Our advice? Don't play the 6-5 games. The simply odds are that you'll lose faster because you are being paid less on the big wins.

---
A simple solution would be to put in trash cans on the city sidewalks. People can either not take the card or just drop them in the nearby cans. Why all the meetings and big decision makers making such a fuss. Women know how to solve little problems. Drop your trash in the trash can.
Also where are all the beautiful pictures that were always posted on your site? Have not seen the Gardens, or the beautiful ceiling in Glass or anything else that was fun to see. Your Website is full of information on so much that is going on but no pictures of anything we always love to see when we visit. Hope you get back to more pictures soon. Remember a picture is worth a thousand words.
CJ from Florida (Mark's Mom)
Ted Responds:
I'm surprised no one has really brought that up yet. But prominent garbage cans with big signs that say "Drop Cards and Trash" right next to the area the cards are handed out could have a big double-impact:
1. People would be far less likely to litter with an easy way to toss the card. The simple suggestion in writing to drop the cards in the trash would encourage most people to dispose of them properly.
2. The would be disheartening to those passing the cards out. They get aácommission when someone calls the number on the card and books and escort. To have them actually see their hard work going into the trash could help take the wind out of their sails.
Per pictures, we've been so focused on content upgrades that we haven't introduced as many new photos sets as we usually do. That should start to change with more help coming on. In the meantime, remember that we have hundreds of Las Vegas photos at http://www.accessvegas.com/pictures

---
Enjoy reading your newsletter, thank you. Question- have you done a recent survey (hopefully with reviews) on the buffet scene in Vegas?
Thanks for any info.
Cheers,
Hugh Martell
Ted Responds:
Funny you should ask: One of Jennifer's responsibilities will be coordinating first-hand reviews of every buffet in town. We'll also be doing new sections on spas and golf! In the meantime, don't forget that we have a comprehensive Las Vegas Dining section where you can view restaurant info by hotel, location, or cuisine: Las Vegas Dining and Restaurants

---
My wife and I love Las Vegas, and have been regular visitors since our first (25th anniversary) visit in 2004. Always so much to see and do!!
One problem though… even after trying as hard as I can, I can't find a bar/nightclub on the strip that caters to a 40 to 60 yr old crowd, with 60s, 70s, and 80s, music, with dancing, and entertainment. Can you help? We would love to find a place like that… We are in our early 50's and are not interested in the party bars frequented by the younger set.
We love your newsletters, they really keep the "Vegas vibe" with us when we can't be there… Keep up the great work!
Kyle & Mary from Windsor, Ontario
Ted Responds:
TheáLas Vegas Rocks Cafe downtown in Neonopolisá is really working to fill that void with various events. For those looking for this experience, I'd call them (702.227.5872) when you hit town to see what they have going on during your stay.
Goldiggers at Golden Nugget comes close. Music is late 70's through the 80's played by a DJ. A modern club feel, but one where you don't have to be under 40 to fit in. While not a club, the Wynn Las Vegas Jazz Brunch (click the link for info) might be right up your alley.
Given that the average age of Las Vegas visitors is late-40's, I'm surprised someone hasn't filled this niche a little better. The entire focus is on the 21-35 year old group with all of the pool parties and similar club-style events. Someone should take a stab at what you are asking for. The might make a killing!

---
Just want to say, itÆs a great site.
Good information for my Vegas trips!
Greetings from Europe, The Netherlands.
Martijn
---
We love to hear from you, and value your feedback! Here's how to participate:
Drop us an email at allvegastv@aol.com – We read them all!
Call our recorded comment line at 702-507-0055. We listen to every call.
---
More Las Vegas News – Concerts – Events
---
Coming Hot Holidays
– The following dates are huge times to be in Las Vegas, and rooms are in high demand. Booking in advance is the best way to save. Visit our friends at
Las Vegas Hotel Deals
and spend one of the following hot dates having fun in Las Vegas:
Memorial Day, U.S May 29-31 (3 day weekend)
Father's Day June 20
Independence Day July 4
Civic Holiday, Canada July 31-August 2 (3 day weekend)
Labor Day, U.S September 4-6 (3 day weekend)
Labour Day, Canada September 4-6 (3 day weekend)
Jewish New Year September 9
Halloween October 31
Veteran's Day November 11
Thanksgiving Day, U.S November 25-28 (4 day weekend)
Hanukkah Dec. 2 – Dec. 9
Christmas December 25
New Year's Eve-Day December 31 – January 2 (3 day weekend)
Martin Luther King, Jr., Day, U.S (Observed) January 15-17 (3 day weekend)
Chinese/Lunar New Year February 3
Super Bowl Sunday February 6
Lincoln's Birthday, U.S February 12
Valentine's Day February 14
President's Day, U.S (Observed) February 19-21 (3 day weekend)
Washington's Birthday, U.S February 22
Mardi Gras March 8
St. Patrick's Day March 17
Easter Sunday April 24
Cinco de Mayo May 5
Mother's Day May 8
Link To Us! – Have a home page, web page, or blog? Link to us, and give yourself and your friends a quick link to find us from your site. Simply link to http://www.accessvegas.com and name the link Access Vegas!
RSS Feed – We now have an RSS/XML feed! Most RSS programs let you visit AccessVegas.com and automatically pull the feed. For those who want to enter it manually, the feed is:
http://www.accessvegas.com/xml/whats-hot.xml
No related links found