Serving Las Vegas Visitors and Residents Since 1999
11'th Anniversary Issue!
Welcome to the Insider Vibe! This is the official newsletter of AccessVegas.Com. We talk about the Las Vegas activities you really care about.
---
AccessVegas.com Quick Info Menu:
Las Vegas Essentials

Seasonal Vegas Information

Featured Shows

Photos and Wallpaper
Newkirk's Notes – comments on Las Vegas from AccessVegas.Com publisher Ted Newkirk:
Hello From Las Vegas! Memorial Day Weekend usually kicks off summer for most people, and we're no exception. Oh sure… we've had pool weather pretty much since April (with the exception of a couple of cold snaps), but we've now entered the "heat" of the summer. Our first 100 degree day is predicted this coming week and overnight lows are only dipping into the 70's. The kids had spring break in the spring. It's now time for adults to enjoy a summer break here in Las Vegas!
My How Time Flies When You Don't Know What You Are Doing – May 20, 2010 marked the official 11'th Anniversary of this little ole newsletter. We mentioned it last issue, but we'll consider this the official one (last newsletter came out May 19). So welcome to our 11'th anniversary issue.
We were arguably the very first Las Vegas blog. Other news columns were online, but I was the first guy who took what I was doing and seeing (and thinking) about Las Vegas and putting it online on a regular basis. It actually started as the concept of an email newsletter, but I had the skills to post each issue online so we started archiving them.á(This was long before blog software… you knew HTML or forget about it). When modern day blog software came along, we integrated all the archives.
Back Issues Available Online – The Venetian had just opened when I put the first two issues out. If you are curious to go back and read what I had to say (and what the newsletter looked like back then), check out 1) May 20, 1999 Issue and 2) May 27, 2009 Issue. If you go to our Access Vegas Insider Vibe site, you can use the drop down menu at the top to go back and read any newsletter from any of the past 11 years. Might be a fun walk down history lane (or cold even be a helpful research tool for those piecing together Las Vegas events at a past time).
How Did This All Happen? – We know that many of you just want to get to the Vegas info. If that is you, keep scrolling. However… if you are curious about how a tiny website and a few message board posts turned into this newsletter and our comprehensive Las Vegas website, click to read:
Four New Las Vegas Arenas? – Four different companies are proposing to build brand new 20,000 seat arenas here in Las Vegas. Standing in the way is a very spirited debate over partially using public money to build one of them. We are on the verge of losing events the National Finals Rodeo (NFR), major fights, and Country Music Awards to the new JerryDome in Dallas (or whatever they are calling that mind-bending new stadium the Dallas Cowboys play in). NFR in particular has played a major role in packing out our town during the first two weeks of December (a time which otherwise would be completely dead here).

Pictured: Proposed Silver State Arena
While all of that is sorted out, here are the four options:
Silverado Ranch Area

– This is nearly 10 miles south of The Strip. Nice area to live (I lived there for a number of years). Lousy spot for an arena. It isn't centrally located for residents and visitors would NOT be happy about the expensive cab ride (or even a shuttle bus ride).

Harrahsrena

– Harrah's (the company) bulldozed blocks and blocks of land behind their Las Vegas Strip hotels and would really like to have an arena there. (Hey Harrah's… you could have left Bourbon Street Hotel there for a while… that was the best dive casino around). This location has great access for visitors and could singlehandedly revive the monorail. However, parking and access for locals would be messy.

North Strip

– The front-runner (partially because of the involvement of longtime local businesswoman and current GOP Senatorial Candidate Sue Lowden) is the land between the Riviera and Sahara. Centrally located for both visitors and locals and would give a much needed boost to the North Strip. The actually have a name and website: Silver State Arena.

Downtown

– For years, various arena proposals for downtown have been floating around. Would bring more Strip visitors downtown and really fast track the gentrification of the downtown area.
We'll keep you posted!
Cinco De Mayo Video – Better late then never on getting this to you: O' Shea's held an Uno de Mayo party on the Las Vegas Strip May 1, 2010. This was a Saturday so O' Shea's corporate parent Harrah's decided to jump the gun with an Uno de Mayo celebration and take advantage of weekend crowds.
We headed over to grab some really fun video of the event, including a spontaneous party that broke out in front of Rockhouse next door. It's less than 5 minutes long, lots of fun and energy, and especially if you haven't been to town lately, this will give you that Vegas Vibe that your brain is begging for. Pictures from event:
Comment, Comment, Comment – We now have a comment box open at the bottom this newsletter! Did a particular story catch your eye? Want to make your voice heard of just let off a little steam? Scroll to the bottom of the page and speak your peace.
Enjoy This Issue!

Associate Editor: Amy Rayner-Cooley
News Researcher/Editor: Mark Jacobs
---
Las Vegas Is On Sale!
Get Great Rates At All Hotels:
---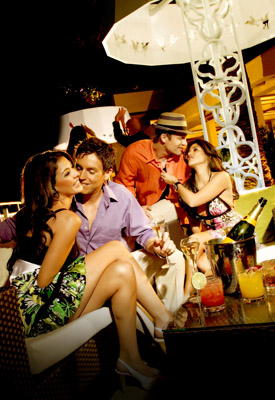 Get In The Groove With "Pink Sugar Jam" At Rhumbar Las Vegas
– "Summer Nights" at RHUMBAR will introduce "Pink Sugar Jam," a lively way to kick back and spend Monday nights on the Strip's most stylish patio. RHUMBAR will jam out with percussionist DJ Rodney and a harmonious lineup of featured guest musicians every week. A great starting point for one of Vegas' hottest industry nights, guests will enjoy the excitement of the Strip-side patio, while relaxing in RHUMBAR's cool, Caribbean oasis. Resident DJ Rodney will tantalize the ears with an eclectic mix of percussion-inspired beats, while featured guest performers bring down the house with striking musical performances.
Aria At CityCenter Names Poker Room For Poker Great Phil Ivey – The ARIA Resort & Casino Poker Room will officially reveal its exclusive one-table high-limit room to guests Saturday, May 22. Named in honor of seven-time World Series of Poker Champion and popular professional Phil Ivey, 'The Ivey Room' will offer poker players the opportunity to play some of the world's highest-limit games in Las Vegas' newest and hottest resort. "We were thrilled that Phil agreed when we asked if he would consider putting his name on our high-limit room. Phil is a great guy, a long-time friend both of the MGM MIRAGE family and mine personally, and remains a fan favorite in the world of poker," said Bill McBeath, president and chief operating officer of ARIA Resort & Casino at CityCenter.
Johnny Smalls In Hard Rock Las Vegas Dishes Up New Happy Hour Specials – Johnny Smalls, the new restaurant by Dolce Group and the Nightlife Group at Hard Rock Hotel & Casino, introduces a new Happy Hour with 2-for-1 specialty cocktails at the bar and select appetizers starting at only $4. Indulge on small bites such as the mouth-watering Meaty Balls, crispy Tater Fries and scrumptious Mac n Cheese Flatbread just to name a few. To wash down the appetizers Johnny Smalls specialty cocktails offer a little flair to that ordinary cocktail.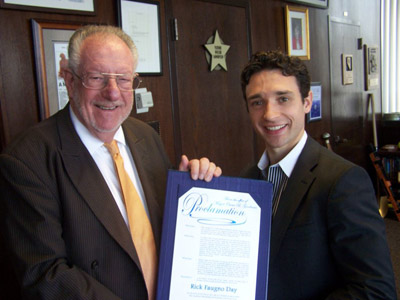 Photo credit: Shelley Mansholt PR
The World's Happiest Mayor Oscar Goodman officially proclaimed May 25 "Rick Faugno Day" in Las Vegas to coincide with National Tap Dance Day in honor of Rick and his triple-threat dancing, singing and acting contributions to our great city through his role as the original Frankie Valli in "Jersey Boys" and his critically-acclaimed hit one-man show, "Songs My Idols Sang and (Danced)."áSee Rick in Jersey Boys: Jersey Boys Tickets
KGB: Kerry's Gourmet Burgers From Celebrated Chef Kerry Simon Opens Soon At Harrah's Las Vegas – Harrah's Las Vegas is pleased to announce a partnership with celebrated Chef Kerry Simon, in a brand new concept – KGB: Kerry's Gourmet Burgers – offering the ultimate in burger selections with the Simon flair. The restaurant is scheduled to open in early July 2010 in the heart of Harrah's Las Vegas resort, serving lunch, dinner and late-night bites. Dubbed the "Rock-n-Roll" Chef by Rolling Stone magazine, Simon has created a brand of sexy restaurants with a distinct vibe. At KGB, Simon will take inspiration from his victory on Food Network's "Iron Chef America" where he prevailed over Iron Chef Cat Cora with the ultimate burger.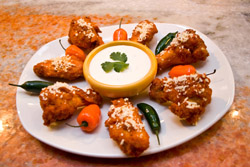 Habanero Hot Wings This Summer At Tacos & Tequila Las Vegas (With Recipe) – Tacos & Tequila (T&T) has introduced its newest menu item, a mouthwatering dish that is sure to bring on the heat. The haba±ero hot wings will tantalize the taste buds with a spicy blend of haba±ero peppers fused with tangy lime juice for a zesty new summer recipe, available for $10 throughout the summer at T&T. "Haba±eros are one of the spiciest peppers, so we added a few key ingredients to counterbalance the heat," said Executive Chef Saul Ortiz. "The overall flavor is a zesty blend of tangy, spicy and sweet."
Join Alize Las Vegas At Taste Of The Nation – Share Our Strength's Taste of the Nation Las Vegas is part of the nation's premier culinary benefit dedicated to making sure no kid in America grows up hungry. Each spring, the nation's hottest chefs and mixologists donate their time, talent and passion at more than 45 events across the United States and Canada, with one goal in mind: to raise the critical funds needed to end childhood hunger. Join AlizÚ's Chef Mark Purdy and Pastry Chef Tammy Alana at the upcoming Share Our Strength's Taste of the Nation Las Vegas Event.
"Sgt. Pepper Live" Featuring Cheap Trick Comes To Paris Las Vegas – Beginning June 11, "Sgt. Pepper Live" featuring Cheap Trick will debut at Paris Las Vegas. Experience Cheap Trick as they perform a live interpretation of one of the most beloved rock albums in history during a limited engagement only at the Paris Las Vegas Theater. Cheap Trick rocks Las Vegas in this dazzling musical experience featuring world-famous rock stars, the Sgt. Pepper Symphony Orchestra and a live interpretation of one of the most beloved rock albums in history. "Sgt. Pepper Live" featuring Cheap Trick is a celebration of The Beatles' influential album, Sgt. Pepper's Lonely Hearts Club Band.
Knight Lights Up The Las Vegas Hilton With Rock n' Roll History – Robert M. Knight, one of the most acclaimed photographers in rock n' roll history is bringing his art to the Las Vegas Hilton to be both enjoyed and even purchased by visitors starting May 28th with a huge musical kick off event. For more than four decades, Knight has captured iconic images of music legends including Led Zeppelin, Eric Clapton, Rolling Stones, Jimi Hendrix, Elton John, Carlos Santana, Van Halen and Jeff Beck. His images are quintessential pieces of pop-culture mythology.
Aria Resort & Casino Featured In Upcoming Season Of ABC's The Bachelorette – The newest Bachelorette, Ali Fedotowsky, will experience a special date at Las Vegas' newest and hottest resort destination, ARIA Resort & Casino, in the second episode of The Bachelorette, Season 6. The episode will feature a unique, one-on-one date (an intimate pool party at LIQUID; gourmet dinner in a luxurious Sky Villa; and a private musical performance in HAZE Nightclub). Heartbroken after choosing her job over a shot at true love during the last season of The Bachelor, Ali is now ready to give love another try.

Gambling Talk: Video Slots – Banana King: Panther MagicÖ – with Victor H. Royer. With apologies to Horace Greeley for paraphrasing his famous "Go West, young man!" slogan, let us here please be clear that this wonderful game from Aristocrat is for all the ladies, as well as all the men. Young û or as old as me (ehm, let's not get into that just this moment) û the point is well taken: This is a 25-line double stand-alone progressive, with two progressive jackpots, and not just one. And the best news? You can win on this machine without having to compete with other players, because this progressive is just for each machine, and not linked to others. So, you can always look for the good progressive amounts, and not only enjoy the great base game, and the many bonuses, but also the healthy jackpots.
Click to Read Complete Article…
---
Featured Tour û Enjoy Las Vegas!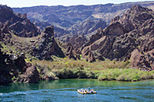 Black Canyon River Rafting Tour û Enjoy calm waters and magnificent scenery on this unique rafting day trip between the Black Canyon cliffs on the Colorado River. Relax and admire beauty of Black Canyon and views of Hoover Dam while your experienced and knowledgeable guide shares the history of this magnificent geological area.
---
Members Mania – We Love Our Readers!
As I alluded to last issue, we love you so much that we are expanding Members Mania! We'll be creating an entire online section for it and be able to answer so many more reader questions for everyone to enjoy (and more importantly learn from). This is a very popular feature of the newsletter and I'm thrilled that we can expand it!
Don't worry: We'll summarize and link to every single one of them here in the newsletter. You won't miss a thing. If all goes well, we'll launch with the new format next issue.
For those of you who want to jump the gun and get the posts as they happen, the XML feed for that blog will be http://ask.accessvegas.com/feed/
Need your fix now? Members Mania has been part of this newsletter for many years. Head over to our newsletter site and use the drop down menu to work your way through the archives. I'm sure there is plenty of Members Mania information (and lots of other great stuff) from over the years that you'll still find very valuable!

---
We love to hear from you, and value your feedback! Here's how to participate:
Drop us an email at allvegastv@aol.com – We read them all!
Call our recorded comment line at 702-507-0055. We listen to every call.
---
More Las Vegas News – Concerts – Events
---
Coming Hot Holidays
– The following dates are huge times to be in Las Vegas, and rooms are in high demand. Booking in advance is the best way to save. Visit our friends at
Las Vegas Hotel Deals
and spend one of the following hot dates having fun in Las Vegas:
Memorial Day, U.S May 29-31 (3 day weekend)
Father's Day June 20
Independence Day July 4
Civic Holiday, Canada July 31-August 2 (3 day weekend)
Labor Day, U.S September 4-6 (3 day weekend)
Labour Day, Canada September 4-6 (3 day weekend)
Jewish New Year September 9
Halloween October 31
Veteran's Day November 11
Thanksgiving Day, U.S November 25-28 (4 day weekend)
Hanukkah Dec. 2 – Dec. 9
Christmas December 25
New Year's Eve-Day December 31 – January 2 (3 day weekend)
Martin Luther King, Jr., Day, U.S (Observed) January 15-17 (3 day weekend)
Chinese/Lunar New Year February 3
Super Bowl Sunday February 6
Lincoln's Birthday, U.S February 12
Valentine's Day February 14
President's Day, U.S (Observed) February 19-21 (3 day weekend)
Washington's Birthday, U.S February 22
Mardi Gras March 8
St. Patrick's Day March 17
Easter Sunday April 24
Cinco de Mayo May 5
Mother's Day May 8
Link To Us! – Have a home page, web page, or blog? Link to us, and give yourself and your friends a quick link to find us from your site. Simply link to http://www.accessvegas.com and name the link Access Vegas!
RSS Feed – We now have an RSS/XML feed! Most RSS programs let you visit AccessVegas.com and automatically pull the feed. For those who want to enter it manually, the feed is:
http://www.accessvegas.com/xml/whats-hot.xml
No related links found