Serving Las Vegas Visitors and Residents Since 1999
Welcome to the Insider Vibe! This is the official newsletter of AccessVegas.Com. We talk about the Las Vegas activities you really care about.
Need to contact us? Send feedback to AccessVegas@AccessVegas.com

Share the info: Click to Email this newsletter to a friend! Missed an issue? Click to Read Back Issues Online.
---
AccessVegas.com Quick Info Menu:
| | |
| --- | --- |
| Las Vegas Essentials | Featured Shows |
---
Newkirk's Notes – comments on Las Vegas from AccessVegas.Com publisher Ted Newkirk:
More Vintage Vegas Photos – A few weeks ago, we linked to a photo set of Las Vegas photos from the 50's through the 80's. Hot on its heels, Life Magazine has placed 23 (until now) unpublished photos from the 50's. Enjoy Vintage Vegas: Rare Photos Of A Desert Boomtown
Cheap Food On The Strip – Our friends over at Vegas Chatter recently published a blog post titled What's Eating At Us About The Strip, detailing how expensive even many of the hotel casual dining and coffee shops are now ($30 including tax for a burger and a beer… outrageous). One of the many things we plan to do when we go membership-based (and can afford the staffing to do so) is to list all of the value meals to be had on The Strip.
But for now, just keep your eyes open. Don't forget that between Harrah's and Casino Royale sits Panda Express, Chipotle, and McDonald's. Insider Casino Royale is Subway, a $1.99 foot long hot dog joint (quite filling) and a couple of other reasonably inexpensive offerings. Nothing fancy (hey, more power to you on those $20 casual dining burgers if that is your thing), but you can sit down and chow down without breaking the bank. At Casino Royale, you can even get the $1 Micholob Lager or frozen margarita they offer at the bar and take it to the food court!
Besides keeping your eyes peeledáfor places like 7-11 or the reasonable offerings inside the Hawaiian Marketplace (directly across from CityCenter), ask if your hotel has a food court when you check in. If not, ask about the nearest hotel with a food court. Also, don't forget about the age-old buffet trick: Find out when they switch from lunch to dinner. If no gap in service (they don't shut down for 30 minutes or similar), show up at the buffet 15 minutes before the price switch and just have a leisurely salad to kill the time, waiting for them to roll out all the upscale dinner goodies which you'll be able to consume for the "lunch" price!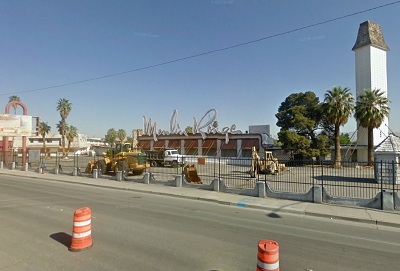 Photo Courtesy Google Maps
Yes, You Can Gamble At The Famed Moulin Rouge – Las Vegas' first integrated hotel casino property Moulin Rouge (950 W. Bonanza — shuttered for decades) is about to come under new ownership. To keep the site's gaming license alive, they plan to have a "tent casino" on site for 8 hours on June 19. According to Nevada gaming regulations, you can keep your gaming license "alive" by operating a casino on the site of a shuttered property for eight hours every two years. (The Castaways — formerly The Showboat — also has done the same thing at their Boulder Highway property).
For the Moulin Rouge, it is especially important that they keep this license alive. If you want to build a new casino in the Las Vegas area today, you MUST have a full service "hotel" attached including hundreds of rooms. The grandfathered license which Moulin Rouge possesses allows full-blown gaming (unlimited slots and table games) without the hotel requirement.
Why keep hope for this property alive when it sits in one of the more downtrodden parts of town? The reality is that it sits one mile from the Fremont Street Experience and all downtown has to offer (which we've discussed often), the drum beat of people wanting to live close to downtown is ever increasing, and older neighborhoods like this are ripe for gentrification. Don't believe me? I watched the inner northwest part of my hometown of Portland, Oregon go from a bunch of empty warehouses and an old, tired, run down neighborhood into one of the hot spots to live/work/play. The new Moulin Rouge owners are taking a gamble that may very well pay off in the long run.
At Least One Politician "Gets It" – I've chronically complained over the years that (it seems like) neither our county commissioners nor hotel/casino upper management has had a clue what you as visitors face night after night on The Strip. (At least until now… we've chronicled how this issue has come to the forefront). It should be mandatory for all of them to go out on a Saturday night a few times per year and drink their way up and down The Strip. Just like you do. So they can see the good and the bad.
It is fair that I note we have an exception! Someone who represents The Strip in the Nevada Assembly. Joe Hogan (D-Las Vegas Strip) was recently arrested for drunk driving just a few blocks behind The Stratosphere! (Disclaimer: He's my Assemblyman, and he's a joke. He's the only local or state politician who has failed to give any response to correspondence directed his way). Now, I don't condone drunk driving. If you live here, keep it in moderation, have a friend drive, get a room, or call a cab. But hey, maybe he parked at The Strat and boozed his way down the Wynn and back, surveying the blight that is the North Strip!
For what it is worth, the guy can't be that bright. The neighborhood behind The Strat is a quick short-cut back to West Sahara for those of us who live in the general area. (We avoid the traffic light and bunched up traffic at Sahara and The Blvd). But it is also a BAD neighborhood, and saturated with cops. Not exactly a smart place to drive through tipsy.
Wall-To-Wall Walgreens – A few weeks ago, we noted destruction starting to take place at the former Holy Cow Brewery and Casino just across Sahara from The Sahara. The structure is not gone. We were hoping that it was being quietly cleared for some kind of gaming project. (I have to imagine they took the steps to keep the license alive). Unfortunately, everything is pointing toward it being yet another Walgreens. It will be the fourth Walgreens on The Strip (plus the one downtown on Fremont Street), so obviously it's working well for them. And ironically will be the closest to my house, making it my "neighborhood" Walgreens. But, I'd rather see a casino in the spot…
More, More, More – Visitor numbers were up 3.7% in March, a continued sign that last year's near-record count wasn't a flash-in-the-pan. However, the glut of rooms opened the past few years has kept room occupancy rates at around 88%. Just about every other city would kill for an occupancy rate that high. However, Las Vegas has traditionally enjoyed rates in the 90's. This "glut" of rooms will help keep room rates from rising, so this is good news for visitors. I continue to remind everyone that barring something unfortunate, Las Vegas occupancy will get back to traditional numbers and we'll see room rates go up. The smart money is to book any Vegas trip you are thinking about well in advance.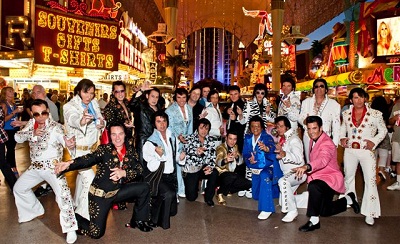 Viva Las Elvis – Every year, downtown Fremont Street Experience holds a big Elvis impersonator contest, and this year was no exception. Las week brought contestants from all over the world to the free downtown performances.
Vegas$, Las Vegas, And Now Simply "Vegas" – CBS has picked up the pilot for the TV show "Vegas" for the fall season. Not to be confused with the 1970's Robert Urich show "Vega$" (now available on Netrlix) or the show from last decade called "Las Vegas" (remember The Montecito), this drama is set in the 1960's and is based on our legendary cowboy sheriff Ralph Lamb who fought quite a battle with the mobsters and anyone else who dared step on his toes.
Enjoy This Issue!

Associate Editor / News Researcher: Rick Ziegler
Concerts and Headliners: Amy Rayner-Cooley
---
---
Frank & Sammy Davis Jr. Died Almost On Same Dates May 14-16 – 8 Years Apart – Frank Sinatra died 14 years ago while Sammy Davis Jr died 22 years ago. 'The Rat Pack is Back!' plays tributes to late superstars nightly in the Crown Theater.
It seems like yesterday when "The Rat Pack" was playing at the Sands and now the best re-creation of them pay tribute to them nightly in the Crown Theater at the Rio All-Suite Hotel & Casino.
The Austin American Statesman's travel writer Helen Anders just called them the show that best reflects "Old Vegas" after experiencing "The Rat Pack is Back!" starring Frank, Sammy, Joey and Dean in last Sunday's travel section. The anniversary of Frank Sinatra's death was May 14 and he has been dead for 14 years. Brian Duprey plays Frank Sinatra nightly at the Crown Theater.
PBR Rock Bar & GrillÆs Memorial Day Weekend Patio Party Will Be Loaded With Beer, BBQ, And Bikinis – PBR Rock Bar & Grill inside Miracle Mile Shops at Planet Hollywood Resort & Casino will celebrate Memorial Day Weekend by highlighting two of AmericaÆs favorite things: BBQ and beer.
PBR Rock Bar & Grill is the hottest spot in Las Vegas offering beers, bulls and plenty of babes in its sprawling, 16,800-square-foot venue. Open daily from 8 a.m. until the early morning hours, PBR Rock Bar & Grill offers guests hearty, American comfort food and barbeque around the clock. Beautiful babes and bad ass bull riders are dared to attempt to defy gravity on PBR Rock Bar & GrillÆs daunting, hydraulic mechanical bull.
Cabo Wabo Cantina Offers Last Fling Before The Ring Bachelorette Packages – The premiere spot on the Las Vegas Strip for bachelorettes to wine and dine before tying the knot, Cabo Wabo Cantina inside Planet Hollywood Resort & Casino, offers exciting party packages for the bride-to-be and her gal-pal posse.
For only $25 each, the bachelorette and her closest friends can indulge in delicious food and receive a complimentary Cabo shot and entry into Chateau Nightclub & Gardens and Gallery Nightclub. Plus, with the purchase of a Cabo Wabo souvenir glass, the party will receive unlimited refills on frozen daiquiris including the signature pi±a colada and margarita throughout dinner.
Legendary Entertainer Bill Cosby Returns to Treasure Island May 25 – Iconic funny man Bill Cosby, who has been making audiences laugh for decades with his keen insight into everyday existence, brings his signature comedy to the Treasure Island Theatre May 25 at 8 p.m.
Las Vegas Epicurean Affair Returns May 24 At The Palazzo – On Thursday, May 24, many of the best restaurants of Las Vegas will unite again poolside at The Palazzo Las Vegas for the Las Vegas Epicurean Affair. The event, sponsored by the Nevada Restaurant Association (NvRA), gives guests a taste of the gourmet offerings that have elevated the city to an international dining destination.
Tacos & Tequila Celebrates Memorial Day With Weekend Fiesta – In honor of Memorial Day, Tacos & Tequila (T&T) at Luxor Hotel and Casino will offer holiday specials for the ultimate three-day weekend in Las Vegas from Saturday, May 26 through Monday, May 28.
T&T will feature their signature mariachi brunch from 11 a.m. until 3 p.m. on Saturday and Sunday. Created by Executive Chef Saul Ortiz, the menu includes delectable items such as traditional Huevos Rancheros, Albondigas Soup, T&TÆs signature Chilaquiles and Breakfast Burritos. Guests looking to celebrate the holiday with lively libations will enjoy two-for-one Bloody MariaÆs and top shelf house margaritas in addition to half-price daiquiri refills, $10 Dos Equis beer mugs and Patr¾n shot specials. Keeping the fiesta atmosphere alive will be DJ Larry Lynx spinning the hottest beats every night from 8 p.m. to 11 p.m.
Jimmy BuffettÆs Margaritaville Restaurants Celebrate National Hamburger Month Throughout May 2012 – While National Hamburger Month may not be a Federally recognized holiday, it certainly is one that is gaining notoriety amongst burger lovers. ItÆs suggested that each American consumes, on average, 3 hamburgers every week. With songs, movies, books and more dedicated to the amazing sandwich, itÆs no wonder the American food staple seems to grow in popularity year after year. In honor of National Hamburger Month, Jimmy BuffettÆs restaurants nationwide will be celebrating all things burger throughout the month of May.
---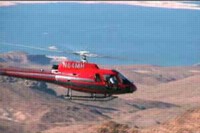 Maverick Helicopter Combo Adventure with River Rafting Tour û Our Wind Dancer Flight with an added thrill of rafting the Colorado River through Black Canyon. An adventure of a lifetime! You will begin your day with complimentary hotel pick-up and your jet helicopter tour to the Grand Canyon. Your pilot will bring you back to the Boulder City Airport to be greeted by the river rafter team for a motorized 10-mile float. Take in the sites of the Colorado River and enjoy a delicious lunch. The rafting team will bring your party to your hotel.
---
Frank Marino's Divas Las Vegas by Terri DÆRichards
Can We Talk? Frank Marino's "Divas" Honors The Legends With Humor
What do you get when you put together: a virtual whoÆs who of pop divas throughout the decades, 6 male back-up dancers and a jaw-dropping collection of Diva-esque couture, all presided over by Joan Rivers? û Can we talk?!
Frank MarinoÆs ôDivasö stirs these ingredients together with a little twist. The spot-on impersonators with all the right looks and moves, wearing to-die-for costumes are all female impersonators extraordinaire! Specially created background tracks weave in live recordings from legends such as Madonna, Lady GaGa, Tina Turner, Dolly Parton, Janet Jackson, Celine Dion and Diana Ross, just to name a few, making for a near seamless juxtaposition between the ôDivasö show performers and their real-life counterparts.
---
What We're Watching – Vegas Videos You'll Enjoy
---
Members Mania – We Love Our Readers!
We were wondering what is going on with Wayne Newton? A search of various sites and even Wayne's Homepage yielded nothing. The last news I recall was the preparation of his Museum.
John and Cathy Schmalstig
Ted Responds:
Things have been awfully quiet on the Wayne Newton front as of late. If we had any info, we certainly would have passed it along. I know we have a fair number of Newton fans in our readership so if a few more weeks go by without any news, I'll start poking around. His place isn't that far from my chiropractor, so I'll make sure to swing by on my next visit and see if any development is visible.

---
I am not a good letter writer,so here is my best shot. I look forward to reading your newsletter every week, just love all the information you write. My husband and I vacation in Las Vegas once a year, for the last 25 years, I would not go anywhere else.
This year we visited the 28'th April until 5'th May. We always rent a car, that way we go somewhere everyday, we have seen the same places over and over but we never get tired of the sites: The Grand Canyon, The Hoover Dam, Primm Valley, Pahrump, Lake Las Vegas, and highways are so beautiful.
We always stay at The Golden Nugget and with every year that place gets more beautiful and the service is great, and the entertainment on Fremont Street is great, especially the girl that was the DJ. I have seen many dancers in my years, but she was great, the Sax player has to be the best I have ever heard.
I could go on and on, the weather was wonderful. Everything was wonderful, cant wait to come back.
Anne
Ted Responds:
You're letter was great, thanks for sharing your excitement! 25 years of Vegas vacations certainly makes you loyal. One of the great things about visiting here regularly is that you never run out of great things to do and see.
Hoover Dam and The Grand Canyon are a couple of things that people typically dismiss. They've seen photos, they have seen it from the air flying in. But absolutely nothing compares to the awe of seeing each in person.
Lake Las Vegas is a beautiful area to stroll around, get something to eat, or just relax with a glass of wine. The fact that it is maybe 30 minutes from downtown or The Strip (if that) makes it an easy venture. We've talked about Pahrump before (especially the winery), and I'm a fan of Primm. Love the outlet mall and Buffalo Bill's has some decent food values and table limits. Plus one of the fastest roller coasters in the U.S.
Here's a couple of other day trips those of you who rent a car might want to check out:
1. Mesquite and the Virgin River Gorge – Head north on I-15 past Mesquite to Littlefield, Arizona and stay the course. From there, you'll enter the incredibly scenic Virgin River George for 15 spectacular miles of some of the more scenic interstate highway in the nation. If you reset your odometer when you leave downtown, you'll come upon Black Rock Road at the 110 mile mark where you'll turn around, reverse course and do it again on your way back to Mesquite. Home to three hotel/casinos, Mesquite makes a nice place to breathe some fresh air and get something to eat before the relatively quick 70 miles back to Las Vegas.
2. Valley Of Fire State Park – This can actually be combined with the above trip and something you can swing through and check out on your way home from Mesquite (give yourself a couple extra hours). The red hues are literally out-of-this-world (parts of one of the Star Trek movies were shot there) and the scenery is ever changing as you take the comfortable drive through the park.
Important Note: Both of these adventures are on well-traveled roads, but you are getting out there in the "middle of nowhere" to some extent. Keep your car gassed up when you get a chance, carry some snacks and plenty of bottled water, and I'd avoid doing this in June, July, or August do to the heat. Believe it or not, these areas are actually a few degrees HOTTER than Las Vegas is!

We love to hear from you, and value your feedback! Here's how to participate:
Want to comment on a current reader post? Use the comment box on that particular web page. Many of the stories we post also have comment boxes at the end of the story. Make your voice heard!
Drop us an email at AccessVegas@AccessVegas.com – We read them all!
Call our recorded comment line at 702-507-0055. We listen to every call.
---
More Las Vegas News – Shows – Events
No related links found