Serving Las Vegas Visitors and Residents Since 1999
Welcome to the Insider Vibe! This is the official newsletter of AccessVegas.Com. We talk about the Las Vegas activities you really care about.
---
AccessVegas.com Quick Info Menu:
Las Vegas Essentials

Seasonal Vegas Information

Featured Shows

Photos and Wallpaper
Newkirk's Notes – comments on Las Vegas from AccessVegas.Com publisher Ted Newkirk:
Hello From Las Vegas! Holy cow and my-oh-my (to use family friendly phrases)… is Las Vegas ever packed and jumping. The scares regarding Mexican travel have helped push an extra-large spring break crowd our way. Add March Madness to that and people are partying like it is 2005.
And… we'd have some video of the above. But it is in the middle of an 11 hour YouTube upload. So, we'll have that next week.
ACE Service In Operation! – I was surprised at the significant number of emails that came in here about the new express ACE bus service to downtown. So on a beautiful, sunny day this past week, we actually drove the route.
The ACE has designated lanes throughout much of downtown. Although it will mingle with traffic on The Strip, it makes only a handful of stops and thus should provide a much quicker trip. As noted, The Deuce no longer goes downtown. If you stay aboard northbound, you'll get an enjoyable trip over to Palace Station instead. Granted, Palace Station is similar to most of the downtown hotel casinos. But… it certainly isn't downtown.

Note: the 5'th Avenue Liquor Sign (pictures here above the Ace stop) is one of the many historic Las Vegas signs being refurbashed and put on display as public art throughout the downtown area. The Neon Boneyard is under renovation and will becomse a public park/display serving the same purpose. More on this in a future issue.
Yes, you can transfer from The Deuce to The Ace (or visa-versa). Same bus company. However, NOT the same company that owns the monorail so no transfers there. Our tip? Both buses share stops along The Strip. Make the transfer over to the ACE (from Deuce) as quickly as possible to save the most travel time. Routes, pricing and other details available at Las Vegas New ACE Bus Service Strip-to-Downtown Pictures and Info
Las Vegas Podcasts – No, me doing one is not yet on the radar. Maybe down the road as I transfer some of my duties to new staffers we are looking to bring on. In the meantime, I've had the pleasure of spending time with the people behind a couple of other very informative Las Vegas podcasts you may want to check out:
The Vegas Tourist

– Mark and Sazzy take you on a wild ride through everything Las Vegas. Mark is a professional tour guide and Sazzy is a member of the paparazzi (shooting red carpet events regularly) and these two can tell you what is going on in their own inimitable way.áMight take a couple episodes to get familiar with all the cast of characters so just hang tight. They have interviewed people ranging from casino owners to high profile (and now retired) mobsters to famous race car drivers and more. Both are originally from Minnesota and bring their Midwest twist to this fun, home-grown show.

Living In Las Vegas

– Scott and Melissa Whitney escaped Silicon Valley about six years ago have have not looked back. On their second marriage and with college-aged kids, they live in the Las Vegas suburb of Aliante. Scott owns Podworx (check them out if you need to be doing audio or video streaming for your company or group) and Melissa is an Human Resources expert who has worked for major hotel casino companies here. You'll learn the good, bad, funny, and amusing of what it is like to call Las Vegas your home. Topics range from their "Staycations" on The Strip to their lives and neighborhood issues. Basically, the ability to follow a couple as they live in Las Vegas.
BTW, there are a number of other great Las Vegas podcasts and I'm in the process of reaching out to the people who do them to maybe have a bite or libation together and we'll look to feature them down the road.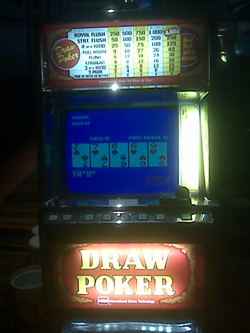 Anybody Remember These Things? – This is an old school video poker machine. No bill acceptors. It takes in (and spits out) real quarters. These particular ancient models were on their way out when I moved here in 1993. The Plaza still had a few up through the late 90's and I'd get a kick out of buying a roll of quarters and feeding the machine one-quarter-at-a-time. Old school, nearly full pay 9/6 Jacks or better. None of the new, rip-off triple-double-mega-
bonus-whatever.
So why am I bringing this up? I took this photo last week. The machine (and a number of it's siblings) are fully functional and running at the (still relatively new) Cannery East on Boulder Highway. They have an entire section of functioning, retro machines! Getting to The Cannery is actually pretty easy. Catch the free shuttle from The Strip to Sam's Town (call Sam's Town for current operational times) then take the 1/2 mile walk or quick cab ride down the street to Cannery.
Yuma, Redding, Las Vegas, Phoenix and Tuscon – Florida may call itself the Sunshine State, but if you really want some sunshine, the cities just listed are the top 5 cities based on percentage of annual sunshine. Reno came in at #8. Florida's highest ranking cities? Key West was #12 and Miami was #27. Now… please, no hate mail from Florida. I enjoy visiting the state and you have something we don't: Beaches! You can see the complete list of cities here.
Claim Your Baggage, And Your Liquor! – Serious consideration is being given to putting a liquor store in the baggage claim area at Las Vegas' McCarran Airport. Savvy travelers already have their cab stop at a liquor store on the way to their hotel, and the airport (operated by the county) could use the revenue to keep the costs to the airlines low. One of the reasons that Las Vegas is one of the more affordable places to fly into is that everything is done to keep the local ticket surcharges and airline fees low so the savings is passed on to you.
Another thing we're seeing more and more of are people buying cheap disposable styrofoam ice chests when they arrive and buying a couple cases of beer to fill them. Add ice from the hallway ice machine, and you have instant in-room refrigeration. On a similar note: Price of a Heineken at Wynn/Encore? $7 dollar. Price at Sam Boyd's Fremont Hotel downtown? $2 dollars.
R.I.P. Lee Pete – Who the hell is Lee Pete? Only probably the most legendary sports radio guy to ever hit the Las Vegas airwaves. If you live in one of the 11 western states where 720 AM KDWN can be heard overnight and were flipping around the dial in the 80's and 90's, you probably caught his show at one time or another.
One of his major sponsors locally was the Four Aces Menswear Shop downtown. They advertised Florsheim shoes and every color of Sansabelt slacks available in sizes up to 60. (I'm not making any of this up). I've never owned Florsheims or Sansabelts, but loved listening to Lee, both when I live in Portland, Oregon (where KDWN comes in great at night), and after moving here. He hung up the mic at the age of 76 and passed at 85 after suffering from ALS the past few years. Rarely without a cigar or an fascinating (and colorful but true) story, one of his favorite quotes was "Nothing scares me. I've been married twice". Lee was a part of old Vegas and will be missed.
Enjoy This Issue!

Associate Editor: Amy Rayner-Cooley
News Researcher/Editor: Mark Jacobs
---
Las Vegas Is On Sale!
Get Great Rates At All Hotels:
---
Frank Caliendo: Impressionist Master

Only in Las Vegas might one find a gathering of politicians, celebrities, icons and even puppets together on one stageàin this case, all these personalities are voiced by a lone performer. Popular comedian and "MadTV" alum Frank Caliendo headlines at the Monte Carlo, presenting his much celebrated and beloved impressions of stars and celebs including John Madden, Dr. Phil, George W. Bush and Al Pacino. Boasting some of the StripÆs most comfortable accommodations, including legroom aplenty, the Lance Burton Theatre houses the impressionistÆs show from Thursday through Saturday at 9:30 p.m., as well as Sunday and Monday at 7:30 p.m.
Entering the theatre, guests may purchase cocktails from a handsome bar just outside the showroom. Once the audience is settled in the grand theatre, a live band performs rock classics and campy TV theme songs, warming up the eager audience. The band also occasionally accompanies Caliendo during the show. Next, comedian George Cantor provides the opening act prior to CaliendoÆs anticipated appearance.
---
Dennis Miller Returns To The Orleans Showroom Las Vegas
– Following multiple successful engagements in
The Orleans Showroom
in 2009, five-time Emmy Award winner and crowd favorite Dennis Miller brings his hilarious stand-up routine back to venue, April 16, 17 and 18. Celebrated as a witty comedian with an entertaining and intriguing stand-up routine, Miller keeps audiences laughing with his irreverent observations.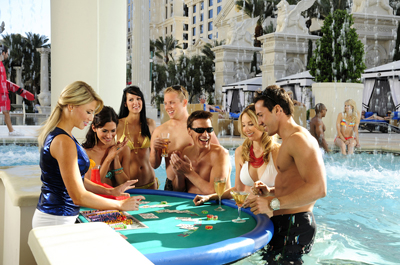 Caesars Palace Las Vegas Debuts Eight Stunning New Pool Experiences For World-Renowned "Garden Of The Gods" – Five-Acre Oasis Creates New Destination for Sun-Worshippers, Gods and Goddesses. With the famed Las Vegas pool season about to heat-up into full swing, Caesars Palace in Las Vegas is ready to take the summer crown with the inspired new Garden of the Gods pool oasis, which makes its grand debut on Friday, March 19.
Note: Link below contains streaming video of Caesars and the Garden Of The Gods new pool experiences. Check it out:
Bellagio Establishes New Record As Home To The Most Master Sommeliers In The World – Bellagio is proud to announce the appointment of Darius Allyn, a distinguished member of the Court of Master Sommeliers, to the position of Sommelier for Osterio de Circo and Sensi. Allyn becomes the fourth on the already impressive team of Master Sommeliers, joining Joseph Phillips of MICHAEL MINA, Robert Smith of Picasso and Director of Wine Jason Smith. This honor further validates Bellagio's commitment to excellence and establishes it as the only hotel in the world with four Master Sommeliers at a single property.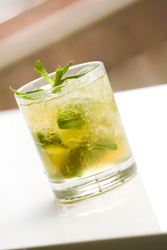 Rhumbar Offers Signature Mojito And Premium Montecristo Cigar Pairing – RHUMBAR, the stylish cocktail lounge at The Mirage, has paired two of its signature specialties û hand-muddled libations and fine cigars û and made them available in one enticing offer. Throughout the month of March, cocktail lovers and cigar aficionados will enjoy RHUMBAR's signature mojito paired with a premium Montecristo cigar, available for just $20 through the end of March 2010. "The mint mojito is an ideal complement to the medium-bodied Montecristo cigar," said Michael Frey, owner of RHUMBAR. "The smooth, creamy texture of the tobacco counterbalances the tartness of the lime and sweetness of the rock candy syrup for a well rounded pairing."
Giada De Laurentiis Visits Miracle Mile Shops To Sign Copies of Giada at Home – Bestselling author and Food Network star, Giada De Laurentiis, will personalize her new cookbook Giada at Home: Family Recipes from Italy and California and greet fans at Sur La Table inside Miracle Mile Shops Monday, April 5 at 5 p.m. Fans must have a ticket to gain access to the cookbook signing and meet and greet. Tickets can be obtained by purchasing a copy of Giada at Home: Family Recipes from Italy and California at Sur La Table's Miracle Mile Shops location any time between now and April 5.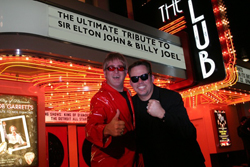 'The Ultimate Tribiute To Sir Elton John & Billy Joel' Opens At Las Vegas Rocks CafÚ's Embassy Theatre – "The Ultimate Tribute to Sir Elton John & Billy Joel" starring veteran tribute artists Jeffrey Allen and Michael John will open for a limited engagement at the Las Vegas Rocks CafÚ's Embassy Theatre on Thursday, March 25, 2010. They will headline on Thursday and Friday at 8 p.m. and Saturday at 9 p.m. Jeffrey Allen and Michael John have joined forces to create a highly successful show that has audiences raving. Just like the original tour, each artist performs a solo set with a killer five-to-six piece rock 'n' roll band, and then culminate the show with a face-to-face set featuring both of them playing together on two pianos and trading off lyrics on each song they perform.
Jackson Browne With Special Guest David Lindley At Hard Rock Las Vegas – Singer-songwriter Jackson Browne will take to the road this summer with his band and longtime friend and musical co-conspirator David Lindley. Comprising dates in the U.S. and Europe, the Jackson Browne with David Lindley Tour follows the May 11 release of Love Is Strange (Inside Recordings), a 2-CD live set capturing a tour of Spain that Browne and Lindley did in 2006. Stateside, the Jackson Browne with David Lindley Tour gets underway July 20 at The Joint at the Hard Rock Hotel and Casino in Las Vegas, NV.
Sexy Sirens Of TI Sizzle Into Summer Season At Treasure Island Las Vegas – Treasure Island changed the schedule for its popular Sirens of TI show, which appears nightly in Sirens Cove near the casino's entrance. The Sirens of TI features a clash between mesmerizing Sirens and their rebel pirate prey, transforming a 17th century story with a 21st century twist of song, dance, seduction and danger. New schedule in link below.
Carole King And James Taylor 'Troubadour Reunion' Tour Comes To Las Vegas – Iconic recording artists Carole King and James Taylor announced additional North American dates for the highly anticipated "Troubadour Reunion" tour which features a stop at the MGM Grand Garden Arena Saturday, July 17. This once-in-a-lifetime, intimate, in-the-round performance will bring two of the most beloved singer/songwriters together on tour for the first time in four decades.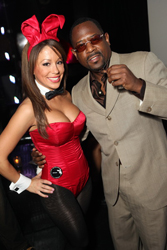 Actor and comedian, Martin Lawrence was at Rain Nightclub inside Palms Casino Resort Friday night (3.19.10) with 15 of his friends. Sitting at a table on stage next to the DJ, they drank Kettle One with Red Bull. Later that evening a Playboy Bunny presented Lawrence with a coveted Playboy Club key. Photo Credit Sean O'Neil
Cool Off This Summer At Miracle Mile Shops With A Frozen Treat From Red Mango – Red Mango, a pioneer in all-natural frozen yogurt, is now open inside Miracle Mile Shops at Planet Hollywood Resort & Casino. Red Mango frozen yogurt is all-natural, nonfat, gluten-free and freshly delivered to each store. Red Mango combines tantalizing flavors such as Original, Pomegranate and Tangomonium with fresh and delicious toppings including mango, banana, raspberries, granola, mochi, almonds and more to create a nutritious dessert. Perfect for any time of day, the Miracle Mile Shops location offers frozen yogurt, fruit parfaits, smoothies, iced teas and more.
Gambling Talk: Video Slots – Carnival of Mystery – with Victor H. Royer. As promised, in this issue û and the following issues û I will now write a little more about some of the favorite slots that my readers have told me they like to play, and later also show you some of the great new slots that are about to be released. In this issue, I present: Carnival of Mystery video slot machine from IGT.
This is the fascinating Carnival of Mystery video slot machine from IGT, presented in the Game King Upright 19″ video cabinet. Click to Read Complete Article…
---
Members Mania – We Love Our Readers!
Just got back to NY after spending a wonderful week with the wifey in your town! This was her first time and she hit for $1000.00 bucks on that BIG slot machine in the Nugget by Fremont St! What a thrill for her! Was comped at the Palazzo and Sahara for a total of 8 days! Palazzo was awesome. Standard rooms (mini-suites) are drop-dead gorgeous!
The Sahara on the other hand needs to renovate badly! I realize I'm talking apples and oranges here but it really does need a little updating! My only real gripe is the extravagant add-on costs of renting a car at the airport. With all the misc. taxes and fees, the cost of the weekly rental is actually DOUBLED by the time it is added up! Keep up the good work!
Ruben & Kathy from Chester, NY
Ted Responds:
You certainly got to see both ends of the spectrum: One of the nicest places in town, and one of the more moderately priced hotels.
The owner of The Sahara still has big plans to make it really nice. But… those will wait until better economic times.
I agree that the high airport rental car taxes leave a very bad taste in people's mouth. So much of the room taxes are basically wasted, that if rental car taxes were lowered and room taxes were used more effectively, it would be a win-win for all. We'll keep fighting the good fight for all our visitors.
Great to hear about the huge win. Even more fun on those big machines because there are usually people standing around watching you play!

---
You have a wonderful and informative newsletter. I used to drive longhaul truck and would get through Vegas every couple of months. I got off the road about a year before Star Trek the Experience closed. I used to stop there every time I was in town. Any word on when or if it really is going to reopen at Neonopolis?? Thank you for your time
Robert D.
Ted Responds:
No new word as of yet. And no real word on why it didn't open. We'll let you know if we ever find out anything. However (while I'm at it), those who keep asking about the Lady Luck will be pleased to know that plans should be coming before the city within the next couple of months. What morons they were to close that place down. Hopefully, it will be back in some semblance of what it was.

---
Great to keep up with the news from Vegas each week looking forward to my next visit in May. Have I read the new buses correctly? as the new bus service on the Ace seems to make the strip journey worse if you are staying at the north end.
For instance we stay at Circus and to get to Fremont or the Outlets we will now have to travel down to Fashion Show on the Deuce and cross over to the Wynn to pick up the Ace and then travel back up. And again if we visit the Outlets South we will have to get off the Deuce at Mandalay and transfer to the Ace. Will this not cause a bottleneck at both transfer points?? The old route long as it was seems so much simpler to me. Get on/off at Circus and on/off at Riviera.
Karen from Jersey
Ted Responds:
Travel from Circus and Riviera will now involve a transfer if you want to go downtown or south of Mandalay. We advise the following:
1. Spend the few bucks on a cab to get you to the nearest Ace stop. The Sahara for northbound (Ace stops behind the Sahara across from the monorail stop), Fashion Show Mall for southbound.
2. If you get on The Deuce first, transfer to the Ace ASAP. For example southbound, take the Deuce to the Fashion Show mall then switch to the Ace if going all the way to the Belz Outlet Mall down on the south strip. On your return trip, take the Ace all the way to Wynn then transfer back to Deuce.
People will be transferring at any number of stops. And… by the time the Ace hits Mandalay Bay, it will be empty enough that there won't be any issues.
Because the Ace will save so much time as an express route, it was really needed. The problem with the Deuce is that it was incredibly slow. So… now we have a local (Deuce) and express (Ace).

---
First of I would to thank you for the great job you do letting the world know all the goings on in Las Vegas. My wife and myself have been coming to Vegas 2-3 times a year since 2000. Never have we had a bad time. There never seems to be enough time in the day when we are in Vegas. In Vegas there is always something new to see and do. Whether itÆs a new hotel, show or dining you canÆt go wrong here.
I here some people complaining about the treatment. Well I am from New York and everyone has an bad day. We have never encountered any bad treatment in Vegas. If you canÆt just smile kick back enjoy this town with all it has to offer then your in the wrong town.
Thank you,
Mr. & Mrs. V
Ted Responds:
Thanks for putting things in perspective. Customer service issues have come to the forefront as hotels have cut staff due to the economy. But all-in-all, I've found that if you treat the help nicely (and a nominal tip here and there when deserved doesn't hurt), service here is still pretty darn good when compared to some other areas.

We love to hear from you, and value your feedback! Here's how to participate:
Drop us an email at allvegastv@aol.com – We read them all!
Call our recorded comment line at 702-507-0055. We listen to every call.
---
More Las Vegas News – Concerts – Events
---
Coming Hot Holidays
– The following dates are huge times to be in Las Vegas, and rooms are in high demand. Booking in advance is the best way to save. Visit our friends at
Las Vegas Hotel Deals
and spend one of the following hot dates having fun in Las Vegas:
Easter Sunday April 4
Cinco de Mayo May 5
Mother's Day May 9
Memorial Day, U.S May 29-31 (3 day weekend)
Father's Day June 20
Independence Day July 4
Civic Holiday, Canada July 31-August 2 (3 day weekend)
Labor Day, U.S September 4-6 (3 day weekend)
Labour Day, Canada September 4-6 (3 day weekend)
Jewish New Year September 9
Halloween October 31
Veteran's Day November 11
Thanksgiving Day, U.S November 25-28 (4 day weekend)
Hanukkah Dec. 2 – Dec. 9
Christmas December 25
New Year's Eve-Day December 31 – January 2 (3 day weekend)
Martin Luther King, Jr., Day, U.S (Observed) January 15-17 (3 day weekend)
Chinese/Lunar New Year February 3
Super Bowl Sunday February 6
Lincoln's Birthday, U.S February 12
Valentine's Day February 14
President's Day, U.S (Observed) February 19-21 (3 day weekend)
Washington's Birthday, U.S February 22
Mardi Gras March 8
St. Patrick's Day March 17
Link To Us! – Have a home page, web page, or blog? Link to us, and give yourself and your friends a quick link to find us from your site. Simply link to http://www.accessvegas.com and name the link Access Vegas!
RSS Feed – We now have an RSS/XML feed! Most RSS programs let you visit AccessVegas.com and automatically pull the feed. For those who want to enter it manually, the feed is:
http://www.accessvegas.com/xml/whats-hot.xml
Share the info: Click to Email this newsletter to a friend!
---
For comments or questions regarding our content
or this newsletter write us at
allvegastv@aol.com
.
New to the list? See our Newsletter Archives for back issues and subscription info. Don't hesitate to forward this newsletter to friends and associates.
All contents copyright 2010 Ted Newkirk. All Rights Reserved.
Hotel Rates Published Accurate At Time Of Publication


March 23, 2010 ISSN: 1529-2770 About Us Privacy Policy
No related links found