Serving Las Vegas Visitors and Residents Since 1999
---
AccessVegas.com Quick Info Menu:
Las Vegas Essentials

Seasonal Vegas Information

Featured Shows

Photos and Wallpaper
Newkirk's Notes – comments on Las Vegas from AccessVegas.Com publisher Ted Newkirk:
Hello From Las Vegas! The great news: Spring has spung and temps have been (and will continue to be) in the 70's. It has been NICE, pools are opening up, The Strip is crowded even on weekdays. St. Patrick's day was out-of-control (in a good way).
Look over our Las Vegas St. Patrick's DayáEvent List 2010 to see what you missed, and see if you need to be thinking about booking for next year. In the meantime, try this one of for size at home: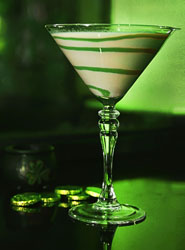 St. Patrick's Day Cocktail At Fusion Mixology Bar – Drink name: The Height of Folly; Bar: Fusion Mixology Bar, The Palazzo Las Vegas
Ingredients:
2 oz. Bushmills Irish Whiskey
1 oz. Bailey's Irish Cream
¢ oz. Half n Half syrup
¢ oz. simple syrup
Garnish: "Green" white chocolate syrup swirl in glass
How to assemble cocktail: Shake and strain into Martini glass
Why Not Mardi Gras/Fat Tuesday? – Given the rousing success of St. Patrick's day, I'm completely surprised that Mardi Gras and Fat Tuesday are not more actively promoted here in Las Vegas. Yes, Mardi Gras is associated with New Orleans (although it is celebrated in many Southern U.S. cities). But, Las Vegas' forte is taking what other cities do well and putting it over the top with our own twist. New Years Eve has traditionally been linked to the New York City ball drop. We've blown the roof off of that one (see video of Las Vegas New Years Eve Fireworks). Super Bowl? More people come here to party and enjoy it than go to the host city. Fat Tuesday (the culmination of Mardi Gras)? Next to nothing.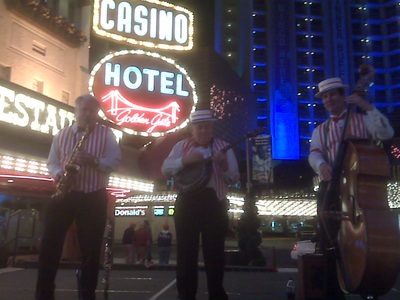 We did head out for Fat Tuesday last month. First stop was Harrah's and their Carnival Court. Carnival is "Mardi Gras" is other parts of the world. The celebration at Harrah's? Zilch. On to downtown, where we credit the Fremont Street Experience for havingáDixieland (see above) and Zydeco bands getting the crowd in the mood. Some impromptu bead-tossing was going on from the Vue Bar at Fitzgerald's (overlooking Fremont Street) and yes… women were doing what women do for beads. But as a whole, the celebration was poorly promoted and most of the people downtown were those who would have been there anyway.
I don't expect the LVCVA (convention authority) to step up Mardi Gras promotion next year. We're talking a group of people (LVCVA) who couldn't find their posterier with both hands. However… if the Fremont Street Experience is more proactive on getting the word out earlier and if the major Strip Resorts craft some events and marketing around it, Mardi Gras 2011 in Las Vegas could easily pack the city with a memorable, festive event matching St. Patrick's Day!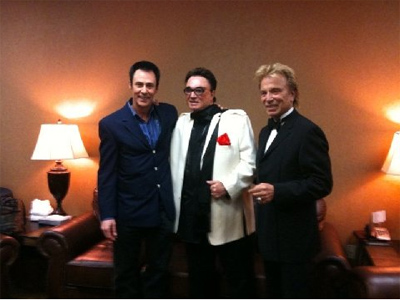 Lance Burton's publicist provided us with this photo of Lance Burton with Siegfried and Roy at a recent Las Vegas magic gathering. While their performing days are over, it is good to see them together and Roy out-and-about in his magical circles. Lance Burton continues to be a great show every multi-visit Las Vegas tourist should enjoy. Click for Lance Burton Las Vegas Tickets.
New Bus Lines For You! – As promised, here are the links to the schedules and routes of the new bus routes serving the Las Vegas Strip and Fremont Street Downtown.
The Deuce

– Will continue to serve the Las Vegas Strip from The Sahara to Mandalay Bay, making all of the present Deuce stops. The Deuce actually turns west at Sahara and continues on to Palace Station. Deuce Las Vegas PDF Route/Schedule


The Ace

– New Service that will run from Las Vegas Premium Outlets downtown over to Casino Center Drive (cutting right through the middle of Fremont Street Experience) and on to The Strip. Important Note: This is a limited stop service along the Las Vegas Strip. It will make much better time than The Deuce, but beware to not overshoot your stop or you're in for a long walk back! Ace Las Vegas PDF Route/Schedule
Both schedule changes (and new Ace service) start on March 28. I've read that the Ace service will be complimentary (no charge) the first week. Ace service requires ticket purchase at the bus stop (from a ticket machine) prior to boarding. Rides are $3 each or a $15 3-day pass can be bought online here.
Enjoy this issue!

Associate Editor: Amy Rayner-Cooley
News Researcher/Editor: Mark Jacobs
---
Las Vegas Is On Sale!
Get Great Rates At All Hotels:
---
Crosby, Stills & Nash – Friday, June 4 At The Joint At Hard Rock Hotel & Casino
– The legendary trio Crosby, Stills and Nash (CSN)ùDavid Crosby, Stephen Stills, and Graham Nashùwill tour the western United States in late spring, making a stop at The Joint at
Hard Rock Hotel & Casino
on Friday, June 4. Most recently, CSN was a featured part of the all-star tribute to Neil Young û their longtime partner in Crosby, Stills, Nash & Young û at NARAS' 2010 Person of the Year gala honoring Young that kicked off this year's GRAMMY weekend festivities.
New Wynn Wine Bar Debuts Later 2010 – Wynn Las Vegas is proud to announce a partnership with the N9NE GroupÆs Michael Morton to open a wine bar at Wynn Las Vegas. Beginning Fall 2010, the wine bar will elevate the celebration of wine to a multi-sensory experience including food, mood and music with innovative design features. Intimate and edgy, the wine bar will feature handcrafted wines culled from the best vineyards around the world. A selection of artisanal beers, organic spirits and specialty cocktails will compliment the comprehensive wine list.
The wine bar will pair the sophistication of the wine with an accessible neighborhood hideaway to welcome the connoisseur and the novice alike. A gourmet, chef-driven menu serving house-made and artisanal charcuterie, farmhouse cheeses, hand-cut crudo, tapas Ó la plancha and bite-size desserts will also be offered. Musical inspiration will derive from rhythms from around the world including Italy, Spain, France, Argentina, Chile and Australia.
Matt Goss Live From Caesars Palace Produced By Robin Antin Debuts – Opening night of Matt Goss Live from Caesars Palace Produced by Robin Antin at The Gossy Room in Cleopatra's Barge. Backed by a 9-piece band and sexy female dancers known as The Dirty Virgins, Goss' new production blends original music from his "Gossy" album with classic covers influenced by the Rat Pack.
Cabo Wabo Cantina Presents March Entertainment Schedule – Live Entertainment Friday, Saturday and Sundays – Sammy Hagar's Cabo Wabo Cantina will rock out every Friday and Saturday night with live classic rock music beginning at 9:30 p.m. The rockin' fiesta continues on Sunday with a Mariachi brunch featuring a live Mariachi band from 11:30 a.m. to 3:30 p.m. and live Rockstar Karaoke beginning at 9 p.m.
Barry Manilow Premieres New Show At Paris Las Vegas – Legendary singer-songwriter Barry Manilow is making music and magic at Paris Las Vegas with a new resident show. On Saturday, Manilow threw open the doors to the Paris Theatre at Paris Las Vegas with a reimagined stage show that is both more intimate and more exciting than ever before. Manilow will perform 78 shows each year for two years at Paris Las Vegas. The shows are produced by AEG Live in conjunction with Paris Las Vegas. Tickets for performances through July 18, 2010 are currently on-sale.
MGM Grand To Host An Evening With Sting And The Royal Philharmonic Concert Orchestra Conducted By Steven Mercurio Friday, June 18 – Live Nation announced today that Sting, accompanied by the Royal Philharmonic Concert Orchestra, will embark on a world tour this summer including a performance Friday, June 18 at the MGM Grand Garden Arena. Sting will perform his most celebrated songs re-imagined for symphonic arrangement while the Royal Philharmonic Concert Orchestra will be conducted by Maestro Steven Mercurio. Mercurio has conducted shows for other stars including Andrea Bocelli and the late Luciano Pavarotti. The concert spectacular is scheduled to begin at 8 p.m.
The First Todd English P.U.B. Now Open At Crystals At CityCenter Las Vegas – Celebrity Chef Todd English creates a modern interpretation on a traditional English pub with international draught beers and signature pub fare. Three-time James Beard Award-winning celebrity chef Todd English debuts his latest culinary eatery, Todd English P.U.B. inside Crystals, CityCenter luxury retail and entertainment district. Todd English P.U.B. (an acronym for Public Urban Bar) is a modern interpretation of an authentic English pub.
Gambling Talk: Video Slots – Wizard of Oz – with Victor H. Royer. Along with Dorothy, and all the characters from the popular MGM Musical from 1939, Starring Judy Garland, in this video slot machine we are also invited to follow the yellow brick road to lots of pays. This game has a high hit frequency and many lines for lots of big pays.
There are 30 line with characters of Dorothy, Toto, and a three pack square with the Cowardly Lion, The Scarecrow, and the Tin Man. Also featured are Ruby Slippers, Houses, TornadoÆs, Hot Air Balloons, and of course the Wicked Witch of the West. In addition to the base game, there are also 3 different bonus rounds. Click to Read Complete Article…
---
Bookmark and Visit EasyVegasDeals.com daily (Monday – Friday) or

Enter

http://www.easyvegasdeals.com/feed/

into your RSS feed list (for those of you who use RSS/XML feeds) or
---
Members Mania – We Love Our Readers!
---
We got back yesterday and wanted to drop you a few lines. Saw David Copperfield, what a great show. Really cool that he comes out into the audience and does close up magic. He is great at what he does and surprisingly VERY funny.
BUT even better than David Copperfield was Viva Elvis at Aria in City Centre. Being a HUGE Elvis fan I was a bit skeptical of how they would portray Elvis and how the "impersonator" would be and having never seen a "Cirque" show how the acrobatics would fit in..
There is NO impersonator; Elvis is up there on a BIG screen in actual footage. The only other singers are four women that are great with some incredible voices. Whoever did the film editing is a genius û although the pictures change throughout a song the movement of his lips is ALWAYS right on cue.
The acrobatics are there but it is far more dancing/choreography numbers. There is one scene with trampolines that is absolutely unbelievable and will leave you positively amazed. After the show a reviewer from Belgium interviewed my daughter to get the take on the show from a younger generation point of view. She was thrilled to say the least.
She is already talking about our trip for next year and making plans. What a GREAT city, what a GREAT job you do. Keep up the hard work WE all so appreciate it and look forward to your newsletter each week..
Mark from Cape Cod, MA
Ted Responds:
Thanks so much for the great feedback and all the info about Viva Elvis (Cirque du Elvis Tickets). Local critics have been lukewarm to it and I have not seen it yet (had the invite, but had a conflict). BUT… the Cirque people note that it gets a standing ovation every time. So… looks like they might have a hit on their hands. And Aria has another way to get people all the way back to their hotel/casino which is a good hike from The Strip.

---
Love your newsletter, have been reading it for over 10 years.
I am very concerned over the way Las Vegas has lost its glitter, service is lousy, even the city buses break down often and all these construction sites vacant with no signs of any work being performed.
Someone needs to let the big shots know that a major attitude adjustment needs to be done for customers to feel like they are wanted, and casinos need to loosen up a bit on the the game payouts and give better service, otherwise it will remain bad or worse in the coming years. I will not be back and also letting all my friends and people I come in contact with that VEGAS is not a place to go for fun anymore.
G and K Smith from Fremont, CA
Ted Responds:
We're stuck with the half-finished buildings for a while. Fortunately, most visitors just look at them and think "Oh, they are building something new there."
Visitor volume is starting to rebound, the excitement vibe is coming back (people aren't feeling as guilty to be here in light of the economy). With any luck, the next 2-3 years should bring improvements in customer service and resumption of construction on halted projects.
Las Vegas isn't going anywhere. Sit it out for a while and see if you miss it or not. Try back in a couple of years. If there is one constant here, it is change. The pendulum is swinging back toward Las Vegas being the premier destination (for the money) in the U.S.

---
My wife and I love Vegas ! We would go 2 times a year if the plane fare wasn't so high. We usually go one time a year but have missed a few in between. There is so much to see and do there. Went last year with 3 other couples and we were like the tour guides for them – they loved it. Please poke the airlines to make flights more affordable and you will see much more tourist there to spend money, I am sure this applies to everyone that reads this post.
Thanks,
Ray from Ellington, N.Y.
---
Didn't I just read recently that the monorail (the one so far behind the casinos that you can't even find it) is in trouble again. I always wonder… Why isn't there an attractive, efficient easy to use elevated monorail that runs above the center of the strip from the airport to Fremont street?
Surely it would be a first rate feature in Vegas that every one would love to use. (Ever try riding the surface "Deuce" bus up the strip takes "hours") Maybe Vegas could get the Feds to pay for it by calling it "high speed rail".
Anyway, thanks for the nice Vegas news site.
Les from Ellicott City, MD
Ted Responds:
The monorail finally officially declared bankruptcy (which was no surprise). Cab companies (who are very, very powerful) would most likely fight any new kind of transport. Also, the monorail is a private entity and some wrangling would have to be done to get it qualified for federal funds. Having said that, with all the money in the trough for construction projects to stimulate the economy, it does seem interesting that there isn't a bigger clamor for action.
As noted earlier in the issue, a new more express bus will be running down The Strip. Although it will still be subject to the traffic, fewer stops mean a quicker trip.
I'm with you 100%. I've wondered why not a big tram (the kind they have in Albuquerque and Palm Springs) running through the air high above each side of The Strip. Some way to get people around above the traffic with a great view. With the recession, traffic isn't awful except on weekend and big conventions. But as things pick up again with the addition of new rooms, Strip traffic will be a big problem again.

---
I just wanted to let you know your newsletter is great. A group of six of us were in Las Vegas for the Valentine's Day weekend. We had a great time. We stayed at The Flamingo. The staff was great. Our room was clean. But the food was not good. I would suggest to everyone going to Las Vegas to go to the Mandalay Bay and have their buffet. We went because my boyfriend read that it is the BEST buffet in Vegas and it DEFINITELY is. I can't wait to go back.
Tara Audette
Ted Responds:
Thanks for the great report. Flamingo often gets low marks for food, although as a seafood lover, I enjoy their buffet. (Those who are not into the "from the sea" stuff should skip it).
Top three buffets in Las Vegas are arguably Wynn, Bellagio, and Planet Hollywood. Although Mandalay Bay regularly gets high marks.
Thanks for reading and make sure to tell your friends to subscribe!

---
We love to hear from you, and value your feedback! Here's how to participate:
Drop us an email at allvegastv@aol.com – We read them all!
Call our recorded comment line at 702-507-0055. We listen to every call.
---
More Las Vegas News – Concerts – Events
---
Coming Hot Holidays
– The following dates are huge times to be in Las Vegas, and rooms are in high demand. Booking in advance is the best way to save. Visit our friends at
Las Vegas Hotel Deals
and spend one of the following hot dates having fun in Las Vegas:
Easter Sunday April 4
Cinco de Mayo May 5
Mother's Day May 9
Memorial Day, U.S May 29-31 (3 day weekend)
Father's Day June 20
Independence Day July 4
Civic Holiday, Canada July 31-August 2 (3 day weekend)
Labor Day, U.S September 4-6 (3 day weekend)
Labour Day, Canada September 4-6 (3 day weekend)
Jewish New Year September 9
Halloween October 31
Veteran's Day November 11
Thanksgiving Day, U.S November 25-28 (4 day weekend)
Hanukkah Dec. 2 – Dec. 9
Christmas December 25
New Year's Eve-Day December 31 – January 2 (3 day weekend)
Martin Luther King, Jr., Day, U.S (Observed) January 15-17 (3 day weekend)
Chinese/Lunar New Year February 3
Super Bowl Sunday February 6
Lincoln's Birthday, U.S February 12
Valentine's Day February 14
President's Day, U.S (Observed) February 19-21 (3 day weekend)
Washington's Birthday, U.S February 22
Mardi Gras March 8
St. Patrick's Day March 17
Link To Us! – Have a home page, web page, or blog? Link to us, and give yourself and your friends a quick link to find us from your site. Simply link to http://www.accessvegas.com and name the link Access Vegas!
RSS Feed – We now have an RSS/XML feed! Most RSS programs let you visit AccessVegas.com and automatically pull the feed. For those who want to enter it manually, the feed is:
http://www.accessvegas.com/xml/whats-hot.xml
Share the info: Click to Email this newsletter to a friend!
---
For comments or questions regarding our content
or this newsletter write us at
allvegastv@aol.com
.
New to the list? See our Newsletter Archives for back issues and subscription info. Don't hesitate to forward this newsletter to friends and associates.
All contents copyright 2010 Ted Newkirk. All Rights Reserved.
Hotel Rates Published Accurate At Time Of Publication


March 17, 2010 ISSN: 1529-2770 About Us Privacy Policy
No related links found