Serving Las Vegas Visitors and Residents Since 1999
---
AccessVegas.com Quick Info Menu:
Las Vegas Essentials

Seasonal Vegas Information

Featured Shows

Photos and Wallpaper
Newkirk's Notes – comments on Las Vegas from AccessVegas.Com publisher Ted Newkirk:
Hello From Las Vegas! Guess we'll call this our jackpot issue as a number of really big jackpots have been hit the past couple of weeks. Looking forward, temps will start to flirt with the 70 degree mark just as March Madness hits full swing, and many of the "daylife" pool parties are getting ready to gear up for the season. Bring it on!
Obama's Come And Gone – The President came to town, said that he loves Las Vegas, and that he didn't mean to slight the town. Mayor Goodman was satisfied that the stink he raised got his point across. Harry Reid was able to announce $100 million in federal funding to help Nevadans with homes in foreclosure (to combat the image that he's not been doing anything for the state).
Ironically, Obama's visit had originally been scheduled for the opening of CityCenter but needed to be moved due to scheduling conflicts. Although his speech took place at CityCenter, he ironically made no mention of the project. Despite the "green" LEED certification and job creation of the project (two things you think he'd be all over). Obama's current approval ratings in Nevada? 39% favorable, 46% unfavorable.
Top 10 Famous Movie Hotels – Tripadvisor included Bellagio Las Vegas at the #2 spot on their Top 10 list based on the resorts role in OceanÆs Eleven and OceanÆs Thirteen.
$877,061 Jackpot At Hard Rock – A visitor named John (last name withheld) won $877,061 after putting $100 in a 25 cent progressive Wheel of Fortune slot machine Saturday, Feb. 27. As you might expect, he spent the rest of his visit at the Hard Rock. (Note: Win that kind of cash, and you'll usually find yourself 100% set-up with whatever you want or need for the rest of your stay). Or course, that's nothing compared to…
$10,422,754.08 Megabucks Jackpot – Recently won at the Reno airport by John W. Johnson of Denver (who I'm sure now has lots of "long lost" friends and relatives contacting him at this very moment). He had just deplaned, stuck $20 in the machine, and hit after only four spins. A $12 investment. Amazing. So much for the old wives tale that it always hits at new hotels. Everyone was expecting it to hit at CityCenter's Aria!
Dropouts Down – Clark County (Las Vegas) is seeing a record low number of dropouts. In years past, students would bail school knowing that plenty of (educationally) unskilled, good wage jobs existed in the area. Oh… how things have changed. You know times are tight when your check-out girl at the mini-mart looks like she'd be making $80,000 a year serving cocktails in a better economy.
Neither Democrat Nor Republican Welcome? – Both major political parties have expressed interest in having their next presidential nominating conventions here in Las Vegas. The problem? Setup time for these conventions borders on 90 days. Space needed during that length of time has already been booked by other conventions, and even if it was available, tying it up for that period of time just isn't a good financial move for Las Vegas or the facilities in question. However, the Tea Party Nation will be holding a national convention here in July. Details: Second Tea Party Convention Planned for Vegas in July and Tea Party Nation
Truckloads Of Condos – When you think "condo" in Las Vegas, one usually thinks of the high rises on The Strip where prices start at hundreds of thousands of dollars. What many don't know is that the current real estate market has resulted in a significant number of decent to nice (usually) 2 bedroom condos just a few minutes from The Strip. More importantly, these units are running in the $30k – $40k range. Now… I wouldn't go buy one strictly for an investment. The condo segment of the market may be the slowest to recover, especially with $100k homes in decent parts of town available.
But, doing the math just might make it work out for those of you who visit regularly. For example, places in this complex (Example 1, Example 2), are literally two blocks from The Rio, The Gold Coast, and The Palms and a mile from The Strip. Mortgage is going to run you maybe $300 a month. With so many people leaving town, you can Craigslist up furniture for the place over a weekend.
And… you are likely to spend less money on your visits because you can keep food at home and you won't be walking by slot machines 24/7. Plus (take it from those of us who live here), while it is great to be out on The Strip, it is really, really nice to come home and shut the door and turn it all off when you want. Most condo pools are open 24/7 and not nearly as crowded as hotel pools. (And, you don't need to pay $10 a drink from a waitress). Zip Codes to check out for these kind of deals: 89102, 89103, and 89146 (basically the area bounded by Sahara, Rainbow, Tropicana, and The Strip).
Whoops – Nevada's major casinos lost $6.8 billion during the last fiscal year. The only bright spot was that baccarat wins were at an all-time high. Obviously, this is because baccarat is a game usually played by the very wealthy so huge amounts of money are bet. And even with the house's low vigorish (percentage they make), the revenue from it adds up. However, it is still one of the most player-friendly (you have a chance to walk a winner) games.
The good news? You don't have to be wealthy to play baccarat. Many casinos offer mini-baccarat: Essentially the same game the "big boys" are playing, but where players sit around a blackjack like table and the betting minimums are much lower. Plus, it is super-easy to learn as there are only a couple basic bets. Give it a try next time!
Victor H. Royer's Gaming Column – Starting next issue, we'll once again have a fresh series of articles by prolific gaming writer Victor H. Royer. If you want to be a better, more informed player (and cut your losses) enter Victor H. Royer into the search at your favorite online bookstore and check out his offerings. The price of a few books is a fraction of what you could end up losing without his knowledge.
Tons Of Responses – Thanks to ALL who gave us their thoughts on "tiered hotel pricing" (see Feb. 17 Access Vegas Insider Vibe). We are compiling them, will publish them soon, and they will be passed on to those studying the issue!

Associate Editor: Amy Rayner-Cooley
News Researcher/Editor: Mark Jacobs
---
Las Vegas Is On Sale!
Get Great Rates At All Hotels:
---
Bellagio Gallery Of Fine Art Debuts Docent Tours – New Educational Opportunity Allows Art Lovers To Expand Their Horizons
– Bellagio Gallery of Fine Art (BGFA) broadens its role as one of Las Vegas' premier cultural destinations with the debut of docent tours. Designed to appeal to art lovers of all ages, participation requires only an enthusiasm for fine art and a willingness to learn. Derived from the Latin word "docere" meaning "to teach," a docent is a trained guide who leads visitors through a museum and delivers an educated commentary on the works in an exhibition. BGFA's Docent Tours are offered five days a week, Wednesday through Sunday, on a first-come, first-serve basis.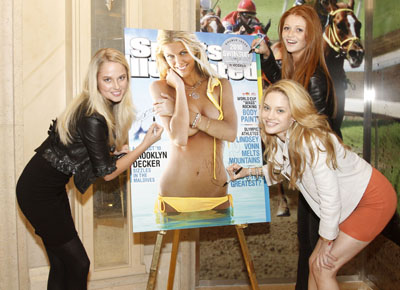 SI Swimsuit models Genevieve Morton, Cintia Dicker and Julie Ordon pose in front of Lagasse's Stadium
photo credit: Imagesofvegas.com/IS Photography
Sports Illustrated Swimsuit Models At Lagasse's Stadium – Sports Illustrated swimsuit models Julie Ordon, Genevieve Morton and Cintia Dicker were at Lagasse's Stadium on February 11, 2010 autographing the 2010 Sports Illustrated Swimsuit Issue. The models were having fun with their fans, signing the SI issue and taking photos. Close to 300 guests attended the event to tailgate with the supermodels!
Frank Marino Unveils Dazzling Drag Spectacular At The Imperial Palace – Las Vegas entertainment icon, Frank Marino unveils his new dazzling drag spectacular "Frank Marino's Divas Las Vegas" tonight at the Imperial Palace. As part of the celebration, Marino will also receive a second star on the Las Vegas Walk of Stars. The self-proclaimed "Peoples' Diva," is the first entertainer to earn two stars on the famed boulevard û one outside the Riviera and one outside the Imperial Palace. Frank Marino's Divas Las Vegas is a 75-minute, contemporary and up-beat production, full of male, lady look-alikes performing parodies of some of entertainment's most beloved superstars.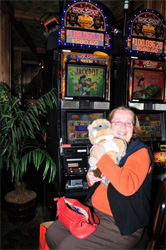 $108,060.33 Paid Out On Monopoly At Hooters Casino! – Donna Egan came to Hooters Casino Hotel on her birthday looking for some big fun and to win a little on her favorite slot machine, Monopoly. What she didn't expect was to win the progressive jackpot for $108,060.33! Donna was elated to win the big jackpot at Hooters Casino on her birthday. Her husband told Hooters executives that she had been keeping the fact that it was her 60th birthday a secret until she hit the big jackpot. Once she hit the jackpot, she started telling everyone that it was her 60th birthday. It goes to show you that a big jackpot can make you feel pretty good about turning another year old!
Peepshow Brings Sexy Back With Holly Madison As "Bo Peep" At Planet Hollywood Resort & Casino – PEEPSHOW, Las Vegas' hottest show and striptease spectacular, brings sexy back to The Strip on Monday, March 1. Holly Madison returns to her starring role as "Bo Peep," a modern woman who discovers her newfound sexuality. Madison is now the darling of Las Vegas after starring in the hit TV show, "The Girls Next Door," on E! for five years and will soon star in her all-new show, "Holly's World," on E!, which season premieres in May. Madison will star alongside a sizzling ensemble of sexy PEEPSHOW GIRLS, showstoppers from film, TV and Broadway who were handpicked to perform in this enormous production.
Eva Longoria Parker Celebrates "Eva Longoria Parker Day" At Eve Nightclub In Las Vegas – Eva Longoria Parker celebrated "Eva Longoria Parker Day" with family and friends, and was presented with a prestigious award to acknowledge her outstanding entrepreneurial success at the Latin Chamber of Commerce 35th Installation Celebration at Eve, her CityCenter nightclub in Las Vegas. Chairman of the Clark County Commission Rory Reid and Las Vegas Councilman Ricky Barlow each presented her with a proclamation on the red carpet to declare the day in honor of Longoria Parker, who was recognized as the sole woman restaurant and nightclub owner on the Las Vegas Strip. Longoria Parker looked ravishing in a grey leather Bagdley Mischka dress and black YSL pumps as she walked the red carpet outside of Eve nightclub with her very proud parents, Ella and Enrique Longoria.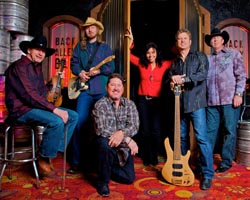 Back Alley Bar At Stratosphere Hotel & Casino New Home For Country-Rock Music On The Strip – With bars catering to country-rock music fans in short supply, the Back Alley Bar at Stratosphere Hotel & Casino steps in as the best place on the Strip to party, drink and do the occasional Texas two-step. Every Thursday through Monday at 10 p.m. one of Las Vegas' most popular country-rock bands, WolfCreek, will rock the house.
Misura, Optica Debut At Street Of Dreams In Monto Carlo – Misura, a menÆs fine apparel boutique specializing in European designs and exceptional tailoring, and OPTICA, the premier distributor of luxury eyewear in America, are now open within Monte CarloÆs Street of Dreams.
Misura – For the man with impeccable taste, Misura offers a remarkable selection of clothing, shoes and accessories from some of the most desired designers in menÆs fashion including Hugo Boss, Zegna and Cole Haan.
OPTICA – A trendy optical boutique, OPTICA offers innovative designs from such iconic fashion brands as Cartier, Giorgio Armani, Roberto Cavalli, Chanel, Dior, Dolce & Gabbana, Gucci, Marc Jacobs, Prada, Ed Hardy, Tom Ford, Chrome Hearts and Tag Heuer.
---
Members Mania – We Love Our Readers!
I really enjoy your newsletter, and look forward to getting the insider scoop every edition. We come to Vegas about twice a year and have stayed at Encore, Treasure Island, Imperial Palace, and The Palms. This time around we used Vegas as a lay-over on our way to Maui, and stayed in a friend's condo in the country club area, and went to the Hilton Sports book to watch the championship football games.
I really love going to spas, and have used the spa at Treasure Island and Encore. They were nice, but I always left feeling the massage was so-so, extremely overpriced, and the therapists had to charge more money to give me a better experience (with deeper pressure or therapeutic technique).
Today I was falling asleep during the football game (our red-eye from Maui left me really tired), so I ended up finding the spa in the Hilton and asking if they had anything open. They were very accommodating, and while the facility wasn't the fanciest I've ever been to, my massage therapist was excellent! They allowed me to relax and just nap on the chaise lounge after sitting in the whirlpool, and next thing I know, I'd passed 3 hours and was very rested! It was an incredibly relaxing experience, and the price was a little cheaper than the other resort spas I've been to ($105 for a 50 min massage).
Also, we accidentally ended up at a Japanese restaurant called Aburiya-Raku and had an incredible experience. We have both lived in Japan and were impressed with the authenticity and how delicious everything is. We found the restaurant just by driving around and using my google application on my phone. We were able to read reviews of the restaurants listed in the area, and that one had 5 stars. We are looking forward to going back next month when we're here with our extended family, and already have reservations. We highly recommend it!
Just one warning about Aburiya-Raku: make a reservation! We almost didn't get to try it, and were walking back to our car after walking in unannounced and being turned down until 10pm. They came running out and offered us two spots at the bar. Most things are bite-sized, just 2-3 bites per order. The homemade tofu in warm broth was incredible!!!! My husband doesn't like or eat tofu, and he ate over 2/3rds of it. It's almost like a custard or creme brulee consistency. I would recommend sticking to the menu and staying away from the specials board. We got two specials, the kobe beef tataki and the grilled unagi (eel). They were both good, but extremely expensive ($36 for a small plate of beef and $45 for the unagi- which was a whole fish), and we saw other things from the menu come out of the kitchen that we would rather have tried.
Thank you again for such a great newsletter,
Carie
Ted Responds:
I know what you mean about massages. Too many times, one pays top dollar and walks away without the feeling that much had been done. Various spas will allow you to relax and use the facilities after a treatment (but I'd always inquire ahead). No question that hitting the spa can get a great way to rest and rejuvenate yourself when in Las Vegas.
Now you have me wanting to try Aburiya-Raku! It is only about 5 minutes from The Strip (5030 Spring Mountain Road — Spring Mountain is where Treasure Island meets The Strip).
Thanks for the tips and great report!

---
I just read the article about the increase cost to ride a bus. It said that a one time ride would be $2.00 and a 24-hour pass would go from $4.00 to $5.00. However, when I was there in August it cost $3.00 for a one time ride and $7.00 for a 24-hour pass. I did ride the Deuce bus with the 24-hour pass. Why the stated difference of $4.00 (now $5.00) to ride the bus when it cost me $7.00 for the 24-hour pass. Don't understand this discrepancy.
Mike Heady
Ted Responds:
The Deuce has always had a slightly higher fare structure. However, you can save by purchasing 3-day passes for any route in advance, online for $15 at http://www.rtcsnv.com/transit/fares_passes.cfm
Also, on March 28, a new express service called The Ace will be running The Strip with limited stops to provide faster service. We'll have all the details next issue.

---
Just wanted to let all your readers know. Stayed for the fourth time at the Circus Circus. Heard it was going to be torn down. Hope that doesn't happen. Had a spotlessly clean and fresh room. A little distance from the action, but was certainly cheap and the walk did us all good. Check in and out was fast and if they are still there next year will make every effort to stay again.
Sharon Palmer
Ted Responds:
Circus will be there for a long time. Las Vegas is overbuilt with expensive rooms so it would be foolish to tear down Circus and build something new right now.á Thanks for the report!

---
We fell in love with Las Vegas the first time we came and have been back every year since then. My eldest son visited Vegas for the first time in 2009 and fell in love with Vegas, just like we did and has just got engaged and intends to get married in Vegas. Any suggestions on good value and venues or anything to avoid would be appreciated.
Greetings from a cold and wet England.
Janet
Ted Responds:
Your safest bet is to go with one of the hotel packages. Just about every hotel has a wedding chapel offering a broad range of packages. Best to hit the actual hotel websites individually for initial research then perhaps call the hotel wedding director with any questions.
Another popular option is to rent a really nice hotel suite for a day or two and have the hotel do basic catering. Someone in catering or the hotel concierge should be able to help you advance plan getting a minister or wedding official. Plus, the bride and groom get to enjoy staying in the suite.
Conversely, if you have a car and want to get your own cake, food, liquor and similar, Albertsons full-service grocery store is only 2 miles east of The Strip on Flamingo at Maryland: 1300 East Flamingo Road, Las Vegas, NV (Google Map) – (702) 733-2947 NOTE: With anything and everything, always call ahead. Anything with a business is subject to change.
Maverick Helicopter Tours will marry you over the Las Vegas Strip or in the Grand Canyon. Info at Maverick Helicopter Tours and click on weddings.
If choosing a traditional Las Vegas wedding chapel, we like Little Chapel Of The Flowers (www.littlechapel.com). A number of years ago, we did a video preview of this chapel: http://www.youtube.com/watch?v=I1FaYwqNxWI
Hope this helps!

---
When you click on the photo gallery pictures, you can save & set as a desktop background. WHY are they ONLY a 4″x4″?? They just will not get any larger?? Nothing to do with my computer, its the pictures themselves. PLEASE make these Large for a desktop!!!
Thank You,
Zerlene
Ted Responds:
Some of our oldest pictures are smaller. The vast majority of sets are large enough to use as desktop. Scroll through http://www.accessvegas.com/pictures and see if you can find another set that interests you.
Also, once the picture is saved to your desktop, you can use your computer settings to tile it, or stretch it to fit your computer screen. Rest assured that all newer photo sets from the past 3-4 years and all the new photos we shoot now are plenty big and will make great quality computer desktop pictures!

---
Editors Note: We constantly get questions along the following lines:
Planning trip to Las Vegas. Any suggestions on good shows and places to eat?
Ted Responds:
With 60 casinos (each with numerous restaurants and shows) and each visitor having their own specific tastes, it is impossible to provide person-specific suggestions that are right for each individual.
Work your way back through our newsletter archives: https://las-vegas-news-reviews.com and I'm sure you'll find things of interest!

We love to hear from you, and value your feedback! Here's how to participate:
Drop us an email at allvegastv@aol.com – We read them all!
Call our recorded comment line at 702-507-0055. We listen to every call.
---
More Las Vegas News – Concerts – Events
---
Coming Hot Holidays
– The following dates are huge times to be in Las Vegas, and rooms are in high demand. Booking in advance is the best way to save. Visit our friends at
Las Vegas Hotel Deals
and spend one of the following hot dates having fun in Las Vegas:
St. Patrick's Day March 17
Easter Sunday April 4
Cinco de Mayo May 5
Mother's Day May 9
Memorial Day, U.S May 29-31 (3 day weekend)
Father's Day June 20
Independence Day July 4
Civic Holiday, Canada July 31-August 2 (3 day weekend)
Labor Day, U.S September 4-6 (3 day weekend)
Labour Day, Canada September 4-6 (3 day weekend)
Jewish New Year September 9
Halloween October 31
Veteran's Day November 11
Thanksgiving Day, U.S November 25-28 (4 day weekend)
Hanukkah Dec. 2 – Dec. 9
Christmas December 25
New Year's Eve-Day December 31 – January 2 (3 day weekend)
Martin Luther King, Jr., Day, U.S (Observed) January 15-17 (3 day weekend)
Chinese/Lunar New Year February 3
Super Bowl Sunday February 6
Lincoln's Birthday, U.S February 12
Valentine's Day February 14
President's Day, U.S (Observed) February 19-21 (3 day weekend)
Washington's Birthday, U.S February 22
Mardi Gras March 8
Link To Us! – Have a home page, web page, or blog? Link to us, and give yourself and your friends a quick link to find us from your site. Simply link to http://www.accessvegas.com and name the link Access Vegas!
RSS Feed – We now have an RSS/XML feed! Most RSS programs let you visit AccessVegas.com and automatically pull the feed. For those who want to enter it manually, the feed is:
http://www.accessvegas.com/xml/whats-hot.xml
Share the info: Click to Email this newsletter to a friend!
---
For comments or questions regarding our content
or this newsletter write us at
allvegastv@aol.com
.
New to the list? See our Newsletter Archives for back issues and subscription info. Don't hesitate to forward this newsletter to friends and associates.
All contents copyright 2010 Ted Newkirk. All Rights Reserved.
Hotel Rates Published Accurate At Time Of Publication


March 3, 2010 ISSN: 1529-2770 About Us Privacy Policy
No related links found