Serving Las Vegas Visitors and Residents Since 1999
Welcome to the Insider Vibe! This is the official newsletter of AccessVegas.Com. We talk about the Las Vegas activities you really care about.
---
AccessVegas.com Quick Info Menu:
Las Vegas Essentials

Seasonal Vegas Information

Featured Shows

Photos and Wallpaper
Newkirk's Notes – comments on Las Vegas from AccessVegas.Com publisher Ted Newkirk:
Hello From Las Vegas! I'm celebrating a milestone this month: 17 years here in Las Vegas. Wow… it has certainly flown by. I was 27 when I showed up to town and the 90's were a great time to be that age here.áNot without a few ups-and-downs, but certainly no regrets. Witnessing the explosive growth in both the Strip and the residential areas has been mind-bending. I've seen more implosions and construction than I ever dreamed.áI'm looking forward to another 17 years here and then some.
Living here this long has led to some interesting insights (which I'll share later in this column) regarding who likes it here, who doesn't and what the future may hold. As always, if you just want to get on to the "what is there to do on my next visit" stuff, just scroll past the commentary segments that do not interest you.
$481.57 – Is the average gaming budget per person in 2009, down nearly 10% from a year ago. No surprise given the tight economy and the (deserved) perception that slots are tighter and table game rules (particularly blackjack) are less player-friendly. Only 83% of all visitors gambled, and first-time visitorship was up slightly.
This is all incredibly ironic as those who have never visited consider Las Vegas to be a gambling destination and don't understand any other reason one would want to visit. However, many of you return home and tell them about the incredible shows, celeb chef and award winning restaurants, tours (you have not lived until you have seen the Grand Canyon — check out the Western Territory tour banner on the right sidebar) and simple carefree fun and (usually) sun that we offer. Keep spreading the word and remind them to subscribe to our newsletteráor at least read it online. A few weeks of reading and anyone will be convinced of the amazing variety of activities Las Vegas offers!
Ace and Deuce Bus Route Notes – The changes have been made in the bus line(s) that serve visitors. Once there was only The Deuce which ran from downtown Fremont Street all the way to the south end of The Strip. And it took (literally) forever because it stopped every block.
The best way to think of the new Ace and Deuce service is this (thinking in terms of a subway, metro rail or similar):
The Ace is the limited-stop express. The Deuce is the local service. If you near an Ace stop and the place you are going to is near an Ace stop, by all means get right on the Ace. However, if you are nowhere near an Ace stop, get on the Deuce (which stops every few hundred feet) and take it to the very next stop that it shares with the Ace. Get off and wait for The Ace.
Now… if you are headed between two locations nowhere near an Ace stop (For example, Tropicana to Harrah's), just stay on The Deuce. It will take you more time to transfer. However, if headed to the Convention Center, Fremont Street downtown, either outlet mall,áTown Square or a hotel with an Ace stop, absolutely jump from Deuce to Ace at the first available stop they both share. (If you are new to this conversation, please read Las Vegas New ACE Bus Service Strip-to-Downtown Pictures and Info).
Station Casinos Breakup – Some of you may have heard that Station Casinos (in bankruptcy) might sell off all but four properties, essentially leaving the founding Fertitta family with Red Rock, Palace Station, Boulder Station,áSunset Station, and the Wild Wild West (which I believe the family still sees the spot they will eventually build a Palms-like property). This is just an early proposal and we'll let you know if it progresses. A surprising number of you who come to town for extended stays and rent a car tell us you really enjoy the various Station properties.
I Was Wrong – A few weeks ago, I noted (as an educated guess) that approximately 20% of the people living in Las Vegas didn't like it here (and noted that the town will be better off when those people leave). A recent UNLV survey puts that figure at 40%. No lie… 40% of those living here don't like it but many can't leave because they are upside down in their house, can't find work if they moved or similar.
Understand that some of that dissatisfaction is due to where someone is at in life. If you are upside down on your home and unemployed (or under-employed) you probably won't be happy anywhere. But there is a significant swath of the population for whom living here simply does not agree with them. This is NOT a normal city by any stretch of the imagination. And, I hope it never becomes one!
These numbers dovetail in with some other recent stats: Visitor volume is roughly where it was in 2004. The job base (the amount of jobs in town) is at 2004 numbers. We had a population of 1.7 million in 2005. In many respects, the addition of that last 200,000 people who moved here the last five years pretty much sunk the boat. We are an island in the desert with tourism as our main economic driver and in reality can only comfortably sustain so many residents. Take away 200,000 people and our unemployment rate goes below the national average and would be in line with the long-time tradition of Nevada being recession-proof. (Current unemployment in the Las Vegas area: 13.9%).
Now, don't get me wrong: This is not a blanket condemnation of those who moved here during any certain time period. I have deep appreciation for recently minted residents who embrace and love Las Vegas, Nevada for what it is (as opposed to those who come from somewhere else, then want to turn us into the area they came from). And, there will always be room for those who are Nevadans at the core of their soul.
But, we'll be a lot better place to live once those who don't embrace this nutty city give up and move back. After all, those are always the people telling us how great their previous city was. If it was that great, please return to it! Once we get back to all the people serving you while you are here being people who truly love the area and appreciate our visitors, we'll see many decades to come of Las Vegas being the greatest place to vacation on earth.
Las Vegas Streaming Video Circa 1991 – I found some great YouTube video of someone who filmed their drive up the entire Las Vegas Strip nearly 20 years ago. In which is pretty much looks like it did when I showed up in town. Well worth tanking a couple minutes to enjoy whether you remember Las Vegas from this time, or just want to go "Wow… it looks so different". Check out Las Vegas Circa 1991 Driving The Strip from the Welcome Sign
Enjoy This Issue!

Associate Editor: Amy Rayner-Cooley
News Researcher/Editor: Mark Jacobs
---
Las Vegas Is On Sale!
Get Great Rates At All Hotels:
---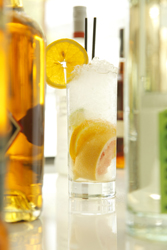 Rhumbar Brings In "The Cooler" – Rhumbar's Refreshing New Cocktail Will Cool Down The House
– With the Vegas weather heating up, RHUMBAR, the stylish drink spot with a Strip-view patio at
The Mirage
, has decided to bring in "The Cooler."
"The Cooler" recipe:
1 Grapefruit wedge
1 Lime wheel
1 Orange wheel
10 Mint leaves
¥ Rock candy
1.5 oz Bacardi O
Splash of Sprite
Muddle together the grapefruit, lime, orange, mint and rock candy in a zombie glass. Add rum and stir. Add a splash of Sprite and garnish with a mint sprig. To be enjoyed outside on RHUMBAR's lush 3,000-square-foot patio, cigar optional.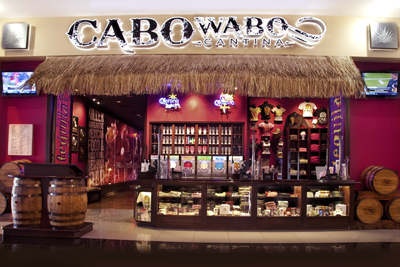 Cabo Wabo Cantina Presents Rockin' Mariachi Sundays – Brunch Specials And Live Mariachi Entertainment To Spice Up The Weekend – Sammy Hagar's Cabo Wabo Cantina presents Rockin' Mariachi Sundays, a sizzling new brunch featuring Mexican-inspired brunch specialties and live Mariachi music by Los Viajeros every Sunday. In addition to Cabo Wabo's traditional menu, the Mariachi Brunch will offer Mexican favorites including chorizo, egg and cheese tacos, a big breakfast burrito filled with chorizo, scrambled eggs and cheese, and the huevos rancheros which includes two corn tortillas topped with chorizo, scrambled eggs, red sauce and cheese. Drink specialties include Bloody Marias, micheladas and classic mimosas.
Sweet Twist On Easter Treats At Jean Philippe Patisserie In Vegas' CityCenter – World-renowned pastry chef Jean-Philippe Maury of Jean Philippe PÔtisserie in ARIA Resort & Casino may already be known for his artistic expressions in the dessert world but he is springing forward with his newly available treats, just in time for Easter. He is combining ultimate indulgence with adorable figures to celebrate the sweet side of the holiday. Jean-Philippe Maury is the executive pastry chef at Jean Philippe PÔtisserie inside ARIA at Vegas' newest Strip development, CityCenter. The European-style pastry shop specializes in cakes, crepes, panini, pastries, cookies and a variety of chocolates featuring an exclusive line of bonbons and truffles and 24 house-made gelatos in unexpected flavors.
Casino Essentials Opens At Luxor – Casino Essentials sells an array of womenÆs purses and shoes from such noted brands as Steve Madden, Baby Phat and Betseyville. Also available are assorted snacks, liquors and non-alcoholic beverages. The store, formerly the site of Fashion 101, is located adjacent to LAX Nightclub on the casino floor. Casino Essentials is open Wednesday û Saturday from 4 p.m. to 5:30 a.m.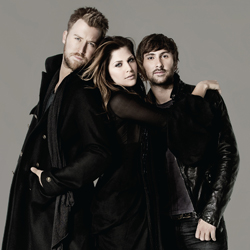 Two Days Of Free, Open-To-The Public All-Star Concerts With Lady Antebellum & Miranda Lambert At Fremont Street Experience Friday, April 16 & Saturday, April 17, 2010 – The Academy of Country Music is hosting two days of all-star concerts at the Fremont Street Experience in Las Vegas during The Week Vegas Goes CountryÖ! ACM Weekend on Fremont Street Experience will feature top newcomer category winners, Luke Bryan, Joey + Rory and Gloriana, special guests and headliners Lady Antebellum and Miranda Lambert performing on two different stages to crowds downtown. The weekend-long party leading up to the 45th Annual Academy of Country Music Awards is sponsored by the Las Vegas Convention and Visitors Authority and will feature Emily West, The Band Perry, Danny Gokey, David Nail and Lady Antebellum on April 16, 2010 and Joey + Rory, Gloriana, Randy Rogers Band, Luke Bryan and Miranda Lambert on April 17, 2010.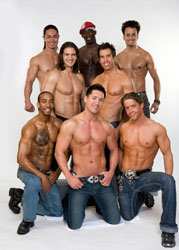 Men Of "X" Whistle Dixie's At Hooters Casino Hotel – Men of "X," the sexy male revue at Hooters Casino Hotel, is taking its show to another level û eye level that is û with their move from the Night Owl Showroom into Dixie's Dam Bar. The show, which just celebrated its first anniversary, will become even more interactive inside the 3,000 sq. ft. space, allowing the Men easy access to mingle with their audience. "Dixie's Dam Bar is a great venue for the Men of 'X' to showcase their assets up close and intimately interact with the ladies," said producers Angela and Matt Stabile. "The show will really become more like one big party with everyone dancing out of their seats."
M Resort Spa Casino Announces April/May "As Single As I Wanna Be" Saturdays Inside Hostile Grape – Back by popular demand, the Hostile Grape, the city's sexiest wine bar at the M Resort Spa Casino, announces all new themes for its "As Single As I Wanna Be" Saturday events. Quickly becoming the Saturday hot spot for singles, the Hostile Grape's "As Single As I Wanna Be" Saturday parties provide the perfect atmosphere for guests to drink, dance and flirt the night away starting at 8 p.m. Throughout the month of April and May, different themes will be offered weekly where participating guests can receive a complimentary bottle of wine*.
Gambling Talk: Video Slots – Open The Vault – with Victor H. Royer. As promised, in this issue û and the following issues û I will now write a little more about some of the favorite slots that my readers have told me they like to play, and later also show you some of the great new slots that are about to be released. In this issue, I present: Open The Vault video slot machine from WMS.
This game uses what are called "cascading reels". In place of traditional reel spins, the reel symbols cascade into place as if dropped from above. All winning combinations pay as normal, but then something extra happens. The symbols in the winning combination disappear and new symbols cascade down to take their place. This process continues until no new winning combinations appear. Click to Read Complete Article…
---
Members Mania – We Love Our Readers!
I come to Vegas a couple of times a year, last 2 times stayed downtown, the first at the Plaza, disappointing, second time at the Nugget, great room, friendly staff, love the short walks to the many casinos, felt safe the whole time, which was not true 15 years ago on my short visits downtown. Love Vegas, will stay downtown on next trip as well, enjoy your newsletter!
Susan Roberts
Ted Responds:
Downtown has unquestionably changed radically in the past 15 years. Some hotels like The Plaza are badly in need of room upgrades (which won't happen until the economy turns) but OK if you are just looking for somewhere to crash. The Golden Nugget just finished a nice new tower and is well worth staying at for the money right now.
Downtown has changed drastically since I moved here (which wasn't long before your original visit). Plenty of security and a friendly party atmosphere that is lots of fun without getting out-of-control.

---
We will be in Vegas from 4/17/2010 to 4/23/2010 and want for a change to visit more of the off strip casinos? Which do you recommend?
Gail from Cheektowaga, NY
Ted Responds:
If you don't have a car or just want a quick taste of "locals" casinos, visit the Gold Coast (across the street from The Palms). The Orleans (just a couple miles west of the MGM on Tropicana) is actually pretty nice for a locals place that has been around a while.
As noted in recent newsletters, The Deuce bus route (that runs The Strip) now terminates at Palace Station. Note: Nothing wrong with Palace (it is my "locals" place to go bet sports,áput a few bucks in video poker, or grab an inexpensive buffet that is decent for the money), but it is a very run-of-the-mill place with no extra draw except for good food values. Of note: Pasta Palace (inside Palace Station) just won the Best Of Las Vegas in the local paper readers poll for Italian restaurant in a casino. And, the have All-You-Can-Eat Pasta for $8.99 From 4pm û 5:30pm. Oh, and it is a nicer place than Olive Garden.
M Resort is well worth seeing (very, very nice — nicer than some Strip properties), and they have a free shuttle for the 15 minute ride down there (less time than it takes to get from one end of The Strip to the other). Sam's Town has a free shuttle from Harrah's and you can walk to the (relatively new) Cannery East from Sam's Town. As shuttle info always changes, call the hotel in question when you arrive for details.
If you have a car, hit the M and South Point one day. And/or Hit Boulder Station, Arizona Charlie's East, Sam's Town, and Eastside Cannery on another.
Speaking of food values, check the menus at the locals casino restaurants when you visit. Generally much cheaper than The Strip, and since they have to cater to locals (who won't come back if something is bad), you'll often fine a very nice dining experience.

---
We just arrived back home after 6 days at the Rio. Had a wonderful time as always. We went to the Terry Fator show and it was the best show I have seen in Vegas in a long time. Terry is very gracious to the audience, thanks them often, lets you take pictures, even allows short videos on your cell phones. The show makes you laugh, cry and love life. It is a must when you are in Vegas.
The only problem we had was with Showtime Shuttle bus. We reserved a handicap shuttle, they send a regular shuttle, when the handicap bus arrived the driver was rude, demanding an made me help put my husband on the lift. I called and complained to Showtime shuttle and called the Rio concierge who made the reservation, so they would be aware of the poor service. Then, the driver drove 30 mph from the Rio to the airport, knowing we were running late due to their mistake, to show us he was in charge. We had the last word, when we left him standing outside the shuttle without a tip.
Connie from Hawthorne, FL
Ted Responds:
Everybody raves about Terry Fator. People questioned how a "puppet show" would work on The Strip, but Factor's ability to combine his ventriloquist and impressionist talents have been a big hit.
No question that you handled your complaints the right way. Tips are to be earned. Don't get me wrong… I have no problem tipping (and tipping well) for good, helpful service. Especially if they go the extra mile. But, do not hesitate to withhold tips and also complain if service is lacking. With the economy the way it is today (local unemployment over 13%), people should be thankful they have a job and do their best to provide optimal customer service to our visitors.

---
We love to hear from you, and value your feedback! Here's how to participate:
Drop us an email at allvegastv@aol.com – We read them all!
Call our recorded comment line at 702-507-0055. We listen to every call.
---
More Las Vegas News – Concerts – Events
---
Coming Hot Holidays
– The following dates are huge times to be in Las Vegas, and rooms are in high demand. Booking in advance is the best way to save. Visit our friends at
Las Vegas Hotel Deals
and spend one of the following hot dates having fun in Las Vegas:
Cinco de Mayo May 5
Mother's Day May 9
Memorial Day, U.S May 29-31 (3 day weekend)
Father's Day June 20
Independence Day July 4
Civic Holiday, Canada July 31-August 2 (3 day weekend)
Labor Day, U.S September 4-6 (3 day weekend)
Labour Day, Canada September 4-6 (3 day weekend)
Jewish New Year September 9
Halloween October 31
Veteran's Day November 11
Thanksgiving Day, U.S November 25-28 (4 day weekend)
Hanukkah Dec. 2 – Dec. 9
Christmas December 25
New Year's Eve-Day December 31 – January 2 (3 day weekend)
Martin Luther King, Jr., Day, U.S (Observed) January 15-17 (3 day weekend)
Chinese/Lunar New Year February 3
Super Bowl Sunday February 6
Lincoln's Birthday, U.S February 12
Valentine's Day February 14
President's Day, U.S (Observed) February 19-21 (3 day weekend)
Washington's Birthday, U.S February 22
Mardi Gras March 8
St. Patrick's Day March 17
Easter Sunday April 24
Link To Us! – Have a home page, web page, or blog? Link to us, and give yourself and your friends a quick link to find us from your site. Simply link to http://www.accessvegas.com and name the link Access Vegas!
RSS Feed – We now have an RSS/XML feed! Most RSS programs let you visit AccessVegas.com and automatically pull the feed. For those who want to enter it manually, the feed is:
http://www.accessvegas.com/xml/whats-hot.xml
Share the info: Click to Email this newsletter to a friend!
---
For comments or questions regarding our content
or this newsletter write us at
allvegastv@aol.com
.
New to the list? See our Newsletter Archives for back issues and subscription info. Don't hesitate to forward this newsletter to friends and associates.
All contents copyright 2010 Ted Newkirk. All Rights Reserved.
Hotel Rates Published Accurate At Time Of Publication


March 31, 2010 ISSN: 1529-2770 About Us Privacy Policy
No related links found