Serving Las Vegas Visitors and Residents Since 1999
Welcome to the Insider Vibe! This is the official newsletter of AccessVegas.Com. We talk about the Las Vegas activities you really care about.
Need to contact us? Send feedback to
AccessVegas@AccessVegas.com
Missed an issue? Click to Read Back Issues Online.
---
AccessVegas.com Quick Info Menu:
| | |
| --- | --- |
| Las Vegas Essentials | Featured Shows |
Las Vegas Events
---
Gambling In Las Vegas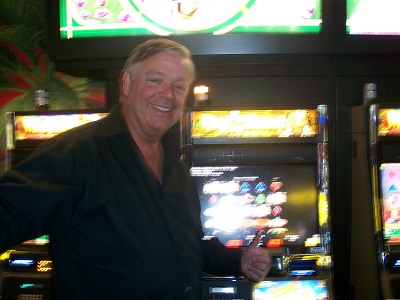 Gordon Wins $1,452,799.89 Playing Wizard Of Oz – Journey To Oz At Margaritaville Casino – Caesars Entertainment is proud to welcome Gordon into its enviable circle of millionaires. If youÆre looking to get lucky, a Caesars Entertainment resort is a sure bet. The company has created 703 millionaires since 1987; with those player winnings fast approaching the $2 billion mark, the company announced Millionaire Maker powered by Total Rewards, a celebration of these guestsÆ winnings and a promotion aimed at making even more millionaires.
---
Las Vegas Shows, Headliners, And Concerts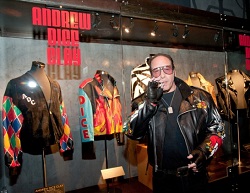 Hard Rock Hotel & Casino Honored New Headliner Andrew Dice Clay With Memorabilia Case – Hard Rock Hotel & Casino welcomed Andrew Dice Clay to his new home at Vinyl with a memorabilia case dedication. Several of ClayÆs iconic leather jackets were unveiled in a memorabilia case, which will be on display throughout the famous comedianÆs residency. At the event, Paul Davis, Hard Rock Hotel & CasinoÆs Vice President of Entertainment, and Jody Lake, Hard Rock Hotel & CasinoÆs Chief Operating Officer, gave a few words to welcome the performer to his new home. Next, Lake introduced the legendary comic to an extremely enthusiastic crowd. Photo: Pat Gray-Erik Kabik Photography
---
Las Vegas Hotels And Construction
---
Dining, Drinking, And Dancing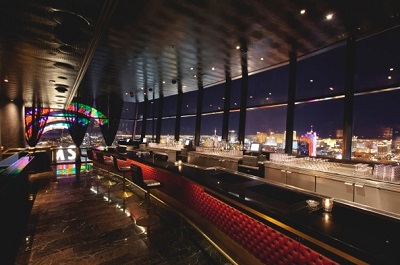 Palms Casino Resort Unveils A Swank Rec Room With A View – Palms Casino Resort opens The View, a unique recreational space with a stylish bar scene and of course, spectacular views of the city. Part big-city bar elevated by the charm of old-school board games, billiards and shuffleboard, The View is an upscale lounge perfect for casual conversation, cocktails and eclectic musical offerings. Located atop the Fantasy Tower between Nove Italiano and Moon Nightclub, The View is the perfect transition spot from dinner- to-nightclub or a final destination for a nightcap.
PBR Rock Bar Celebrates Tax Day With Open Bar Special – Tax payers will enjoy a ôtax breakö at PBR Rock Bar & Grill inside Miracle Mile Shops at Planet Hollywood Resort & Casino with an open bar special on Monday, April 15.
Whether tax day partygoers want to spend hard-earned refunds or save cash after paying back Uncle Sam, guests will enjoy open bar access from 9 p.m. until 1 a.m., priced at $10 for ladies and $20 for gentlemen. Patrons will also enjoy challenging the hot spotÆs bartenders for the chance to win 50 percent off drinks during Rock, Paper, Scissors Mondays, from 9 p.m. until 1 a.m.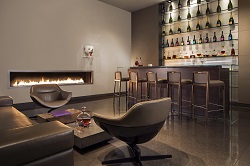 Restaurant Guy Savoy Inside Caesars Palace Introduces The Cognac Lounge Offering Rare Cognacs – Restaurant Guy SavoyÆs new Cognac Lounge is now open in its location inside Caesars Palace. Cognac connoisseurs and novices will enjoy the master-crafted and rare cognac menus that are solely found at the award-winning restaurant. The menu is expected to evolve as Restaurant Guy Savoy acquires other bottles or bottles are finished.
The cognac menus feature different cognacs that will take the palate of spirit aficionados to a different time and place. Before drinking, enjoy a mouthwatering gourmet meal at the Restaurant Guy Savoy, a recent awardee of Forbes Travel Guide Five Star and Michelin two-star.
---
Las Vegas Economy And Real Estate
---
March Events Las Vegas
LÆAtelier De JoÙl Robuchon At MGM Grand Celebrates Easter With Extraordinary Chocolate Display – LÆAtelier de JoÙl Robuchon at MGM Grand Hotel & Casino showcases an exquisite confectionery chocolate display in celebration for Easter. Executive Pastry Chef Kamel Guechida along with his team of four created the display for more than eight weeks. They discussed and sketched dozens of ideas before they come up with the final design. More than 70 pounds of milk, white and dark chocolate are used to mold the chocolate sculptures of 150 flowers, 120 eggs and 60 hens.
---
More Las Vegas News
Tickets Now On Sale For 12th Annual Michael Jordan Celebrity Invitational – The 12th Annual Michael Jordan Celebrity Invitational (MJCI) is back this year starting from April 4 to 7, 2013. The event will be held, for the third year, at Shadow Creek Las Vegas and it will be hosted by ARIA Resort & Casino. Spectators who want to access one of celebrity golfÆs most popular events, at the commended Shadow Creek Golf Course, can avail the tickets which are currently on sale. For four days, the biggest names in entertainment and sports will gather for the competitive golf and special events which aims to raise money for numerous worthy charitable organizations.
Legendary Rock And Roll Hall Of Famers Brian Wilson And Jeff Beck Announce Vegas Rock æNÆ Roll Fantasy Camp – Two Rock and Roll Hall of Fame living legends will visit Rock ænÆ Roll Fantasy Camp to teach the Rock and Roll fans this coming April 18-21. Brian Wilson, co-founder of The Beach Boys and 2013 GRAMMY Award« winning renowned singer/songwriter and Jeff Beck, revered guitar virtuoso and eight-time GRAMMY Award« winner will be the campÆs counselors. Register now to save a slot for the exclusive music camp this spring.
---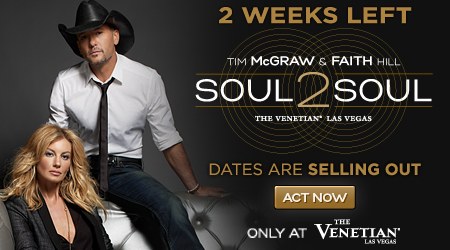 ---
Maverick Canyon Dream Air and Land Tour û A 40-minute flight to the Grand Canyon South Rim aboard a Beechcraft 1900D aircraft starts your ultimate adventure. Upon landing, your excursion will begin with a seat on our state-of-the-art ECO-Star helicopter for an amazing 25-minute breathtaking helicopter experience over the Grand Canyon.
As you soar above this natural wonder you will see beautiful scenery from the Kaibab National Forest, Tower of Ra and the mighty Colorado River. Ground transportation into the Grand Canyon National Park to enjoy the awe-inspiring vistas, panoramic overlooks and trails that can only be accessed from inside the park concludes your journey. Absorb the magnificence of the Grand Canyon and capture memories to last a lifetime as you enjoy a gourmet box lunch.
---
Recycled Percussion by Terri DÆRichards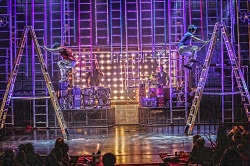 Recycled Percussion – "Junk" Instruments Meet Off-Beat Comic Sensibility – With a Motley Crue meets Oscar the Grouch opening number, Recycled Percussion sets the tone for their show, blending dynamic Rock style performance, ôjunk instrumentsö (power tools are instruments — arenÆt they??) and off-beat comic sensibility.
They also have no objection to letting the audience share in the enthusiasm, as ôthe most interactive show on earthö makes sure everyone has their own drumstick and pot, pan or toaster to beat on throughout the proceedings. The results give a whole new meaning to ôRocking the jointö.
---
Newkirk's Notes – comments on Las Vegas from AccessVegas.Com publisher Ted Newkirk:
Hello From Las Vegas! – March Madness is in the air, and it is certifiably insane both on The Strip and Downtown. For our international readers (upwards of 30% of you, thanks for reading and telling your fellow countrymen who enjoy Las Vegas), March Madness is our college basketball playoffs where 68 teams compete, each with a chance to advance and win it all. Even those with no general interest in the sport tend to follow these exciting playoffs.
The weather has been stunning and in the mid-70's pretty much every day of March (sans just a few). The 10 day forecast shows us staying at that pace to finish the month. It has been perfectly beautiful here in the high desert!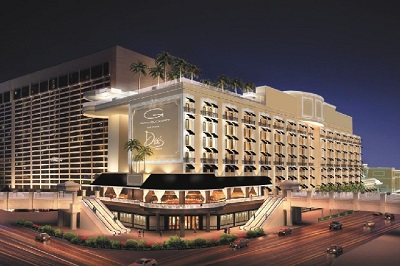 Gansevoort – No, this isn't the latest zillion dollar art purchase by Steve Wynn. Gansevoort is a high end hotel group with properties in New York City and The Caribbean. What's that have to do with us? They are the group who will be taking over Barbary Coast/Bill's Gambling Hall, doing the $185 million renovation to turn it into a high-end boutique hotel with an emphasis on daylife/nightlife.
They think that they'll get $250 per night for a room in a market that is struggling with depressed room rates. We'll see. With this development and the old Sahara turning into a similar property, I'm not sure how there will be enough well-off 21-35 year old patrons to go around. Don't be surprised if both properties end up with lower rates and a more broad outreach to a greater segment of our visitors after being open a while.
Unconscionable – When I moved here, the Frontier Hotel was in the midst of a seven year strike and there were always a few picketers in front of it. Of late, employees of Cosmopolitan Of Las Vegas have been picketing because they are working without a contract. However… they just took it to far. Way too far.
Recent picketing included a sit-down protest right on the Las Vegas Strip. Don't take my word for it. See the story and video for yourself: Demonstration shuts down traffic on the Las Vegas Strip
The blockage of Nevada's most famous thoroughfare lasted a whopping 50 minutes, at the very busy time of 5 PM! I'm no economist, but I have to think that the disruption was very costly to many thousands of visitors affected by it. When a $10 cab ride turns into a $40-50 ride because of delays and detours, that is time and money that our visitors did NOT expect to have to outlay.
Whether someone in a cab, on a tour bus, or even simply taking the regular buses on The Strip, the delay was costly in time alone. Time that all delayed visitors could have been spending enjoying themselves (and spending money on more fun, productive forms of entertainment than being stuck in transit).
Picket all you want (on the sidewalk). Demonstrating is a right we cherish. But when a group of people gainfully employed in a state with very high unemployment take the extra step to ruin a portion of your vacation, they lose any sympathy I would have had toward their side of the story.
The Cosmopolitan is essentially bank-owned and my understanding is that the bank is honoring the old contract. These workers make good money and have solid benefits in a state where unemployment is still very high and many resorts are still losing money.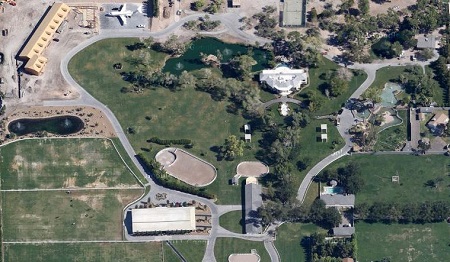 News Not So Good For Mr. Las Vegas – The deal to turn Wayne Newton's Casa De Shenandoah ranch into a "Graceland of the west" fell through, and evidently that was the last straw for the crooner's financial situation. The ranch is for sale, and many of the exotic animals inhabiting the property have been sold to an Oregon wildlife sanctuary.
Wayne, his wife, sister-in-law, and retired personal secretary occupy three houses on the estate and contest that even if the land is sold, they have previously structured legal leases on the homes which will allow them to remain on the property. Photo: Google Maps
Living The "High" Life In Las Vegas – We're not talking about Miller beer here. My Nevada Assemblyman Joe Hogan (D-Las Vegas Strip) — someone I'm no fan of for unrelated reasons — has introduced legislation to legalize possession and use of nominal amounts of marijuana here in Nevada. I'm agnostic on the issue. I grew up in Oregon with plenty of pot around, but have never been a user because when I tried it a few times a zillion years ago, it made me paranoid.
We're curious about your thoughts. Is allowing people to have a little weed on vacation something long past due, or would this make you think twice about visiting (if enacted)? You can go to our Access Vegas Facebook Page and scroll down to the story and leave a comment, or email us at AccessVegas@AccessVegas.com
Sports Capital Of The World? – Las Vegas is often referred to as the Entertainment Capital Of The World (a claim that New York City fights us on), but for the past couple of weeks, we've hosted:
NASCAR Sprint Cup (top level) and Nationwide Series
Pac-12 Basketball Championship
Big League Weekend (Chicago Cubs vs. Texas Rangers, two pre-season games)
Mountain West Basketball Championship
Western Athletic Conference Basketball Championship
West Coast Conference Basketball Championship
Add in St. Patrick's day and some other events which have probably slipped my mind, and it has been busy, busy, busy! In fact, at one time not only were three NCAA college basketball championships we're not only happening at the same time, but on the same street (Tropicana: Thomas and Mack, MGM Gardens, and Orleans Arena)! And, all were being nationally televised to boot.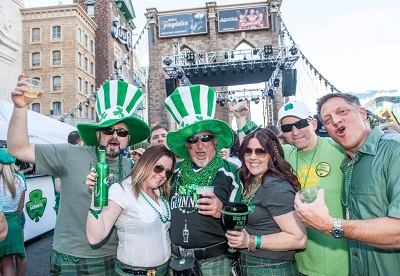 Visitors Enjoying St. Patrick's Day Las Vegas 2013 At New York, New York Hotel Casino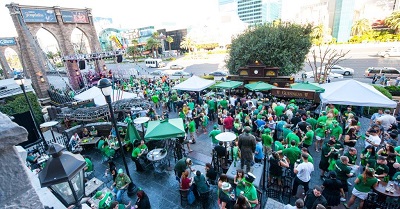 We Love Oscar – Last but not least, irrepressible former Las Vegas Mayor Oscar Goodman was recently quoted in the L.A. Times article Taking on the Vegas haters:
"You know what people should do who come here and bad-mouth our city?" asked former Mayor Oscar Goodman, 73, who also was a mob lawyer here. "They should try our lake. It's nothing that a good pair of cement shoes couldn't cure."
Hope you are enjoying this issue!

Associate Editor / News Researcher: Rick Ziegler
Concerts and Headliners: Rick Ziegler
---
What We're Watching – Vegas Videos You'll Enjoy
Pub Crawl #104: A Night In Paris (Las Vegas)

– The IvyÆs tour one of their favorite casinos in Las Vegas. FrankieÆs Tiki Room gets some love. A viewer is guided toward an unforgettable weekend including:

PARIS: Le Central, Gustavs, Mon Ami Gabi, Sugar Factory, NapoleonÆs, and Gordon Ramsay Steak. BALLYÆS: Tequila Bar & Grill and The Book.

Red Rock Conservation Area

– Get off the Strip and go see some nature. Twenty minutes from the Strip is Red Rock Conservation Area. Here is a quick look at Red Rock. Hike, mountain climb and bike the loop from TheVegasTourist.com

Mystere Revealed

– See Cirque du Soleil's spectacular Mystere through the eyes of two new performers as they join the amazing show at Treasure Island. Players Network takes you backstage where the secrets of Mystere are revealed to the new acrobat and new dancer.
---
Members Mania – We Love Our Readers!
Are there any strip resorts that do no charge a resort fee? It seems a bit like a forced money grab to be charged for unused services. When I spoke with the Paris their comment was basically " too bad, use the services"
Have a great day,
Thom
I suppose it was inevitable that Caesars resorts would join the bandwagon and impose resort fees but as we travel over from Scotland every Jan. for 2 weeks, our additional fees at the Flamingo next time will end up costing us $252!!!!!
We are completely addicted to Vegas, having been 16 times now but must admit that it is becoming an increasingly difficult sell to our friends and family. The prices of buffets have been steadily rising over the years, the timeshare and ticket touts are more aggressive each year and the porn peddlers are annoying to say the least!
Fortunately we did quite well on the slots this year which will help offset the resort fees, surely the hotels should simply increase their rack rates and include internet access as standard instead of these so called "perks" no one wants such as a free daily newspaper or access to pools which are often closed when we are there.
In the past we didn't bother with money off coupons etc. but they are now somewhat of a necessity.
Keep up the good work,
Mrs. Jane Baillie
Ted Responds:
With Caesars Entertainment properties, you are essentially exchanging a resort fee for the fact that they will be upgrading rooms with the money (or so it appears to me as I follow the financial dots here). Having said that, I'm not defending them. At least on a airplane, you have a choice whether to bring that second bag or eat their meal or board early should you choose to pay for various upcharges and classes of service.
It certainly does us (as a travel company) no favors. When you book a hotel through our booking box in this newsletter or at AccessVegas.com, we only get credit for what the hotel costs. Not the resort fee portion. Also, saving that $250 in resort fees would allow Jane to attend an additional show. Many of the top Las Vegas shows sponsor us and make this newsletter possible. (If booking any of those shows, please also do it through our links so they know we sent you. With our Featured Show advertisers, we send you directly to their official ticket site).
Short of some kind of "truth in advertising" legislation, we're highly unlikely to see this practice change. They can advertise lower rates that look like a deal when the total room cost isn't. Take The Quad, for instance. Midweek rates in May are around $30, but with the resort fee tacked on, you're paying a more serious $50 per night (plus any taxes).
Still not bad when you look at what a similar hotel in another tourist city would cost. But, Las Vegas was built around the concept of leaving you enough money in your pocket to enjoy yourself with while you are here.
Basically, ALL Strip properties now have resort fees. The closest you can get while still avoiding them is:
Disclaimer: Resort fee information is volatile and subject to change. The information we have is the best at the this time.
So, if you really want to flip the bird to resort fees but want to be on The Strip (IE, no more than a very short walk from it), Clarion, Elara, and Royal Resort are the three to look into. If you don't mind being just a couple blocks away, Marriott (the one on Convention Center Drive), Platinum, or Super 8 Koval are your best bets.
Downtown, Plaza and Gold Spike are the only ones sticking it to you.

We love to hear from you, and value your feedback! Here's how to participate:
Want to comment on a current reader post? Use the comment box on that particular web page. Many of the stories we post also have comment boxes at the end of the story. Make your voice heard!
Drop us an email at AccessVegas@AccessVegas.com – We read them all!
Call our recorded comment line at 702-507-0055. We listen to every call.
---
No related links found