Serving Las Vegas Visitors and Residents Since 1999
Welcome to the Insider Vibe! This is the official newsletter of AccessVegas.Com. We talk about the Las Vegas activities you really care about.
Need to contact us? Send feedback to
AccessVegas@AccessVegas.com
Missed an issue? Click to Read Back Issues Online.
---
AccessVegas.com Quick Info Menu:
| | |
| --- | --- |
| Las Vegas Essentials | Featured Shows |
Las Vegas Events
---
Las Vegas Shows, Headliners, And Concerts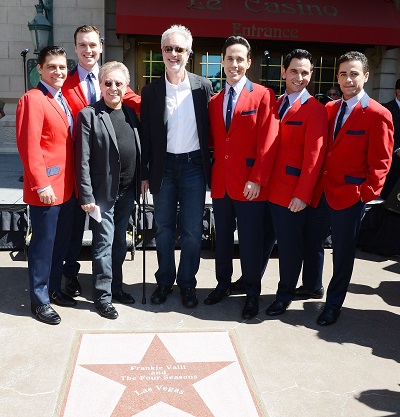 Jersey Boys Honors Frankie Valli And The Four Seasons With A Star On ôLas Vegas Walk Of Starsö – On Thursday, March 21, 2013 the smash-hit show JERSEY BOYS celebrated its fifth anniversary in Las Vegas by presenting a star to Frankie Valli and the Four Seasons on the ôLas Vegas Walk of Starsö outside of the showÆs home, Paris Las Vegas. Original Four Seasons group members Frankie Valli and Bob Gaudio were at the event to receive the commemorative star. It was the 64th star to be unveiled on Las Vegas Boulevard.
ôIt is a real honor to receive a star on the æLas Vegas Walk of StarsÆ in celebration of the showÆs fifth anniversary in this city,ö says Frankie Valli. ôBob and I are thrilled to be here to accept the star and to celebrate this milestone with the talented cast.ö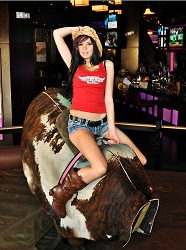 PBR Rock Bar Hosts RockinÆ Academy Of Country Music Awards Party – Guests will boot-scoot into PBR Rock Bar & Grill inside Miracle Mile Shops at Planet Hollywood Resort & Casino for a celebration in honor of the 48th Annual Academy Of Country Music Awards from Friday, April 5, through Sunday, April 7.
Patrons will toast their favorite country singers with cocktails inspired by this yearÆs Entertainer of the Year nominees, priced at $10 each. The delicious Taylor Swift ôLove Storyö cocktail includes Zing Red Velvet Vodka and CrÞme de Cacao. Cowboys and cowgirls will saddle-up for a good time at the Strip-side hot spot while sipping on the Captain Morgan, pineapple, cranberry and orange juice ôShelton Shake Upö in honor of Blake Shelton. Partygoers will also enjoy the Jason Aldean Malibu Coconut Rum, JagÙrmeister and pineapple juice ôTailgater.ö The Luke Bryan ôDrunk on Youö concoction will feature Patron Tequila paired with fresh lime and orange juices. The ôLambert Lemonadeö is made with Wild Turkey Honey Whiskey and lemonade in honor of Miranda Lambert.
---
Downtown Las Vegas
---
Gambling In Las Vegas
---
Las Vegas Attractions

Jewels Of Titanic Set To Shine For A Limited Time At Titanic: The Artifact Exhibition – Jewels of Titanic, a dazzling display consisting of fifteen of the most prestigious jewelry artifacts recovered from R.M.S. Titanic on display now – May 31 at Titanic: The Artifact Exhibition at Luxor Hotel and Casino. This limited-time exhibit features diamonds, sapphires, pearls and gold jewelry that once belonged to some of Titanic's wealthiest passengers. Through this priceless collection guests have the rare chance to learn of the jewelry's discovery, underwater recovery, mysterious lineage and the influence these artifacts have in today's pop culture.
Las Vegas Cadillac Through The Years Returns To Town Square – The 8th annual Las Vegas Cadillac Through the Years returns April 13 & 14 to Town Square Las Vegas. Join more than 30,000 fans for a two-day celebration of the Cadillac ôstandard of excellence,ö while enjoying live entertainment, celebrity surprises, Fintastic Fortunes raffles, giveaways, food, fair, vendors and, of course, more than 100 classic Cadillac beauties on display. From original restorations to extreme modified, this yearÆs show will feature models from the 1903 inception year to the newest 2013 release.
---
Las Vegas Hotels And Construction
---
Drinking And Dining In Las Vegas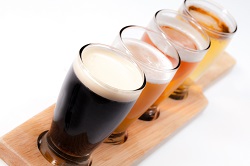 Central Michel Richard To Celebrate National Beer Day – Central Michel Richard at Caesars Palace will honor National Beer Day with beer flight specials throughout the day on Sunday, April 7.
Beer enthusiasts will revel in flights of four 3-ounce pours of any of CentralÆs beers on tap, priced at $10 each. For the brew aficionado, the restaurant will offer all-you-can-drink beer flights from 11 a.m. to 11 p.m., priced at $50 per person. Patrons will relax at the double-sided bar while creating their tastings with the restaurantÆs 20 beers on tap, including Innis & Gunn, Old Speckled Hen and Delirium Tremens.
---
Las Vegas Economy And Real Estate
---
More Las Vegas News
---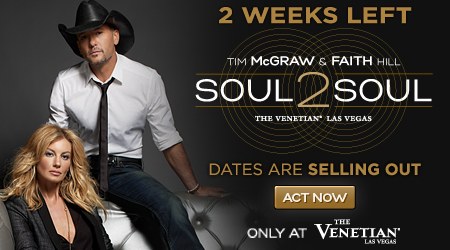 ---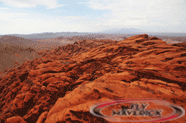 Maverick Dream Catcher Sunset Grand Canyon Tour û Landing tour with beverages, snacks and Extra Flight Time in the Grand Canyon! Experience the journey of a lifetime. Your journey begins with a flight out of Las Vegas to Hidden Valley to see the arches. Continue your journey to the Valley of Fire, were you will see red rock formations and some of the most remote, desolate, and fascinating desert landscape.
---
Rock Of Ages by Sarah Jane Woodall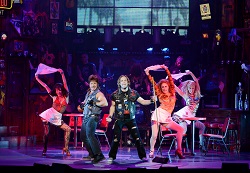 Rock Of Ages – Nothing But A Good Time! – Fire up the Aqua Net and dig out that sleeveless jean jacket û Rock of Ages has hit Vegas, and itÆs bringing the æ80s back! The latest musical to hit the Vegas strip hearkens back to the glory days of heavy metal û the days of mascara, muscle tees and mullets. If you grew up listening to this music, you will love Rock of Ages. And if even if you didnÆt… youÆll have a blast. ItÆs impossible to sit through this show without smiling, laughing… and singing along!
---
Newkirk's Notes – comments on Las Vegas from AccessVegas.Com publisher Ted Newkirk:
Hello From Las Vegas – We're back after a scheduled week off and as you've already seen, we're flooded with info. Las Vegas never stops with the new, interesting, special, and savings attracting you to visit!
March was beyond amazing with 25 days in the 70's, 2 days in the 80's, and only 4 days in the 60's. We were very entertained watching The Weather Channel showing the effects of Marchuary on much of the United States. For our international readers, Marchuary was a term coined to indicate January weather in March.
Finally, a personal note: As I type this (April 3, 2012), I am celebrating exactly 20 years of living in Las Vegas! I've witnessed implosions, construction, booms, busts and everything in-between. It has been a trip, and it's not over yet by any stretch of the imagination. You couldn't pay me double to do the same job elsewhere. Thanks to everybody who has been a part of the ride!
Where To Jazz It Up On The Strip – One constant for years (and years and years) was the free, live jazz entertainment in Harrah's Range Steakhouse during happy hour. Unfortunately, the new Ruth's Chris in that space has elected to discontinue this tradition. This is a shame, especially given the chain's New Orleans roots. Fortunately, our friends at Vegas Chatter (Mandarin Oriental Jazzes Things Up Again) caught wind that the Mandarin Bar up in Mandarin Oriental features live jazz on Sundays from 4-8 PM. Caution: Drinks won't be cheap (although the view alone is worth it) and you'll want to be dressed reasonably nice.
Here We Go Again – A recent survey surmised that Las Vegas will be among the top 50 fastest growing cities in the US over the next five years. Because of all the terrible news about our economy spreading around the past few years, my hope is that this time we won't see the carpetbaggers we saw during the last boom.
Move here if you love the desert and the heat and our libertarian (small l, not the party) way of living. Don't move here wanting to hitch yourself to the wagon and hope it works out. Those are the people who probably got hit the hardest when times went bad last time around. Only move here if you literally and simply could not imagine being more happy anywhere else!
Rio To Become Poker City? – The Rio has been rumored for sale for quite some time. The slightly off-strip location just doesn't seem to be in the mix with other Caesars Entertainment (CET) properties, and CET could certainly use the cash.
Side Note: The Rio sits closer to the center of The Strip than about half the resorts actually ON the strip. But because it sits west of the I-15, it is perceived to be in "no man's land".
An online poker site could buy The Rio and the World Series Of Poker (which The Rio hosts) in a move that would be very beneficial for both parties. We'd all win because an influx of independent operators (a la George Maloof [Palms] a decade ago, or Derek Stevens [Golden Gate, The D] today) seems to always bring new life and ideas to the industry.
Las Vegas Hilton Red Lion – The beleaguered Las Vegas Hotel (formerly Hilton) has partnered with the Red Lion chain in an effort to boost exposure and occupancy. We wish them the best, but when I think Red Lion, I think of places like Eureka, CA and Butte, MT. Nice digs in a modest size city. By the way, they are not changing the name to Red Lion. But we are hoping the rumors of changing it back to the International come true!
Hooters To Renovate – Seven years after the San Remo became Hooters, they are continuing to realize that it just didn't work out. In an attempt to capitalize on their boutique size, Hooters has announced major renovations for this year. More live music, "arcade" atmosphere, and renovation to open the casino floor up.
We're still bummed that they took a perfectly acceptable San Remo and turned it into Hooters in the first place. It was reasonably clean, had good video poker, the staff was friendly, and the $4.99 complete prime rib dinner capped off many a late night on The Strip for me back in the day!
Hope You Are Enjoying This Issue!

Associate Editor / News Researcher: Rick Ziegler
Concerts and Headliners: Amy Rayner-Cooley
---
What We're Watching – Vegas Videos You'll Enjoy
---
Members Mania – We Love Our Readers!
This is a follow-up to a previous letter:
Back from Vegas and we did check out Drink and Drag. It was towards the end of the night and we just did a walk through but it was very lively. Small dance floor with people dancing and drag queens behind the bar. Next time I will go earlier and have a drink and sit and really check the place out. But yes, it is for the more open minded fun crowd. My mom enjoyed it!
Colleen
---
We love to hear from you, and value your feedback! Here's how to participate:
Want to comment on a current reader post? Use the comment box on that particular web page. Many of the stories we post also have comment boxes at the end of the story. Make your voice heard!
Drop us an email at AccessVegas@AccessVegas.com – We read them all!
Call our recorded comment line at 702-507-0055. We listen to every call.
---
No related links found