Serving Las Vegas Visitors and Residents Since 1999
Welcome to the Insider Vibe! This is the official newsletter of AccessVegas.Com. We talk about the Las Vegas activities you really care about.
Need to contact us? Send feedback to
AccessVegas@AccessVegas.com
Missed an issue? Click to Read Back Issues Online.
---
AccessVegas.com Quick Info Menu:
| | |
| --- | --- |
| Las Vegas Essentials | Featured Shows |
Las Vegas Events
---
Las Vegas Shows, Headliners, And Concerts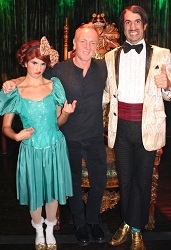 Def Leppard's Phil Collen Spotted At Absinthe – Spotted enjoying the Strip-side favorite, ABSINTHE at Caesars Palace on April 7, 2013 was guitarist Phil Collen of Def Leppard, who attended the show with wife and designer, Helen L. Simmons. Following the crazy antics and comedy from the eccentric ABSINTHE cast, Collen was persuaded by the showÆs dynamic duo, The Gazillionaire and his raunchy sidekick, Penny Pibbets to stay after for a quick photo. Absinthe continues to remain a favorite of celebrities from all genres.
Photo Credit: Joseph Sanders/Spiegelworld
---
Dining In Las Vegas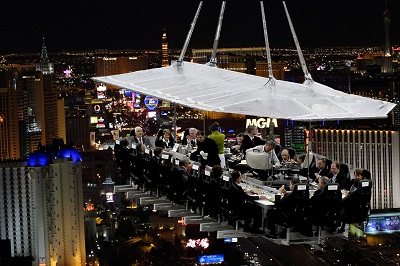 Dinner In The Sky Brings Unmatched Aerial Dining Experience To Las Vegas Strip – Dinner in the Sky Las Vegas will bring the extraordinary fare of Las Vegas and gorgeous views of the Strip and surrounding mountains into one breathtaking experience through an open-air gourmet dinner served 180 feet from the ground. A dynamic addition to the Las Vegas skyline, Dinner in the Sky will break ground on Monday, April 29, and open early this summer on an 8.8 acre site just minutes away from Las Vegas Boulevard near Polaris Street and Tropicana Avenue.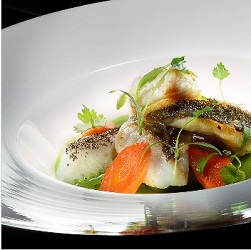 L'atelier De JoÙl Robuchon At MGM Grand Welcomes Spring With Seasonal Menu Items – L'Atelier de JoÙl Robuchon at MGM Grand Hotel & Casino introduces new spring menu items created by Chef of the Century, JoÙl Robuchon. Each selection, which span from appetizers to desserts, captures the essence of the season known for bountiful, crisp produce and juicy ripe fruit. The finest ingredients, combined with RobuchonÆs unparalleled talent for enhancing natural elements and combining flavors into exquisitely well-balanced dishes, make every bite memorable. New spring menu selections are now available and include: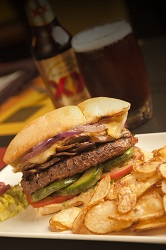 Tacos & Tequila To Celebrate National Hamburger Day With A Mexican Twist – Tacos & Tequila (T&T) at Luxor Hotel and Casino will celebrate National Hamburger Day Tuesday, May 28, with Executive Chef Saul OrtizÆs Matador Burger.
Hamburger lovers can indulge in T&TÆs Matador Burger, priced at $10, and made with a half-pound Angus beef patty marinated with achiote paste and mixed with fresh lime juice and chile guajillo adobo. This Mexican twist on an American favorite is served on a bolillo bun and topped with a blend of Oaxaca, Jack and Gouda cheeses, spicy Thousand Island dressing, guacamole, caramelized onions, sautÚed mushrooms and sliced tomatoes.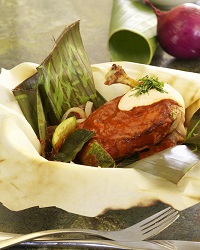 Morton Group To Debut La Comida In Downtown Las Vegas- Dishing Up Authentic Mexican Cuisine – La Comida will invigorate the burgeoning Downtown Las Vegas dining scene with a menu inspired by the cosmopolitan fare of Mexico City when it opens in mid-April. The latest creation by the Morton Group, led by restaurateurs Jenna and Michael Morton, La Comida will blend authenticity and tradition with a delightfully funky vibe.
ôIn the restaurant industry æcomidaÆ is the meal shared by staff before they begin their service. We call it æfamily meal,Æö says Michael Morton. ôLa Comida was designed to recreate that feeling of camaraderie in a fun, eclectic atmosphere with fresh drinks and Mexican food we all love.ö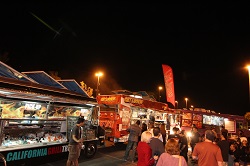 Las Vegas Foodie Fest To Return To Silverton Casino Hotel With Ultimate Food Truck Experience – The popular Las Vegas Foodie Fest, featuring more than 30 food trucks and vendors, will return to the Silverton Casino Hotel from Friday, April 26 through Sunday, April 28.
Food aficionados will enjoy the three-day festival beginning on Friday from 4 p.m. to midnight, to continue on Saturday from noon to midnight and on Sunday from noon to 10 p.m. Festival goers will enjoy tasty bites from more than 30 food trucks and vendors, some of which have been featured on The Food Network, History Channel, Cooking Channel and Travel Channel.
---
Gambling In Las Vegas
---
Las Vegas Attractions
---
Las Vegas Hotels
---
Wine, Liquor, And Nightlife
---
Las Vegas Economy And Real Estate
---
Las Vegas Weddings – For All Kinds Of Couples
---
More Las Vegas News
---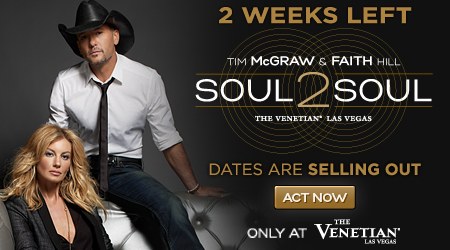 ---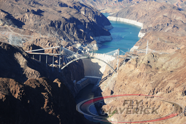 Maverick Grand Canyon Air Tour û Sit back and relax as you experience this spectacular air excursion through the Grand Canyon. Highlights of this trip include Hoover Dam, Lake Mead, Lake Las Vegas and Fortification Hill an extinct volcano. Fly through Black Canyon and on your return to the south Las Vegas valley.
---
Defending The Caveman by D.W. Grant
Defending the Caveman Needs No Defending – This "Caveman" donÆt need no defending. ItÆs a manÆs show, with women encouraged to attend. The Las Vegas/Broadway show, now playing at HarrahÆs Comedy Club, is a hilarious evening of understanding "The Man," his burps, scratches, sex, and beer drinking. After this show every woman will understand why men are not jerks, or #&*s, as is said vehemently at the beginning, in the middle, and at the end of this show.
Kevin Burke has been soloing in this play for 10 years or more and it shows. His delivery is real and his connection to his audience is deep. More than a show, "Defending The Caveman" is like sharing a beer with your brother-in-law in his man cave. Man to man you can talk about women and scratch your loins without reproach. You can brag about your sex life, and complain about the "old woman," knowing your boasting and whining wonÆt go beyond the cave walls. They wonÆt, unless some playwright decides he wants to make a Broadway show out of them.
---
Newkirk's Notes – comments on Las Vegas from AccessVegas.Com publisher Ted Newkirk:
Hello From Las Vegas! – We're calling this the food issue. We didn't plan it that way. We simply had a pile of restaurant updates come across our desk this week. Hopefully, it will make you hungry for a visit to Las Vegas!
I get accused by some of my detractors (yes, I have a few for some strange reason) of being too much of a Las Vegas cheerleader. And honestly, Las Vegas is a pretty cool place. It isn't hard to find things to like! However, this issue we'll deal with how the airlines are making it more tough (and expensive) to travel, and we run a letter from someone who will not be returning after many visits.
Blarney Stone Is Back – A staple of many who enjoyed the old Fitzgerald's was to rub the blarney stone in the players club booth for luck. In fact, I was getting a replacement card soon after the switch to The D, and the guy behind me complained that it was no longer there! Fortunately, they've taken it out of retirement and you can once again rub it for luck. Look for it in the second floor "Vintage Vegas" casino area.
Worst Intersections – The latest list of the 10 worst intersections in Las Vegas for collisions is out, and half of them are resort-area related:
1. The Strip and Flamingo Road
5. The Strip and Tropicana Avenue
6. The Strip and Harmon Avenue (CityCenter)
8. Tropicana Avenue and Koval Lane
10. Tropicana Avenue and Paradise Road
The final two are of note because both are on the route to/from the airport. Our advice? If you are driving in town, pay extra attention. The person next to you isn't. They are looking at the sights!
Visitor Numbers Plateauing? – January and February visitor count was off by nearly 1%. Not the best sign you want to see, but well within the boundaries of statistical fluctuation. It will be interesting to see if all of the "Vegas is too expensive, we're not coming" people really mean it and we go stagnant, or if it is a momentary dip. In our Members Mania! section, we address a letter from someone who is fed up and not returning.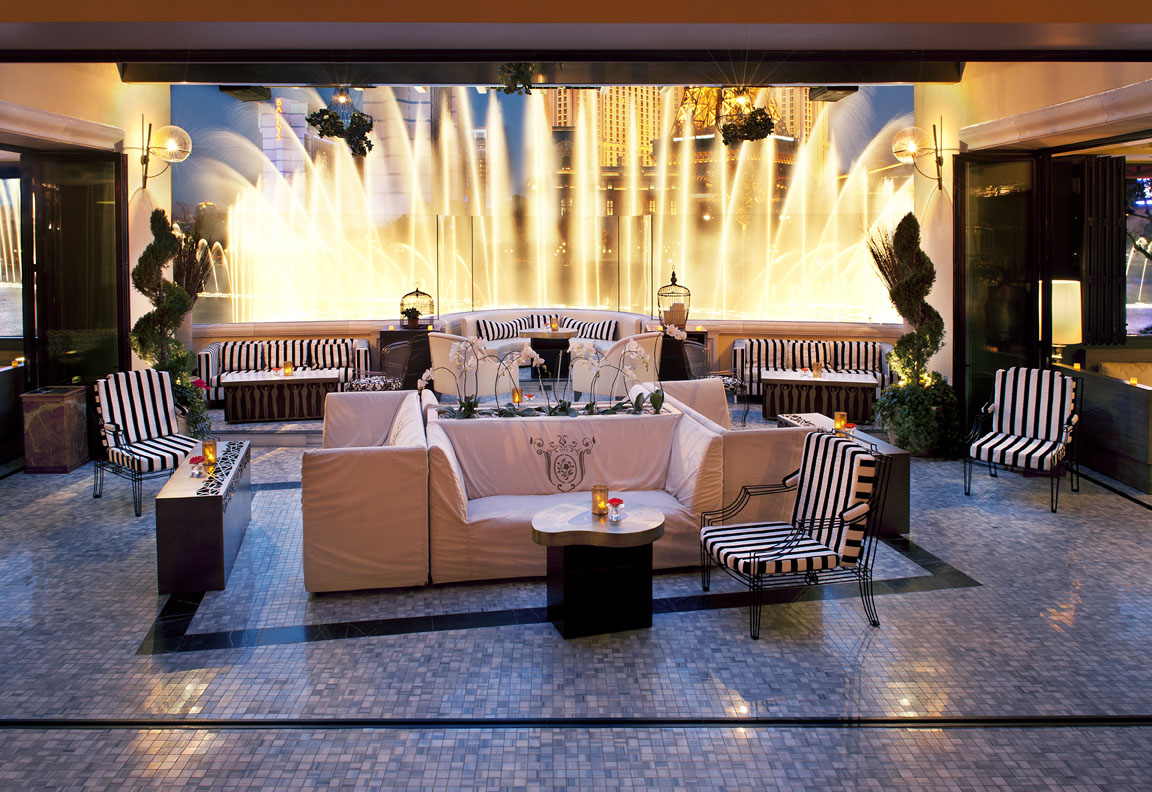 Hyde Lounge At Bellagio
Thump, Thump, Thump, Thump – If you are hoping that the Vegas nightclub craze comes and goes, don't hold your breath. Some of the top grossing clubs in the world are here on the Las Vegas Strip. How successful are they? Recent reports have both Marquee (Cosmo) and XS (Wynn) each doing over $80 million a year. When you consider that reports at the time suggested Marquee costing $50 million to build, that is a tidy sum in a short time. And because you're pretty much selling space and booze, we're not talking a significant overhead (compared to earnings).
Even hot "lounge" spots got in on the act with Hyde (Bellagio) at $25+ million and Chandelier Bar (Cosmo) at $15+ million.
Not your thing? Have no fear. The market is pretty saturated. If you enjoy various properties that don't cater to the club crowd, I wouldn't expect them to change anytime soon. By the way, Hyde is more mellow and welcoming in the afternoons. The drinks are still pricey, but the view of the Bellagio Fountain and The Strip are great. Evening and into the night is when they go "clubish".
Airline Mergers Not Good For Las Vegas – With US Air and American Airlines looking at merging, selection and competition for air travel will not be favorable to the traveler. Long gone are the days when US Air predecessor America West had a "midnight hub" here in town where it seemed like half their fleet descended on Las Vegas starting about 10:30 PM, servicing both the Las Vegas traveler and those from around the west coast who were going to connect for a red-eye back east.
As always, we suggest combating higher airfare with longer stays. Instead of visiting 4 times a year for 3-4 days, come twice a year for a week. Pace yourself with a couple of days running hard, a couple being more mellow, and then finishing off the trip with a bang. This will also allow you "permission" to take that time to see the Grand Canyon, Hoover Dam, or rent a car to visit Red Rock, Primm, and maybe even a locals casino you've always wondered about.
My suggestion? Red Rock in the AM looping around to Bonnie Springs then back into the Valley and down to M Resort for their buffet lunch. From there, you're a quick 30 minutes to Primm with the huge outlet mall and casinos that are throwbacks (cheap food and drink, loose slots, low limits) to Las Vegas the way it used to be.
Hope You Are Enjoying This Issue!

Associate Editor / News Researcher: Rick Ziegler
Concerts and Headliners: Amy Rayner-Cooley
---
What We're Watching – Vegas Videos You'll Enjoy
---
Members Mania – We Love Our Readers!
We are just back from our latest trip to Vegas and it was our last!
We have been visiting every year from the UK for the last 12 years sometimes twice a year and have always loved it, but not this time.
I don't know what was the worst part, the construction work everywhere, the road works making each bus journey forever, the up escalators continually "out of service" and compounded by the lifts also out of action !! especially outside the Aria. The beggars and disgusting cards they displayed, or the extortionate prices for everything.
Trying to get along the strip on foot is a nightmare, not everyone is young and fit and able to walk up and down stairs continually. Obviously older and disabled visitors are not welcome either. I used to enjoy walking the length of the strip, but this is no longer possible without going up and down stairs, escalators, walkways, in and out of hotels !!
I usually love to visit the outlet malls and my husband gambles, we were both shocked at how much things have gone up from the minimum at the tables to the prices in shops. $3.77 for a coffee that last year was $1.27 !! Jeans $78 that were $29 last year. I have never felt so ripped off in any country as I did here this time. $6 for a tiny ice cream !! Come on Vegas what are you playing at. Do you only want the rich to visit you?
Now all the hotels have the extortionate resort charge, which is a joke. How many people actually use the facilities? Another rip off. When we come it is normally for 11 nights but at ú18 per night that is a hefty extra and that is one of the lowest charges at the Flamingo.
I hate what they are doing to the hotels, the attraction for us were the themed hotels, now everything is going modern, corporate and souless.
This is not the Vegas I have always loved and wanted to come back to, I am very sad but I will not be returning, the fun has gone out of it, it is all about ripping people off and taking as much money as possible from them. No one goes to Vegas expecting to win a fortune, but the hope that you might win something, not anymore. All the conversation round the tables was about how no one had won anything.
We have had several friends visit in the last 4 months and they have all come back and said similar, we didn't believe them, however, now we have been we know it to be true, we now need to look for another holiday venue with a heavy heart.
Susan Flanagan
Ted Responds:
You know what? We're sorry to see you go, but you won't get any argument from me. I think that the amount of time escalators and elevators are out of service on the pedestrian walkovers is unconscionable. I'm extremely frustrated that a nice walk up The Strip has turned into an obstacle course.
The crowds are simply a matter of the popularity of Las Vegas and you'll find those at any major city or amusement area that draws heavy numbers of visitors. Unfortunately, not much can be done about that.
Tight slots and poor table game rules are draining players money faster, which is why we've strongly urged people to enjoy The Strip for the great shows, dining, and attractions but take their gaming action downtown where one can actually still win.
No one likes resort fees and I am pleased to report that one of our readers noted (and we've confirmed) that Venetian/Palazzo will let you opt-out of paying the resort fees if you want to. Granted, they are high end properties, but it makes them worth considering when you factor in this perk. NOTE: If you opt-out of paying them, you WILL be billed at the normal rates if you use any of the services that would have been bundled into the resort fees.
I'm personally going to snail mail a copy of this letter to every single county commissioner (I think half of them are still in the stone age as it is). They are the ones who approve all the pedestrian traffic obstruction even though they are utterly clueless as to what things are like for visitors day-to-day on The Strip.
I've been (and will continue to be) critical of both our politicians and casino upper-management who are extremely out-of-touch with your Vegas experience. I believe that every county commissioner and every person in upper-management should be mandated to spend one Saturday night every few months playing tourist. No VIP perks, no back doors. Just get out and walk the same sidewalks you walk and wait in the same lines you wait in and get the same level of service (or lack thereof) that you get and pay the same prices you pay.
Las Vegas tourism is looking to be flat this year, and if we aren't careful, we could see another lull as frustrated visitors return less often, or not at all.

---
Me and my friend made our yearly visit to Las Vegas in late February and of course we really enjoyed ourselves. We took your tip Ted and went to visit South Point. Very nice place and would definitely do that again. We took the shuttle like you suggested and really enjoyed our visit there.
Our money definitely lasted a lot longer than it does on the strip. Food was cheaper and all in all it was a great experience.
Heather
We love to hear from you, and value your feedback! Here's how to participate:
Want to comment on a current reader post? Use the comment box on that particular web page. Many of the stories we post also have comment boxes at the end of the story. Make your voice heard!
Drop us an email at AccessVegas@AccessVegas.com – We read them all!
Call our recorded comment line at 702-507-0055. We listen to every call.
---
No related links found