Serving Las Vegas Visitors and Residents Since 1999
Welcome to the Insider Vibe! This is the official newsletter of AccessVegas.Com. We talk about the Las Vegas activities you really care about.

Share the info: Click to Email this newsletter to a friend! Missed an issue? Click to Read Back Issues Online.
---
AccessVegas.com Quick Info Menu:
| | |
| --- | --- |
| Las Vegas Essentials | Featured Shows |
---
Newkirk's Notes – comments on Las Vegas from AccessVegas.Com publisher Ted Newkirk:
Hello From Las Vegas! – If you are reading and just returned from a weekend visit, all I can say is "Uh-Oh". Weather this past week was absolutely stunning with highs near 80 F, mostly sunny days, and nights that never got way too cold. That is, right up through Friday. Then came Saturday. I'm not sure what happened overnight, but Saturday brought some pretty hard steady rain andádownright cold temps that barely hit the mid-50's. And to think that just the day before, I'd been kicking back watching TV on the back patio while enjoying dinner and a cocktail. Thankfully, The rain is supposed to be gone by Monday and we're back into the 70's where we usually are this time of year.
This kind of hits home on a couple things I regularly remind you about: 1. The temperature here in the desert has some wild swings. Always assume that it could be 10-15 degrees warmer or cooler than average on any given day, and that the weather can vary dramatically from day-to-day. 2. I've talked about how everyone's Vegas experience is unique. Come here on Memorial Day weekend and it is much different than the week before Christmas (both in terms of crowds and temperature). Those who were here midweek last week went home and told all their friends how incredible Vegas weather is in March. Those here this weekend are going to go home and say Never visit Vegas in March… it is cold and stormy!
Viva No Elvis – Cirque du Soleil has announced the replacement for Viva Elvis at Aria in CityCenter. Not wanting to take any risks, they are bringing Zarkana here after hugely successful runs in both Moscow and New York City. The question is whether an already saturated show market (certainly saturated with Cirque shows) can absorb another production and whether CityCenter's "way back off The Strip" location will be a hindrance to ticket sales.
Harmon Update – The Harmon is the unfinished hotel which is part of the CityCenter project, sitting right next to The Cosmopolitan. Construction defects halted work on the project. The builder says that if it gets torn down, they'll never be able to absolve themselves from responsibility for the defects. (Any evidence in their favor in a protracted court battle will be gone). Clark County wants it torn down as the defects evidently make it vulnerable to collapse in an earthquake. Next hearing is July 9. I'm guessing we're going to see it imploded early fall.
New Performing Arts Center – Thanks in part to $105 million in car rental taxes from you guys (funding slightly more than 1/5 of the project), downtown Las Vegas has unveiled the new Smith Performing Arts Center. It certainly is beautiful and the movers and shakers and local press are ga-ga over it. We were the largest city in the U.S. without such dedicated performing arts facility. Boy oh boy, we're in the big leagues now!
I confess to being just a tad bit snarky because for some reason, the people with the biggest inferiority complex about living in Las Vegas (and the biggest boosters of this project) are the exact people who have done extremely well here. Nobody every stopped them from picking up and moving to San Francisco or New York City. How about you quit being embarrassed of being a Las Vegan?
A very pleasant addition to a city? Absolutely. A stunning venue that is a must-see? The few who have had the opportunity to attend an event there so far have raved about it. An awesome addition to the city and downtown? You bet. But something that changes the way the world sees us (in terms of arts and culture)? Not even close.
Opening night was a star-studded event hosted by Doogie Howser Neil Patrick Harris and featured artists ranging from Willie Nelson to Joshua Bell to Jennifer Hudson (just to name a few of many). It was filmed for TV and is slated to appear on PBS (date not yet set, we'll let you know).
For those wondering which two Fremont Street hotels this venue sits between? It doesn't. It is on the west side of the railroad tracks in the vicinity of the outlet mall, World Market Center, etc. At just about a mile from the Fremont Street hotel area by car or foot, I wouldn't suggest the walk (especially if you are dressed up to see a performance) because parts of downtown are still pretty sketchy. But you are talking a cheap cab ride from Fremont Street and probably about $15 from The Strip.
Talk is underway of walkways to connect the new Smith Center to the tourist part of downtown. As the crow flies, you're only talking four blocks. I've expressed concerns that attendees to events won't contribute to the downtown economy. Having to park downtown, eat, drive or cab to the venue, then back around again to downtown for after show drinks just makes no sense. Walkways over the railroad tracks need to be expedited. Once in place, a walk from Fremont East all the way to the Smith Center will be a very manageable and enjoyable 10 blocks.
We'll list performances for this venue in our Entertainment Calendar just as we do other concerts and headliners. Free walking tours of the venue are available at www.thesmithcenter.com/explore/tours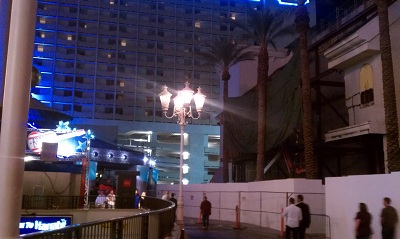 What Is This Mess? – The opening salvo on the construction of Project Linq. To those familiar with Harrah's, Carnival Court is on the left. Remember the ice cream store next to Carnival Court at the end of the mall-like walkway? Gone. You're looking straight through to one of the Imperial Palace towers. To the right is what used to be stores lining the walkway from Imperial Palace to Carnival Court.
Playboy Club Closing – It appears that the Playboy Club at The Palms is closing. Very strange indeed as it was deemed a great fit for Las Vegas and was the 35'th highest revenue generating dayclub/nightclub in the United States in 2010. With founder George Maloof no longer having the level of ownership in the hotel which he used to, one has to wonder if this is a "bean counter" move. The hotel may be getting out of a revenue sharing deal for use of the iconic brand. But without the Playboy name, will the club perform as well?
Just Call Us Tournament Town – With the announcement of the PAC-12 moving their basketball tournament to Las Vegas next year, that brings the total number of tournaments we host to four. Unheard of for any other city. Besides the PAC-12, we also host the Mountain West Conference, West Coast Conference, and Western Athletic Conference tournaments. (OK, the last three aren't the Big-10 or SEC, but still…). This occurs right around the same time we host NASCAR and just prior to March Madness making March one of the most chronically busy times of the year here. The PAC-12 event will take place at the MGM Grand Garden arena.
Fitz Becomes The D – This past week, Fitzgerald's downtown renamed itself "The D" (which stands for downtown and is also an homage to the city of Detroit, where the brothers that own the place come from). Pretty much everything that we've reported on here since late November is now official and underway. Downstairs, expect a Golden Gate (casino) style party vibe including an outdoor bar with go-go dancers and dancing dealers inside. (The D is owned by the same guys who own Golden Gate). If thump-thump music isn't your thing, the upstairs casino will be retro-Vegas (including some popular vintage slots from decades gone by) and be more of a tame experience.
They are going to remodel all the rooms, working two floors at a time. Although the tallest building in downtown Las Vegas, only a handful of the rooms at the south end feature a view of the Las Vegas Strip. (Might not hurt to see if you can ask for one upon check-in). An new one-way escalator will go from Fremont Street up to the second floor casino. They are also claiming that they'll have the fastest wi-fi of any Las Vegas hotel. Of course, given how poor the wi-fi in many hotels can be (which is insulting because you are paying for it either as a separate fee or as part of a resort fee), that shouldn't be hard to pull off.
Enjoy This Issue!

Associate Editor / News Researcher: Rick Ziegler
Concerts and Headliners: Amy Rayner-Cooley
---
| | |
| --- | --- |
| Skip the airport taxi hassles and arrive at your hotel in style: Check out driver and limo service availability now! | |
---
Payard Patisserie And Bistro At Caesars Palace Swings Into Spring With Fashionable Chocolate Decorated Easter Eggs – This spring, Payard Patisserie & Bistro brings the finest in French design to Caesars Palace with intricately adorned chocolate pastries. The confectionary is adding to the chocolate shopÆs imaginative, effervescent atmosphere, setting new trends this season with decadent Easter-themed pastries and chocolates. Beginning March 15, the pastry shop will present an assorted collection of chocolate Easter eggs and bunnies. As shown in the photos above and attached, specially featured will be the new cheeta and zebra-themed eggs offered for the first time this year, and the chocolate print eggs returning from their debut last year, among several other variations. Made with 72 percent dark chocolate and the rest milk and white chocolate, the eggs are created with a customized mold and painted with assorted patterns. Recipients who break open the eggs will be awarded with additional Easter goodies located inside each egg, including miniature chocolate and candied eggs.
The Smith Center For The Performing Arts Opens In Las Vegas With Star-Studded Concert – History Making Night Featured Award-Winning Musicians And BroadwayÆs Best – An extraordinary line-up of performers from across the arts community ushered in a new era of culture as they graced the stage for the opening of The Smith Center for the Performing Arts in Las Vegas on March 10. Led by quintessential host and award-winning actor, Neil Patrick Harris, the evening featured performances by the whoÆs who of music and BroadwayÆs brightest stars.
Frank Marino Unveils First Ever 'Divas Las Vegas' Gaming Table At Imperial Palace – March marked another first for Frank Marino, Las VegasÆ longest-running headliner. The superstar female impersonator has two stars on the Las Vegas Walk of Fame, a street named in his honor, his own official day (February 1), a key to the city and his own building wrap on the famed Las Vegas Strip. The only thing missing was his own branded gaming table û until now. Imperial Palace Hotel and Casino recently welcomed to its gaming floor the first-ever Frank Marino and 'Divas Las Vegas'-themed gaming table. The game puts a new spin on the typical betting wheel. Instead of betting on numbers, guests now have the opportunity to bet on impersonators from the show, including Cher, Madonna, Lady Gaga, Diana Ross, Liza Minnelli, Janet Jackson and, of course, Marino.
$200,000 Superstar Bingo Extravaganza Returns to Riviera – The Riviera Hotel & Casino, home to the only bingo room on the Las Vegas Strip, brings back its $200,000 Superstar Bingo Extravaganza on Mar. 28 and 29. There will be 20 games played per day on both days with a minimum payout per game of $3,000 plus a $25,000 Superstar Coverall at the end of both sessions. Check-in and registration begins on Mar. 27.
Aria's March Menus Make Springtime In LV Even Better – This month only, ARIA Resort & Casino is serving up Signature Tasting Menus highlighting fresh ingredients, just in time for spring. Whether youÆre lounging by the pool, catching some March Madness, or hitting the links at a local golf course û whatever March means to you û round out your day with out-of-this world cuisine at AMERICAN FISH by Michael Mina, Jean Georges Steakhouse and Sirio Ristorante.
---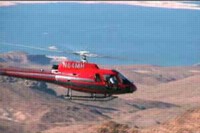 Grand Canyon Air Tour û Sit back and relax as you experience this spectacular air excursion through the Grand Canyon. Highlights of this trip include Hoover Dam, Lake Mead, Lake Las Vegas and Fortification Hill an extinct volcano. Fly through Black Canyon and on your return to the south Las Vegas valley.
---
Members Mania – We Love Our Readers!
We're closing in on the debut of AccessVegas.com 5.0 (hey, we've been around since 1997) and due to those time constraints we're not running readers letters this week. Members Mania is a popular feature which unfortunatelyáwill be sporadic until our site upgrades are finished.
We love to hear from you, and value your feedback! Here's how to participate:
---
More Las Vegas News – Shows – Events