Serving Las Vegas Visitors and Residents Since 1999
Welcome to the Insider Vibe! This is the official newsletter of AccessVegas.Com. We talk about the Las Vegas activities you really care about.

Share the info: Click to Email this newsletter to a friend! Missed an issue? Click to Read Back Issues Online.
---
AccessVegas.com Quick Info Menu:
---
Newkirk's Notes – comments on Las Vegas from AccessVegas.Com publisher Ted Newkirk:
Hello From Las Vegas! – We had a little unscheduled gap in publishing. If you were sitting at home watching March Madness and wishing you could be experiencing it in Las Vegas… me too. Join the crowd. Oh, I was sitting in the city limits of Las Vegas, alright. At home with a double-whammy: First I experienced a nasty ankle sprain and then just as I was getting well enough to hobble around a little bit, I got creamed by a killer cold.
I raised the white flag and for the sake of both (staying off me feet and getting over the drain from coughing my brains out), I took a little over a week to get plenty of bed and couch rest. No March Madness with the crowds and crazies on The Strip, no out-and-about enjoying our stunning "not too hot, not too cold" March weather. The way my luck was running, I didn't even bother to send a friend out to bet some games for me!
I'm fine, no pity party for me. But living in Las Vegas doesn't guarantee life is going to be a bed of roses 100% of the time! Speaking of watching TV…
Outdoor Living – If the temps are anywhere between 60 and 90 and I'm at home, you can usually catch me on my back patio. I love being outside and getting some fresh air. Simply something special about outdoor living. This isnt' Vegas related (plenty of Vegas, just keep scrolling), but I've been asked about how I have it wired to watch TV outside. This is far more basic and obtainable than most think: I keep an old CRT TV (old school before HD flat screens) on the back patio. Why? They are cheap (you probably have one collecting dust or go get one cheap on Craigslist) and nobody is going to steal it!
So do I have a cable and cable box out there? No way. I use an X10 Wireless Video sender (not a paid endorsement, nothing in Newkirk's Notes is). Hook one of these little satellite dish looking gizmos to an output on your cable box and hook the other one into your outdoor TV. Withing minutes, you can watch anything on your cable box (including stuff you've DVR'd, pay channels, everything) out on your back porch or patio (or garage). So why watch TV indoors when the weather is nice!?! Warning: I have a covered patio (a must here in sunny Southern Nevada) so rain is no issue. If you don't and you leave your set-up plugged in and unattended during rain, don't hold me responsible for the damage!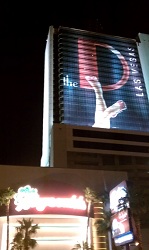 Transformation Is Underway – Fitzgerald's downtown has "officially" changed their name to The D (we had news and a first photo last issue) and they've put up a massive building wrap you can't miss. This is an iconic photo of the changeover as we understand the Fitzgerald signs are coming down very soon. So, here's a last look at the good ol" "luck of the Irish" Fitz and the sexy new motif they are looking to give the property.
With the new performing arts center open, plans to fill in the few remaining vacant areas of Fremont East, and the Mob Museum, downtown is starting to pop with a real synergy. Dingy old downtown is under serious revitalization. Once The D (by fall) and Golden Gate (by summer) expansions/improvements are complete, our crystal ball sees the Las Vegas Club getting a complete Fitz-like overhaul and Binion's refurbishing and re-opening their rooms.
Speaking Of The Golden Gate – If you are thinking of the old shrimp cocktail joint, prepare to be surprised. The deli is being relocated and the former deli area at the end of the casino is not an expanded gaming area plus spacious (compared to the old ones) new restrooms.
Significant changes clockwise from the upper left include 1. A retro Golden Gate display in the main entrance. 2. The huge new expanded rear entry (valet, cabs, limos) with a revolving door and the hotel's longstanding vintage slot collection on display. 3. Entryway to the cozy check-in area featuring Las Vegas' very first telephone (the hotel had the phone number 1) and other artifacts. 4. The actual check-in area. Compare that to the (seemingly mile long desk at MGM Grand) and you can see they are keeping their boutique property feel.
Smith Performing Arts Center – Last issue, we promised you photos of this popular new venue. Unfortunately, these pics grabbed with my phone don't quite to it justice, but they will give you some idea. I will say that the building's retro art deco feel is really a nice change of pace from typical Las Vegas architecture and the "ode to Hoover Dam" design that inspired it was a good call. Hoover Dam is going to be here a few hundred more years, and they wanted to imply that this building will be here to serve Las Vegan's (and our visitors) for hundreds of years as well.
This is a building that would fit right into the mix of just about any major city downtown or arts district area in the United States. Well done!
The lower right photo is of the adjoining Symphony Park and has a really nice feel to it. I can see people gathering pre-event to enjoy the park and also possible special occasions taking place. If you look closely, you can see a number of downtown hotel casinos in the not-too-distant background. As we reported last week, looks are a little deceiving. Yes, it is that close to the established core of downtown. However, pedestrian walkways must eventually be constructed to scale the Union Pacific multi-track mainline that dissects this area on the run from L.A. to Chicago.
Enjoy This Issue!

Associate Editor / News Researcher: Rick Ziegler
Concerts and Headliners: Amy Rayner-Cooley
---
---
ABSINTHE Welcomes To The Stage, Lijana Wallenda, Seventh Generation Member Of The Legendary Circus Family, The Flying Wallendas – The Gazillionaire and the cast of ABSINTHE at Caesars Palace, Las VegasÆ hottest show, welcomes high wire heiress Lijana Wallenda-Hernandez to the stage now through May 1. Wallenda is a seventh generation member of the world-renowned circus family, the Flying Wallendas and great grand-daughter of the legendary Karl Wallenda. With her captivating charm and mass sex appeal, Wallenda embodies the vision of a Greek Goddess, adding fabulous tricks to ABSINTHEÆs death-defying act. Wallenda will take to the sky as she joins the Esteemed Gentlemen of the High Wire, temporarily filling in for her husband Tony Hernandez.
Madame Tussauds Reveals Abbey Road Traveling Experience – The Beatles Interactive Exhibit On Display Through May 28 – Madame Tussauds Las Vegas located at The Venetian welcomed the Abbey Road Traveling Experience to its attraction. The exhibit, on display through May 28, features a recreation of The BeatlesÆ iconic 'Abbey Road' album cover.
Dance Into Spring With Joy And Splendor At Bellagio's Conservatory & Botanical Gardens – Spring has sprung at BellagioÆs Conservatory & Botanical Gardens, now open to the public through May 13. This yearÆs show debuts the enchanting musical sounds of the harp and violin, a rotating windmill and a floral exhibition showcasing tulips, azaleas, hibiscus and lilies. A carousel, waterfall and ceiling-hung hand-painted parasols invite the spirit of spring with open arms.
Ice Performs As Michael Jackson 'The King Of Pop' In '2 Kings' At The Rio – Ice may well be the youngest performing Michael Jackson on the planet at only age 26 and heÆs been performing as the legendary superstar since he was 14. He was born and reared in Gary, Indiana just like the late Michael Jackson. IceÆs talents are purely musical. He said, 'I play the piano, drums, bass guitar and violin. My hobbies are limited to music and video games.' He has toured the world performing as Michael Jackson. He exclaimed, 'China was a culture shock. IÆve been to Brazil and Spain too doing my character and it seems like IÆm appreciated more by the audiences. They go wild.
Public House Kicks Off National Beer Day With Week-Long Celebration – Beer drinkers will unite when Public House, an American gastropub located in The Grand Canal Shoppes at The Venetian, celebrates National Beer Day with a prix fixe menu and beer pairing as well as the introduction of the new 'Pub Club' from Monday, April 2 through Saturday, April 7. The three-course meal priced at $48 per person will begin with the Scotch Egg paired with a Firestone Double Barrel Ale. The main-course will feature Public HouseÆs mouthwatering Short Rib paired with a smooth Deschutes Black Butte Porter. To end the experience with something sweet, patrons will enjoy the Irish Coffee Cheesecake paired with a Uinta Labyrinth.
Tender Steak & Seafood Introduces New Wine And Cheese Lounge Menu – With a sophisticated and upscale ambiance, TENDER Steak & Seafood at Luxor Hotel and Casino presents a new wine and cheese menu to offer guests an exquisite tasting experience. For smooth white or red tastings by the glass, guests will enjoy two glasses priced at $8 or four glasses priced at $15. For white wine pairing options, the menu features selections including Chateau St. Michelle Eroica Riesling 2008, Ravenswood Chardonnay 2006, Kim Crawford Sauvignon Blanc 2010, William Hill Chardonnay 2008 or a Cakebread Chardonnay 2008. For the red wine selection, guests will enjoy selections of a Louis Martini Cabernet Sauvignon 2008, Mac Murray Ranch Pinot Noir 2008, Ferrari-Carano Merlot 2006, Beaujolais Georges Duboeuf 2008, Apothic Blend 2009 or a Silver Oak Alexander Valley Cabernet Sauvignon 2006.
Cosmopolitan Teams Up With EA Sports To Bring Las VegasÆ First-Ever EA Sports Bar To The Strip – The Cosmopolitan of Las Vegas transforms the traditional sports bar concept by partnering with EA SPORTS, one of the leading sports entertainment brands in the world, to create Las VegasÆ first-ever EA SPORTS BAR powered by Sharp opening March 31. Combining the excitement of a sports bar, the comfort of a living room and EA SPORTS video games, the one-of-a-kind experience will feature Sony PlayStation 3 game consoles, a selection of EA SPORTS games, high-definition televisions broadcasting the dayÆs sporting events and a lively bar set among nine living room style vignettes.
Ben & JerryÆs 34th Annual 'Free Cone Day' Tuesday, April 3 Features Local Celebrity Scoopers For Charity – Ben & JerryÆs, the company that broke the mold for businesses demonstrating you could make a profit while giving back to the community, will commemorate its 34th Annual 'Free Cone Day' at Ben & JerryÆs Scoop Shops at the District at Green Valley Ranch and inside Sunset Station Hotel & Casino. The Scoop Shops enlist help from some of the cityÆs hottest entertainers who will scoop to benefit Lied Discovery ChildrenÆs Museum and St. JudeÆs Ranch for Children. All small cones are FREE with no purchase necessary but patrons are encouraged to make a donation to the storeÆs respective charity partners.
---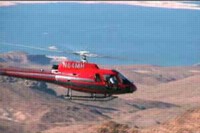 Maverick Grand Canyon Explorer Plane Tour û Fly aboard Maverick's Beechcraft 1900D aircraft on a 40-minute flight to the Grand Canyon's South Rim where your ultimate adventure will begin. Enjoy the awe-inspiring vistas, panoramic overlooks and trails that can only be accessed from inside the park as your journey continues with ground transportation into the Grand Canyon National Park. Absorb the magnificence of the Grand Canyon and capture memories to last a lifetime as you enjoy a gourmet box lunch.
---
What We're Watching – Vegas Videos You'll Enjoy
---
Members Mania – We Love Our Readers!
I know there has been a lot of discussion about a pay version of the newsletter. Being a small business owner, I understand the need to have a pay version. That said, I donÆt recall (I could have missed it, as well) a like to sign-up for the pay version. I would be a subscriber!
You guys do a great job putting it together!
Thanks,
Larry
Hello … let me start by saying how much I appreciate your newsletter.
(Excuse my writing if I made mistakes and verb tense error, but I'm French Canadian and English is just a second language)
I went to Las Vegas for my first time in November and wrote my a very long email about it to say how much it was memorable, though i didn't get publish, but I understand that you have many many to read. I just can't wait to go back for a second time.
We went for 6¢ days and we did the entire Strip from the South Outlets up to Fremont street. My soon-to-be wife and I are no gambler and those who says that LV has nothing else to see/do/ offer than slot machines and poker … man … THEY ARE SO WRONG!!!!
We visit every casino, every casino/hotel pool backyard, every stores, went to every attractions each place offers, etc …. to resume, we saw everything the Strip & old downtown has to offer, free or not. Yes our days were loaded, not much rest from 8am 'till midnight but what a thrill !!!
Of course we didn't see all the shows you would have to be ultra rich to see them all and probably stay there a whole year but we went to see Rod Stewart at the Colosseum at Caesar Palace and we loved it!!!!
We stayed at the Tropicana which was awesome. I know it's been renovated recently which is kinda why we chose this place to stay, also the price were good! Though the hotel ain't Strip Central, we wouldn't mind going back for our second trip. Also we loved the coconut smell all around inside!!
Gotta say that your newsletter help me a lot while planning that first trip
Like I said, I just can't wait to go back for a second time. Since we saw/did everything the Strip and downtown has to offer, except for the new stuff that will come out until then …. which is where your newsletter comes very practical …. our next time will concentrate on the outdoor fun. We fought the temptation to go see the Grand Canyon VERY HARD, to give us a good reason to come back.
So our next time will be about an helicopter tour in Grand Canyon with Rafting on the Colorado river … Hoover Dam … dune buggy in the desert … Red Rock Canyon … Splash Canyon Waterpark … Bootleg Canyon Zip lines … Bryce Canyon … and much much more!
Now, about the upcoming subscriptions. I just wanted to know a few things
1) when will it start
2) what will be the payment options
3) how much will it be
4) will you have different options : per month / half-year / per year
Thanks to your devotion to Las Vegas tourism and for your excellent work. Love to read you!
Your Quebec City fan … Jeff
Ted Responds:
I've been happily surprised at the number of both emails and even phone calls to our comment line wondering about when we go subscriber based, the details, how to pay (we'll offer everything from Paypaltgo old fashioned check), etc.
While I appreciate so many who see the value of the newsletter as-is (and willing to help chip in to keep it at the current level), we want to offer more to subscribers as a way to thank them for helping out. Hence, we're working on a huge behind-the-scenes overhaul and upgrade of AccessVegas.com to accommodate a subscriber area. That needs to be in place before we can really do anything.
THEN, I'm hoping that we can develop the online app we're going to include with subscribership. I can't spill too many of the details, but we're so sure that this app will save you as much as (or pretty close to) the cost to subscribe, that we're going to offer a money-back guarantee. At the end of your yearly subscription if you don't feel that you got your money's worth, we'll refund the entire amount.
Regarding this app, don't worry if you don' have a smart phone or a tablet. Even if you don't own a cell phone, you'll be able to use it right on your computer before you head out here and get great value out of it. If you have a smart phone, you'll be able to use it while you are here and we promise you'll find it an incredible aid. (Once again, wish we could spill the details, but we can't as this really has not been done before). If you can surf the internet on your phone or tablet, you'll l be able to enjoy this app no matter who makes your phone or what system you are on.
Another thing we'll be doing for subscribers is guaranteeing (within reason) a personal answer toáVegas questions you submit. We don't know everything, but we usually know how to find the answer. Right now, we do not have the staffing to do so.
Per cost, we're currently looking at $23.95 per year. Less than $2 per MONTH. The plan will only be yearly and here's why: We work hard to put out great Vegas info all year. Even if you only read when you are getting closer to a trip, you have TONS of archived newsletters to go back and look through. If we provided a short-term option, we'd be face with people who only pay a few dollars for the couple of months before their vacation, they'd use the app (which is looking to be very expensive to develop and maintain), ask us questions with a guaranteed response and basically use more of our resources than they are paying for. The math simply does not work out.
If you enjoy a certain hobby (whether motorcycle riding or knitting) and you subscribe yearly to a publication that covers it, you pay for the year even if you may go a few months at a time without being active in your hobby. That affords the magazine a stable financial base to provide all the great information they prepare for you all year.
We're going to be doing these special things for subscribers because the subscribers are the ones who are willing to really support what we're doing! We do the "Vegas Homework" for you so that you don't have to spend countless hours trying to hunt down all this info yourself. Just the time you save in vacation planning makes it well worth it even if you only visit once per year.
In response to Jeff: Your English is fine and we really appreciate the great trip report. I've always said that if you had an entire month in Las Vegas, you couldn't do and see everything. But it sounds like you almost tried! Absolutely, one can go from 8 AM until Midnight for a week and not even be close to getting board.
Good for you that you weren't scared to venture downtown or check out the outlet malls and really take it all in!
I highly recommend seeing the Grand Canyon. It is one of those things people simply can't begin to comprehend until they see it in real life.
What great excitement. When I read letters like yours, it makes me so happy that we're able to enjoy such an amazing and memorable vacation!

We love to hear from you, and value your feedback! Here's how to participate:
---
More Las Vegas News – Shows – Events