Las Vegas Shows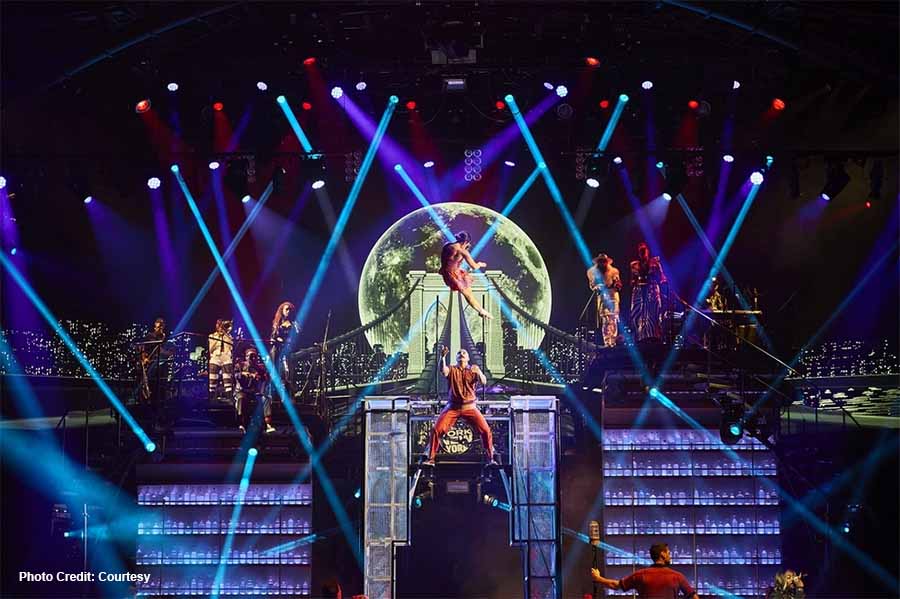 Cirque Du Soleil Delivers With High-Energy New Las Vegas Strip Production 'Mad Apple'
The rambunctiously fun grand opening of Mad Apple at New York-New York on May 26 made it official: This is the age of the variety show on the Las Vegas Strip. Pro sports events and superstar residencies have been grabbing the spotlight lately—and pushing the Vegas entertainment experience into colossal venues. But something gets lost in all that bigness, a sense of salience, or maybe just that feeling that anything can happen.
---
Don't Miss These Additional Stories:
---
Las Vegas Dining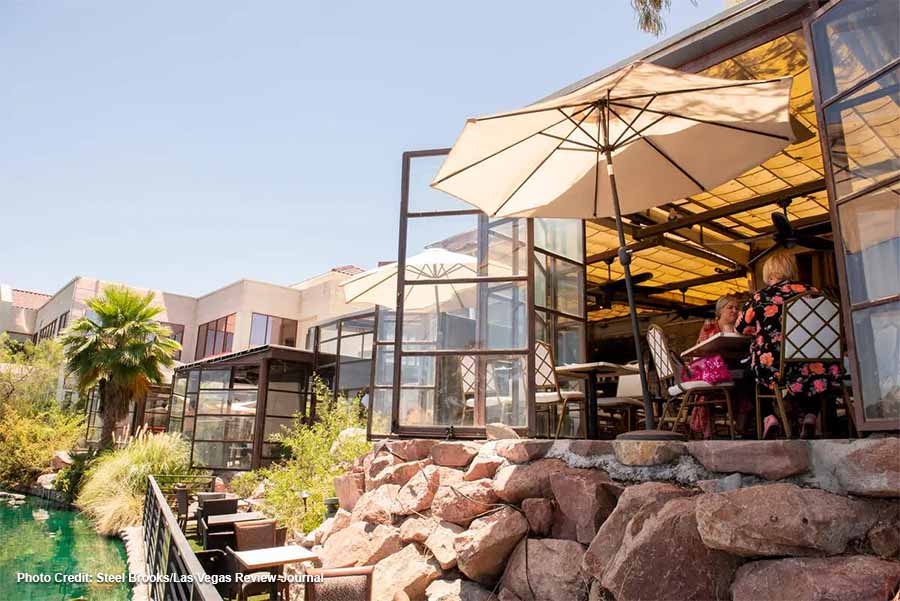 Some Top Spots for Alfresco Dining in Las Vegas
Eating outside is one of the great joys of restaurant dining, but Las Vegas can get hot as blazes, and let's not get started on the wind. Nobody wants to get scorched in a dust storm while eating a Cobb salad and sipping an iced tea. Thankfully, many Southern Nevada restaurants have created cool, shaded outdoor spaces where dishes — and good company — can be enjoyed with just the right touch of nature. Thumbs-up for misters and sunshades.
---
Don't Miss These Additional Stories:
---
Las Vegas Gambling
Don't Miss These Stories:
---
Las Vegas Tours & Attractions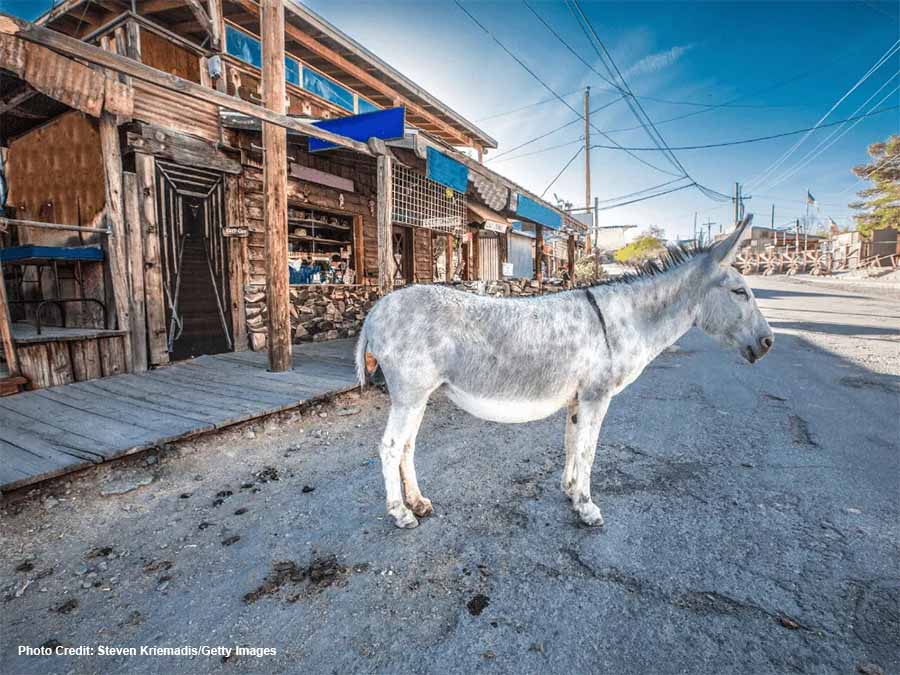 Oatman, AZ and the Wild Burros – A stop along Route 66
Oatman started life over 100 years ago as a mining tent camp, and quickly became a flourishing gold-mining center. In 1915, two miners struck a $10 million gold find, and within a year, the town's population grew to more than 3,500.
---
---
Las Vegas Real Estate
Don't Miss These Stories:
---
Other Las Vegas News
---
What We're Watching!
Vegas Videos You'll Enjoy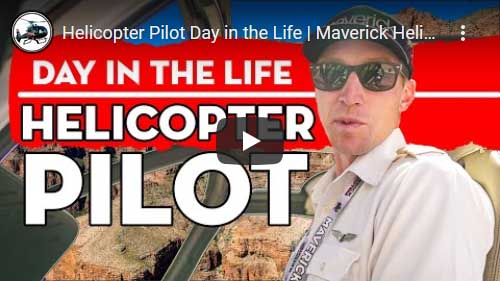 Helicopter Pilot Day in the Life
(Video Publishers Notes) Have you ever wondered what a typical workday looks like for a sightseeing helicopter pilot at Maverick Helicopters? In this video, you will get a glimpse at the day in the life of a pilot as we follow Pilot Jake around for two sets of Wind Dancer tours.
Pilots at Maverick typically start their day by checking the maintenance record for the helicopter they are assigned to fly and performing their thorough preflight procedures. Once preflight preparation is complete, and before boarding, the pilot will escort their guests to the aircraft and conduct a safety briefing.
Throughout our Grand Canyon helicopter tours, the pilot will narrate the trip and answer any guests' questions. The pilot serves snacks and champagne, plus takes photos of and with the guests at the canyon. Upon returning to the Las Vegas terminal, pilots are responsible for sanitizing and preparing the aircraft for their next tour and set of passengers.
Experience an unforgettable trip from Las Vegas to the Grand Canyon and fly with one of our amazing helicopter pilots on Maverick Helicopters' Wind Dancer tour. On this one-of-a-kind Grand Canyon helicopter excursion, you will witness birds-eye views of Lake Las Vegas, Lake Mead, Hoover Dam, and more before descending and landing inside the heart of Grand Canyon West. Upon landing at our private vista above the Colorado River, you are free to explore, take photos, and enjoy light snacks and champagne. Then, conclude your journey with a breathtaking flight over historic Downtown and the iconic Las Vegas Strip.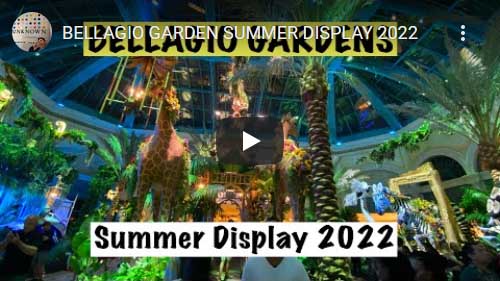 Bellagio Garden Summer Display 2022
(Video Publishers Notes) "Jungle of Dreams" is the title of Bellagio Conservatory display.It is located in the Bellagio Conservatory & Botanical Garden, next to the hotel lobby.
"Jungle of Dreams" Display by The Numbers:
– 120,000 individually placed rose petals on the zebras
– 10,000 working hours to create this spectacular show
– 9,275 plants in the display
– 2,500 preserved pampas plumes on the lion's mane.
– 900 pounds of brown and golden flax seeds used to create the giraffes' coats
– 360 feet of palm tree trunks throughout the display – the length of a football field
– 50 palm trees
– 28 animals
– 9 golden pineapples, the international symbol of hospitality
– 5 species of birds represented
– 1 jungle boat
The Bellagio Conservatory & Botanical Gardens are open 24 hours a day and are a free attraction. This display will be until September 10, 2022.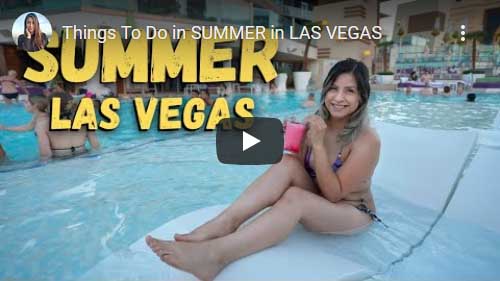 Things To Do in Summer in Las Vegas
(Video Publishers Notes) Las Vegas is most popular during summer, and despite the heat, it still does not stop tourists from visiting. There's so many things you can do to keep cool however, whether you stay inside the hotels and casinos or join some sort of pool.
Choose wisely when looking for what hotel to stay in, as the pool is going to be a very important part of your stay. In this episode I will be taking you to a fun winter bar, then off to Cosmopolitan pool series for their pool movies on Mondays, then over to a dayclub, and finally a night museum. Make sure to pack the sunscreen and bring lots of water. Hope you like it!
The Ski Lodge – Cosmopolitan
Dive In Movies – Cosmopolitan
Tao Beach Club – Venetian
Neon Museum – Downtown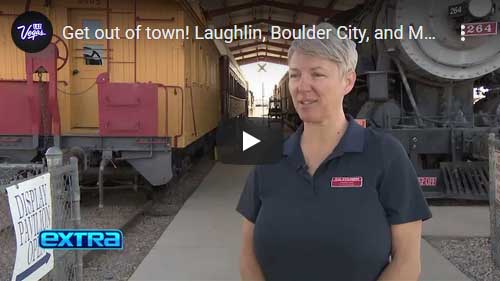 Get out of town! Laughlin, Boulder City, and Mesquite offer plenty of options for Vegas visitors
(Video Publishers Notes) Make the most of your next Las Vegas getaway by checking out some of the fun just a short drive away. Extra TV takes you on a tour of some of the surrounding areas that feature plenty to do daily.
Start in Laughlin and enjoy Colorado River activities including jet boat excursions and scenic cruises. You can also catch top concert acts like Toby Keith and Kid Rock under the stars at the outdoor Laughlin Event Center.
Then, head over to Boulder City, where small-town charm greets you at every turn. Get on the right track with a ride on a rail explorer bike or visit the Nevada State Railroad Museum for a overview of U.S. locomotive history. Afterward, try kayaking down the river while the majestic Hoover Dam lies in the background. While you're in Boulder City, fuel up at The Dillinger or the Coffee Cup Café, both highly favored by locals.
Play championship golf in Mesquite on some of the top courses in the country, or pay a visit to Seven Magic Mountains, a colorful outdoor art installation a few miles outside of Las Vegas.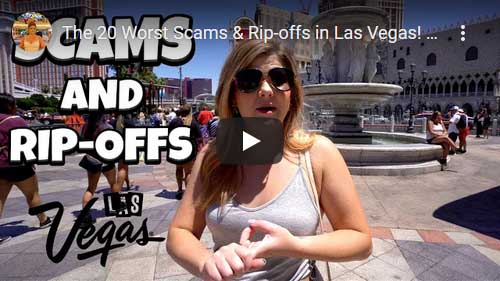 The 20 Worst Scams & Rip-offs in Las Vegas!
(Video Publishers Notes) In this video, we take a look at the 20 Worst Scams & Rip-offs in Las Vegas for 2022.
– Early Check-in Fees
– Fake Pot Stores
– Stay-Well Rooms
– Taxis/Cabs
– Club Ripoffs
– Strip Handouts
– Buskers
– ATM Fees
– Themed Slots
– Coin Redemption
– Paid Parking
– Hotel Convenience Stores
– Resort Fees
– Caesar's WiFi
– Overpriced Drinks
– Hotel Food Courts
– MGM Buffets
– 6:5 Blackjack
– Fremont Street Stands
– Triple Zero Roulette
– Timeshare People
– General Safety
---
This Week's Top Tours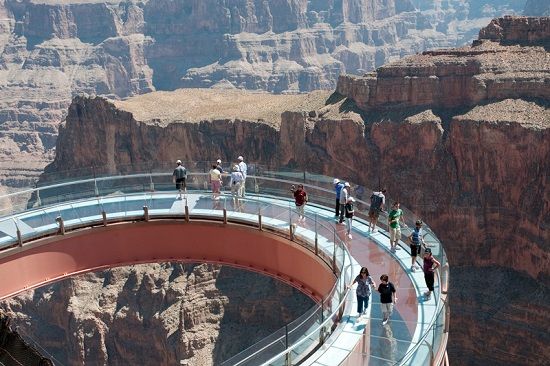 VIP Grand Canyon Skywalk Tour via helicopter trip to and from the Skywalk. Stunning views! Expedited and exclusive arrangements available.
---
---
No related links found