Welcome to the Insider Vibe! This is the official newsletter of AccessVegas.Com. We talk about the Las Vegas activities you really care about.
---
AccessVegas.com Quick Info Menu:
Las Vegas Essentials

Featured Shows

Photos and Wallpaper
Newkirk's Notes – comments on Las Vegas from AccessVegas.Com publisher Ted Newkirk:
Hello From Las Vegas! We are revamping our newsletter site https://las-vegas-news-reviews.com into a blog-style format. We've been doing this newsletter (which pretty much amounts to a weekly blog) since 1999, long before the word blog or blog-style websites existed. For those of you who read this newsletter online, bear with us. The current blog format is very readable, but can (and will) be inproved over the next few weeks to match the look, style and readability of our online version.
This also allows users of RSS/XML feeds two options for following everything here at AccessVegas.com:
Only This Newsletter:

https://las-vegas-news-reviews.com/feed

/

Everything new on AccessVegas.com

(show reviews, photos, new stories and features) as it happens:


http://www.accessvegas.com/xml/whats-hot.xml
An "Only In Nevada" Type of Gas Card Promotion – According to the Review-Journal, A brother in Beatty, NV (about 130 miles north of Las Vegas) is offering gas cards ranging from $50 to $100 depending on how much you spend. Although the long-standing myth is that prositiution is legal in Las Vegas, the reality is that it is not legal in any county of over 400,000 residents. This includes Clark County (Las Vegas) despite all of the "dancers" to your room handbills.
Since Clark County is roughly the size of New Jersey and Las Vegas is centrally located in the county, this means quite a drive for those who want to indulge in the "world's oldest profession".
My suggestion if you are going to drive a couple of hours from Las Vegas? Take in Dante's View which overlooks much of Death Valley. (Just don't do it in the summer). Google Maps Street view has a great 360 degree shot of Dante's View.
Open Your Wallet For Nevada Education – Once upon a time (prior to 2000), families didn't move to Las Vegas in droves. Families living here didn't expect Nevada to rank high nationally when it came to education. In fact, I recal numerous business news stories in the 90's noting the difficulty of recruiting family men to work here in Las Vegas.
Most people were employed in gaming (or tourism-related jobs) and gaming taxes did a fine job of helping fund education.
Oh… how times have changed. Over a million people (including many families) have flocked to live here since then and now expect our education system to be as good as it was in the high-tax states they fled from. And… they want to do it on your backs. Right out of the pocketbook of our visitors. Read more: Nevadans say let tourists pay – Support strong for raising hotel room tax from 10 percent to 13 percent
Las Vegas unelmployment rate is above the national average. I wouldn't suggest moving here unless you have a job waiting for you. Ironically enough, it is the construction downturn playing a big roll. Fewer people moving here means less new home, condo, and apartment construction. Not trying to sound negative. This is a great place to visit, and a pretty cool place to live. If you have a job.
Jay Leno's Las Vegas shows next week will benefit Iowa flood victims. Emmy Award-winning comedian and television host Jay Leno will perform two special engagements at The Mirage Wednesday, June 25 and Friday, June 27 at 10 p.m. with proceeds going to The Greater Cedar Rapids Community Foundation. Tickets are priced at $90 plus tax and are available at The Mirage box office or call (702) 792-7777.
My dad was born in Iowa where the family ran a service station in Dubuque before relocating to Santa Monica, CA in his youth so I have some ties to the state. It is absolutely heartbreaking to see the flooding and our hearts and prayers go out to all affected.
Enjoy This Issue!

Ted Newkirk
CEO/Managing Editor
Associate Editor: Amy Rayner-Cooley
News Researcher/Editor: Mark Jacobs
---
Can't Make It To Vegas?
Get Tickets To An Event Near You!
Madonna, American Idols Live, Elton John, Jonas Brothers, Tina Turner, Jimmy Buffett, Dave Matthews Band, Tom Petty and the Heartbreakers, Kenny Chesney, ColdPlay, James Taylor, Iron Maiden, Rascal Flatts, The Cure, Rush, NASCAR, Baseball, NFL Football, College Football, All Major Concerts and Events
---
Featured Review:
Experience The Spice Of Life at "V The Ultimate Variety Show"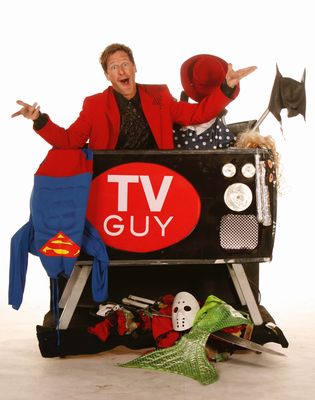 by Erin Guernsey
The old saying "variety is the spice of life" rings true at "V The Ultimate Variety Show." Audience members are privy to witness an assortment of talented artists as they perform individualized specialty acts at the V Theatre inside the Miracle Mile Shops at The Planet Hollywood Resort and Casino.
The show opens with the flamboyantly-funny host. This man strings together the various specialty acts with his amusing sense of humor. As the show progresses the audience learns that he is more than just a host. He is an accomplished performer who possesses excellent juggling skills. His skills range from juggling batons in the air, to hats on his head and even ping-pong balls in his mouth.
Click to Read Entire V Variety Show Las Vegas Review (with additional picures)…
---
Featured Review:
Crazy Girls Keeps It Simple, Yet Sensual and Captivating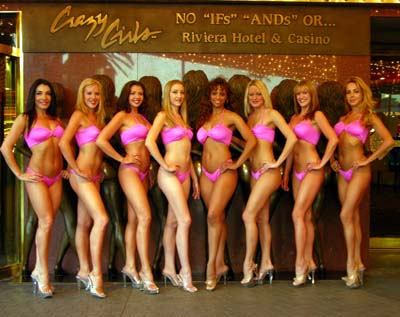 by Guy Chapman
For over twenty years now, "Crazy Girls" has just been one of those Las Vegas mainstays. From its iconic bronze statue in front of the Riviera that tourists rub for good luck, to the ads that one can't help but see when traveling The Strip, it's easy to see why, once stepping into the fun-filled and sexy world of "Crazy Girls".
The closest comparison to defining "Crazy Girls" is similar to what people would expect a classic "Golden Age" Las Vegas show to be. The girls perform a variety of acts that are playful and cheeky to sensual and alluring, set to music from the classic burlesque age to more modern songs. "Crazy Girls" keeps it simple, yet captivating, and for regular show-goers on The Strip, it makes for an experience that isn't going to be found just anywhere else.
Click to Read Entire Crazy Girls Las Vegas Review (with additional picures)…
---
Celebrate The 4th Of July With Vertical Horizon And Mix 94.1 At Mandalay Bay Beach – Evening Highlighted By A Fireworks Extravaganza – Celebrate the 4th of July at Mandalay Bay Beach with Vertical Horizon and MIX 94.1-FM. A pre-concert barbeque at Border Grill will begin at 6 p.m.; the concert is scheduled to begin at 9 p.m. and will be followed by a fireworks show at 10:30 p.m. The barbeque at Border Grill will be available for an additional charge and will include great food, drink specials and prize giveaways. The show will be presented by MIX 94.1-FM and Mandalay Bay and the tickets are priced at $35, not including applicable taxes and service charges. Click to Read The Full Story …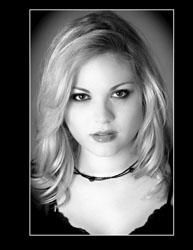 New Female Lead Singer, Felice Garcia, Takes The Stage In The Folies Bergere At The Tropicana – Felice Garcia joins the cast of the legendary Folies Bergere (Tickets) as the new principal female singer at the Tropicana Resort & Casino. Felice is very familiar with the stage, performing since the young age of nine in talent shows, musicals, plays, pageants, civic events and other miscellaneous functions. This is her first big production show and is very excited to become part of the Folies Bergere family. "It was my dream as a child to be part of a well-known stage production like the Folies Bergere," says Felice. "What better place to get my start in show business than in the entertainment capital of the world, Las Vegas." Click to Read The Full Story …
Toby Keith Brings His "Biggest & Baddest Tour 2008" To Mandalay Bay Saturday, July 26 With Special Guest Montgomery Gentry – Tour also will Feature 2008's Hottest New Country Talent Including Carter's Chord, Mica Roberts and Trailer Choir. Toby Keith, a multi-platinum country music superstar, will bring his "Biggest & Baddest Tour 2008" sponsored by Ford F-Series, to the Mandalay Bay Events Center Saturday, July 26. (Tickets) Academy of Country Music award-winner Montgomery Gentry, as well as Carter's Chord, Mica Roberts and Trailer Choir, will open the show at 8 p.m. Click to Read The Full Story …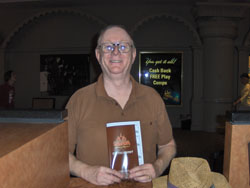 First Lucky Winner At Sahara Hotel & Casino Wins Instant Upgrade To "Elvis" Penthouse Suite – Thomas Bagshaw was selected as the first winner of the Sahara Hotel & Casino's Instant Upgrade promotion. Mr. Bagshaw, who had booked a standard room, was informed at check-in that he had been upgraded to the fabulous Presidential Suite, formerly inhabited by Elvis Presley during the filming of the classic film, "Viva Las Vegas." Mr. Bagshaw hails from Gact, California. During the months of May through August, the legendary Sahara is offering the opportunity for hotel guests to win an instant upgrade to one of the Sahara's most requested and famous classic penthouse suites – The Beatles Suite, where the Fab Four stayed in 1964 or The Presidential Suite, which has hosted such luminaries as The King himself, Elvis Presley. Click to Read The Full Story …
Pop Music Icon Janet Jackson To Bring Her "Rock Witchu Tour" To Mandalay Bay Friday, September 19 – Pop music icon Janet Jackson returns to the touring circuit for the first time in seven years when she kicks off her "Rock Witchu Tour" September 10 in Vancouver, British Columbia. The tour will land at the Mandalay Bay Events Center Friday, Sept. 19 and the concert is scheduled to begin at 8 p.m. (Tickets) The tour will feature the hit songs and innovative dance routines that have made Jackson one of the most celebrated artists in history. She has undeniably influenced pop culture with more than 100 million albums sold as well as countless hit singles, awards and accolades. Click to Read The Full Story …
Fun in the Sun, Las Vegas Style – The heat of summer is here, and many hotel pools are sure bet for a cool escape. Dip into these latest ways to make a splash in Las Vegas:
À
MGM Grand unveils WET REPUBLIC, an alluring 53,000-square-foot ultra pool combining an exclusive nightlife vibe with poolside pampering and relaxation. An adults-only mecca for discerning partygoers, the glitterati and celebrities, WET REPUBLIC features distinct experiences within a series of intimate spaces and will redefine poolside entertainment as the first ultra pool in the world's sexiest city. Elite VIP service, high-end amenities and renowned entertainers will be the standard at WET REPUBLIC.
Already a crowd favorite, Mandalay Bay Beach at Mandalay Bay now features the only climate-controlled poolside gaming on The Strip. Nearby, Moorea Beach Club continues to draw sunseekers by providing high-energy music in a luxurious setting.

A paradise fit for royalty, the Excalibur pool has doubled its size – adding two luxurious pools and 17 cabanas stocked with all the essentials to keep cool. Just steps away, Drenched offers the latest in causal poolside dining.
In just a year, Bare at The Mirage has made a big splash. The adult pool, known best for its European-style sun bathing and exclusive VIP service, has quickly become a must visit for celebrities ranging from Fergie to Leonardo DiCaprio. New for 2008, Bare features a delectable menu by California Pizza Kitchen.
"Who Wants To Be A Millionaire" And Netflix Join Forces To Find Contestants In Las Vegas – Channel 13 Welcomes "Millionaire" Producers for Contestant Auditions Wednesday, June 25 at Cannery Casino & Hotel in North Las Vegas, NV. "Who Wants To Be A Millionaire," hosted by Emmy Award-winning host Meredith Vieira, and Netflix, the company that makes movie enjoyment easy, will join forces on Wednesday, June 25 in the Las Vegas, Nevada area to find contestants for the fourth installment of "Netflix Million Dollar Movie Week," a specialty show which will feature movie-themed questions. Auditioners will also be given the opportunity to try out for a regular episode of the hit game show's upcoming seventh season. Click to Read The Full Story …
---
Las Vegas Is On Sale!
Get Great Rates At All Hotels:

4 Queens from $36,

Bally's from $69,

Flamingo from $59,

Gold Coast from $34,

Planet H. from $89,

Rio Suites from $60,

Sahara from $36,

Strat. from $35,

Tropicana from $45,

Tuscany from $48,
More Savings At All Vegas Hotels!
---
Members Mania – We Love Our Readers!
HI Ted,
I recently visited Vegas for 4 days and enjoyed it BUT the tables and slots are getting very, very difficult to win at. It is once in a blue moon that you win anything. I thoroughly enjoy Vegas and always have. I have probably made at least 15-20 trips there. Due to the "tightness" I'll probably look elsewhere from here on in.
The last few trips I keep telling myself that things will get better but they actually got worse. I'll miss everything else about Vegas but when I gamble I need to win every once in awhile.
Thanks for the newsletter I enjoy that as well.
Christopher Kujawa
Ted Responds:
You aren't the only one. Gaming win keep dropping despite pretty steady visitorship. Those with no clue blame it on the economy here in the U.S. but the rest of us know better:
Table game rules are worse and slots seem tighter. You used to be able to put $20 in a machine and know you'd get some decent play. Now you might as well set the $20 bill on fire. Why even bother? Your money is better spent at a top-end show, one of the many area tours (Grand Canyon, Hoover Dam… even a Mob Tour), or blowing it on a fine meal. At least you are getting some bang-for-your-buck.
Side Note: If gambling, do it downtown. The table game rules tend to be more favorible to the player and the slots seem to be looser (from the many reports that we get). Plus, they are much more thankful for your patronage.
Thanks for the input and thanks for reading. Please do tell your Vegas visiting friends about the newsletter!

---
My husband and I jst returned from Vegas. We had the the best time at the Cher concert. What a lovely lady she is and her show was worth the trip. I love Vegas! Keep up the good job you do on your newsletter. I read it everytime.
Thank You,
Kay
---
We are looking to get married in our fave place Vegas in may of 2009. We wanted to do it at The Nugget downtown as it has a large special meaning to us. No Elvis or married by Martians. Just a simple ceremony with a few close friends. Any do's, dont's or any other thoughts?
We both went through the big Circus wedding and now after finding each other (the mate we dreamed of) we just want something simple and nice. Any thoughts would be helpful!
Tim and Mary
Ted Responds:
Tim and Mary,
Contrats and a couple of thoughts:
I don't believe that the GN has a wedding chapel. However, an overlooked way of doing a wedding is to rent one of the nicest suites (the kind with more than one room, a great view and similar) and have the wedding there. one can do this regardless of hotel.
The downside is having to do a little bit of legwork to arrange the minister, cake, and similar but a web search can go a long way there.
Also, much can probably be catered by the hotel. You may wish to call the hotel, tell them your thoughts, and ask what they can do (and the cost).
If you even want to keep things more simple, ask about the possibility of doing the ceremony by the pool, in a lounge (before it is open for the evening) or even on the casino floor. I know of a popular Los Angeles TV personality who got married at the craps tables at Caesars a couple of years ago!
If you want a bunch of random well-wishers, you can even get married on Fremont Street in front of the hotel.
Bottom Line: Provided you are staying at said hotel, call ahead and tell them you want to get married at the hotel and make it clear you want to talk to someone who handles group events at the hotel (or at least someone in catering). That person is best suited to work with
Hope this helps and please let us know your progress!

---
We love to hear from you, and value your feedback! Here's how to participate:
Call our recorded comment line at 702-507-0055. We listen to every call.
Drop us an email at allvegastv@aol.com – We read them all!
---
More Las Vegas News – Concerts – Events
Coming Hot Holidays – The following dates are huge times to be in Las Vegas, and rooms are in high demand. Booking in advance is the best way to save. Visit our friends at Las Vegas Hotel Deals and spend one of the following hot dates having fun in Las Vegas:
Canada Day, Canada July 1
Independence Day July 4-6 (3 day weekend)
Civic Holiday, Canada August 2-4 (3 day weekend)
Labor Day, U.S August 30-September 1 (3 day weekend)
Labour Day, Canada August 30-September 1 (3 day weekend)
Grandparent's Day September 7
Jewish New Year September 30
Columbus Day October 11-13 (3 day weekend)
Thanksgiving Day, Canada October 11-13 (3 day weekend)
Halloween October 31
Veteran's Day November 11
Thanksgiving Day November 27-30 (4 day weekend)
Hanukkah Dec. 22 – Dec. 29
Christmas December 25
New Year's Eve-Day December 31 – January 1
Martin Luther King, Jr., Day, U.S (Observed) January 19-21 (3 day weekend)
Chinese/Lunar New Year January 26
Lincoln's Birthday, U.S February 12
Valentine's Day February 14
President's Day, U.S (Observed) February 14-16 (3 day weekend)
Washington's Birthday, U.S February 22
St. Patrick's Day March 17
Easter Sunday April 12
Cinco de Mayo May 5
Mother's Day May 10
Father's Day June 21
Link To Us! – Have a home page, web page, or blog? Link to us, and give yourself and your friends a quick link to find us from your site. Simply link to http://www.accessvegas.com and name the link Access Vegas!
RSS Feed – We now have an RSS/XML feed! Most RSS programs let you visit AccessVegas.com and automatically pull the feed. For those who want to enter it manually, the feed is:
http://www.accessvegas.com/xml/whats-hot.xml
Share the info: Click to Email this newsletter to a friend!
---
For comments or questions regarding our content or this newsletter write us at allvegastv@aol.com.
New to the list? See our Newsletter Archives for back issues and subscription info. Don't hesitate to forward this newsletter to friends and associates.
All contents copyright 2008 Ted Newkirk. All Rights Reserved.
Hotel Rates Published Accurate At Time Of Publication


June 18, 2008 ISSN: 1529-2770 About Us Privacy Policy
No related links found