Serving Las Vegas Visitors and Residents Since 1999
Welcome to the Insider Vibe! This is the official newsletter of AccessVegas.Com. We talk about the Las Vegas activities you really care about.
---
AccessVegas.com Quick Info Menu:
Las Vegas Essentials

Featured Shows

Photos and Wallpaper
Newkirk's Notes – comments on Las Vegas from AccessVegas.Com publisher Ted Newkirk:
Hello From Las Vegas! – We had a scheduled week off last week and then I lost a couple of days to food poisoning this week, so plenty to cover in this edition. Let's jump right in!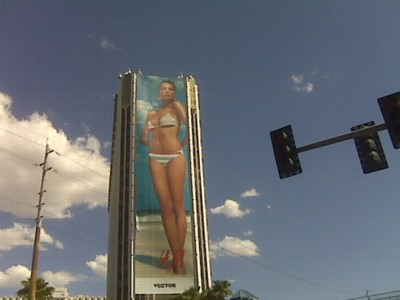 Pimping The Trop – The new owners of the Tropicana are going to dump $100 million into the aging resort and giving it a South Beach (Miami) theme. For some reason, many in the local media really like to trash-talk the Trop. But the property has a great tradition, history, and location and I'd opine that with new (but very experienced) management and the upgrades, the Trop will once again be one of Las Vegas' talked about resorts.
Secondary beneficiaries will be MGM Mirage (the company) who own pretty much every surrounding hotel (except for Hooters). With only so much to do and see at Tropicana, the visitors drawn by the new South Beach vibe will spill over to spend their cash at MGM Mirage properties.
In the meantime, the Trop has joined the list of Vegas casinos with advertising on the side of their building. I took the above photo just a couple of days ago. (Twitter was down, or it would have ended up on our Access Vegas Twitter Feed).
New Strip Casino Approved – The vacant building just north of The Sahara has been approved as the spot for a new casino project. Unlike the zillion dollar projects that have struggled to get finished (or never got started in the first place), this project will be far more cozy with a modest size casino, a restaurant, and some retail. A 98 foot electric sign will help draw attention to the property. (Imagine being able to watch the Superbowl on that one).
I'm bullish on the north Strip area. Fontainebleau will eventually open. Echelon (former Stardust property) will eventually be developed, although probably not in the original incarnation. (Think anybody at Boyd gaming is feeling like an idiot for knocking down the Stardust)? The former Wet and Wild property (just south of Sahara) will see development. Perhaps something similar to this new casino if it does OK.
This new casino will help bridge the gap between The Sahara and Stratosphere, making the entire area seem more walkable and seamless. And… work is already underway to improve the neighborhood between the two areas. Reference: Pair taking steps to clean up Gateway District
Second Home Tip – With housing prices completely in the ditch here, I know that many regular visitors are doing the math on buying a vacation home here. No hotel bills and the ability to keep a modest second car in Las Vegas start to make this option pretty attractive. (Not to mention that it looks to be a good long-term investment).
My suggestion? Scope out the area just west of I-15 and north of Sahara Blvd. You'll find everything from town homes (no maintenance) to single family homes to mansions in the area bounded by Charleston to the north, Sahara to the south, I-15 to the east and Valley View to the west. Do NOT let your real estate broker talk you into something way out in the suburbs. You can to Vegas to play and party. NOT to spend half your vacation fighting traffic like a local.
New Bus Routes For Visitors – A new express bus system will be serving The Strip and downtown starting in January, speeding passengers with more limited stops. The present bus route (The Deuce) will continue run the length of The Strip from Mandalay Bay to Palace Station. This is not a misprint. The Deuce will head up The Strip, then make a left turn onto Sahara and over to Palace Station. Think about this: If you buy a vacation town home within walking distance of Palace Station, you won't even need a car here. Walk to the bus, and ride to/from the airport or anywhere on The Strip.
But What A Way To Go – A man recently committed suicide at the Welcome To Las Vegas Sign while sitting is his car early in the morning. (For those wondering, the iconic sign is just a couple of long blocks south of Mandalay Bay). Things like this always bring up the statistic of Las Vegas having the 4'th highest suicide rate in the country.
However… let's keep in mind that this figure includes people who come here to end it all, and also people who call it a day when they move here and find out there is no instant pot of gold at the end of the rainbow. With an unemployment rate approaching 13%, I once again remind everyone: Enjoy visiting. There has never been a better time, lower room rates or more to do and see. But don't move here if you are going to need a job.
Las Vegas Club Shows Off Upgrades – This casino has really fallen through the cracks over the years. I'd guess if you asked 95% of visitors where it is, they couldn't tell you it is located downtown next to The Plaza and Golden Gate.
All that may change soon. Major remodeling, upgrades to food, entertainment, and gaming are designed to bring more attention to this historic property. We sent photographer Greg McFalls down to capture some pictures:

Las Vegas Club "Party" Gaming Pit Area

Las Vegas Club Hotel Casino Photos
Hint: Each photo above links to a different complete photo set.
Enjoy This Issue!
Ted Newkirk
CEO/Managing Editor
Associate Editor: Amy Rayner-Cooley
News Researcher/Editor: Mark Jacobs
---
Las Vegas Is On Sale!
Get Great Rates At All Hotels:

Bally's from $39,

El Cortez from $13,

Fitzgeralds from $22,

Hooters from $20,

Orleans from $28,

Riviera from $27,

Sahara from $30,

Stratosphere from $38,

Tropicana from $25,

Tuscany from $24,
More Savings At All Vegas Hotels!
---
Legendary Entertainer Bill Cosby Shares Humor, Insights At The Treasure Island Theatre, September 5 – Iconic funny man Bill Cosby, who has been making audiences laugh for decades with his keen insight into everyday existence, brings his signature comedy to the Treasure Island Theatre for one night only, September 5. Showtimes are 7:30 and 10 p.m. In an illustrious career defined by intelligent standup comedy, Cosby ranks as one of America's most influential stars. Audiences adore Cosby's take on the vast, ordinary world, as he gives a twist of the ridiculous to everyday faults, foibles and successes.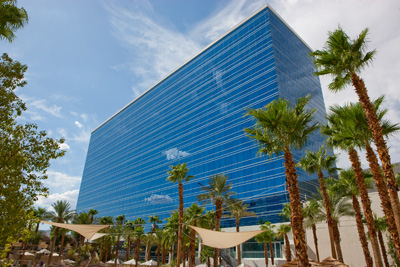 Hard Rock Hotel & Casino Las Vegas Introduces Paradise Tower – Next Phase of $750 Million Expansion Opens Ahead Of Schedule Adding 490 Guest Rooms To Inventory And Creating Jobs – Opening July 31, Paradise Tower becomes the newest addition to Hard Rock Hotel & Casino. The highly anticipated project, completed almost two months ahead of schedule, has created jobs and hope as the Las Vegas horizon begins to see signs of resurgence.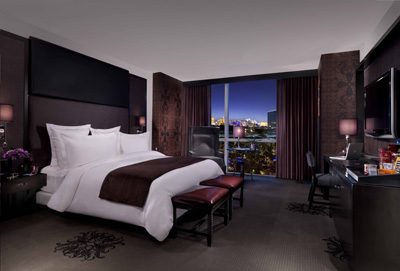 Just as Hard Rock Hotel & Casino is known in a sense for upping the game in Las Vegas, the new Paradise Tower steps up the Hard Rock's game on the hotel side. The tower's 490 lavish rooms were designed with the property's signature party attitude in mind but with a jolt of sexy sophistication. Hotel devotees will notice a significantly more luxurious atmosphere in Paradise Tower, but without sacrificing the irreverent, anything-can-happen feeling that they've come to expect.
Rock Legend AC/DC Bring Black Ice World Tour To MGM Grand Garden Arena Saturday, October 3 – Multi-platinum rock legend AC/DC announced it will bring its highly successful Black Ice World Tour, which kicked off in October 2008, to the MGM Grand Garden Arena Saturday, Oct. 3. The concert is scheduled to begin at 8 p.m. AC/DC's newest album, Black Ice, is its first in more than eight years and was released worldwide in October 2008. Evident that the band remains an incredible force in the rock industry, Black Ice made history when it debuted at No. 1 on album charts in 29 countries.
Hash House A Go Go Hosts Viewing Party For Travel Channel's "Man v. Food" – Festivities Include Appetizers, Drink Specials and Raffle Drawings. Hash House A Go Go, Mix 94.1, Jack FM and party attendees What: Hash House a Go Go teams up with Mix 94.1 and Jack FM to host a viewing party for the Las Vegas episode of "Man v. Food," which features the restaurant's twisted farm food. There will be happy hour prices on drinks featuring $2 domestic 20-ounce drafts, $3 imported drafts and $3 well drinks. For non-drinkers, Hash House's signature Kiwi Watermelon Lemonade, featured in the show, will be available for only $1 and the first 50 people to arrive at the event will get their first drink free.
Attendees can also enjoy complimentary big food appetizers including meatloaf sandwich skewers; mini double stack ham, egg and cheese burgers; mini chicken and waffle bites. Raffle drawings will be held throughout the evening where guests have the opportunity to win a variety of prizes including concert tickets and a $100 gift card to Hash House A Go Go.
When: Wednesday, August 12 9 p.m. until 11 p.m. (10 p.m. "Man v. Food" airs) Where: Hash House A Go Go 6800 W. Sahara Avenue. For reservations or inquiries, please call 702-804-4646 or visit www.hashhouseagogo.com
---
These are only a few of the many Easy Vegas Deals we find each and every week (many of which happen too quickly for newsletter deadline). For a complete and constantly updated listing:
Bookmark and Visit EasyVegasDeals.com daily (Monday – Friday) or

Enter

http://www.easyvegasdeals.com/feed/

into your RSS feed list (for those of you who use RSS/XML feeds) or
---
Members Mania – We Love Our Readers!
First, I want to say that I REALLY enjoy your newsletter. I have gone to Las Vegas at least once a year for at least 25 years. I used to have a travel agency make hotel arrangements but finally just contacted the hotels and made my own arrangements.
However, I notice you advertise I4Vegas and I notice their room rates are cheaper than what I could make myself but I don't know how safe it would be to use I4Vegas. I wouldn't think you would advertise something that would turn out to be a gyp. But I am wondering if I should use them or not.
Thanks,
Clearnce from Garden City, Kansas
Ted Responds:
Their rates are cheaper because they buy blocks of rooms at wholesale well ahead of time. The hotels are happy to know the rooms are "sold" (they don't have to market those blocks of rooms) and i4Vegas passes the savings along to you. Hotels across the country have this same arrangement with companies like Expedia as well.
These aren't some kind of "bad" or undesirable rooms. Regardless of how you booked (with the exception of booking a special suite or similar arrangement directly with the hotel), the hotel basically places you in rooms based on when you arrive. They have every incentive to use their best rooms (most updated, best views) regardless of how you booked. They want to leave a nice impression so that you'll come back time after time again to their property.
Seriously, if any of our readers aren't visiting our friends at Las Vegas Hotel Deals before booking, you may be paying too much. They consistently have some of the lowest rates for hotels here in Las Vegas. And… even if they may be $1-2 more a night than someone else on the particular hotel you are looking to book, consider using them anyway. I4Vegas is one of the great sponsors that keep this newsletter complimentary. Please click on the link above and bookmark it so you always have access to it!
---
My wife and I used to vacation in Las Vegas at least once a year for the last 30 years. We have seen the rapid expansion of the Strip, especially the last 15 years. It was fun to vacation in L.V. Everything used to be cheap, cheap, cheap – the rooms, the food, minimum gambling limits. Not anymore. We just returned from a 4 day visit. The only thing cheap were the rooms. Food was outrageously expensive. Breakfast buffets average $12 on the Strip. That used to be the average price for a dinner buffet a few years ago. Gambling limits were $15 at the Blackjack tables on the Strip. This was the first time in 30 years that I didn't spend a dime on gambling in Las Vegas.
I used to drop an average of $600 each time I visited L.V. (that is over $18,000) in the last 30 years. You might wonder why I always lost money. I used to gamble an average of $150 a day and did it for the fun. I used to stay at a table for over 16 hours straight until the money was gone for the day. It is no fun anymore when the limits are $15 minimum. I like staying on the Strip and not veer from it but I can't afford the limits anymore.
My friends were planning a trip for September to L.V. but have changed their minds about going after I told them how expensive everything was. That is unfortunate. You are definitely on the right track that the people running Las Vegas casinos have no clue how to make more money. It is at the gambling tables, not the buffets. While I will still go to L.V. from time to time, I won't be gambling there until they lower their limits to $5 again.
K.G. from Vancouver, Canada.
Ted Responds:
Thanks for the input. The days of $5 table limits up and down The Strip are probably gone. If nothing else, due to inflation. (Today's $10-15 limit is the $3-5 limit of the 70's and 80's).
The super low room prices still do help balance the cost of other things. You won't find a comparable room in any other city for anywhere near the price of a Las Vegas room.
Remember, 15 years ago there was no Bellagio, Venetian, Mandalay Bay and Wynn. Most of the casinos on The Strip were on par with what you now find downtown.
Having said that, it would be nice to see a few more loss leaders. Cheap food and booze used to get people in the door, and the properties made it back at the tables and slots.
---
I look forward to getting your very informative emails. Just can't say enough to my friends about you, when they ask where to get great info on Vegas. Just turning 70, I still try to get to Vegas twice a year… spring and fall. áJust curious: I've stayed at a number of hotels, but ususally stay at the Sahara. Not much glitz, but laid back and with the monorail, easilyy accesible to The Strip. Whats your general opinion of the Sahara?
Again..thank you so very much for the great job with your emails on Sin City. People think I'm kidding when I say it's a great place to unwind, especially with the magnificent mountain views and "indoor scenery" of the hotels.. GREAT JOB!!!!
Ray from Buffalo, NY
Ted Responds:
Thanks so much for telling all your friends about us! It really does help. As I've said before, we are independent. We aren't owned by a big newspaper or other media group. Our readership consistently increases because our readers are telling their friends and online pals.
I personally like the Sahara for all the reasons you mentioned. I'd also suggest trying the Riviera. We just were there a few days ago and the property is in good shape, rooms were remodeled less than two years ago, really a piece of "old school" Vegas. You don't have the monorail, but you are a short walk from Wynn and everything else.
---
We love to hear from you, and value your feedback! Here's how to participate:
Drop us an email at allvegastv@aol.com – We read them all!
Call our recorded comment line at 702-507-0055. We listen to every call.
---
More Las Vegas News – Concerts – Events
---
Coming Hot Holidays
– The following dates are huge times to be in Las Vegas, and rooms are in high demand. Booking in advance is the best way to save. Visit our friends at
Las Vegas Hotel Deals
and spend one of the following hot dates having fun in Las Vegas:
Labor Day, U.S September 5-7 (3 day weekend)
Labour Day, Canada September 5-7 (3 day weekend)
Jewish New Year September 19
Halloween October 31
Veteran's Day November 11
Thanksgiving Day, U.S November 26-29 (4 day weekend)
Hanukkah Dec. 2 – Dec. 9
Christmas December 25
New Year's Eve-Day December 31 – January 2 (3 day weekend)
Martin Luther King, Jr., Day, U.S (Observed) January 18-20 (3 day weekend)
Super Bowl Sunday February 7
Lincoln's Birthday, U.S February 12
President's Day, U.S (Observed) February 13-15 (3 day weekend)
Chinese/Lunar New Year February 14
Valentine's Day February 14
Mardi Gras February 16
Washington's Birthday, U.S February 22
St. Patrick's Day March 17
Easter Sunday April 4
Cinco de Mayo May 5
Mother's Day May 9
Memorial Day, U.S May 29-31 (3 day weekend)
Father's Day June 20
Independence Day July 4
Civic Holiday, Canada July 31-August 2 (3 day weekend)
Link To Us! – Have a home page, web page, or blog? Link to us, and give yourself and your friends a quick link to find us from your site. Simply link to http://www.accessvegas.com and name the link Access Vegas!
RSS Feed – We now have an RSS/XML feed! Most RSS programs let you visit AccessVegas.com and automatically pull the feed. For those who want to enter it manually, the feed is:
http://www.accessvegas.com/xml/whats-hot.xml
Share the info: Click to Email this newsletter to a friend!
---
For comments or questions regarding our content
or this newsletter write us at
allvegastv@aol.com
.
New to the list? See our Newsletter Archives for back issues and subscription info. Don't hesitate to forward this newsletter to friends and associates.
All contents copyright 2009 Ted Newkirk. All Rights Reserved.
Hotel Rates Published Accurate At Time Of Publication


August 5, 2009 ISSN: 1529-2770 About Us Privacy Policy