Serving Las Vegas Visitors and Residents Since 1999
Welcome to the Insider Vibe! This is the official newsletter of AccessVegas.Com. We talk about the Las Vegas activities you really care about.
---
AccessVegas.com Quick Info Menu:
| | |
| --- | --- |
| Las Vegas Essentials | Featured Shows |
Newkirk's Notes – comments on Las Vegas from AccessVegas.Com publisher Ted Newkirk:
Hello From Las Vegas! Wouldn't you know it but we finally start hitting temps in the 100's F and I have a summertime cold. How on earth can you get a "cold" with temps in the triple-digits? This year was the fourth latest year of finally having our first 100 degree day (occurring on June 14'th this year). This has often been an indication of a milder-than-usual summer, which makes sense as our winter was colder than usual. It no longer gets cold (or even cool) overnight and won't until sometime in September. Pack light!
April Visitor Volume Shows Nice Increase – April 2011 say nearly 5% more visitors than did April of the previous year. With gas prices falling again, summer and fall are looking to be super-busy here in Las Vegas. Of course, I told you that late last year! I noted that if you were thinking about splurging on a visit and staying at a hotel a couple notches above your usual, to get busy and get booking as the "fire sale" rates wouldn't last through this year.
Four More Years Of Chumlee – If you love the Las Vegas based Pawn Stars show, you'll be pleased to know that the History Channel has given the show an almost unprecedented four year extension. BTW, did you know that if you have a locals' ID, you can skip the line at Pawn Stars? Speaking of…
Locals' Only – Couple of things of interest to Nevada residents:
Primm Valley Resort is offering free admission to all of their rides to Nevada residents through the end of June 2011. Included are The Desperado roller coaster (YouTube it), Turbo Drop (like the one on top of Stratosphere), Adventure Canyon Log Flume, and Carolee's Movie Theatre. So many people who live her have never taken the quick 40 minute drive to Primm. This is a good excuse to do it! Hit the rides, hit the outlet mall, pick up a California lottery ticket.
PT's Pubs around the Las Vegas Valley (including PTÆs Pub, PTÆs Gold, and Sierra Gold tavern) are now offering free wi-fi. Time to bring back the days of the three martini lunch!
Every Vote Counts – A recent North Las Vegas city council race was decided by one vote. (North Las Vegas is actually a separate city from Las Vegas and as you may have guessed, sits to the north of Las Vegas). A re-vote is taking place due to a technicality. In the November election, a rural Nevada election resulted in a tie vote and the contestants actually drew playing cards to determine the winner. Next time you think your vote may not matter, think again. Speaking of politics…
Mayor Goodman, Part II – A belated congratulations to Carolyn Goodman (Oscar's wife) for her victory in the mayoral election. The name recognition didn't hurt. It also helped that her opponent was (basically) a career politician who who has a record of raising taxes and being cozy with employee unions at a time whenáthose philosophies aren't particularly at the height of popularity.
Weekly Las Vegas Trivia from the upcoming book Las Vegas Legends by Greg Niemann Available September 2011:
There are 148,000 hotel rooms in Las Vegas. Would take one person over 400 years to spend a night in each.

Las Vegas was established in 1905, but became an incorporated on March 16, 1911.
For more Las Vegas trivia,álike Las Vegas Legends on Facebook and reserve a copy of Las Vegas Legends from the publisher at www.SunbeltBooks.com
Enjoy This Issue!

Associate Editor: Amy Rayner-Cooley
News Researcher/Editor: Rick Ziegler
---
Free Headliner Concerts Downtown – Nina Blackwood (or original MTV fame — you know, back when they played music) guest hosts a series of free headliner concerts throughout the summer that includes '80s artists: Colin Hay of Men at Work on July 2; Wang Chung with Naked Eyes on July 23; Loverboy on Aug. 6; Tony Hadley of Spandau Ballet with Men Without Hats on Aug. 20 and Howard Jones on Sept. 3. All concerts start at 9 p.m. Also Downtown…
I Want My MTV – The Nancy Rayguns are more than just a cover band; they are a complete show with stage sets, music videos, comedy and of course, the VAL-2600, 1985Æs most powerful interactive supercomputer. Their mission is to rid the world of bogus music and to help the audience relive the 1980s with the best jams of that era.
The band brings audiences back to the days of leg warmers and scrunchies with spot-on renditions of such classic hits like "Hungry Like the Wolf,"; "Kids in America,"; "My Sharona,"; "Safety Dance,"; "Lucky Star,"; "Electric Avenue,"; "Its Tricky"; and many more. The Nancy Raygunsáperform Tuesdays through Fridays with three 45-minute sets starting at 9, 10 and 11 p.m. on the 3rd Street Stage at Fremont Street Experience. No charge.
PBR Rock Bar and Grill Shows Some Love To Locals Every Wednesday With Special Dining Discount – Locals will have something new to celebrate every week as PBR Rock Bar and Grill offers a special dining discount every Wednesday for 'Locals Night' from 10 p.m. to close.
Las Vegas residents can kick-back, relax and dine on delicious American fare as they enjoy a 20 percent discount off of their dining bill when they present their local ID.
Patrons that can't come out late can enjoy PBR Rock Bar's daily happy hour specials from 3 to 6 p.m. with $3 drafts and 2-for-1 well drinks. For the guests that need a little pick-me-up to their day, they can challenge the mechanical bull for $5 a ride.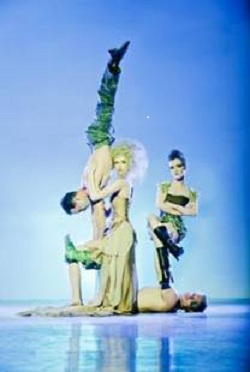 Circus Couture performers present 'The Revolution' to Benefit Kids with Cancer at Hard Rock Las Vegas – On Sunday, June 26, Circus Couture û a fundraising group comprised of top-notch performers and staff of shows on the Las Vegas Strip û will present a spectacular original performance, fashion and art event called 'The Revolution' at The Joint inside Hard Rock Hotel and Casino to benefit the St. Baldrick's Foundation.
Erica Linz, an aerial acrobat for Cirque du Soleil as well as president and artistic director of Circus Couture and ringleader for shavee team Cirque du SoBald, initially got involved with the Foundation when her mother, a breast cancer survivor and nurse, shaved her head at a St. Baldrick's event. Erica was further inspired to continue her involvement when a friend's 9-year-old son lost his battle with leukemia. Erica is now an active advocate who has helped raise $124,000 for the Foundation with the support from team Cirque du SoBald.
Margaritaville and Flamingo Announce Plans to Open 'Margaritaville Casino at the Flamingo' – Margaritaville and The Flamingo Las Vegas are bringing to the city a gaming experience unlike anything else with the opening this Fall of the 'Margaritaville Casino at the Flamingo', a new and exciting gaming space. This is the first casino gaming space to bear the well-known and respected Margaritaville name. Jimmy Buffett's Margaritaville restaurant has been a dynamic addition to the Las Vegas Strip experience since its 2004 opening at the famed center Strip resort.
At the 'Margaritaville Casino at the Flamingo', guests will feel the energy of the Las Vegas Strip while enjoying the laid-back vibe of the islands. Adjoining the restaurant and directly accessible from the Strip sidewalk, the 'Margaritaville Casino at the Flamingo' will include 15,000-square-feet and offer 22 gaming tables, 220 slot machines and the centerpiece 5 O'Clock Somewhere Bar.
Disney's THE LION KING at Mandalay Bay Extends Special $15 Child Ticket Offer Through June – Disney's THE LION KING at Mandalay Bay Resort and Casino is extending its locals ticket offer just for children through the end of June. In celebration of its second anniversary on the Strip, THE LION KING will continue to offer each adult purchasing one full-price ticket the opportunity to purchase two child tickets for only $15 per ticket. This applies to any weekend matinee performance through June 26.
Ethel M Chocolates Celebrates 30 'Chocolatey' Years in Southern Nevada – 2011 marks the 30th Anniversary of one of Southern Nevada's sweetest attractions and most beloved chocolatiers, Ethel M Chocolates. Founded in 1981 by Forrest Mars Sr. of the legendary MARS family, the Henderson chocolate company continues to uphold the traditions of quality and care set forth by their founders more than three decades ago. To celebrate this milestone, Ethel M Chocolates will launch a 30th Anniversary Commemorative Collection this summer, featuring 32 original pieces , all perfectly packaged in a commemorative, Las Vegas-themed keepsake tin.
Famed Band Lynyrd Skynyrd Will Rock The House With Beer, Bbq And Classic Rock Hotspot At Excalibur Hotel and Casino – The band behind such classic American hits as 'Sweet Home Alabama' and 'Free Bird' is the inspiration for the innovative new restaurant concept, Lynyrd Skynyrd BBQ and Beer at Excalibur Hotel and Casino. Drive This! Entertainment,áwill unveil this unique restaurant and nightlife concept in the former location of Sherwood CafÚ in fall 2011. The rock n' roll-inspired venue will feature classic hits, signature sips and the best down home, Texas-style BBQ to be found on the Las Vegas Strip.
Summer Is Here And Mcfadden's Las Vegas Is Ready To Celebrate – Kick Off the First Day of Summer at McFadden's Tuesday, June 21 – McFadden's Restaurant and Saloon at the Rio All-Suite Hotel and Casino is ready to ring in the first day of summer Tuesday, June 21. With super summer drink specials and an especially seasonal round of karaoke, guests will kick off the first day of the sizzling season in style.
---
What We're Watching – Vegas Videos You'll Enjoy
---
We love to hear from you, and value your feedback! Here's how to participate:
Want to comment on a current reader post? Use the comment box on that particular web page. Many of the stories we post also have comment boxes at the end of the story. Make your voice heard!
Drop us an email at allvegastv@aol.com – We read them all!
Call our recorded comment line at 702-507-0055. We listen to every call.
---
More Las Vegas News – Shows – Events
No related links found