Serving Las Vegas Visitors and Residents Since 1999
Welcome to the Insider Vibe! This is the official newsletter of AccessVegas.Com. We talk about the Las Vegas activities you really care about.
---
AccessVegas.com Quick Info Menu:
Las Vegas Essentials

Seasonal Vegas Information

Featured Shows

Photos and Wallpaper
Newkirk's Notes – comments on Las Vegas from AccessVegas.Com publisher Ted Newkirk:
Hello From Las Vegas! A very hot, hot, hot Las Vegas where temps were over 110 F for much of the last week. I finally put a misting system on my back patio (duh, should have done that a long time ago). But give me 110 instead of freezing temps anytime. If you are heat-adverse and from a cooler climate, now is the time to think about booking for fall. After the pool and picnic weather has subsided in your area, we'll be enjoying 80 degree days and pleasantly cool nights (and following your favorite football team in the sports book here in Las Vegas!
Hooters Beer Special – Hooters Las Vegas hotel is offering $1.50 Bud and Bud Light beers at all casino bars. People seem to think of Hooters as being back off of The Strip. But in reality, the Hooters entrance sits directly across from the porte-cochere of the MGM Grand. It is a longer walk from The Strip to the restaurants in the back of the MGM than it is to Hooters!
Note: While it appears the promotion is indefinite, it never hurts to call ahead and check. PLEASE don't be that person that emails us in 2011 going We were staying downtown and we went all the way to Hooters just for the beer special you talked about… and they weren't running anymore. Even if you have to pay a buck to call from your hotel room (where applicable), it is always wise to check out whether a deal is still running before making a special trek.
---
We've had a few comments about some of the changes we've been making in the newsletter. Following is a sample and my note of response:
I miss-We love our readers! It could be improved if, at least, you didn't have to click on each story. If the entire reader's questions/comments came up all at once, I wouldn't be so put out. I just miss them being one of the most important sections of the newsletter.
Thanks for the great newsletter, nonetheless.
S. Pomplun, MN
My Response:
All of the letters are still there! In fact, because each on is on a web page, we can go more in-depth on answering some questions. And, we're able to use more letters than we used to. Just look at the most recent one: Moving To Las Vegas û Where Should I Live? I would never have had the opportunity to go as in-depth here in the newsletter as I was able to do online.
Here's the problem we are having to work around:
Our newsletter (as a computer file) is almost 100k in file size each week. Many, many internet services automatically tag any newsletter over 40k as spam which (combined with anti-Vegas spam filters) inhibits our full subscriber list from getting it every single week. (Some will receive it, others won't).
We have a choice to either to cut the information we run in half, or move it online. Reducing the amount of info we run is out of the question. Hence, we're moving much of it online.
We give each reader question a separate page for the following reasons:
1. You can decide which ones you do and don't want to read without wading through a long page of multiple entries which may or may not be of interest.
2. We have more and more people signing up for our What's Hot feed (short digest list of new stuff we put up, delivered 3-4 times a week). By putting up a new Members Mania post every every day or two, our What's Hot subscribers can enjoy a little bit of Vegas almost every day instead of waiting for (and wading through) the newsletter. Also, more-and-more often we get news of events that don't make the newsletter deadline. But we can post them to the internet and include then in the What's Hot feed.
Hint. If you simply go to http://ask.accessvegas.com you'll see the most recent Members Mania posts — all on one page — like you noted that you like them.
But at the end of the day, you are generally getting longer, more informative answers from me because of no space constraints, and you are getting letters that otherwise wouldn't have run due to space. So really… you're getting more, not less!
---
Side note
on the new
Moving To Las Vegas û Where Should I Live?
post. I don't want to sound like a broken record, but I can't emphasize the following enough: ONLY move to Las Vegas if you are independently wealthy, retiring comfortably, or already employed in a job that lets you live anywhere (and isn't dependent on the Las Vegas economy). Nevada unemployment is at 4.2 percent, 5% above the national average. Nearly 200,000 people locally out of work.
I have a good friend considering moving here and willing to pick up "anything to get him by" until a job in his field opens up. I told him that there aren't "anything to get him by" jobs out there. Fast food jobs are hard to come by. To no one's surprise, employment in tourism and professional fields are holding steady. The bleed in jobs (as I've noted it would be in past issues) is in construction.
2004, 2004, 2004 – Regular readers know that I've often pointed out that this "Vegas is dying and is going to dry up and blow away in the recession" talk is crazy-talk. Employment levels in actual count of people who have a job are at 2004 levels (we simply have too many people living here), visitor levels are at 2004 levels (which was considered a great year), and now the Convention Authority is basing its latest budget on… (hold your breath…) 2004 levels.
The only problem that Las Vegas (as a destination) had was that everybody got WAY too overzealous in building rooms. And they did it all at once. Had the glut of new hotels not flooded the market (and the construction workers to build them never have moved to town), you would have never heard about Las Vegas having a recession. Speaking of…
3000 More Rooms – Work is moving along nicely on The Cosmopolitan, two 50-story towers next to CityCenter. This will put additional downward pressure on room rates, keeping Las Vegas' reputation as an extreme value intact for at least the next 9-12 months. Yes, airfare is expensive right now. But rooms here are such a bargain that we're still the best value vacation of its kind.
Enjoy This Issue!

Associate Editor: Amy Rayner-Cooley
News Researcher/Editor: Mark Jacobs
---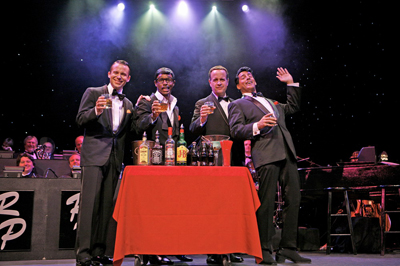 Rat Pack Is Back Out "Swaggers" Competition – Las Vegas Review-Journal entertainment columnist Mike Weatherford declares that Rat Pack is Back at the Plaza Hotel & Casino "was the gasser" (Sinatra Rat Pack slang for "the best") and gives high marks to the tribute show, its incredible cast and full orchestra, staging, and overall entertainment experience.
Editors Note: Last week we ran some very nice bikini pics of Holly Madison and we promised that this week, we'd have something for the ladies. Here you go: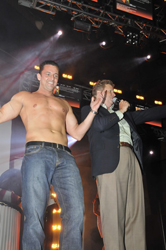 Firefighters Raise $50,000 At The 11th Annual Fire & Rain Firefighter Bachelor Auction – Eighteen of Southern Nevada's bravest firefighters took the stage at the 11th Annual Fire & Rain Firefighter Bachelor Auction at RAIN Nightclub inside the Palms Casino Resort. The event attracted roughly 550 attendees and raised $50,000 for the Firefighters of Southern Nevada Burn Foundation. "A lot of hard work went into making this event a big success," said Warren Whitney, public information officer for the Firefighters of Southern Nevada Burn Foundation. "We received a tremendous amount of support from our community partners, bachelors, volunteers and those who attended our event. Thanks to their help, the Burn Foundation was able to raise $50,000 which will fund our programs and services throughout the year."
Deal Alert! Three Great Strip Attractions For Just $54 – Whether you love history, the human body, animals, thrills or cartoons, anyone can beat the Las Vegas heat this summer at an amazing price. The 3 for 54 promotion lets guests choose three Strip attractions to experience for just $54 and includes Titanic: The Artifact Exhibition, BODIESà The Exhibition, Shark Reef Aquarium, Siegfried & Roy's Secret Garden and Dolphin Habitat, The Roller Coaster, CSI: The Experience, and SpongeBob Squarepants 4D FX Ride.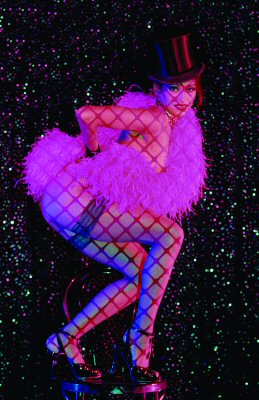 MGM Grand's Crazy Horse Paris Offers A Chance To Win A Trip To Paris! – MGM Grand's Crazy Horse Paris, Las Vegas' sexiest French cabaret, offers a chance to win a trip to Paris, France with the kick off of their "Passport to France" promotion that partners with various French inspired venues at the MGM Grand Hotel & Casino.
Bellagio Launches FlyteChannel Featuring Live In-Room Airport Arrival And Departure Screens – Adding to the many world-class amenities Bellagio offers, guests now have the convenience of viewing live airport arrival and departure screens without leaving their room. FlyteChannel, on channel 50 in guest rooms, shows cities, flight numbers, scheduled and actual arrival/departure times, airline logos, and gates.
Harrah's Las Vegas Have The Scoop On July's National Ice Cream Month Specials – Although most people don't really need an extra reason to enjoy summer's favorite dessert, July is officially National Ice Cream Month, as proclaimed by President Ronald Reagan in 1984. In the true spirit of celebration, Harrah's and Caesars Palace proudly offer a variety of options for indulging in our country's most popular frozen dairy treat through the end of the month.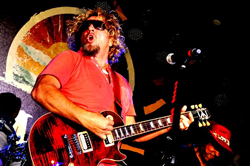 Sammy Hagar To Host Concert Pre-Party At Cabo Wabo Cantina – Sammy Hagar fans are in for a treat. The Red Rocker is back in Las Vegas and set to host a pre-concert kick off at his Las Vegas-based Cabo Wabo Cantina at Miracle Mile Shops inside Planet Hollywood on Friday, July 30. Hagar and friends will party like rock stars prior to his live performance with Aerosmith on Saturday, July 31 at MGM Grand Garden Arena.
---
Featured Tour û Enjoy Las Vegas!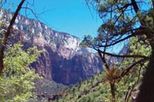 Zion National Park by Tour Trekker Tour û Travel in a Tour Trekker from Las Vegas to Zion National Park on this tour. The true majesty of Zion National Park is unveiled in spectacular fashion as you explore the land where the Virgin River has sculpted a profound landscape masterpiece. You will encounter breathtaking features of picturesque places like the Court of the Patriarchs, Angel's Landing, The Great White Throne, Temple of Sinawava, and Weeping Rock.
Highlights: * Free hotel pickup and drop-off included * Lunch included * Fully narrated tour
---
Members Mania – We Love Our Readers!
We enjoy being responsive to our readers. Click on each post to view questions/comments and our tips and answers. Keep yourself informed on Las Vegas!

I have been to Vegas 23 times over the last few years and there is no better place on earth then Las Vegas. I just love The Mirage.
Thanks,
Mike
We love to hear from you, and value your feedback! Here's how to participate:
---
More Las Vegas News – Concerts – Events
---
No related links found