Serving Las Vegas Visitors and Residents Since 1999
Welcome to the Insider Vibe! This is the official newsletter of AccessVegas.Com. We talk about the Las Vegas activities you really care about.
---
AccessVegas.com Quick Info Menu:
Las Vegas Essentials

Featured Shows

Photos and Wallpaper
Newkirk's Notes – comments on Las Vegas from AccessVegas.Com publisher Ted Newkirk:
Hello From Las Vegas! We get great weather much of the year. We get summer twice (both spring and fall here where our weather is comparable to summer in much of the U.S., Europe, Canada). But from mid-July through Labor Day, we pay the piper with some scorching weather. Temps the next few days are slated to rise above 110 F and overnight lows have been barely dipping ábelow 98 F.
If you are headed our way, my summer suggestions: You early birds, keep that early bird schedule (especially if you are coming from time zones east of us where you're up much earlier than we normally are here). Daybreak is about 5 AM and an early morning pre-buffet (most open at 7 AM) walk (and maybe some gaming) is the perfect time to be out on The Strip. Plenty of elbow room, shade against the rising sun from the tall hotels, and lower temps. If you are a late riser, rise really late. Do brunch at 1 PM then indoor activities (shopping, playing) during the afternoon and save walking The Strip until after 10 PM when temps start to dip below 100 F and party until sunrise.
Water, Water Everywhere – Just a reminder to also drink more water than your body is telling you to. Our low humidity keeps your skin dry even when you are losing plenty of moisture and dehydration can set in quickly (especially if you are boozing). My advice? When ordering a drink, order an ice water along side it. Skip buying bottled water at the bars (expensive) and instead do so at many of the sundry stores along The Strip or at your hotel's gift shop (where you can get a REAL bottle of water — good sized one — for way cheaper than those little bottles you pay dearly for at a bar).
Speaking Of Late Risers – The Cosmopolitan opens this December and will have packages featuring 8 PM check-out. More on this down the road, but I wouldn't be surprised to see other hotels adopt that option. Upon arrival here, you often don't need a room until night falls, and many would enjoy sleeping in and then squeezing every last minute out of their last day here. We love the concept!
Holly Madison Provides July 4'th "Fireworks" At Wet Republic Las Vegas – Holly Madison continues to be everywhere. Literally. On her recent reality show, she noted that she's often at 3-4 events a day (and no stranger to charity events) and spent July 4'th as the featured celeb at MGM's Wet Republic daylife pool party with cast mates from her reality show and Peepshow co-star Josh Strickland.
Photo Credit: Ethan Miller/Getty Images
Hint for the guys: If you click on the above photo, it will take you to a page with more photos and the complete story. If you click on any picture on the story page, it will open full size for you to use as computer wallpaper. Ladies, I promise we'll see if Chippendales or Thunder From Down Under has new promo pics so you can have your turn!
Fireworks Over The Strip On The Fourth – If you couldn't be here on the 4'th of July, you missed a totally spectacular 18 minute fireworks show over Caesars Palace plus secondary shows at Mandalay Bay and the Las Vegas Hilton that could be viewed from some parts of The Las Vegas Strip. As great as they were, I keep beating the drum for us to do a full New Years Eve style show like we do up and down the entire Strip on July 4. The 1/2 million dollar price tag would be around .05% of the annual budget that the Convention/Visitors Authority spends each year (and is currently being wasted on the ridiculous Camp Vegas ads).
The highlights would be shown around the world the next day. Demand to be here on the 4'th would be even greater. And frankly, the weather on July 4'th is a lot nicer than New Year's Eve.
If you weren't here or just want to relive it, head over to Las Vegas Fourth Of July Fireworks At Caesars Palace Video where we've posted two videos from the 4'th.
Enjoy This Issue!

Associate Editor: Amy Rayner-Cooley
News Researcher/Editor: Mark Jacobs
---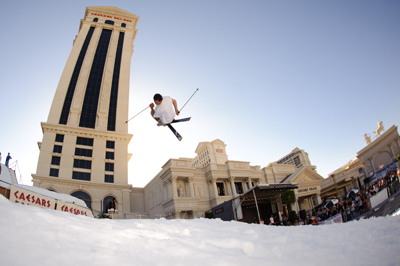 Snow Falls On Fourth Of July In Las Vegas – Caesars Palace Hosts Big Air Show – Big Air Show û Professional snowboarders and skiers performed jaw-dropping tricks on a snow-covered, four-story ski jump outside on the Roman Plaza.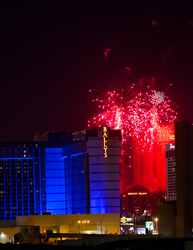 Caesars Palace and Coors Light teamed up to provide the coolest venue in Las Vegas to celebrate Independence weekend. The outdoor Roman Plaza in front of Caesars Palace was transformed into the ultimate cold zone, complete with a four-story ski jump with demonstrations by professional snowboarders and skiers, a walk-through ice lounge and live music on Saturday.
Ultimate Elvis Tribute Artist Contest In Las Vegas At The Fremont Street Experience – Elvis Presley Enterprises, Inc. (EPE), Las Vegas' famed Fremont Street Experience and the celebrated tribute artist production "Legends in Concert," announced today that the first-ever preliminary round of the Ultimate Elvis Tribute Artist Contest to take place in Las Vegas will be held at Fremont Street Experience, Friday, July 23 and Saturday, July 24.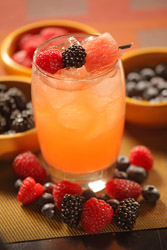 Chill Out With The New "Watermelon Smash" At Rhumbar Las Vegas – As the temperature on the Las Vegas Strip keeps climbing, RHUMBAR, the stylish drink spot with a Strip-view patio, introduces a refreshing way keep cool. The mouthwatering "Watermelon Smash" cocktail fuses cool seasonal watermelon with crisp cucumber, tangy lemon and Jose Cuervo Platino tequila for a delicious, fruity summer libation. The summer cocktail recipe, crafted by lead mixologist Kristen Schaefer, combines fresh cuts of seasonal watermelon muddled together with slices of crisp cucumber, fresh-squeezed lemon juice, simple syrup, Aperol liqueur and Cuervo Platino.
Shark Reef Aquarium's 10-Year Birthday Celebration Cake Contest Winner Swam Away With The Votes – Shark Reef Aquarium at Mandalay Bay marks its 10th birthday in 2010 with summer-long celebrations. The recent kick-off party included an aquatic-themed cake contest with entries by some of Las Vegas' award-winning pastry chefs. Guests were invited to vote for their favorite cake, and the winner was an impressive, 7-foot shark showcasing a fish bowl complete with live goldfish. The cake, a joint effort between the pastry kitchens of Luxor and Excalibur, and took three chefs approximately 60 hours to complete from conception to completion. Other entries were submitted by The Mirage, Mandalay Bay, Bellagio and Monte Carlo.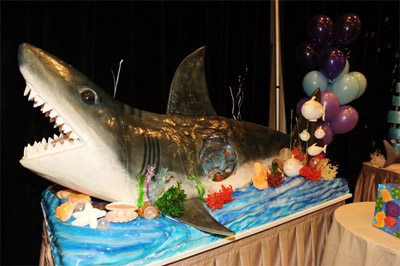 First Place Winner û Luxor/Excalibur. Guests who missed the first birthday celebration have two remaining parties, July 17 and August 21, to enjoy discounted admission prices, complimentary face painting, balloons, cookies and birthday fin crowns, plus a special appearance by Sharky the Shark.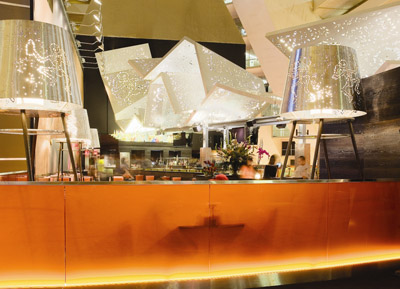 Tacos & Tequila Las Vegas Offers Summer Happy Hour Specials – Just in time for summer, Tacos & Tequila (T&T), the rock 'n' roll-inspired Mexican restaurant at Luxor, introduces new happy hour specials. Locals and tourists will enjoy a variety of libations and tasty tacos at a special price, Monday through Friday from 3 to 5 p.m. Guests will get their drink on with Hornitos shots, Dos Equis Lager or casaritas, available for just $5 each, or a bucket of authentic, Sol Mexican beers, served on ice, available for $18. Revelers with an appetite will go loco for T&T's delicious taco and beer combo featuring six signature tacos and a bucket of Sol Mexican beers for $29.
JDRF And B.B. King's Blues Club Las Vegas Pair Up To Host The Inaugural Rockin' Vegas For The Cure – Juvenile Diabetes Research Foundation (JDRF) hosts its inaugural Rockin' Vegas for the Cure concert at B.B. King's Blues Club on Thursday, July 15, 2010, beginning at 6:30 p.m. The night will be filled with great music, food and fundraising, featuring nine bands from around the Las Vegas Valley.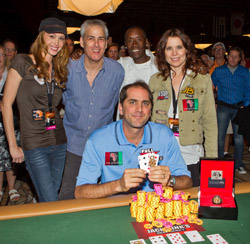 Celebrities, Poker Pros And Enthusiasts Raise More Than $275,000 At The Fourth Annual Ante Up For Africa At Rio Las Vegas – The fourth annual Ante up for Africa charity poker tournament took place yesterday at the Rio All-Suite Hotel & Casino as part of the 41st Annual World Series of Poker«, raising more than $275,000 to aid the victims of the humanitarian crises in Africa. First place went to professional poker player Phil Gordon, who won a total of $129,086 and donated 100 percent back to the charity.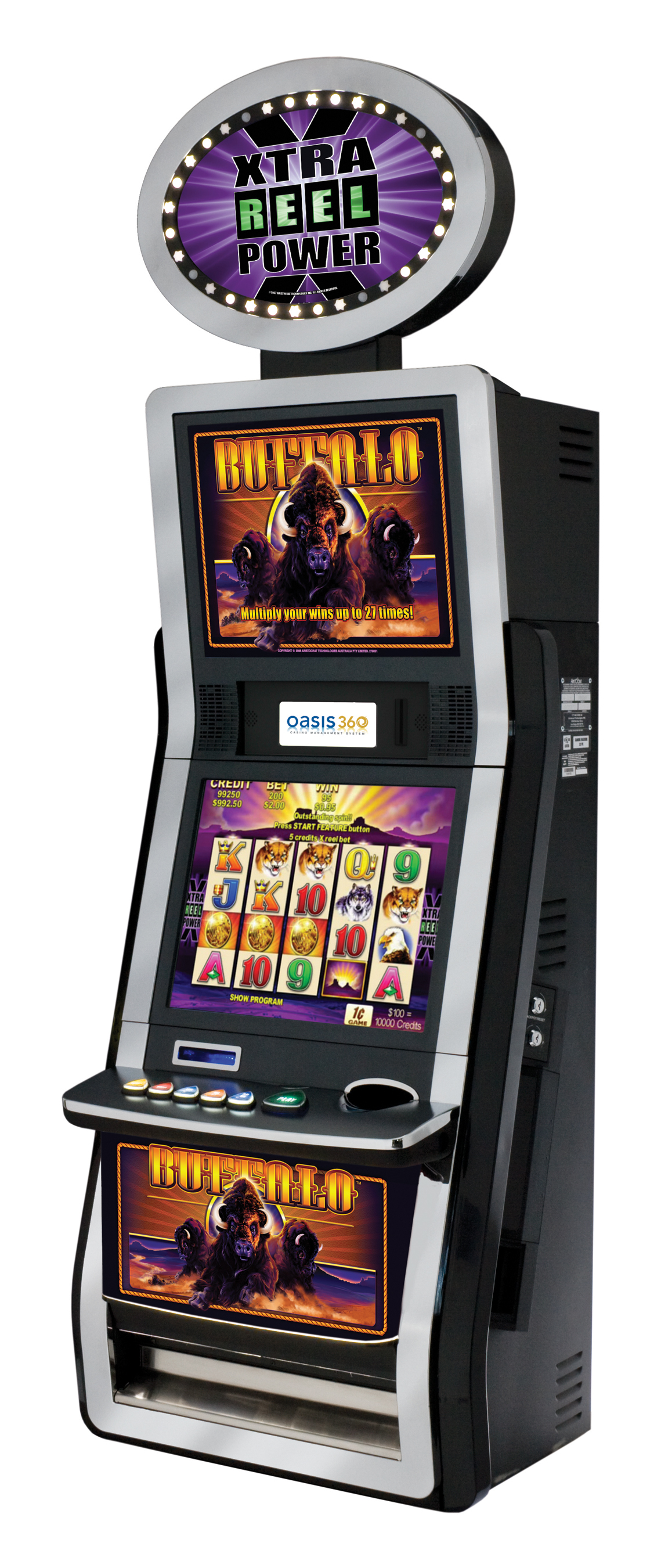 Gambling Talk: Video Slots – BuffaloÖ – with Victor H. Royer. In this issue û and the following issues û I will now write a little more about some of the favorite slots that my readers have told me they like to play, and also show you some of the great new slots that are now available in your favorite casino. In this issue, I present BuffaloÖ, by Aristocrat, and a short description of the game and how to play it. BuffaloÖ is one of the new generations of REEL Power slots from Aristocrat, this one in the Xtra Reel Power series. I will write more about Reel Power and Xtra Reel Power games, and what this means, in my new book, scheduled for release in April 2010.
Click to Read Complete Article…
---
Featured Tour û Enjoy Las Vegas!
Eldorado Canyon Tour Trekker Experience Tour û Travel by Tour Trekker from Las Vegas to the most famous gold mine in Southern Nevada – the Techatticup Mine. Explore the outside, some 500 feet deep into the side of the mountain. On the inside, see deep into the veins where early miners chased their dreams of gold and silver in the Great Gold Rush of the 1800's. On the short journey to this rustic site, you'll enjoy spectacular scenery – fields of teddy bear cholla, rare geologic formations, and an excellent photo opportunity down near the banks of Lake Mojave, the blue jewel of this isolated desert terrain.
---
Members Mania – We Love Our Readers!
We enjoy being responsive to our readers. Click on each post to view questions/comments and our tips and answers. Keep yourself informed on Las Vegas!

---
We love to hear from you, and value your feedback! Here's how to participate:
---
More Las Vegas News – Concerts – Events
---
Link To Us!
– Have a home page, web page, or blog? Link to us, and give yourself and your friends a quick link to find us from your site. Simply link to
http://www.accessvegas.com
and name the link
Access Vegas
! No related links found