Serving Las Vegas Visitors and Residents Since 1999
Welcome to the Insider Vibe! This is the official newsletter of AccessVegas.Com. We talk about the Las Vegas activities you really care about.
Need to contact us? Send feedback to
AccessVegas@AccessVegas.com
Missed an issue? Click to Read Back Issues Online.
---
AccessVegas.com Quick Info Menu:
---
Imperial Palace Auto Collection Unveils A New Audio Tour – A new audio tour is now open at The Auto Collections at Imperial Palace Las Vegas. The tour features information on 60 historic automobiles including the famous ôGone in Sixty Secondsö mustang.
An hour-long recording will inform the guests about the facts on some of the most remarkable automobiles in the collection. The classic car extravaganza includes the limo President JFK rode a week before he was assassinated, the race car in the 1989 Corvette Challenge, the Suburban from the hit television show ôThe Sopranos,ö and the talk show host Johnny CarsonÆs Chrysler Royal. Photo is courtesy of Scott Roeben, Pulse of Vegas Blog
Trevi Las Vegas Offers S'Mores Gelato On National Smores Day – A decadent sÆmores gelato will be served by Pastry Chef Hank Sbraccia in celebration to the National SÆmores Day. The campfireÆs favorite treat is available at TREVI inside The Forum Shops at Caesars on Friday, August 10.
Priced at $4.50 per scoop, sÆmores lovers can experience the irresistible gelato blend made with delicious chocolate chunks, honey-flavored graham crackers and creamy marshmallows.
Mandalay Bay Las Vegas' Bayside Buffet Now Features Unlimited Beer And Wine With Dinner – Bayside Buffet adds unlimited beer and wine in their all-inclusive buffet during dinner service. The bottomless refills of beer and wine complement the buffetÆs tempting cuisine. The drinks include Bud Light draft, merlot, house champagne and chardonnay. The friendly servers are happy to fill the glasses or the guests may request it from the bartenders on the restaurantÆs designated refreshment stations. Bayside Buffet is available at the Mandalay Bay Resort & Casino.
New D Las Vegas Summer Menu At Courtyard Grill Features Fresh Lobster Dishes And Mouth-Watering BBQ Starting At Under $10 – Just in time for summer, the D Las Vegas introduces Lobster Palooza and BBQ Bone-O-Rama at Courtyard Grill . Embracing the season with a menu full of great eats starting at under $10, the fresh lobster dishes and mouth-watering barbecue are sure to make taste buds and wallets happy all summer long.
PBR Rock Bar Hosts Canadian Football League Viewing Parties – PBR Rock Bar & Grill located at Planet Hollywood Resort & Casino inside Miracle Mile Shops will host the viewing parties for the Canadian Football League games. The games will be watched on 105 flat-screen televisions from now until the championship in November.
Patrons can enjoy the barbecue, beer and plenty of babes while watching the teams as they battle for the win every week. PBR Rock Bar also offers a daily happy hour for $3 of domestic drafts, $5 shots, $19 Budweiser buckets and two-for-one well cocktails.
Las Vegas' Rat Pack Is Back! Celebrates The Opening Of McCarran's Terminal 3 – Cast members of "The Rat Pack is Back!" pose with Cher and Marilyn impersonators Heidi Thompson and Susie Griffis. From left, Kayle Eastern as Sammy Davis Jr., Heidi as Cher, Drew Carrano as Dean Martin, Susie as Marilyn, Brian Duprey as Frank Sinatra and Mickey Bulanti as Joey Bishop. They are posing at the grand opening of Terminal 3 on Wednesday, June 27 at the $2.4 billion addition to McCarran International Airport to handle mainly nonstop international and some domestic flights. The Rat Pack performs nightly at 7 p.m. in the Crown Theater of Rio All-Suite Hotel & Casino. (Photo by Wayne Bernath)
Casa Fuente Las Vegas Presenting Limited Edition Tequila Tasting – A rare tequila treat will be experienced by tequila connoisseurs on Wednesday, July 25, 2012 at The Forum Shops at Caesars, featuring Jose Cuervo Reserva la Familia. Reserva la Familia, 100% blue agave tequila is often described as the ôcognac of tequilasö. It is released once a year and valued by tequila connoisseurs for its richness and exceptionally complex taste which is a true tequila masterpiece.
The Neapolitan At Cosmopolitan Las Vegas Offering Summer Spiked Treats – The Neapolitan of Las Vegas offers innovative beverages and cool spiked treats for guests to escape the summer heat. Mariena Mercer, The CosmopolitanÆs resident mixologist, creates booze-driven concoctions from infused ice cream sundaes to COv(2) sorbets. This air-conditioned indoor/outdoor lounge along the south edge of the Boulevard pool is open throughout the summer. It offers the sun-bathers and ice cream lovers an outdoor playground and sweeping views of the Vegas skyline. The Neapolitan of Las Vegas is open from 11 a.m. to 6 p.m.
Renowned Las Vegas Restaurateur Michael Morton To Open New Mexican Restaurant In Fremont East – A new Mexican restaurant will open its doors in the East Fremont neighborhood of downtown Las Vegas. Renowned nightclub executive and Las Vegas restaurateur Michael Morton will welcome every guest with a great dining experience with his delectable menu. His first venture in downtown Las Vegas is located at 106 Sixth St. It is a property owned by Tamares Las Vegas Properties, LLC which also owns several downtown properties including the Plaza Hotel & Casino.
The new downtown restaurant offers a sensory retreat from reality with a mix of spice, color, sound and many types of tequila. MortonÆs restaurant menu is a combination of Mexican food with American rock.
KISS By Monster Mini Golf is Searching for The Ultimate Couple to be Titled ôMr. and Mrs. Hotter Than Hell" – The unique rock æn' roll-themed amusement attraction KISS By Monster Mini Golf is searching for the hottest rockstar couple that will fit the ultimate title, ôMr. and Mrs. Hotter Than Hell.ö The winners in their best-dressed rock 'nÆ roll outfit will get the opportunity to vow in front of a live audience professing their love for each other. The audience can witness this at the 3rd Annual VEGAS ROCKS! Magazine Awards at The Joint on Sunday, August 26, 2012. This legendary band KISS-inspired amusement attraction is located inside Hard Rock Hotel & Casino.
Rich Little's Jimmy Stewart & Friends Extended Through August – Legendary comedian and impersonator Rich Little announced that ôJimmy Stewart & Friendsö will be extending the show through August 22, 2012 due to an overwhelming response. The one-man show will perform at LVH û Las Vegas Hotel & Casino.
The Canadian Tenors Perform And Film A New PBS Special At The Smith Center In Las Vegas – The Tenors are excited to come back to Las Vegas after their sold out concert at The Smith Center for the Performing Arts in March. The brand new show will happen at the 2,050 seat Reynolds Hall at The Smith Center on August 5, 2012 at 2 p.m. The concert will be recorded in the same venue for the upcoming PBS special and live concert DVD.
Las Vegas "Welcomes Veterans Back To The High Life" At Bill's, Flamingo, Harrah's, and Imperial Palace – Veterans will surely benefit for each Miller High Life purchase at select resort bars now through Labor Day weekend.
In honor to the veterans, Flamingo Las Vegas, HarrahÆs Las Vegas, BillÆs GamblinÆ Hall & Saloon, and Imperial Palace join forces with Miller High Life to offer guests unbeatable drink specials.
---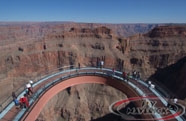 Maverick Skywalk Odyssey Grand Canyon Tour û Your direct helicopter flight to the Grand Canyon Skywalk departs from the Las Vegas Strip. Experience a bird's eye view of the Grand Canyon, Lake Las Vegas, Lake Mead, Hoover Dam and the Las Vegas Strip on your flight. Upon landing at the Grand Canyon, get ready to witness a true engineering marvel, The Grand Canyon Skywalk.
---
Terry Fator by Denise Almas
Terry Fator – Puppets And Personalities Capture The Human Spirit – With his entourage of puppets, Terry FatorÆs Ventriloquism in Concert captures his audience with extraordinary wit and humor, guaranteed to tickle the funny bone of even the grumpiest spectator.
Fator starts his show by introducing us to one of his most beloved puppets û Winston. Winston is a turtle with a seriously sweet personality. Crediting himself with FatorÆs success, Winston easily wins over the audience.
Marc Savard Comedy Hypnosis by Sarah Jane Woodall
Marc Savard Comedy Hypnosis – Pushing The Edge – The Vegas Strip offers a handful of comedy hypnosis shows, and for the most part, they all follow the same script: pull willing participants from the audience, hypnotize them into a highly suggestive state, and make them do embarrassing things û often of a sexual nature. Marc SavardÆs show at the V Theatre is one of the better-quality hypnosis shows in Vegas û the theater and special effects are of a higher caliber than most, and Savard himself has a friendly, wholesome appeal that makes the show fun… without being too seedy.
---
What We're Watching – Vegas Videos You'll Enjoy
---
We love to hear from you, and value your feedback! Here's how to participate:
---
More Las Vegas News – Shows – Events