Serving Las Vegas Visitors and Residents Since 1999
Welcome to the Insider Vibe! This is the official newsletter of AccessVegas.Com. We talk about the Las Vegas activities you really care about.
Need to contact us? Send feedback to
AccessVegas@AccessVegas.com
Missed an issue? Click to Read Back Issues Online.
---
AccessVegas.com Quick Info Menu:
| | |
| --- | --- |
| Las Vegas Essentials | Featured Shows |
---
Las Vegas Shows, Headliners, And Concerts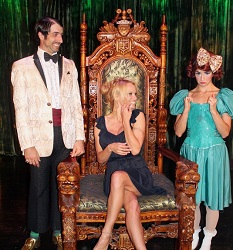 Pamela Anderson Takes In Absinthe At Caesars Palace – The StripÆs hottest show Absinthe at Caesars Palace just got a little sexier as blonde bombshell Pamela Anderson was spotted enjoying the hilarious antics from the eccentric cast recently. The temperature in the Spiegeltent continued to rise as the former Baywatch babe stayed to meet the Absinthe cast following the show and snapped a few photos with the showÆs foul-mouthed host, The Gazillionaire and his raunchy sidekick, Penny Pibbets.
---
Gambling And Gaming
Las Vegas Live TV – Great Casino Slots – Episode 9 – Season 1 – Cleopatra Video Slots – Take a trip down the Nile to ancient Egypt and learn about the powerful bonus plays that will leave you spellbound!
---
Dining In Las Vegas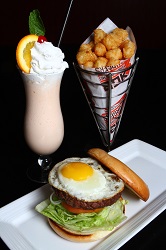 Old Homestead Steakhouse, Payard PÔtisserie & Bistro, Serendipity 3, And Kerry's Gourmet Burgers Introduce Delicious New Menu Items – The heat is on this summer and Caesars Entertainment resortsÆ restaurants are embracing the season with cool new menu items. Fresh, tasty, summer-inspired dishes are now being offered at Old Homestead Steakhouse, Payard PÔtisserie & Bistro and Serendipity 3 at Caesars Palace as well as KGB: Kerry's Gourmet Burgers at Harrah's Las Vegas.
KGB: Kerry's Gourmet Burgers, known for ultimate burger selections with Chef Kerry Simon flair, is offering special monthly burger and shake combos this summer, keeping the menu fresh and fun. Each flavorful burger and shake creation is only available for one month and is specially priced at $18. This summerÆs combinations include:
---
Las Vegas Hotels
---
Las Vegas Attractions
Bellagio Gallery Of Fine Art Extends "Warhol Out West" Through Years End – Andy WarholÆs 15 minutes of fame sustains in Las Vegas as Bellagio Gallery of Fine Art (BGFA) announces the extension of its current exhibition, ôWarhol Out West,ö through January 2, 2014.
---
More Las Vegas News
---
Upcoming Las Vegas Events And Holidays
Labor Day Weekend Las Vegas 2013
(August 30 – September 2)
---
Dalton Gang Adventure Horseback Riding Tour û The courteous and knowledgeable staff of this Las Vegas horseback riding tour will insure you have a safe and memorable ride, surrounded by a gorgeous view of the mountains and blue sky. Plus, a western style BBQ lunch too, partners!
You'll wish you had spurs on as you travel down a bridle path surrounded by native trees of Nevada with a chance of catching a glimpse of wild horses, burros and other desert wildlife. You just may ride on the same dusty trails once ridden by some infamous outlaws. You will certainly come away with a whole new appreciation of the Nevada desert.
---
Top Tickets For All United States Events
Did you know that we not only sell premium concert and event tickets for Las Vegas, but also for the entire United States as well? If you can't make it to Vegas, treat yourself to some great seats for something near you:
---
The 80's Show by Sarah Jane Woodall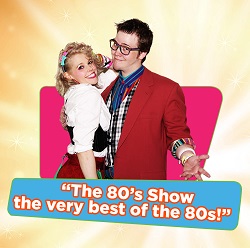 80's Show – Light-Hearted Nostalgic Fun – If you survived the 80s, youÆll want to check out this fun, new, interactive musical at Planet Hollywood. The 80s Show is an hour-long trip back in time to everyoneÆs favorite decade, featuring the crazy fashions, the unforgettable dance moves, and the amazing tunes that made the 80s such a fun, memorable era. ItÆs like stepping into a time machine û youÆre instantly transported back to the days of parachute pants and synth-pop!
---
Newkirk's Notes: The Boss Speaks…
Newkirk's Notes are comments and insight from AccessVegas.Com publisher and 20+ year Las Vegas resident Ted Newkirk:
Hello From Las Vegas! – Wow… have we seen a change in the weather. We went from 8 straight days of 110+ (and often 113-115 during that stretch) to a series of days that are cloudy, humid (at least for us), scattered rain, and temps not even brushing the 100 F mark. This coming week, we are back to normal, which is around 105 for a high and the high 80's as the overnight low. (Or as we like to call our nights "beautiful summer days… minus the sunshine"). Good time of year to be nocturnal.
Priscilla Closing Soon – The much lauded Priscilla – Queen Of The Desert packs up and move on from Vegas in just a couple of weeks. We had emails asking if it would be playing this fall, but it was a limited run. If you are coming to town soon, look for the Priscilla ad in the left sidebar. Click on it and you'll save $50 per ticket during the remainder of the run! (We're always looking out for you).
Airport Slots – That money you risk as your first (or last) bet at the airport contributes nearly $70,000 a day to help fund operations. The airport is public and run by the county. This revenue helps keep down the fees they have to charge the airlines (and you), keeping airfare here as in-check as possible in these days of permanently high oil/gas prices.
Our suggestion? The airport slots have a reputation for being really tight. Play video poker if you are just killing time and Megabucks (which is statewide with the same chances to win) if you are trying to get rich before they call your flight.
Wayne Newton Update – As we previously noted, Wayne has moved down the road to a new estate after losing his famed Casa de Shenandoah. An effort to turn it into a western Graceland went sour, essentially leaving Newton unable to maintain ownership. The current owners are evidently still looking to follow through with those plans, but without Newton's involvement. We believe that will be a tough row to hoe. Speaking of Vintage Vegas celebs…
New Owner For Liberace's Home – Just about a week ago, Liberace's home went on the market. $529,000 was the asking price and as of right now, there is a contingent offer. 22 photos of the property are online at the listing site, for those of you who are curious. We understand that it needs quite a bit of work (leaking roof and similar) and hope that the purchaser has the ways and means to bring it back into its glory.
Clark County Wetlands Park – A couple of months ago, a reader wrote about what a great time they had at our wetlands park. (Unfortunately, the email vanished when our Mozy.com subscription failed to properly back up our email and we had some file corruption take place).
While some of you wouldn't dream of venturing off-strip, you'd be surprised at the number of our readers who visit regularly enough to want to rent a car and enjoy the scenery. If that is you, check out the story Nature Center opens in Clark County Wetlands Park or point your GPS toá7050 Wetlands Park Lane. You'll find wildlife, comfortable trails, and plenty of green wetlands. Right here in Las Vegas!
Visitation Stagnant – Las Vegas visitation is up by just a hair this year and it is going to be a struggle to reach that magical 40 million mark that we just fell short of last year.
This should be a wake-up call for the industry. Long-hauling, resort fees, de-theming, expensive drinks, tight slots, poor blackjack rules and the like are taking some of the "Vegas" out of Vegas. Many of you are finding that entertainment, dining, tours, and shopping here are starting to be a better "bang for your buck" then the tight slots.
Downtown really has a chance to step up to the plate. Most hotels around Fremont Street don't have resort fees, have better odds and games, lower limits, cheaper drinks and food, and Fremont Street still has that "old Vegas" theme (by default)! Time for them to make hay while the sun shines and really promote what they offer.
Don't Trip A Horse On Your Visit! – The Nevada legislature (which only meets every other spring) passed a few new laws this year. One of them prohibits tripping a horse outside of a rodeo-type of event! More notable ones are tax credits for the film industry (which means you should see more Las Vegas on the silver screen, or in your Netflix queue), and the legalization of pot dispensaries to meet the demand for previously legalized medical marijuana. No word if those with a California pot permit are going to be allowed to buy from Nevada dispensaries. The legalization of marijuana for general use was defeated.
Also, a law was passed prohibiting employers or potential employers from asking for your email and social media passwords. I'm an employer, and I'm in favor of that. Look… just show up, get stuff done, and you are good with me. It isn't my business who you date, what you consume, and I don't care who your favorite band is! Granted, we're not exactly a Fortune 500 company…
Paid Subscriber Update – Reaction to what we'd like to do has been mostly positive and (knock on wood) next week I'll create a short audio segment to better explain what we want to do. I'll tell you right now that with the ability to hire more help, we'll be able to do the kind of research that will make the membership price pay for itself (and then some) in terms of time and money saved.
Hope you are enjoying this issue!

Associate Editor / News Researcher: Rick Ziegler
Concerts and Headliners: Amy Rayner-Cooley
---
What We're Watching –
Vegas Videos You'll Enjoy
---
Members Mania – We Love Our Readers!
I look forward to reading your letter. I love all the information you put in your letter. We have been going to Las Vegas since my 39'th birthday, and I just had my 65'th (don't know where the years went).
We spent a week in May in your beautiful, wonderful friendly city, We always rent a car on arrival at the Airport and stay at the Golden Nugget. With every year the Golden Nugget gets more beautiful. The staff there is wonderful, and the entertainment on Fremont Street is wonderful, from Lady Go Go, Carl Ferris (the Sax Player) and all the other entertainment on every corner.
We went to The Dinner Show at The D, ( Marriage can be Murder). Those actors were great, and they work so hard, and the dinner was delicious. We have been before to the Mob Museum before, but we went again. I can't believe all the information in there.
We also took in two shows at New York New York: Abba and Broadway Celebration. so entertaining. I could go on and on!
We took the Double Decker Bus from one end of the Strip to the other, and also went on the Open Top sightseeing tour. Did a couple of "Day Trips" to Laughlin, Pahrump, The Hoover Dam, and can't wait to come back.
Anne
Ted Responds:
Thanks for the great note: 25+ years of visiting Las Vegas is a great milestone. Visiting Las Vegas keeps you young! I know that we all (myself included) like to grumble about some of the changes but Las Vegas still offers more to do and see and more value than just about anywhere else. You can spend your afternoon at the pool, spa, shopping, gambling, seeing a show or visiting places like Hoover Dam and the Grand Canyon!
The Golden Nugget continues to be the class of downtown, although the Downtown Grand (former Lady Luck) may be giving it a run for its money. In the next week or two, we'll have a video update to run from the people doing Downtown Grand, and we understand that they are getting close to announcing an opening date and taking reservations.
I too am a huge fan of all the entertainment options on Fremont Street. 3-4 musical acts playing at any given time in the evening ranging from dancing DJ's to rock to country to smooth jazz sax. Carl "Safe Sax" Ferris has been performing down there for years and always draws a good crowd. Which reminds me that we talked to him about doing a giveaway of some of his CD's. We need to get on that!
Maybe about a year ago we talked about Pahrump and the vineyards and winerys over there (2 of them). Pahrump is still "wild west" Nevada in many ways.
I encourage EVERYONE who has visited more than a couple of times to at least visit Hoover Dam (if not the Grand Canyon). I've heard people say "I've seen it on TV and I saw it on the plane flying in". That doesn't even come CLOSE to the live, jaw-dropping experience. We've upgraded our tours area and added something for literally everyone. I'd invite all of our readers to click over to our Access Vegas Tours page.
Thanks for the great report!

We love to hear from you, and value your feedback! Here's how to participate:
Want to comment on a current reader post? Use the comment box on that particular web page. Many of the stories we post also have comment boxes at the end of the story. Make your voice heard!
Drop us an email at AccessVegas@AccessVegas.com – We read them all!
Call our recorded comment line at 702-507-0055. We listen to every call.
---
No related links found