Serving Las Vegas Visitors and Residents Since 1999
Welcome to the Insider Vibe! This is the official newsletter of AccessVegas.Com. We talk about the Las Vegas activities you really care about.
Need to contact us? Send feedback to
AccessVegas@AccessVegas.com
Missed an issue? Click to Read Back Issues Online.
---
AccessVegas.com Quick Info Menu:
| | |
| --- | --- |
| Las Vegas Essentials | Featured Shows |
---
Cocktails And Drink Specials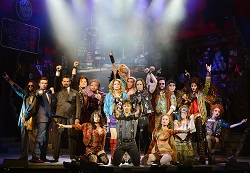 Let Rock Of Ages Pick Up The Tab During ôDrink Us Dry Saturdaysö – Las VegasÆ best party just got better with ôDrink Us Dry Saturdaysö beginning Saturday, July 6. Every Saturday, Rock Of Ages ticket holders for the 10 p.m. show are invited to ôDrink Us Dryö at Zebra Lounge at The Palazzo Las Vegas from 8-10 p.m. Guests will be served unlimited domestic beer until the kegs go dry. For the high maintenance rock stars that prefer a different adult beverage, an upgrade to an unlimited open bar is available for only $25. The open bar upgrade includes well drinks and wine.
Both offers are valid for Saturday 10 p.m. Rock Of Ages show ticket holders only and are only valid on the Saturday date printed on the ticket. Guests must be 21 or older to partake in ôDrink Us Dry Saturdays.ö
---
Las Vegas Shows, Headliners, And Concerts
---
Las Vegas In July
PBR Rock Bar Goes Crazy For Coladas On National Pi±a Colada Day Open Bar – Thirsty partygoers will celebrate National Pi±a Colada Day at PBR Rock Bar & Grill, inside Miracle Mile Shops at Planet Hollywood Resort & Casino, on Wednesday, July 10.
Patrons will receive a complimentary shot with the purchase of any Pi±a Colada cocktail at the Strip-side destination. Revelers will also enjoy Patr¾n XO shots, priced at $5, along with $50 all day open bar access. Additionally, the hot spot will offer all day Pabst Blue Ribbon open bar, priced at $30 throughout the summer months.
---
Gambling And Gaming
---
Dining In Las Vegas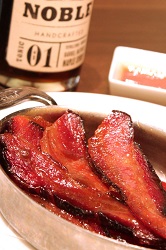 Emeril's Table 10 Celebrates Summer With A Taste Of Table 10 $45 Tasting Menu – Chef de Cuisine Tim Doolittle of Emeril Lagasse's Las Vegas restaurant Table 10 has created a Taste of Table 10 menu which gives dinner guests the opportunity to taste an array of dishes and experience the American eatery with a New Orleans twist.
The $45 four-course tasting menu includes some of Table 10's signature dishes, such as the candied bacon with Noble Tonic #1; pea tortellini with mushrooms and three cheeses; scallops with Marcona almonds, parsnips, grapes and capers as well as Emeril's banana cream pie.
---
More Las Vegas News
---
Upcoming Las Vegas Events And Holidays
---
Airplane Eagle Tour û Soar into the sky aboard a Cessna Grand Caravan for the ideal Grand Canyon airplane tour. The Cessna offers large windows and individual leather seating to create the perfect atmosphere to enjoy spectacular views. Flying in the Cessna you will enjoy aerial highlights including Hoover Dam, Lake Mead, Fortification Hill, Temple Rock, historic Boulder City and the Colorado River in transit to the Grand Canyon. Experience views of the Grand Canyon from a unique perspective capturing the depth and magnitude of this national treasure.
---
Pin Up by Sarah Jane Woodall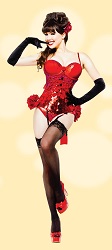 Pin Up: Classic, Colorful, Lighthearted, and Sexy! – Vegas buffets arenÆt the only place to find cheesecake anymore! Fans of classic vintage pin-up style can now head over to the Stratosphere, where a new music and dance stage show called Pin Up is bringing sexy back, with a modern twist on a timeless style.
Stockings, garter belts and sky-high heels are back in a big way as the girls of Pin Up strut their stuff in a series of sexy numbers showcasing classic femininity. 2011 Playmate of the Year and pin-up model extraordinaire, Claire Sinclair, presides over this fun romp through the seasons of the year, vintage pin-up style.
---
Newkirk's Notes – comments on Las Vegas from AccessVegas.Com publisher Ted Newkirk:
Hello From Las Vegas! – We've been having some super-hot weather, with temps in the mid-teens (one hundred and teens, not the freezing cold teens that some of you are used to in the winter). We're pretty used to it and Phoenix and Laughlin were warmer than we were on some days.
If you follow us on our Access Vegas Twitter or Access Vegas Facebook pages, you can see that we live-posted the Las Vegas sign streaming cam and plenty of people were out in the afternoon heat taking their picture with it. But yes, even for us locals, it was HOT. Temps return to normal (104 F for a high) after July 4.
We tend to get low readership during holidays and as this goes out, we're up against our United States Independence Day holiday on July 4. We do appreciate that you are taking the time to read, but with so many tuned out, we'll get back to the ever-popular Newkirk's Notes and Members Mania next week.
To our international friends, go ahead and celebrate July 4'th anyway. (OK, except maybe our friends in the UK)! Grill up some hamburgers and hot dogs (frankfurters), enjoy some American-style chips, some coleslaw, and a couple of beers.
Me? I'm getting a root canal (oh joy) on July 3. I had the misfortune of a good-sized 25 year old filling crack and now need a serious fix. So while you enjoy your favorite libations over the long holiday weekend, I'll be popping pain pills. Oh well.
Hope you are enjoying this issue!

Associate Editor / News Researcher: Rick Ziegler
Concerts and Headliners: Amy Rayner-Cooley
---
What We're Watching – Vegas Videos You'll Enjoy
---
We love to hear from you, and value your feedback! Here's how to participate:
Want to comment on a current reader post? Use the comment box on that particular web page. Many of the stories we post also have comment boxes at the end of the story. Make your voice heard!
Drop us an email at AccessVegas@AccessVegas.com – We read them all!
Call our recorded comment line at 702-507-0055. We listen to every call.
---
No related links found