Serving Las Vegas Visitors and Residents Since 1999
Welcome to the Insider Vibe! This is the official newsletter of AccessVegas.Com. We talk about the Las Vegas activities you really care about.
Can't see all the great photos and graphics? Click to Read This Issue Online! Need to contact us? Send feedback to AllVegasTV@aol.com

Share the info: Click to Email this newsletter to a friend! Missed an issue? Click to Read Back Issues Online.
This newsletter is published exclusively for visitors to AccessVegas.Com and can only be signed up for there. We do not buy or rent lists, and this information is only for our members and guests. If you feel you have received it in error, click the unsubscribe link at the bottom. To subscribe, visit our Newsletter Site.
---
AccessVegas.com Quick Info Menu:
Las Vegas Essentials

Seasonal Vegas Information

Featured Shows

Photos and Wallpaper
Newkirk's Notes – comments on Las Vegas from AccessVegas.Com publisher Ted Newkirk:
Hello From Las Vegas! We're recovering from a short but nasty cold snap. Certainly not as bad as most of the US, but mid-week this past week temps got down to freezing at night for two straight nights and highs didn't get out of the 40's F. Good news? Super Sunday is scheduled to be 68 and sunny!
Jersey Boys LV Special: With football season ending, take the missus to see a show on Sundays during your stay! $55-off Front Orchestra Seating for 3 PM Sunday Matinees, Use code 55MAT http://tinyurl.com/49w8pao
Playing Hooky – I was supposed to do Newkirk's Notes Thursday evening. But hey… it is Superbowl Weekend, I've been working pretty hard, and I needed to just get out and blow off some steam! The nice thing about living here (especially since I choose to live so close to The Strip) is that you can work hard and have your normal life. But… when you need a "Vegas Vacation" you only need to drive a few minutes and get the fun started!
First it was up to the new Air Bar in Stratosphere Tower. They yanked out the old Starbucks and put in a pretty nice lounge! Crowds were thin on this Thursday night at around 10 PM and maybe for good reason:
Riding to the top of the tower has been proclaimed free for locals Sunday – Thursday but when I inquired at the ticketing window, I was told that I would have to buy a ticket. Even with my Nevada ID. They mentioned that if I bought the "all you can drink" $25 margarita that admission would be waved. but that offer only runs 7 – 10 PM, further adding to the confusion.
I went ahead and paid and went up (company can write it off) but don't suggest that locals try this until we get some definitive answers, which we are requesting next week. I hate to suggest something only to find out we had bad info.
The view up there never fails to excite me, despite countless trips to the top. A few years ago, I rode the Big-Shot — the needle-looking ride at the very top — 10 times in a row! If you are a visitor and are going to have to pay the $12 to ride to the top, I still suggest doing it. Get there about an hour before sunset, as no words can describe watching The Strip light up. Have a drink at Air Bar and enjoy the show. Not shown in the photos are the seating right along the glass looking out over all the Las Vegas Strip. Note: Above shot is looking towards the airport as I prefer watching the planes float into the sky.
Next was the quick hop over to Palace Station. I got a ride from Strat to Palace Station and was going to cab it home later that night so I could indulge. Hence, wanted to keep things close to my neighborhood. I also wanted to try Palace's new $2.99 shrimp cocktail. Which I did after a little video poker:
After a nice win at video poker (look at my straight flush!), it was over to the Grande Luxe Cafe for the shrimp cocktail. Ladies and Gentleman, this is a serious deal. Ask yourself how much you are going to pay for this thing where you live! I'm still partial to the $1.99 version at the Golden Gate downtown for sentimental reasons. But I'll surely be enjoying plenty more of these at Palace in the future.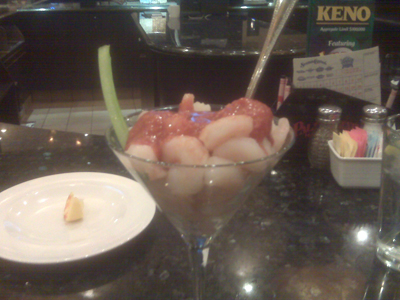 Done with that, I wanted to play some craps. I'm a low-limit guy. You can't go nuts gambling when you live here. (Actually, we don't suggest that anyone wager outside their limits even on vacation). A table was hot, I was able to grab the last spot, and tossed $100 down. The shooter held the dice for another 40 minutes. I'm not kidding.
Even betting conservatively ($5 pass line and 2-3 come $5 bets doing 3x odds), I ended up with a profit of $532 when all was said and done as the dice stayed hot for three more shooters. Pretty much everyone else at the table was betting a lot more than me, and made thousands. Many thousands per person.
The hour was late, I was beat, and I had nearly $600 more in my pocket then I left the house with. I cabbed it home, had a late snack, and crashed all comfy in my own bed. Paul Stanley of KISS once sang "You gotta live like you're on vacation". I agree.
Enjoy This Issue!

Associate Editor: Amy Rayner-Cooley
News Researcher/Editor: Rick Ziegler
---
---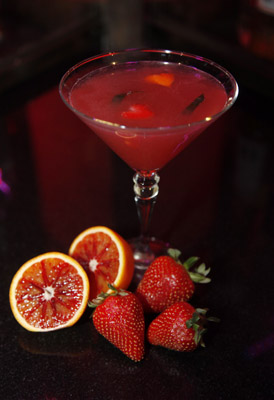 Valentine's Day Offerings At The Venetian And The Palazzo – With over 30 world-class restaurants, the largest spa in Americas and romantic entertainment to set the moodàwhat better place than The Venetian and The Palazzo to celebrate Valentine's Day with your sweetheart? Below are Valentine's Day offerings at both properties.
Photo: Robyn Andrzejczak, ImagesofVegas.com

Miracle Mile Shops Heats Up With The Hottest Valentine's Day Gift Ideas – This Valentine's Day, skip the box of chocolates and roses and impress your significant other with unique and exclusive gift items from Miracle Mile Shops at Planet Hollywood Resort and Casino. Put a twist on a traditional gift, and impress that special someone with one-of-a-kind jewelry from Miracle Mile Shops. Club Tattoo, Lucky Brand Jeans, White House | Black Market and Indian River Gallery feature elegant, eclectic and unique jewelry designed to win someone's heart.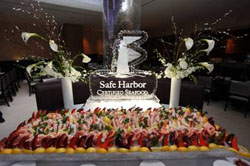 N9NE Steakhouse And Nove Italiano Inside Palms Casino Resort Adopt Safe Harbor Certification Program – N9NE Steakhouse and Nove Italiano located inside Palms Casino Resort are the first to implement the Safe Harbor Certification program, to ensure their guests are served the safest and highest quality seafood available in Las Vegas. To commemorate their participation in the program, Executive Chef Barry S. Dakake and N9NE Steakhouse hosted the Safe Harbor showcase event to the Food and Beverage industry on January 17 with well over 30 Las Vegas restaurants and casinos, including N9NE Steakhouse and Nove Italiano, in attendance. Currently, there are more than 30 restaurants implementing the Safe Harbor program in Las Vegas.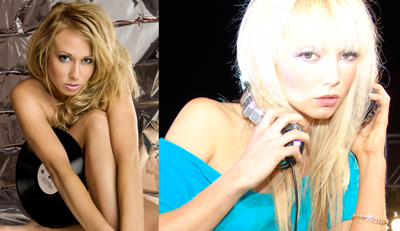 Sexy New DJs Hit The Turn Tables At Luxor's Tacos and Tequila In Las Vegas – Tacos and Tequila (TandT) has switched up its nightly entertainment lineup with two sexy new DJs spinning Wednesday, Friday and Saturday nights at Luxor. DJ Mika Gold and DJ Soxxi will bring a feminine edge to the high-energy Mexican restaurant and tequila bar with flawless talents, impeccable track selection and precise mixes.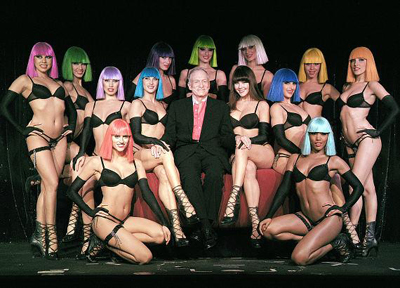 MGM Grand's Crazy Horse Paris Dancers And Special Guest Star, Claire Sinclair, Featured In Upcoming Episode of E!'s Holly's World – MGM Grand's Crazy Horse Paris featured guest, Claire Sinclair, Miss October 2010 Playboy Playmate, will seduce viewers with her artistic performances in Season 2 of E!'s Holly's World February 13, 2011. Recently, the gorgeous Sinclair debuted her captivating moves alongside the renowned Crazy Horse Paris dancers at the MGM Grand Hotel and Casino. The young fresh face of "Bettie Page" charmed audiences along with Playboy special guests such as Hugh Hefner and fiancÚe Crystal Harris, sons Marston Hefner and Cooper Hefner and of course Holly Madison and her Holly's World co-stars Josh Strickland, Angel Porrino, and Laura Croft.
---

Wind Dancer Grand Canyon Sunset Landing Tour û Enjoy an extended landing time in Hualapai Indian Territory. Champagne, beverages and hors d'oeuvres will be served. Adventure concludes with a sunset flight over Downtown Las Vegas and the Las Vegas Strip.
---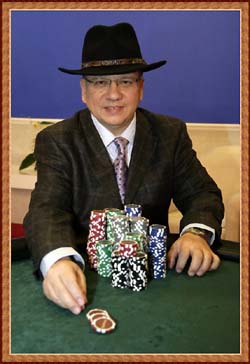 Victor H. Royer Interview: The Truth About Casinos and Las Vegas – Part I û Chances are, if you visited a Las Vegas casino during the ôgraveyardö, or late-night shift, you might catch a glimpse of Victor H. Royer. A prolific author of 22 gambling books and an impressive card-counter, Royer is an all-round expert on everything casino related. However, whilst you might have heard of publicity-fond players such as Semyon Dukach and Mike Aponte, when wagering Royer carefully shrouds his identity in order to keep playing and writing about casinos. We spoke to Royer about how he began his career in gambling, his ability to card-count and how heÆs used it to his advantage (both as a player and as a consultant to Vegas casinos), online gaming and the truth about Las Vegas.
---
Frank Caliendo: Topical, Political and Pop Impressionist Master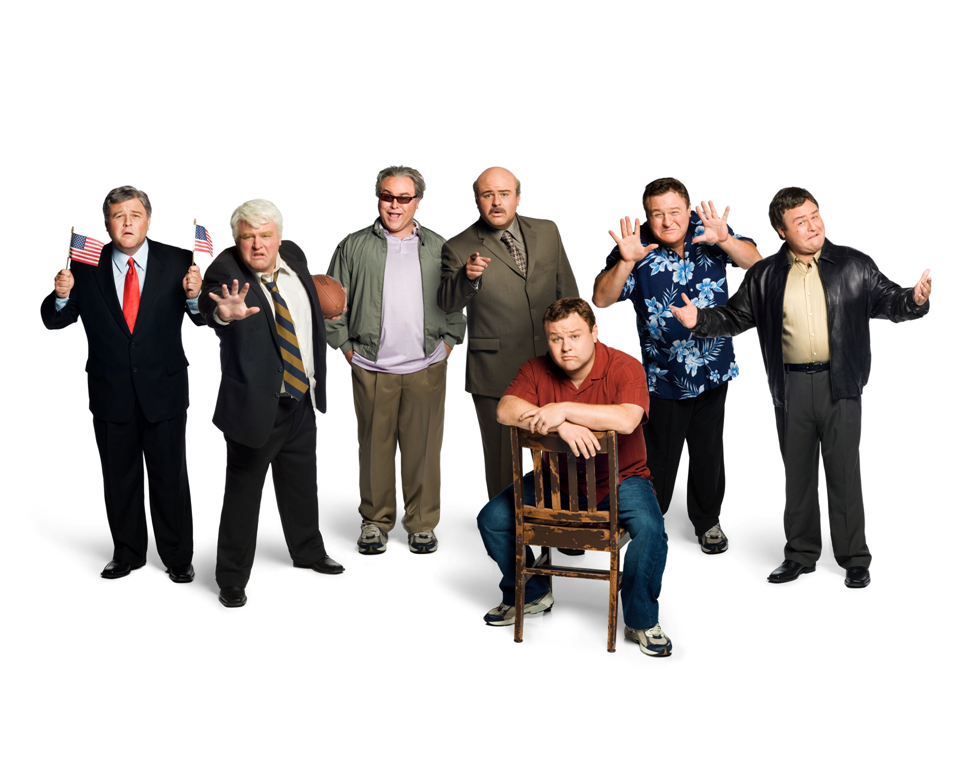 Only in Las Vegas might one find a gathering of politicians, celebrities, icons and even puppets together on one stageàin this case, all these personalities are voiced by a lone performer. Popular comedian and "MadTV" alum Frank Caliendo headlines at the Monte Carlo, presenting his much celebrated and beloved impressions of stars and celebs including John Madden, Dr. Phil, George W. Bush and Al Pacino. Boasting some of the StripÆs most comfortable accommodations, including legroom aplenty, the former Lance Burton Theatre.
---
What We're Watching û Vegas Videos You'll Enjoy
---
Members Mania – We Love Our Readers!
When Will Las Vegas Casinos Get Back To Customer Service and Decent Slots? – When are the casinoÆs going to realize that the main reason that most people come to Vegas is to play the slots? When they keep returning less and less it becomes no fun any more. When it becomes no fun people eventually quit playing. When they remove all hope of that winning streak that used to happen one time in ten, people will quit playing.
Enjoyed Las Vegas LocalÆs Casinos û Which One To Stay? – I emailed you recently looking for advice on visiting off strip casinos. So for the first time in ten visits, we rented a car and looked into your suggestions on casinos. We visited several from your list like SamÆs Club and The Orleans. We really liked the off strip casinos and want to thank you for your suggestions.
We love to hear from you, and value your feedback! Here's how to participate:
Drop us an email at allvegastv@aol.com – We read them all!
Call our recorded comment line at 702-507-0055. We listen to every call.
---
More Las Vegas News – Concerts – Events
No related links found