Serving Las Vegas Visitors and Residents Since 1999
Welcome to the Insider Vibe! This is the official newsletter of AccessVegas.Com. We talk about the Las Vegas activities you really care about.
Can't see all the great photos and graphics? Click to Read This Issue Online! Need to contact us? Send feedback to AllVegasTV@aol.com

Share the info: Click to Email this newsletter to a friend! Missed an issue? Click to Read Back Issues Online.
This newsletter is published exclusively for visitors to AccessVegas.Com and can only be signed up for there. We do not buy or rent lists, and this information is only for our members and guests. If you feel you have received it in error, click the unsubscribe link at the bottom. To subscribe, visit our Newsletter Site.
---
AccessVegas.com Quick Info Menu:
Las Vegas Essentials

Seasonal Vegas Information

Featured Shows

Photos and Wallpaper
Newkirk's Notes – comments on Las Vegas from AccessVegas.Com publisher Ted Newkirk:
Hello From Las Vegas! Summer was already threatening and the days are getting longer just in time to enjoy it the past couple of weeks. Unfortunately, the next ten days may bring some scattered showers and selected days only may reach the 50's. Punch up zip code 89119 on your favorite weather site or app the day before you leave to make you you are packing accordingly.
Jersey Boys Las Vegas Current Special: $55-off Front Orchestra Seating for 3 PM Sunday Matinees, Use code 55MAT at Jersey Boys Las Vegas Tickets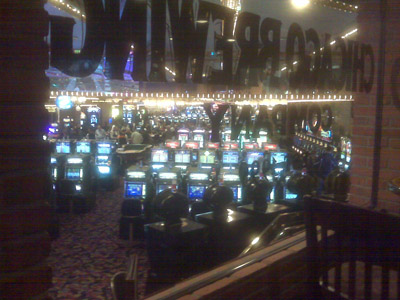 Bird's Eye View – You don't have to be a big casino boss to have this view of the casino floor. The Chicago Brewing Company in the Four Queens downtown sits elevated above the action. They have a nice menu and brew their own suds. It also happens to have the rare distinction of being one of the few places in town with a smoking section where one can light up while waiting for their order or after eating, right at their table. (They also have a non-smoking section, but the main dining area is part of their cigar bar, so keep that in mind).
If You Don't Like It, You Don't Have To Fly – We were ranting about the TSA airport screenings a couple of months before they made national news. As the vast majority of our readers fly into Las Vegas, we've been very concerned about the needless inconveniences. In many news stories, people said that it was OK to be groped or x-rayed if it kept things safer. Except that it doesn't.
Don't take my word for it.áRead this blog by a commercial airline pilot: Security Silliness I honestly (as a nation) don't understand why we are putting up with this nonsense. The terrorists have won by the very fact that they have causes billions of dollars worth of inconvenience, lost time, and productivity.
Real Estate Predictions – Experts across the board are predicting that Las Vegas real estate prices will decrease yet again this year. This comes as no surprise to our readers as I have noted how the timing of the end of construction projects over the past two years will trigger those unemployed in the trade to be exhausting benefits while unable to find new work over the next 18 months.
No one has a crystal ball, but if you've been thinking about buying that retirement home (present or future) or off-strip vacation condo, I'd consider doing it this year. Also for those thinking about buying in this market (either as a primary home or vacation/rental property): Check out the weekly show Getting REAL (Estate) in Vegas every week for invaluable advice about buying a home in Las Vegas (web|rss|itunes)
Enjoy This Issue!


Ted Newkirk
CEO/Managing Editor
AccessVegas.com
Comments about what we cover this issue? Please go to the online version and scroll to the bottom to leave your thoughts. Other questions and comments about Las Vegas? Drop us a line at AllVegasTV@aol.com
Associate Editor: Amy Rayner-Cooley
News Researcher/Editor: Rick Ziegler
---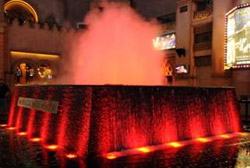 Miracle Mile Shops Las Vegas Fountain Turns Red For American Heart Month
– This February, Miracle Mile Shops at
Planet Hollywood Resort & Casino
supports the American Heart Association by turning its fountain red in honor of American Heart Month. Miracle Mile Shops' fountain displays a bold red hue between regularly scheduled water shows. All money tossed into the popular water feature as well as the center's indoor rainstorm will be donated on behalf of Miracle Mile Shops to the American Heart Association. The fountain will keep its vibrant red glow until the end of the month. Regularly scheduled water shows take place at the top of every hour from noon to 11 p.m. daily. Miracle Mile Shops is open 10 a.m. – 11 p.m. Sunday û Thursday and 10 a.m. û midnight Friday û Saturday.
Cabo Wabo Cantina Las Vegas Hosts UFC 127 Penn vs. Fitch Viewing Party Sunday, February 27 – Live from Sydney, Australia, Cabo Wabo Cantina will host the UFC 127 viewing party on Sunday, February 27. The highly anticipated Welterweight bout features American fighters Jon Fitch and BJ Penn, former Lightweight Champion. Admission is $20 and includes access inside Cabo Wabo's viewing party where UFC enthusiasts can catch the Welterweight bout, as well as the Middleweight bout between Bisping and Rivera and all other main card fights. Shown on multiple high-definition television screens throughout the restaurant and bar, guests can watch the fights from the best seats on the Strip while enjoying killer margaritas and tasty Mexican fare.

Bingo Is Back At Binion's With The Biggest Jackpot In Downtown Las Vegas – Binion's Gambling Hall has brought bingo back to the iconic Las Vegas property û and in a big way. Binion's Bingo Hall, a brand new room that opens to the public at 11 a.m. on February 1, offers players six daily sessions and features downtown Vegas' largest jackpot: the $50,000 Super Triple Multi-Win. There are 13 games in each daily session. Sessions begin at 11 a.m. and run every two hours, with the last session starting at 9 p.m. The $50,000 Super Triple Multi-Win is available in the seventh game of each session. But that's not the only chance for players to score big money.
Warm-Up For The Big Day With A Mini St. Patrick's Day Party At McFadden's Feb. 17, 2011 – McFadden's Restaurant and Saloon at the Rio All-Suite Hotel & Casino loves an excuse to have an Irish celebration. Thursday, February 17, McFadden's Beerfest: College Night presents Mini St. Patrick's Day with outstanding drink specials, beer pong and much more.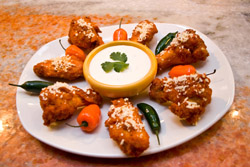 Tacos & Tequila Kicks Off Spring Break Fever At Luxor – Go Loco For Daily Specials And Spring Fever Wednesdays – Spring Break Fever at Tacos & Tequila (T&T) is back. Kicking off Monday, February 21, through Sunday, April 3, Tacos & Tequila will host Vegas' wildest spring fiesta with Spring Fever Wednesdays and a spicy lineup of food and drink specials. Spring Break revelers can indulge their appetites and quench their thirsts with T&T's Spring Fever menu available every day, all season long from 11 a.m. to 6 p.m. Guests will enjoy six specialty tacos and six little neck bottles of Sol Mexican beers for just $29, $8 taquitos, $8 chicken quesadillas and one-half-pound of zesty habanero hot wings for $10, along with $5 house made casaritas and $5 bottles of Dos Equis.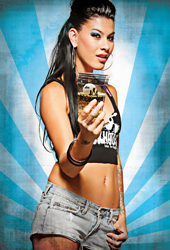 Rockhouse Gets Patriotic For Presidents Day – We're Gonna Party Like Its 1789 With Drink Specials – Rockhouse Bar & Nightclub will celebrate George Washington's birthday with a Presidents Day weekend party Friday, February 18, through Monday, February 21. In honor the our founding fathers, Rockhouse get into its patriotic spirit with $3 Bud Light Golden Wheat drafts and $5 Washington Red Apple shots all weekend long. Rockhouse will also host a $500 Red, White & Blue Beer Pong tournament on Sunday, February 20 at 6 p.m. Beer pong teams of two can register for $30 at Rockhouse beginning Friday at 10 a.m., or by calling 702.731.9683.
The Venetian And The Palazzo Kick Off Chinese New Year With Dragon Dance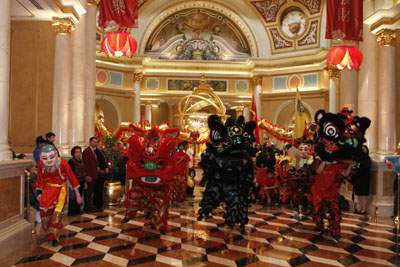 The Venetian and The Palazzo kicked off the Chinese New Year and the Year of the Rabbit with an authentic dragon dance complete with firecrackers and eye painting ceremony today.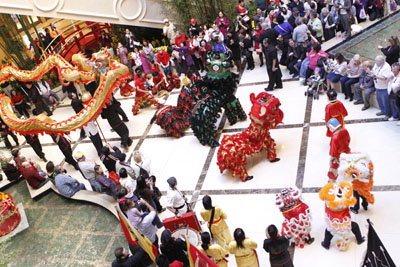 Symbolizing good luck and prosperity for the upcoming year, the dragon dance is an important ritual of Chinese culture. The Chinese consider dragons to be friendly and helpful creatures associated with strength, good fortune, wisdom and longevity. Photo credit: Jacob Andrzejczak / Images of Vegas
---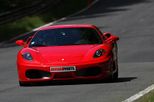 Exotic Car Driving Experience Power Package
û Visit the Las Vegas Motor Speedway and select your favorite exotic car and speed around the race track for 5 laps of adrenaline-pumping fun. Select from a Lamborghini, Audi, Aston Martin or Porsche, not only will you drive one of these supercars, you'll get to race one!
---
What We're Watching û Vegas Videos You'll Enjoy
---
Members Mania – We Love Our Readers!
We love to hear from you, and value your feedback! Here's how to participate:
---
More Las Vegas News – Concerts – Events