Serving Las Vegas Visitors and Residents Since 1999
Welcome to the Insider Vibe! This is the official newsletter of AccessVegas.Com. We talk about the Las Vegas activities you really care about.
---
AccessVegas.com Quick Info Menu:
Las Vegas Essentials

Seasonal Vegas Information

Featured Shows

Photos and Wallpaper
Newkirk's Notes – comments on Las Vegas from AccessVegas.Com publisher Ted Newkirk:
Hello From Las Vegas! If you are reading this after a weekend visit, we apologize for the weather. Wind, clouds, highs in the 50's, and a smattering of showers gave us a brief reminder that we are still in the desert and it is still February. This coming week? Much improved with temperatures flirting with 70 degrees for the first week of March!
Touching Down In Vegas – We found this cool photo (representative of the kind of clouds we are dealing with over the weekend) on Flickr:
Congratulations To Phantom – The Las Vegas Spectacular On 2000 Performances! – After four and a half years of haunting The Venetian, Phantom û The Las Vegas Spectacular continues to prove it is an audience favorite among locals and tourists alike. After 2,000 performances…
"The Phantom," has spent 2,000 hours in the make-up chair, equating to over 83 days
With 11 costume changes a night, "Christine Daae" has had a total of 22,000 costume changes to date
More than 7,600 hours have been spent maintaining the other star of the show, the $5-million, one-ton chandelier
The crew has executed more than 21,000 elaborate set changes, creating 13 separate locations on stage each night
"Christine Daae"áshares two kisses with "The Phantom" and three with the charming "Raoul, Vicomte de Chagny," amounting to 10,000 kisses since opening night
Phantom – The Las Vegas Spectacular is a LONG-TIME (and much appreciated) sponsor of this newsletter. Get some tickets for yourself and that special lady for your next Las Vegas visit. You won't be disappointed. Click To Book Phantom – The Las Vegas Spectacular Tickets Now!
Go Downtown, But… – We love downtown Las Vegas and the Fremont Street Experience. If you are past your first visit to Las Vegas, we consider going down there for an evening a must-do. Just a quick tip, however: It is kind of dead on Monday and Tuesday evenings. Oh yes, the spectacular free light show happens every hour (on the hour) from dusk to midnight. And yes, the food and drink specials and party atmosphere are still there. But later in the week (and on weekends) you are more likely to enjoy the free entertainment, bands and simply a more festive crowd then you'll find on the "off" nights of Monday and Tuesday. If staying downtown, use those nights to go to The Strip. Seems like everyone else does.
Betting On The Oscars, Emmys, Grammys – Traditionally, Nevada sports books could only offer wagers on events that had a random outcome and involved some sort of athletic challenge. Regulation changes have paved the way for properties to take bets on events ranging from awards shows to TV contests such as American Idol. To date, the details are getting fine-tuned and no such wagers have been offered. We'll keep you posted!
The Train To Victorville – One of the high-speed rail options serving Las Vegas still on the table is the Desert Xpress. This option, backed by Nevada Senator Harry Ried (D-NV) and some long-time local power brokers (including prominent Republicans… we are not picking on a particular party here), would result in a new rail line running from Las Vegas to Victorville, CA. No, you don't need glasses nor did I mis-type. I didn't say Los Angeles or Orange County or San Diego or even Riverside. They want to build the line to Victorville to supposedly hook up with a "figment of someone's imagination" (supposedly proposed) high speed rail line that will serve Los Angeles and Sacramento/San Francisco. Via Victorville. Or something like that. The catch? Desert Xpress now wants to borrow upwards of $5 billion from the government (Federal Railroad Administration).
Look… We don't even have an Interstate Freeway running from Las Vegas to either Phoenix nor Reno. Nor a traditional rail line between either city. And yet these people think that (providing all this gets build out) Southern Californians will hop on one train to Victorville (should it ever be built) or drive to Victorville to then hop a train to Las Vegas? No wonder we have so much political unrest in the United States. Some of these taxpayer-funded ideas are so obviously crazy that you start to wonder about the mental capacity of those proposing them.
Blue Man Group Moving – Lots of talk about the Blue Man Group moving from The Venetian to Monte Carlo. No one can argue about the amazing success of the Las Vegas troupe for this extremely fun and unique show. Launching at The Luxor in 2000, the Blue Men moved to The Venetian in 2005 and at this rate it looks like the show will run here in perpetuity.
When is this big move getting so much news? In about 18 months. What does it mean to their legion of fans who enjoy them time and time again? Simply double-check your ticket confirmation when you purchase come next year so you end up at the correct venue! Blue Man Group is also a much-appreciated long-time sponsor of this newsletter.áClick To Book Blue Man Group Tickets Now!
Not Everybody Is Partying Like It's 1999 – Home prices in Las Vegas have reverted to 1999 levels. If you bought during the boom, this obviously isn't funny as you are most likely sitting seriously underwater. At the end of the day, I wouldn't hold out hope of prices returning to boom levels for a long, long, long time. The real estate frenzy caused homes to be priced way, way above what they were truly worth. This is simply a market correction. Visitor spending and volume is around what it was in the early 2000's and home prices are similar to that era. On the flip side… Buyers, Start Your Engines. If you are liquid/solvent, this is an amazing time to pick up a piece of Las Vegas.
An AccessVegas.com Meet and Greet? – For years, readers have wondered why we have not done a reader meet-up. Well, I agree. It is about time! No details yet, but we are talking with a hot new venue on The Strip (one comfortable to adults… no clubs) to possibly do a happy hour reader event. We might even "strong-arm" them into tossing in a couple of free drinks for everybody. Stay tuned, hopefully more soon.
Enjoy This Issue!

Associate Editor: Amy Rayner-Cooley
News Researcher/Editor: Rick Ziegler
---
Terry Fator Welcomes Miss Arkansas Alyse Eady To His Stage At The Mirage March 4-5
– Unparalleled ventriloquist Terry Fator will welcome special guest Miss Arkansas Alyse Eady to Terry Fator: Ventriloquism in Concert March 4-5 in the Terry Fator Theatre at
The Mirage
. Eady will open the show at 7:30 p.m. each night, delivering a fun, entertaining routine that will delight the audiences. Eady, who was first runner-up in the 2011 Miss America Pageant, captured the nation's attention when she performed the ventriloquist act "I Want To Be A Cowboy's Sweetheart" during the talent round of the competition.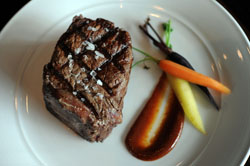 In Celebration Of Eva Longoria's Birthday, Locals Receive Special Offers In March At Beso Steakhouse – In celebration of her birthday, Eva Longoria will extend a special offer to Las Vegas locals at her celebrated Beso Steakhouse and Eve nightclub, available throughout the month of March. Las Vegas locals that dine at Longoria's sultry Beso steakhouse will receive twenty percent off their entire bill all-month long in addition to complimentary admission to her opulent nightclub, Eve. For nightlife connoisseurs, local guys will receive a reduced admission for just $10 at Eve, while local ladies enjoy complimentary admission and free champagne nightly until 1 a.m. Residents also will receive preferred reservations and VIP bottle service.
P.J. Clarke's, New York's Landmark Saloon And Eatery Brings Its Distinctive East Coast Flair, No Nonsense Food And Friendly Service To Las Vegas – In 1958, the unforgettable Nat King Cole bit into a bacon cheeseburger at the original P.J. Clarke's in New York and declared it the "Cadillac of Burgers." Nat's legacy and the legendary burger lives on and you don't have to travel to midtown Manhattan to find it. You can now celebrate the Cadillac, and other classic burgers, steaks and landmark American fare, at P.J. Clarke's newest "neighborhood joint" inside The Forum Shops at Caesars on Level One; next door to Joe's Stone Crab and adjacent to the distinctive spiraling escalator.
---

Maverick Indian Territory Helicopter Tour
û This Grand Canyon landing tour takes you to the West Rim where you will enjoy spectacular views along Eagle Point and receive a brief introduction to the Hualapai Indian legends and culture.
---
What We're Watching û Vegas Videos You'll Enjoy
---
Members Mania – We Love Our Readers!
Las Vegas Trip Report û Vegas Sign, Good Weather, Smoking In Casinos, Photo Takers, Hotel Ads – Trip to the Vegas sign, question about smoking in casinos, intrusive hotel ads, a good cab report, and more. Make sure to chime in with your own comments below their letter!
Want To Go See Pawn Stars Las Vegas Shop û What Should I Do? – Want to visit the infamous Pawn Stars pawn shop in Las Vegas? We give you the inside tips.

Iáwrote in July about coming out to Vegas in Sept for my 50th Birthday and was looking for a good place to get Veal. Well your readers came thru for me. We had dinner at Maggiano's in the Fashion show mall. It was WONDERFUL the Veal Parm was some of the best that I've ever had, service was great and the strolling Violin player/ singer who serenaded me to " Unforgettable" was unbelievable, it topped off an exceptional 50th Birthday to say the least. So much so I will be returning in Feb for my Sisters Birthday.

Thank you Ted and crew for doing a great job of getting this info out to all that want to have a good time in Vegas and don't know all the in and outs. I know with out your help we would not have had the time of our lives.

Peace and Love,

Pat Williams
We love to hear from you, and value your feedback! Here's how to participate:
Want to comment on a current reader post? Use the comment box on that particular web page. Many of the stories we post also have comment boxes at the end of the story. Make your voice heard!
Drop us an email at allvegastv@aol.com – We read them all!
Call our recorded comment line at 702-507-0055. We listen to every call.
---
More Las Vegas News – Concerts – Events
No related links found