Serving Las Vegas Visitors and Residents Since 1999
---
AccessVegas.com Quick Info Menu:
Las Vegas Essentials

Seasonal Vegas Information

Featured Shows

Photos and Wallpaper
Newkirk's Notes – comments on Las Vegas from AccessVegas.Com publisher Ted Newkirk:
Hello From Las Vegas! We usually don't publish the week prior to New Year's Eve, but we have some important notes for those arriving for the festivities (and for those who want to watch it streaming live at home):
Streaming At Home: Kudos to KLAS Channel 8 as they will once again be streaming our New Year's Eve celebration live to the world! Their program kicks off at 10 PM Pacific time and will continue until after the midnight fireworks show. Tune in Friday evening 1 AM Eastern, 10 PM Hawaiian (everyone else, do the math) over at http://www.8newsnow.com
Note: The following section is just for locals or those who will actually be in town. If that isn't you, skip/scroll down to our usual sections.
Oh So Bitterly, Crazy Cold – No, I'm not talking about the Eastern U.S. (although I hope you are all doing well digging out). The problem is that this might be the coldest New Years Eve since I've moved here nearly 18 years ago, with temps barely above freezing at midnight. (Normally, it is in the low-40's F as we shoot off the fireworks).
See preview news video from Channel 3áat Freezing Temps WonÆt Stop 300,000 For Las Vegas New YearÆs Eve
I posted Las Vegas New Years Eve Fireworks Info and Insider Party Tips a couple of weeks ago and now need to amend it:
If you are from cold climates and freezing weather does not bother you (or if you are young and will be drunk and won't be feeling it and have a warm hotel room you can get back to in short order), then simply enjoy yourself! Fortunately, the mass of bodies will make things feel not quite as cold as they really are.
If staying at a Strip hotel, stay inside until about 11:30 PM. Warning: The center of The Strip gets ultra jammed and you might not even barely get out of your hotel. If center-strip, you may have to get outside much earlier. If north of TI or south of CityCenter, crowds will be far less and you can head out with 30 minutes to go with little problem.
If you are a local or staying off-strip, this is the year you might wish to skip getting in the middle of it all because of the weather:

You'll need to park by 6 PM, and probably some distance from The Strip. It isn't just the time out (even if you spend the first few hours inside a hotel or bar). It is the very freezing return walk to your vehicle.
I'd attempt to park at Sahara or Hilton (keep in mind that as the evening wears on, they may restrict their parking to hotel guests) and use the monorail to get to The Strip. No, not the center of The Strip. Ride it all the way down to MGM where the crowds will be lightest outside. You can always work your way north on the closed Strip (Sahara to Russell stretch set to close at 6:30 PM). Then monorail it back once you are done partying, keeping in mind it stops running at 3 AM.
Drive down to a good viewing point away from the traffic and street closures, park your car, watch the show, drive back home. The industrial area behind CityCenter (Google Maps Link) has a great view in a number of areas. Many of the streets have no parking signs but it isn't like you are leaving your car. Trust me, Metro (police) will have better things to be doing at midnight then giving out parking tickets or towing cars, especially with you standing next to it.
Skip the fireworks this year and go downtown, where is is much easier to duck inside a casino and warm up and the layout of downtown (combined with the throngs of people) will keep things a bit warmer. Tickets are $20, which keeps out the riff-raff and can be purchased at https://shop.prestigeticketing.com/goldennugget… The event starts at 6 PM and I'd get down there early and make it a night. No shortage of good food and entertainment to keep you plenty busy through midnight.

Downtown Parking suggestions: Plaza has a huge surface lot with the entrance just a block south of Fremont Street. One block north of Fremont, Binion's has a 7 story garage that always has room at the top, even during busy times. Note: You'll probably encounter a modest fee to park for more than 4 hours. Just pay it and be happy you are parked and ready to have fun! Or cab it down and back (which is what we may just end up doing).
Enjoy This Issue!

Associate Editor: Amy Rayner-Cooley
News Researcher/Editor: Rick Ziegler
---
The Sporting House At New York, New York Las Vegas Introduces New Happy Hour And Updated Weekly Promotions
– The Sporting House Bar & Grill inside
New York-New York Hotel & Casino
is giving fans a reason to celebrate with a twice daily happy hour every Monday through Friday from 3-6 p.m. and 9-11 p.m. In time for the NCAA Football bowl season, fans can enjoy $4 domestic drafts, $5 premium drafts and $4 house cocktails throughout happy hour.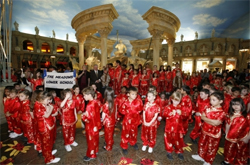 Hopping Into The Year Of The Rabbit, Colorful Dragons, Lions, Rabbits To Fill The Forum Shops At Caesars This February To Celebrate Chinese New Year – To celebrate Chinese New Year and welcome the year of the Rabbit, The Meadows School will perform the traditional dragon parade throughout The Forum Shops at Caesars. The cast of singers and dancers includes 120 Meadows students û 60 from kindergarten and 60 from fifth grade plus the school's very special guests, founder Carolyn Goodman and her husband Mayor Oscar Goodman.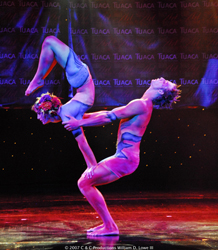 Golden Nugget Hotel & Casino Host One-Night Performance Of Tuaca Body Art Ball – Serving as the kick off to their national tour Tuaca Liqueur will bring their eye-catching Body Art Ball to the Golden Nugget Hotel & Casino on January 5, 2011. A perfect blend of body art, drama and personality, this bold take on pop culture is a choreographed stage show featuring painted performers illustrating the transformation of the human body into a canvas.
---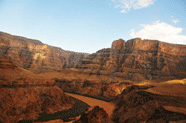 Dream Catcher Sunset Grand Canyon Tour
û Your journey begins with a flight out of Las Vegas to Hidden Valley to see the arches. Continue your journey to the Valley of Fire, were you will see red rock formations and some of the most remote, desolate, and fascinating desert landscape. After you fly through the Valley of Fire your journey will take you to the Grand Canyon. Enjoy the sunset as you finish your journey over the Las Vegas Strip as the lights turn on.
---
Members Mania (Readers Comments and Questions) is on hiatus until the first of the year. WeÆll be bringing it back in a new, expanded format! In the meantime, we continue to welcome comments and questions to the email and phone line listed below.

We love to hear from you, and value your feedback! Here's how to participate:
---
More Las Vegas News – Concerts – Events