Serving Las Vegas Visitors and Residents Since 1999
Welcome to the Insider Vibe! This is the official newsletter of AccessVegas.Com. We talk about the Las Vegas activities you really care about.
---
AccessVegas.com Quick Info Menu:
Las Vegas Essentials

Seasonal Vegas Information

Featured Shows

Photos and Wallpaper
Newkirk's Notes – comments on Las Vegas from AccessVegas.Com publisher Ted Newkirk:
Hello From Las Vegas! We're back after an unusual two-week break. We needed time to recover from our New Year's Eve hangover, recover from watching my Oregon Ducks lose the BCS game on a fluke play and last second field-goal, organize a number of newsletter and site improvements which we'll be implementing over the next few weeks.
Hopefully, we've escaped the grips of winter here finally. Temps are flirting with 70 F all week, and Martin Luther King Day (last Monday) we hit a record high of 74F. It was really nice to spend Sunday afternoon sitting outside in back of the house enjoying some sunshine and NFL football on TV.
Speaking Of NFL Football (as to not confuse our 25% international readership with your football), casinos and bars have already been releasing their Superbowl party plans. Of course, they have to call it the Big Game (or something similar) as the NFL really doesn't like Las Vegas (long story) and will most likely sue any venue using the trademarked name of the event to promote a party. You can go check out Las Vegas Superbowl Parties and Events 2011 if you are thinking about being here for the "Big Game". Unless you have a ticket, being here is more fun than being in the host city!
New Year's Eve In Vegas! – Since this is our first newsletter of the New Year, longtime readers know what to expect: 1. I'm going to tell you how great the fireworks were and how much more exciting our party is than some 60 second ball drop, 2. Tell you that it was warmer here than New York (oooops on that one… for the first time in my memory, we were colder), and 3. Lament that the only reason the U.S. doesn't see us as the New Year's Eve Capital is because midnight Eastern time is only 9 PM Las Vegas time.
Now… we did post a link last issue where you could watch the entire 2.5 hour live/local streaming show covering everything: The Strip, Downtown, the crazies, the clubs, the fireworks, you name it. If you tuned in and caught the stream, then you KNOW how amazing it is here compared to other celebrations around the country. If you forgot to tune in (or fell asleep watching that boring ball drop on national TV), we'll do a re-run for you. We don't have permission to post the entire show, but we did find KLAS-TV's complete fireworks coverage (click to view):
What We're Watching – We debut a new section this week called What We're Watching. When we started this newsletter in 1999, streaming video wasn't a factor and most people still had dial-up connections. Times have changed, and so have we!
The mission of this newsletter is to sift through huge piles of Las Vegas information (so that you don't have to) and only present the best for you. We'll now be doing this with video. Hate to click on a YouTube video that looks interesting only to find out you wasted your time? That won't happen when you enjoy videos we select to pass along.
Welcome New Readers! – Since we took a two week break from publication, almost 600 of you have subscribed and are completely new to our newsletter. We're happy to have you on board! This isn't quite a normal issue as we're doing a lot of "housekeeping"ábut stay subscribed and next week you'll get a true taste of what being and AccessVegas.com newsletter member (subscriber) is all about!
Also returning Next Week: Victor H. Royer's gaming column (a big reader fave) and fresh, weekly show reviews.
Enjoy This Issue!

Associate Editor: Amy Rayner-Cooley
News Researcher/Editor: Rick Ziegler
---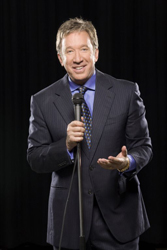 Comedian Tim Allen Makes His Return To Standup At The Venetian Las Vegas In 2011
– After giving fans a taste in 2010, Golden Globe Award-winning actor and comedian Tim Allen returns to stand up in a big way in 2011 with a ten-weekend Las Vegas residency in the 742-seat
Venetian Showroom
. "We're thrilled that Tim Allen has chosen The Venetian as his Las Vegas home," said Chris Yancey, executive director of entertainment at The Venetian and The Palazzo. "Tim's legion of 'Home Improvement' fans will now get the chance to see him do what he does best."
Forum Shops Las Vegas Fabulous Fashion Briefs And Forum Firsts For 2011 – WHAT A YEAR 2010 WAS: As we set our sights on soaring to new heights in the New Year, a quick look back on what made 2010 such a great year at The Forum Shops at Caesars. This past year, The Forum Shops continued its winning streak as the premier retail, dining and entertainment destination with the addition of a variety of new retailers and restaurants including the largest H&M in the U.S., Las Vegas' first P.J. Clarke's and Max Brenner, Chocolate by the Bald Man. In addition, due to increasing sales and demand, a number of world-renowned retailers such as Burberry, Cartier, St. John, Ermenegildo Zegna, Gucci and Versace expanded or renovated their stores.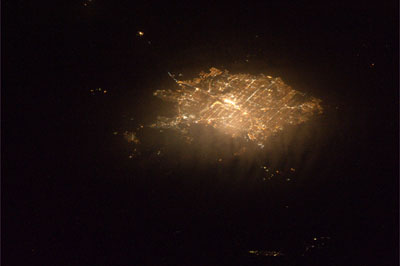 Golden Nugget Las Vegas Receives New Year's Wish From Outer Space – Owner of the Golden Nugget, Tilman Fertitta, received a special call from friend and fellow Houstonian, Scott J. Kelly, commander of the International Space Station, Expedition 26, late last night. Kelly, who was at the time traveling 17,000 mph over Hawaii, wished everyone in the Golden Nugget's Rush Lounge a Happy New Year over speakerphone during Frankie Moreno's set. Photo of Las Vegas sent from space by Scott J. Kelly.
Celebrate Valentine's Weekend At The Suncoast Showroom With The Scintas, February 11-13 – Popular Las Vegas entertainment family, The Scintas, return to the Suncoast Showroom Valentine's weekend, February 11, 12 and 13, each evening at 7:30 p.m. The Scintas, Buffalo, New York-raised brothers Joey and Frankie, sister Chrissi and "Irish Scinta" Peter O'Donnell, entertain, surprise and provide an anything-but-typical performance filled with music, comedy and impersonations.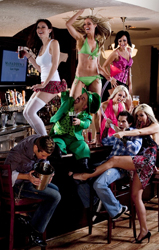 X107.5 Presents 'Wing Off Wednesdays' AT McFadden's – McFadden's Hosts Qualifying Rounds For The 2011 Wing Bowl Starting This January – McFadden's Restaurant and Saloon at the Rio All-Suite Hotel & Casino and X107.5 presents "Wing Off Wednesdays" every Wednesday night starting January 12. The weekly competition hosted by Dave and Mahoney will give wing fanatics a chance to qualify in the second annual Wing Bowl Las Vegas and scarf down as many tasty tender wings as possible. McFadden's will serve pounds of the best chicken wings in town to confident contestants looking for a chance to enter the second annual Wing Bowl Las Vegas. The top two wing eaters of each of the four nightly heats will earn a spot in the final Wing Bowl event on February 5 at the South Point Hotel, Casino & Spa and a chance at the $2,500 grand prize.
Starlet Angel Porrino Returns To Peepshow At Planet Hollywood Las Vegas – PEEPSHOW, Las Vegas' hottest show and only striptease spectacular is pleased to announce Angel Porrino, Las Vegas local and co-star on the new hit TV series, "Holly's World" on E!, has signed on to take over the role of "Bo Peep," a modern woman who discovers her sexuality, during Holly Madison's hard-earned vacation dates throughout 2011. Porrino will once again perform alongside a sizzling ensemble of sexy PEEPSHOW GIRLS.
---

Las Vegas Double-Decker Bus of the Stars Tour
û This one-of-a-kind tour takes place on an original London double-decker bus where you'll enjoy a performance a by celebrity impersonator. You'll have the opportunity to interact, take photos and ride along with the celebrities, while enjoying the world-famous sights of the Las Vegas Strip.
---
What We're Watching
---
Members Mania – We Love Our Readers!
Change is in the air (and I'm not talking about politics). After much reader suggestions/feedback and in-house discussion, we are making permanent changes to this section:
Many readers have expressed how difficult it is to search through old segments or find a post that interested them some time ago. Including the entire posts as part of this newsletter makes it impossible to do a specific search on them. If you search the newsletter archives, you'll get anything ever included in the newsletter. Not specifically past reader comments and reports you may be looking for.
Because the posts are inserted in the body of theánewsletter, web search engines don't do a good job of indexing the information. This inhibits the rest of the internet from finding and enjoying the specific posts.The more people that find our information, the moreásubscribe. The more subscribers, the better our financial picture is (we are more attractive to advertisers) and the better job we can do bringing you information (which takes time which takes money). Especially since no one else essentially does this kind of Las Vegas newsletter, especially complimentary.
We often get great responses to posts in this section. Other readers chiming in. Which is great… for me. But of absolutely no help to you as readers never see the comments.
Hence…
The posts are going to go online. We'll provide a link and a summary. In addition, we are going to (over the next few months) move every Members Mania post dating back to the beginning of the newsletter online. This will allow you to easily search for advise pertaining to what you want. Looking for comments on a certain hotel, buffet, or show? It will be tagged for easy search.
Note: We will still post short notes directly in the newsletter.
Placing them online will allow other readers to add their own comments, which helps everybody! Even though we live here and are on The Strip and downtown often, we can't possibly do and see it all. Your comments are important and helpful!
Now… We've had some people complain that they will have to (gasp) actually CLICK to read the posts, and they don't like that. We gave that quite a bit of thought and um… That is kind of the way this computer/internet thingy works. You click to open a program. Click to open an email. In our news section, you need to click if you want to read the details of a story. In the More section, you need to click to read a story. We also hope that you click to patronize our advertisers when you are making your Vegas plans.
If you get bored of us, you need to click the unsubscribe link at the bottom of the newsletter. Lots of mouse clicking needed to use this internet stuff. We also figured that people who find clicking to read a post too much work will probably not unsubscribe as clicking the unsubscribe link at the bottom of the newsletter would also be too much work.
Finally, we'll start to be able to publish quite a bit more informationáas soon as we get underway with this new system. In the past, many great emails from readers simply never got published. Now, we can use them and you can benefit!

---
Riviera Las Vegas û Access Vegas Readers Love It! – Three different readers wrote with very nice things to say about staying at The Riviera (and tips to stay in the good rooms). If you're thinking about staying at The Riv, wanting to stay in a hotel that feels more "old school" Las Vegas, or have stayed and want to comment, this is for you.
When Is Las Vegas Spring Break In 2011? Want To Avoid The Crowdsà – Ah, Spring Break and March Madness and cabin fever setting in make springtime in Las Vegas the most popular time of the year to visit. If you want to make sure a spring vacation is enjoyable, you'll want to click and read this one.
---
Greetings from the cold,snowy state of Maine! We just visited Vegas over Christmas. We arrived near the end of the RAINS!!! Imagine our surprise when we were greeted by hundreds of UMBRELLAS!! The sidewalks and casinos were full of people from many nationalities!! Many had children ,and grandparents as well!!
I attended the Nutcracker Ballet, EXCELLENT! The costumes were Beautiful and the dancers were Extraordinary!!! The only question I have is, Why the recorded music? In Maine we have a Live orchestra.
We always stay at Bally's. The rooms are nice and you can't beat the the location! many thanks for the GOOD time and enjoyable newsletter.Las Vegas we love you. We have visited at least a dozen times. The Cosmapolitan is Wonderful!!!
D. Cook
---
We love to hear from you, and value your feedback! Here's how to participate:
Drop us an email at allvegastv@aol.com – We read them all!
Call our recorded comment line at 702-507-0055. We listen to every call.
---
More Las Vegas News – Concerts – Events
No related links found