Serving Las Vegas Visitors and Residents Since 1999
Welcome to the Insider Vibe! This is the official newsletter of AccessVegas.Com. We talk about the Las Vegas activities you really care about.
---
AccessVegas.com Quick Info Menu:
Las Vegas Essentials

Seasonal Vegas Information

Featured Shows

Photos and Wallpaper
Newkirk's Notes – comments on Las Vegas from AccessVegas.Com publisher Ted Newkirk:
Hello From Las Vegas! I'd tell you what is up with the weather, but I'm clueless: Two weeks ago, cold (for us) temps that dipped into freezing overnight. Then an incredible week of 70 F and sunny. Now we're looking at 60's and some rain for quite a few days. After that, who knows? If you were here last week, you hit the jackpot with the great weather. A nice, mild evening greeted the new Cosmopolitan as well. Speaking of…
Billion$ Of Dollars and Bank-Owned After Foreclosure, The Cosmopolitan of Las Vegas Is Open! – We were at Cosmo on opening night. The excitement level was off the charts. Combine the party end of The Palms, the Hard Rock Hotel Vegas, put them on the Las Vegas Strip on an intimate (small) footprint, create a trendy/hip atmosphere, and design/decoration aimed squarely at females (local Las Vegas writer and blogger David McKee stated "In sensibility, it's the gayest thing to hit the Strip since Liberace", and you have the new Cosmopolitan of Las Vegas.
Will it fly? Probably. For the price of other upscale rooms in Las Vegas, you can get a large suite with balcony and (on the north and east side) mindbending Strip views. With balconies!
So, where isá my report on it? I'm not filing one yet. If you are coming to town in the next couple of weeks, absolutely check it out. Unlike CityCenter (which some consider a daunting hike off The Strip), Cosmo is Strip-front, with side doors are right next to the Bellagio fountains. No excuse to not stick your head in.
So when will my report be? Soon. Why the delay? Opening night is in NO WAY representative of a property. I want to see what the crowds are like under normal circumstances. How many people are gambling on a weeknight. The experience that you will encounter. The good, bad, and ugly under normal circumstances.
The Ugly? Yes. Widespread reports from opening night of guests with reservations having to wait hours beyond their assigned check-in time for a room. Problems with room safes, rooms with no mini-bar (yet), and others. Hotels always have rough spots the first few weeks of operation. But the reports we heard were serious. So much so that we are not going to promote or sell room reservations for the Cosmo until I'm satisfied these issues have been ironed out. I've never knowingly promoted something that I know has issues just for the sake of our bottom line. I'm not going to start now.
We aren't going to leave you out in the cold when it comes to reports on Cosmo! For now, we've culled some of the better news story videos that we're sure you'll enjoy:
Small Town Atmosphere – It seems that everybody moving to town has their sights set on the far northwest corner of the Las Vegas Valley. But many who are retiring and want to live in the Las Vegas area also year for the "small town" atmosphere they may have grown up in (or are moving from). If that is you, don't overlook the far southwest Las Vegas (area) city of Henderson.
You can live in the nice, master planned Green Valley area or choose from "old town" Henderson, the core of the original city where just about everything is walkable and revitalization has been underway for a number of years. With this job, it really helps for me to be in super-close proximity to The Strip. But if that weren't such an issue, I'd be giving Henderson strong consideration. You're only 15-20 all-freeway minutes from both The Strip and the airport. Related article Redevelopment: Henderson had earlier start on transformation, more to work with when efforts got under way
BTW… In a recent issue, I said that others can have Aliente, Summerlin, and Green Valley. I like vintage (old school) Las Vegas near downtown. It garnered some emails from those who live in (insert area I mentioned) noting how much they like those areas. Make no mistake: The neighborhoods I listed are very nice! But both because I like action and because of my vocation, I prefer to live near downtown and The Strip. Especially now that so much revitalization is taking place!
Finally, A Bus To The Airport! Kind of. A new express bus service running from McCarran Airport to Summerlin could turn out to be very handy for some visitors who want to skip the cab line (and costs). The new WAX route runs nonstop from the airport to the first stop at Tropicana and The Strip. NOTE: It does not continue up The Strip. You'll need to get off and switch to The Deuce.
The WAX then hits the I-15 for a non-stop trip downtown, stopping at the Outlet Mall and Fremont Street Experience. If you are traveling light and staying on the south end of The Strip or downtown, it is worth checking out: Las Vegas WAX Express Bus Route Schedule (PDF)
Back Bigger and Better – Our New Years Eve fireworks display details have been announced. The 8 minute show will be the largest display west of the Mississippi and we're expecting 310,000 people in town. If you've never been, imagine the entire 4-plus miles of the Las Vegas Strip closed to traffic and filled with revelers. Drinking is allowed (no glass) and the party atmosphere is second-to-none.
I've made an extensive blog post entitled Las Vegas New Years Eve Fireworks Info and Insider Party Tips that is a must read if you are even thinking of contemplating coming. (And with room rates at historic lows that probably won't be seen in future years, you may want to at least test the waters). Even if you can't make it, I'll let you know how to enjoy our spectacular show online from anywhere in the world! Plus, the blog has a video included to give you a feel for the pending excitement.
We know that many of you hardcore Vegas fans and visitors participate in other Vegas forums, lists, and message boards. By all means, post this link and let others in on the info as well! We've created a shortened link to the post. Copy and paste http://x.co/LLu5
Enjoy This Issue!

Associate Editor: Amy Rayner-Cooley
News Researcher/Editor: Rick Ziegler
---
CityCenter Las Vegas Receives Distinguished AAA Five Diamond Award For Two Properties In First Year Of Operation
– In its debut year, CityCenter Las Vegas has received the coveted AAA Five Diamond Award« for both ARIA Resort & Casino and Mandarin Oriental, Las Vegas. While the award is bestowed only upon select properties deemed the finest in North America, it is even rarer for hotels to attain the rating within the first year of operation.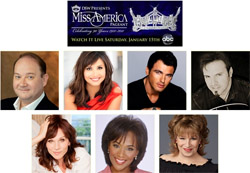 Panel Of National Judges For The Las Vegas 2011 Miss America Pageant Announced – The 2011 Miss America Pageant presented by DSW Designer Shoe Warehouse promises to be an exciting event with the announcement of the strikingly diverse panel of national judges. They will evaluate the contestants from the preliminaries through the final night of competition, which will broadcast live from Planet Hollywood Resort and Casino in Las Vegas on SATURDAY, JAN. 15 (8 to 11 p.m., ET/PT) on ABC.
AGO Features Old World Classic Prix Fixe Menu For $12.99 At Hard Rock Hotel & Casino – Beginning on Dec. 11, AGO introduces an Old World Classic Prix Fixe Menu for $12.99. The new prix fixe menu will include a glass of wine, bread basket, soup or house salad, and choice of pasta entrÚe. Pasta entrÚe selections include Spaghetti with Meatballs or Sausage, Lasagna, Fettuccini Alfredo, Capellini Pomodoro, and Cheese Ravioli. The prix fixe menu will be available daily, during regular hours of operation.
Bellagio Resort & Casino Hosts First-Of-Its-Kind Event, Poker's Ultimate Bottle Tournament' January 28-30, 2011 – The AAA Five Diamond Bellagio has partnered with the Charity Case Foundation, a philanthropic group of California winemakers, to create an extraordinary charitable event, Jan. 28-30. The weekend's festivities will be filled with exemplary wines, astounding cuisine and "Poker's Ultimate Bottle Tournament."
Fremont Street Experience And Mayor Oscar Goodman Kicked-Off The Holiday Season With Las Vegas' Official Tree Lighting Ceremony – Mayor Oscar B. Goodman flipped the switch to light Las Vegas' official Christmas tree at Fremont Street Experience. Santa Claus and his elves were also on hand to help officiate the ceremony and light the 50 ft. Christmas tree.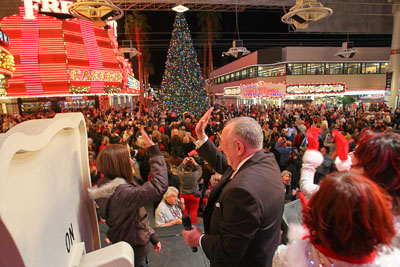 Mayor Oscar B. Goodman flipping the switch to light Las Vegas' official Christmas tree. Photo Courtesy of Larry Burton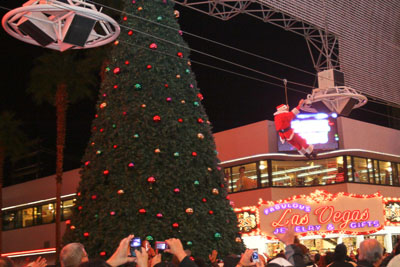 Fremont Street Experience had hundreds of people in attendance, as Santa Claus ditched his sleigh and made his grand entrance on the FlightlineZ. Photo Courtesy of Larry Burton
---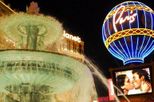 Las Vegas Strip Night Tour
û Take a neon-lit evening tour of the fabulous Las Vegas Strip. You'll see all the sights and resorts, and be entertained and informed by your friendly guide. From the beautiful atrium and dancing water at the Bellagio to the stars of Madame Tussaud's at the Venetian you won't want to miss any of these Las Vegas icons.
---
Members Mania – We Love Our Readers!
Members Mania (Readers Comments and Questions) is on hiatus until the first of the year. Now that we've been able to start increasing staffing levels, we'll be bringing it back in a new, expanded format! In the meantime, we continue to welcome comments and questions to the email and phone line listed below.

We love to hear from you, and value your feedback! Here's how to participate:
Drop us an email at allvegastv@aol.com – We read them all!
Call our recorded comment line at 702-507-0055. We listen to every call.
---
More Las Vegas News – Concerts – Events
No related links found