Serving Las Vegas Visitors and Residents Since 1999
Welcome to the Insider Vibe! This is the official newsletter of AccessVegas.Com. We talk about the Las Vegas activities you really care about.
---
AccessVegas.com Quick Info Menu:
Las Vegas Essentials

Seasonal Vegas Information

Featured Shows

Photos and Wallpaper
Newkirk's Notes – comments on Las Vegas from AccessVegas.Com publisher Ted Newkirk:
Hello From Las Vegas! The sun is setting just a little bit earlier each night, lighting up the Las Vegas skyline just a bit earlier. Photographers who shoot Las Vegas refer to the time around sundown here as the "golden hour" because the orange hues of sunset against the hotels just as the hotels themselves are starting to light up is magic. 17+ years in town and seeing it live still gives me chills!
The following photos I shot from Voodoo at The Rio are dated, but make for a great comparison of the facing light during this "golden hour"
Las Vegas, New York Tie As 'Coolest' (Most Hip) Cities – Forbes Magazine recently listed their Top 10 for the coolest cities in America:
1. Las Vegas (tie)
1. New York (tie)
3. Seattle
4. Chicago
5. Oakland
6. Orlando
7. San Diego
8. L.A.
9. Miami
10. Washington
You can read the article here: America's Coolest Cities – In these trendy metros, nightlife is hot and the people are cool. While no argument on New York's ranking, our showing is pretty impressive given that this was from a nationwide survey Forbes took. Las Vegas has been bashed and battered in the national media for the past two years. I've personally been ridiculed for having such an upbeat view of my city. Looks like I'm not alone in thinking that Las Vegas is a great place!
Hottest Month Ever In Las Vegas – Many of you may have heard that July 2010 was the hottest month ever here in Las Vegas with an average temperature of 96.2 F.
Just a note: This record was a bit deceiving. We didn't once bump up against the all-time record (117), with the warmest few days clocking in at 113. The difference was the overnight temperatures. The growth of Las Vegas has creates lots more asphalt and concrete that absorb and hold heat through the night. In addition, new homes are generally not allowed to have lawns. Lawns don't hold heat overnight, and actually cool the temps when they are watered (like the cooling you get when sitting under a mister).
And… the local water utility has paid significant sums of money to homes and businesses as an incentive to remove their lawns in the name of water conservation. We're into August, and overnight lows the past few days were in the 70's and temps have otherwise returned to slightly below average for the month so far.
All You Can Eat Crab and Steak Dinner – Orleans Las Vegas is offering this plus seven live cooking stations at their buffet on Wednesday nights for only $15.95. Yes, they have a free shuttle from The Strip (Bill's Gambling Hall). Expect about a 10 minute ride. From their website:
The Orleans offers free shuttle service to its sister property the Gold Coast Hotel and Casino as well as the Las Vegas strip. The shuttle operates 7 days a week from 9:00 AM to 12:30 AM and picks up guests approximately every 30 – 45 minutes from the hotel's Tropicana Avenue entrance. The last shuttle will leave Bill's Gambling Hall at 12:30 AM.
Choosing A New Home Community In Las Vegas? – We generated some lively discussion over the past month on my Members Mania post Moving To Las Vegas û Where Should I Live? Worth checking out all the responses. In the piece, I leaned pretty strongly against a certain area of town, and in general warning of being careful about buying in some of the new neighborhoods (saying it seems like you can practically reach out your window and touch your neighbors house in many newer neighborhoods). Now a recent local news report New communities falling short of their master plans – Developers slash spending on promised amenities, angering residents is also worth a read before you buy in a new community here in Las Vegas. Speaking of…
Buy Your Own Southern Nevada City – Cal-Nev-Ari, NV sits 70 miles south of Las Vegas and 30 miles northwest of Laughlin, has its own airport (1L4 Kidwell Airport), andáis all yours (residential homes excluded) for $17 million. This is no ghost town: 400 residents enjoy full utilities. The price includes a casino, restaurant, store, RV park, motel and mobile home park. Deepwater wells provide water (a plus, no dependence on the ever-dwindling Colorado River). You can enjoy the complete story with video here: Small Nevada town put up for sale
Enjoy This Issue!

Associate Editor: Amy Rayner-Cooley
News Researcher/Editor: Mark Jacobs
---
Primm Valley Casino Resorts Pumps Up Adrenaline With Free Rides On The Desperado In Honor Of National Roller Coaster Day Aug. 16
– Primm Valley Casino Resorts celebrates the official day of roller coasters with complimentary rides for Nevada residents on The Desperado Monday, Aug. 16. Primm invites guests to be kids again and enjoy a final thrill on the exhilarating Desperado roller coaster before summer draws to a close and the school year kicks into gear. Daredevils may get a breathtaking view of the Valley from 209 feet before plunging at tremendous speed into a succession of twists and turns.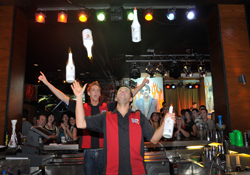 Rock & Rita's Las Vegas Teams Up With World's Top Flair Bartenders To Host "Flair For The Cure" – Rock & Rita's, the "Great American Party" spot at Circus Circus, and 12 of the highest ranked flair bartenders in the world have joined forces with the American Cancer Society's Young Professionals Against Cancer to "Flair for the Cure." On Wednesday, August 18, following the highly-anticipated NATIONS international flair bartending competition, the world's top flair bartenders will auction off their skills to raise money for cancer.
Liberace Museum Las Vegas Offering Discounted Admission Through Labor Day Plus Special Events – The Liberace Museum houses his collections of rare and antique pianos, classic cars, famous sequined and bejeweled costume wardrobes, glittering stage jewelry, rare antiques and other treasures and memorabilia. The Cabaret Showroom at the Liberace Museum serves as a showcase for Liberace's famous nine-foot mirrored Baldwin grand piano, where several famous Strip performers entertain intimate audiences.
Bellagio Las Vegas Gallery Of Fine Art Offering Docent Tours – Docent tours at Bellagio Gallery of Fine Art (BGFA) now are offered daily, on a first-come, first-serve basis. Limited to the first 25 attendees, each tour begins promptly at 2 p.m. and lasts approximately 45 minutes. General docent tours are complimentary with the purchase of any BGFA admission.
Drew Lachey To Host "The Price Is Right – Live" Stage Show At Bally's Las Vegas – "The Price is Right – Live" Stage Show at Bally's Las Vegas welcomes special celebrity host Drew Lachey for an exclusive limited run, Aug. 10-21, 2010. The show, from FremantleMedia, the producers of "American Idol" and "The Price Is Right" TV shows, features such fan-favorite games as "Plinko," "Cliff Hangers," "The Big Wheel," and of course, "The Showcase." Drew Lachey will enlist audience members play for their chance to win thousands of dollars in cash and prizes.
Taste Of New Orleans At The Country Club Wynn Las Vegas – Wynn Las Vegas: Carlos Guia, celebrated chef of The Country Club, is now running a Taste of New Orleans menu. On Wednesday thru Saturday evenings, guests can opt for a three-course ($48 per person, from 5:30-7pm) or six-course ($95 per person, avail. throughout) prix fixe menu that pay homage to the Big Easy. Individual dishes from the prix fixe menus are available a la carte.
---
Featured Tour û Enjoy Las Vegas!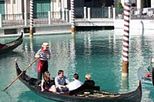 Romance Package at The Venetian Hotel û Add some romance at the beautiful Venetian Hotel during your Las Vegas vacation. Propose to George Clooney at Madame Tussaud's, glide down the Grand Canal, and dine at Zeffirino's or Tintoretto's. Do it all in a day or spread out over the duration of your trip, the choice is yours!
---
Members Mania – We Love Our Readers!
We enjoy being responsive to our readers. Click on each post to view questions/comments and our tips and answers. Keep yourself informed on Las Vegas!

Just got back from VEGAS we had a great time as we always do. Stayed at the ARIA this trip. Ultra modern hi-tech nice rooms. Just set back to far off the main drag. We got to see VIVA ELVIS which was great. Also had a chance to eat áat Beso. If you like beef short ribs they make the best. Everyone keeps telling I need go other places. But the bottom line is there is no bettor place in the world than VEGAS.
Butch Vasco
These previous Members Mania post have had comments added to them:
---
We love to hear from you, and value your feedback! Here's how to participate:
Drop us an email at allvegastv@aol.com – We read them all!
Call our recorded comment line at 702-507-0055. We listen to every call.
---
More Las Vegas News – Concerts – Events
---
Coming Hot Holidays
– The following dates are huge times to be in Las Vegas, and rooms are in high demand. Booking in advance is the best way to save. Visit our friends at
Las Vegas Hotel Deals
and spend one of the following hot dates having fun in Las Vegas:
Labor Day, U.S September 4-6 (3 day weekend)
Labour Day, Canada September 4-6 (3 day weekend)
Jewish New Year September 9
Halloween October 31
Veteran's Day November 11
Thanksgiving Day, U.S November 25-28 (4 day weekend)
Hanukkah Dec. 2 – Dec. 9
Christmas December 25
New Year's Eve-Day December 31 – January 2 (3 day weekend)
Martin Luther King, Jr., Day, U.S (Observed) January 15-17 (3 day weekend)
Chinese/Lunar New Year February 3
Super Bowl Sunday February 6
Lincoln's Birthday, U.S February 12
Valentine's Day February 14
President's Day, U.S (Observed) February 19-21 (3 day weekend)
Washington's Birthday, U.S February 22
Mardi Gras March 8
St. Patrick's Day March 17
Easter Sunday April 24
Cinco de Mayo May 5
Mother's Day May 8
Memorial Day, U.S May 28-30 (3 day weekend)
Father's Day June 19
Independence Day July 4
Civic Holiday, Canada July 30-August 1 (3 day weekend)
Link To Us! – Have a home page, web page, or blog? Link to us, and give yourself and your friends a quick link to find us from your site. Simply link to http://www.accessvegas.com and name the link Access Vegas!
RSS Feed – We now have an RSS/XML feed! Most RSS programs let you visit AccessVegas.com and automatically pull the feed. For those who want to enter it manually, the feed is:
http://www.accessvegas.com/xml/whats-hot.xml
No related links found