Serving Las Vegas Visitors and Residents Since 1999
---
AccessVegas.com Quick Info Menu:
Las Vegas Essentials

Seasonal Vegas Information

Featured Shows

Photos and Wallpaper
Newkirk's Notes – comments on Las Vegas from AccessVegas.Com publisher Ted Newkirk:
Hello From Las Vegas! I think we can call this our "Everything but the kitchen sink" issue. New hotel news, a show anniversary, a crazy burger (check out the photo), shopping, UFC, and a 100 calorie margarita at Rhumbar (you'll want to click through to the story on that one and get the recipe if your next visit isn't soon). Oh, and are you ready for some (American) football? I sure am!
Liberace Museum Discount Admissions – Through Labor Day, the Liberace Museum is offering discounted admission prices of $10 for adults and $8 for seniors 65 and older and students with a valid school ID. Children age 12 and under are admitted free of charge when accompanied by an adult. Admission includes an optional complimentary one-hour guided tour 11 a.m. or 2 p.m. Monday – Saturday and 1 p.m. Sunday. Location: Liberace Plaza, 1775 E. Tropicana Ave., Las Vegas, NV 89119. Phone: 702.798.5595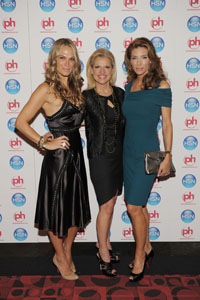 Home Shopping Network Vegas Anniversary Bash – If you are a regular reader, we told you that this event was coming up a few weeks ago. Turned out to be a big success. If you were able to catch any of the live broadcasts here in town, hope you had a great time: Photo: HSN celebrities Molly Sims and Jennifer Flavin-Stallone joined HSN CEO Mindy Grossman in Las Vegas for the shopping networks 33rd birthday. With live appearances by a host of celebrities including Sims, Flavin-Stallone, Tori Spelling, Wolfgang Puck, Susan Lucci and many others, the weekend consists of live broadcasts and demonstrations, interactive exhibit and meet & greets. Photo Credit: Denise Truscello
Gaming and Giveaways – Next week (knock on wood), we'll start the giveaway for Victor H. Royer's new book Casino Slots – How to Play, Have Fun, And WIN! (You can click the link to check it out at Amazon). We get lots of complaints about how bad some of the newer slots are when it comes to taking your money. And with no surprise: When you look at these things, you can't even figure them out!á A bunch of lines going 36 ways, playing everything from pennies to hundreds of pennies (dollars). How's this all worK? What are the game secrets you need to know? Victor answers all of that.
Victor was also interviewed by our friend Alan Mendelson (TV personality in Los Angeles who is also a reader and Vegas fanatic) and we'll have that video next week along with details on what Alan is up to. Hang tight!
Enjoy This Issue!

Associate Editor: Amy Rayner-Cooley
News Researcher/Editor: Mark Jacobs
---
---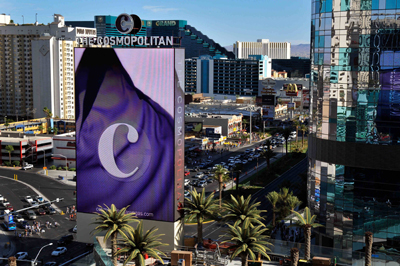 The Cosmopolitan Of Las Vegas Lights Up Las Vegas Blvd With New Marquee, December 15, 2010 Opening – The Cosmopolitan of Las Vegas pairs stylish design with an adventurous and welcoming spirit û delivering a decidedly different kind of Las Vegas experience. The new 2,995-room resort will feature oversized residential style living space with expansive one-of-a-kind private terraces and spectacular designs.
Paradiso Replaces Marshall Rousso At MGM Grand – Now open at MGM Grand, Paradiso offers a full line of fashionable casual and evening attire for women from brands such as True Religion, Ed Hardy, BCBG and Juicy Couture. The boutique also features handbags, accessories and footwear from renowned labels including L.A.M.B., Beverly Feldman and Damiani, among others. Formerly the site of Marshall Rousso, Paradiso is located in Studio Walk.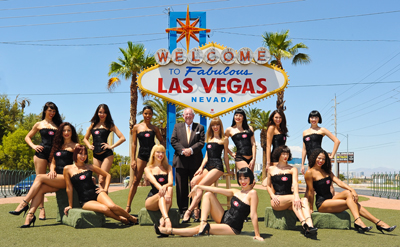 MGM Grand's Crazy Horse Paris dancers, who recently offered guests a chance to win a trip to Paris (we'd noted this in a previous issue) with the Passport to France promotion, posed with iconic Mayor Oscar B. Goodman in front of the legendary "Welcome to Fabulous Las Vegas" sign. Photo courtesy of Emma Cohan Photography.
The Mirage Las Vegas Featured In Upcoming Episode Of ABC's Bachelor Pad – The Mirage Hotel & Casino will host a special date in the third episode of Bachelor Pad, ABC's hot new summer series. The episode will cover a unique group date with an intimate pool party at Bare pool lounge and a gourmet dinner in one of The Mirage's luxurious Villas. Bachelor Pad airs Monday at 8/7 Central on ABC. For more information on Bachelor Pad visit http://abc.go.com/shows/bachelorpad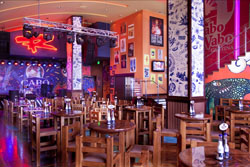 Cabo Wabo Las Vegas Cantina Hosts UFC's Edgar Vs. Penn Viewing Party Saturday, August 28 – The excitement of the UFC 118: Edgar vs. Penn 2 fight is about to sweep Las Vegas and the hottest viewing party is at Cabo Wabo Cantina at Miracle Mile Shops inside Planet Hollywood Resort & Casino. The re-match of the year will broadcast live on 10 high-definition big screen televisions Saturday, August 28, starting at 7 p.m.
Crystals At CityCenter In Las Vegas Debuts New Luxury Brands, Expands Unparalleled Shopping Experience – By year's end, Crystals retail & entertainment district will add 12 new brands to its exceptional collection of retailers and dining concepts, including flagship stores for Prada and GUCCI; as well as boutiques for Yves Saint Laurent, Balenciaga, Stella McCartney, Donna Karan, Emilio Pucci and Harry Winston. They join recent additions Ermenegildo Zegna, Christian Dior, Brunello Cucinelli and Social House at Crystals, the core of the extraordinary urban resort destination CityCenter.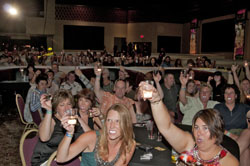 Bite 6th Anniversary Show – Guests of the Stratosphere's BITE 6th Anniversary show on Friday 13th bare their fangs with a celebratory champagne toast. – The sexually charged BITE« takes its audience on the Lord Vampire's quest for the perfect female specimen, who he plans to seduce and crown his Queen of the Night. Aiding the Lord is his coven of sultry and nimble dancers, the Erotic Angels of Rock. Taboo temptations meet classic rock 'n' roll in this aggressive and seductive world of vampires.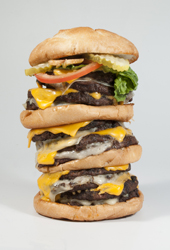 Emily's Cafe At Club Fortune Las Vegas Begins The Colossus Burger Challenge – WHO: Guests of Emily's Cafe who are up to the challenge! WHAT: Guests up to the challenge are invited to step up to the plate for The Colossus Burger Challenge. The gigantic burger, complete with 12 patties, is available for $19.99 between 11 a.m. and 10 p.m. Any guest that solely finishes the burger in 20 minutes or less will receive the meal and a t-shirt for free, have their photo placed on the Cafe's wall and be announced a Colossus Burger Challenge Winner! Guests that finish the burger after the allotted 20 minutes will still receive a t-shirt.
Month-Long October FrightFest at Fremont Street Experience – Fremont Street Experience presents OctoberFrightFest, which for the first time will span the entire month of October. This second annual event, featuring free live Halloween themed shows nightly kicks-off September 29 and runs through October 31.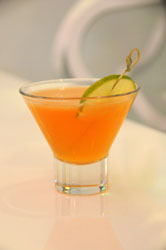 Rhumbar Las Vegas Introduces Its 100-Calorie "Skinny" Margarita (With Recipe) – The newest drink to hit the menu at Havanatone, RHUMBAR's sizzling Latin night, also comes without any guilt. The new "Muchachita" is a skinny, 100-calorie margarita, featuring a delicious blend of pomegranate and Aloe Vera. Now guests can samba and shake while they sip this low calorie libation on Wednesday nights. Concocted by award-winning mixologist Kristen Schaefer, the "Muchachita" blends the fresh taste of Aloe Vera with fruity flavors of pomegranate and lime. Milagro Silver tequila completes this delicious and healthy cocktail.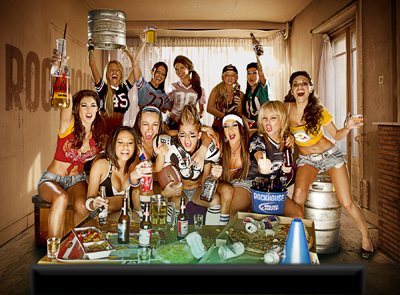 "Girls Love Football" College Season Kickoff Party, Specials At Rockhouse Las Vegas – Rockhouse Bar & Nightclub knows "Girls Love Football" just as much as their macho counterparts, so this season Vegas' only ultra-dive bar invites pigskin fanatics one and all to the greatest football parties on the Strip. Starting with college ball Thursday, September 2, Rockhouse invites guys to bring their girlfriends, and ladies not to bring their men, for a rowdy good time at Rockhouse's "Girls Love Football" college kickoff party.
---
Featured Tour û Enjoy Las Vegas!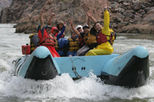 Grand Canyon Rafting Trip from Las Vegas û Raft down the mighty Colorado River along the Grand Canyon's sheer cliffs on this adventure. You will enjoy a 5.5-hour white-water rafting adventure with your native Hualapai guide who will guide you through class 3 to class 6 rapids on your 40-mile (64km) journey through the Grand Canyon. Your native Hualapai guide will guide you through class 3 to class 6 rapids on your 40-mile (64km) journey through the Grand Canyon.
---
Members Mania – We Love Our Readers!
Because of work on the back-end (boring part) of this job, I've have not posted to Ask.AccessVegas.com for about 10 days. But we'll put a couple letters here in the newsletter and highlight some past posts that have new comments!

---
I continue to enjoy your newsletter, and we will be returning to Las Vegas again next month. Recently, I heard someone refer to "Old Las Vegas" and "Downtown Las Vegas". As I had never heard of "Old Las Vegas", I just assumed the terms were synonymous and that reference was actually to the Fremont Street area. Am I correct or is there a difference between "Old Las Vegas" and "Downtown Las Vegas"? If these are two separate locations, what area constitutes Old Las Vegas and what is considered Downtown Las Vegas?
Keep those newsletters coming. Very informative.
Thanks,
Edith
Ted Responds:
For visitor purposes, Fremont Street downtown is "old" Las Vegas. If you live here, it can refer to the neighborhoods on the east side of town between The Strip and downtown. Some of those areas (built in the '50's, which is old for Las Vegas) are quite nice and continue to be "best kept secrets" for someone wanting to live close to everything.

---
I have been traveling alone to Vegas for the last 5 years since I retired. My husband doesn't like to gamble and my friends are still working so cannot take time during the week to visit. I usually stay at a Harrah's property since they are located center strip and I can walk the strip. I have never felt uncomfortable. I usually request a room nearer the elevator so am not walking down a long hallway.
Kathy
---
I've been a faithful reader of your newsletter for many years & find it the most helpful of any publication re: Vegas out there. I just read your question re: females traveling alone to Las Vegas & tried to post a comment but was unable to.
Editor's Note: Each post only allows comments for a certain period of time. This keeps spammers from finding really old posts and just starting to post their nonsense to them. Hence, we are running these comments here.
I am writing you to say that not only did I travel to Las Vegas this past May alone for 6 nights because my friend couldn't come & I love Vegas too much to give up my annual visit. I am an official "senior citizen" now & flew from New York to Vegas & stayed 2 nights @Flamingo & 4 nights @ Harrah's. I usually stick to the Harrah's properties because I am a Diamond Card Holder forá7 years.
I loved every day of my adventure; took in 5 shows, went to pool daily, walked & explored & ventured out to other properties such as the new Aria & also dined @Bellagio & Venetian – I will do it again next year if no one wants to go – I was never afraid or concerned for my safety as I didn't wander off into unknown streets – I never felt "pathetic" nor should anyone else.
Keep up the great newsletters & info – thanks for reading my comment.
Gerry from Long Island, New York
---
These previous Members Mania post have had comments added to them:
---
We love to hear from you, and value your feedback! Here's how to participate:
---
More Las Vegas News – Concerts – Events