Serving Las Vegas Visitors and Residents Since 1999
Welcome to the Insider Vibe! This is the official newsletter of AccessVegas.Com. We talk about the Las Vegas activities you really care about.
Share the info: Click to Email this newsletter to a friend! Missed an issue? Click to Read Back Issues Online.
---
AccessVegas.com Quick Info Menu:
| | |
| --- | --- |
| Las Vegas Essentials | Featured Shows |
---
Newkirk's Notes – comments on Las Vegas from AccessVegas.Com publisher Ted Newkirk:
Hello From Las Vegas! – A big milestone for me as April 3 marked my 19'th year here in Las Vegas. I always like to say "Time flies when you don't know what you are doing!" Having The Strip in my back yard is still pretty cool after all these years and I can't imagine ever tiring of it. May will also mark another milestone with the 13'th anniversary of this newsletter and this summer will bring the AccessVegas.com 5.0 design upgrade. We still have in-use code dating back to the 90's!
With March Madnesss and Spring Break finally in the rear view mirror, things are seemingly returning to normal for Las Vegas. (If you can call Las Vegas normal)! Couple of breaking notes as we're getting ready to send, both of which we'll have plenty of coverage down the road:
Zip Lines On The Strip

– Luxor and Excalibur have been floating around for a while the concept a series of three zip lines running between the two properties, including one from the top of the Luxor pyramid to the corner of Las Vegas Blvd. and Tropicana (the street, not the hotel). Lots of permitting and planning left to do, so don't make your plans to ride itáyet. But they are moving forward with government reviews.

Sahara Moves Toward Securing Funding

– The owner has gotten a reasonably decent grade regarding the probable success of a loan he needs to redo the property. As of now, plans are still being touted to refurbish The Sahara (to be renamed SLS Las Vegas) into an upscale hotel priced a tier below the Wynn/Encore, Venetian/Palazzo and Aria/Bellagio's of The Strip.

Talks are of an 2014 opening. Given that the remodeling seemingly can't take more than a year (if that), I repeat my previous conjecture that they are taking a wait-and-see attitude both in terms of the economy and whatever other development may be resurrected on the North Strip. At this point, I do not see a hotel of the caliber they are aiming for having success in that location period.
Best Of Las Vegas – The Review-Journal arguably runs the most well-known "Best Of" balloting each year. You have to take it with a grain of salt because in previous years, only a few thousand people voted and this year they declined to print how many people participated. I mean, Outback Steakhouse won best steakhouse in a city brimming with some of the finest steak options in the world (even off The Strip). Still, some picks were worth noting:
We're actually going to do our own Best Of starting this summer, so that you guys can have a say. I've wanted to do one for a long time, but most polls get few voters because voting is tedious. Our voting process will be easy and fun and very unique. (Can't spill the beans… I've never seen a readers poll with this kind of process before). Can't wait to unveil it!
The World Is Not Enough – Venetian/Palazzo owner Sheldon Adelson has already successfully branched out to Macau and Singapore. Generally we don't bother with global gaming expansion. But, we have a significant European readership and Mr. Adleson's latest proposal is headed your way.
He wants to drop $22 billion (2.5 times what CityCenter cost) on a complex with six casinos, twelve hotels, bars/restaurants, shopping, golf… kinda like Las Vegas. He wants to do it in recession-plagued Spain citing their high international visitation rate and nice weather. (Recession, international visitation, nice weather… kind of reminds me of Las Vegas).
The deal is far from done. Adelson wants significant freedom regarding construction and architecture in a very image conscious country. He also wants Spain's stringent anti-smoking laws altered to allow smoking in the casinos. If the project moves forward, it will be built in phases over the course of a decade. Any thoughts from our European readers? Drop us a line at AccessVegas@AccessVegas.com. Speaking of…
Venetian Construction – The sidewalk in front of The Venetian is all torn up, as is part of the facade in that area. We were wondering if this was any indication of a possible re-start to the stalled tower they were building. The most answer we could get was that they are reconstructing the casino entrance in that area and they will let us know more if and when future projects are pursued.
So, we're highly unlikely to see the revival of any major construction on The Strip this year. Having said that, consider this "catch-up" time. I mean, have you really seen and done just about everything there is to do in Las Vegas? Last I counted, The Strip has 25 hotel/casino properties (I didn't count non-casino properties, shopping, or attractions). I've been to them all, but have you? There is always something new to see and do no matter how many times you visit!
Cleaning Up The Strip – Longtime readers know that one of my pet peeves has been that it seems like neither local politicians nor upper hotel management seem to spend any real time on The Strip (especially later in the evening when the party peaks) because year-after-year, many common visitor complaints have been neglected. Controversial* County Commissioner (remember, the Las Vegas Strip is not inside the Las Vegas city limits, so the county has jurisdiction) Steve Sisolak finally stepped up to the plate last year and spearheaded assembling a group to look into all of this and finally do something about it.
* Sisolak has been in the news of recent regarding a tangled mess revolving around a former flame and previously, he was the guy who was behind stopping the "strippermobile" that used to run up and down The Strip. (Do a YouTube search for it).
Among the suggestions: Empty garbage cans more often (DUH), power-wash the sidewalk numerous times per week (DUH), prohibit loitering on the pedestrian bridges (to eliminate the panhandlers who sit on them all day long), crack down the vendors and performers (who are generally doing business without the proper permits), and more police (not sure that will change anything as the police presence is already very noticable). The one thing no one can figure out how to tackle? The porn(card)slappers (which is the #1 complaint visitors have) The ACLU is adament about defending this "free speach". (Whether you want to hand out escort leaflets or Bibles, you have the right to do so on public property).
In an odd way, these suggestions will bring The Strip up to the level of downtown! If you've ever been on Fremont Street in the wee hours of the morning, you'd see them using machines to clean the entire mall surface. I can't ever remember seeing an overflowing garbage can downtown either. Speaking of downtown…
Downtown Real Life Monopoly – Zappos.com CEO Tony Hseih's "Downtown Project" group recently bought the shuttered 7-11 building at the corner of Fremont and Las Vegas Blvd. (The Strip as it extends to downtown) for around $4 million. Then they turned around and plunked down more than $5 million for the Motel 6 on East Fremont (just a block up from the El Cortez). What on earth does he want with a Motel 6? He doesn't. He's tearing the damn thing down! What kind of hotel/casino is he planning on putting there? He isn't.
None of his major investments in downtown Las Vegas (which are getting to be significant) have anything to do with gambling. He's moving his company downtown and wants to create a much more affordable miniture version of Silicon Valley where tech start-ups can thrive. Among the ideas he's tossing around for the property are affordable housing units, something he's pretty passionatly talked about in light of the company moving to downtown. I'm very interested in seeing how a "tech incubator" downtown meshes with the Fremont Street Experience that most of us know. We'll keep you posted!
Les Clefs dÆOr – One of the things we're really happy and exited about is the expanding presence of Les Clefs dÆOr concierge members here in Las Vegas. Worldwide travelers know that members of this elite group are the gold standard of concierges (and interestingly enough, members wear a set of crossed gold keys on their lapel). Over the years, we've received complaints that Las Vegas "concierge" desks were often glorified ticket counters. Les Clefs dÆOr members are bringing a much higher level of professionalism to local concierge services, and it is a long time overdue. For more information, visit www.lcdusa.org
Enjoy This Issue!

Associate Editor / News Researcher: Rick Ziegler
Concerts and Headliners: Amy Rayner-Cooley
---
---
Peepshow Joins The Fight Against Aids With Third Annual Las Vegas Broadway Bares: BARE-lesque On April 15 – PEEPSHOW, Las VegasÆ mega-hit striptease spectacular is pleased to announce the Third Annual Las Vegas Broadway Bares: Barelesque on Sunday, April 15, 2012 at 11:59 p.m., which will be held on the PEEPSHOW stage at Planet Hollywood Resort & Casino. Hosted by ABSINTHEÆs dynamic duo The Gazillionaire and his assistant Penny Pibbets, the show will feature the sexiest entertainers from across the Las Vegas Strip, with a special performance by PEEPSHOWÆs Josh Strickland.
Vegas UncorkÆd By Bon AppÚtit Sets Guinness World Record For Most Wine Bottles Uncorked Simultaneously – Alain Ducasse, Bobby Flay And Nobu Matsuhisa Added To May Event – Chefs, sommeliers, mixologists and others from Bellagio, Caesars Palace, The Cosmopolitan of Las Vegas, and Mandalay Bay set a new Guinness World Record by uncorking 308 bottles of Louis Martini Cabernet Sauvignon simultaneously. Amidst flying corks and free flowing wine, the crowd shattered the previous record of 252 in celebration of Vegas UncorkÆd by Bon AppÚtit. "Today weÆre making history with some of the worldÆs best chefs, sommeliers and mixologists," said Adam Rapoport, Bon AppÚtitÆs Editor-in-Chief. "Setting this Guinness World Record is just the beginning of all the great programming and truly memorable moments youÆll see at Vegas UncorkÆd by Bon Appetit in May."
X Burlesque Celebrates 10 Years As Las VegasÆ Hottest Topless Revue, Adds New Dance Numbers To Celebrate A Decade On The Las Vegas Strip – The most provocative show on the Las Vegas Strip, X Burlesque, celebrates 10 years as the cityÆs hottest topless revue with the addition of sexy new dance numbers. X Burlesque will celebrate a decade in Las Vegas on Thursday, April 19 at Flamingo Las Vegas. "WeÆre thrilled and excited to be celebrating X BurlesqueÆs 10th anniversary on the Las Vegas Strip," said X Burlesque Creator and Producer, Angela Stabile. "Flamingo Las Vegas has been an unbelievable partner and weÆre looking forward to another ten years as Las VegasÆ sexiest revue."
Caesars Palace Concierge Jasmin Vitale Honored With Prestigious Les Clefs dÆOr Achievement – Caesars Palace concierge supervisor Jasmin "Jas" Vitale has received the prestigious honor of a Les Clefs dÆOr (pronounced "lay clay door"), which is French for "the keys of gold," by the prestigious namesake concierge organization. Displayed on a conciergeÆs uniform lapels, the crossed gold key symbol assures travelers they are dealing with a seasoned professional who is dedicated to serving their every need.
Las VegasÆ Hottest Chefs Cook To Fight Childhood Hunger In Las Vegas And Across America With $100 Dining Event – With a passion to fight childhood hunger, Las VegasÆ hottest chefs, restaurants, and mixologists will gather for Share Our StrengthÆs Taste of the Nation«, the cityÆs premier culinary benefit. Taste of the Nation Las Vegas will raise critical funds needed to support Share Our StrengthÆs efforts to end childhood hunger in the Las Vegas valley and across the nation. This yearÆs event will be Thursday, May 17 at Rain Nightclub at the Palms Casino Resort from 7:00 pm to 9:30 pm, with a VIP reception beginning at 6:00 pm.
---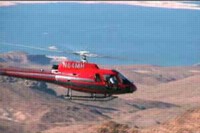 Maverick Canyon Dream Air and Land Tour û A 40-minute flight to the Grand Canyon South Rim aboard a Beechcraft 1900D aircraft starts your ultimate adventure. Upon landing, your excursion will begin with a seat on our state-of-the-art ECO-Star helicopter for an amazing 25-minute breathtaking helicopter experience over the Grand Canyon.
---
O by Cirque du Soleil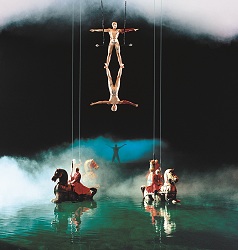 Included on many peopleÆs "If you only see one show in Vegas see this one" list, "O" delivers as a classic Cirque production where theater, circus and surrealism combine on a lavish scale with breath-taking results. The title "O" derives from the French word "eau" (pronounced "oh"), meaning "water", the showÆs central theme — from tiny droplets to torrential downpours. A 1.5 million gallon pool forms the centerpiece of this production, entertaining audiences in and of itself through an amazing series of technological transformations: from deep pool to shallow water to dry stage and back to pool again, playing host to one incredible act after another.
---
We love to hear from you, and value your feedback! Here's how to participate:
Want to comment on a current reader post? Use the comment box on that particular web page. Many of the stories we post also have comment boxes at the end of the story. Make your voice heard!
Drop us an email at AccessVegas@AccessVegas.com – We read them all!
Call our recorded comment line at 702-507-0055. We listen to every call.
---
More Las Vegas News – Shows – Events
No related links found