Serving Las Vegas Visitors and Residents Since 1999
Welcome to the Insider Vibe! This is the official newsletter of AccessVegas.Com. We talk about the Las Vegas activities you really care about.
---
AccessVegas.com Quick Info Menu:
Las Vegas Essentials

Seasonal Vegas Information

Featured Shows
Newkirk's Notes – comments on Las Vegas from AccessVegas.Com publisher Ted Newkirk:
Hello From Las Vegas! Wow, the weather has been flawless. Day after day after day of highs in the 80's and lows around 60. Can you say 'dining alfresco'? That's what I'm doing just about every evening.
If you are wondering why you aren't getting this at your regular time of the week, we got hit with a huge Denial of Service attack that shut us down just days ago. In layman's terms, somebody takes control of computers infected with malware and commands all those computers to visit our site constantly. So many requests at once that the server can't handle it, effectively shutting the site down. (50,000-plus computers trying to visit our site at one time… we just are not equipped to handle that load).
Why? Damned if I know. We are not a big, corporate entity (the type of which usually get hit with these things). The biggest Vegas site out there gets 10 times the traffic we do. Maybe they mistook us for them. Or mistook us for the official Visitors Authority site (we're not them either). We're just an indie site. We're still clueless as to why they hit us. If anything in the newsletter is dated because of the delay, we apologize and thank you for your understanding.
Price Of Gas, Airfare (What's With All The Deals)? – I'm bracing for all the "we want to come to Vegas, but the price of airfare is too expensive" emails. On the flip side, I'm getting "wow… great rates for summer, what is going on" emails. One in the same, let me explain: Las Vegas hotels need warm bodies in the property. Even if they break even on the room, they'll make money from your gaming, eating, and similar. If the price of airfare goes up, room rates go DOWN to compensate and still allow you to keep in your vacation budget.
Instead of freaking out about how much airfare is going up, go over and visit our friends at Las Vegas Hotel Deals and see how cheap rooms are here this summer. We're still one of the most cost-effective travel destinations around!
I'd also suggest that if you have always been thinking of splurging on a hotel much nicer than the one you usually stay at on your trip here, I'd do so on your next visit. This fall, gas prices and airfare is most likely fall and the economy will be stable. This will result in more demand for Vegas and higher room rates. The "sale" rates (far below what comparable hotels in other cities would cost) which have been the norm for Las Vegas will very likely be coming to an end in 2012.
$10.6 Million Jackpot – Megabucks is rumored to always hit at a new casino shortly after opening. People flock to the Megabucks machines at new properties. Well, Aria's jackpots arrived… just in slow motion. This past January (after the property had been open a year), someone hit for $12.7 million. Now some 16 months after Aria opened, a player (who chooses to remain anonymous and shield himself from hearing from cousins he never had) just popped Megabucks for $10.6 million. You can sit in your yard and complain about Las Vegas airfare prices, but you aren't going to win $10 million staring at your back lawn.
And You Thought I Was Full Of It… – Less than a month ago in this very column, I noted that over the course of the next 2-3 months, you'd hear lots of good news coming out of Las Vegas. I knew because we get out and about and see what is going on with our own two eyes (as opposed to some out-of-state journalists who take some foreclosure statistics and spin it into a "Vegas Is Dead" story). I could see things were looking up.
I've been very upset and defiant over the past few years regarding these negative stories. As you can figure out, I comb through hundreds and hundreds of news stories and blog posts every month so you don't have to. Many "Vegas Is Dying" stories had reader comments online and I just couldn't believe how many haters piled on. I didn't even realize that there are people out there who just dislike my city with an enraged passion. Who were posting negative comments about Las Vegas, hoping it died, turned into the next Detroit (their words), withered up and blew away back into desert, you name it. Unbelievable!
He who laughs last, laughs best. And I'm laughing my behind off. To wit:
McCarran continues slow upward climb – The passenger count at McCarran International Airport continued its slow rebound with a 2.2 percent gain in March.

Marriott hotel planned near Las Vegas Convention Center

– A plan buried in the Nevada recession has resurfaced. Marriott International plans to build a large hotel across the street from the Las Vegas Convention Center but has not laid out a timeline.

Lucky's poised to take over Riviera's race and sports book

– Independent sports book operator Lucky's will take over the Riviera's race and sports book… plan to develop a new race and sports book location on the casino floor near the Strip entrance. My Note: The Riviera continues to slowly but surely make improvements. So much for the "North Strip is dead" mantra.

Analyst optimistic despite dismal rankings for Nevada

– The right-hand sides of the charts are up. Whether it's visitor volume, gaming revenue, airport passengers, taxable sales, home sales, convention attendance or any number of other key economic indicators, the charts show improvement in recent months.

Lake Las Vegas bouncing back

– The reopening of Casino MonteLago will be the second reopening of a Lake Las Vegas property this year. In February, Dolce Hotels and Resorts reopened the former Ritz-Carlton as Ravella at Las Vegas. The 340-room nongaming hotel had been closed for 10 months.
Tivoli Village weathers recession, embraces west side – Las Vegas' lone major development project off the Strip to continue during the recession is on track to open April 28 with a majority of its office and retail space leased.
Questions, Questions, Questions About Las Vegas Real Estate – Long-time readers know that I really keep up on the real estate market here. I get quite a few real-estate related questions from readers. My parents were real estate investors and it is in my blood. On top of that, I'm getting closer to jumping back into home ownership myself after spending the past few years renting and checking out what it is to live in a couple different areas of town.
My experience: The South Strip (outlet mall to South Point) actually has quite a bit going for it. Nice variety of homes and condos in just about every price range. Easy freeway access and relatively close to the airport. But… too far away from the action for someone in my line of work. Near Strip (where I'm renting now): Some great, little retro pockets of quiet neighborhoods and low crime almost literally in the shadow of The Strip — probably where I'm going to buy — but you have to know where these pockets are.
If you are even thinking about buying here (as a local or from out-of-state), there is so much you need to know. Even me with all my knowledge found out I have some severe gaps in navigating the current real estate market. The solution? Bridge Magnus' Getting REAL Estate online show, broadcast every Friday live 1 PM Pacific time and then archived online. Go back to the very first show (click on link, bottom of that page) and start working your way through from show #1 to get up-to-speed.
Also, keep up on her most recent shows through one of the following ways:
The first few minutes of each show detail some current real estate numbers, but then she gets into the incredibly valuable segments that will help you immeasurably. You'll also get contact info on each episode so you can email in your questions!
You Still Have Time To RSVP! – If you missed our last issue or simply were not sure how your schedule was penciling out, our April 28 event at Nikki Beach is shaping up quit nicely. If you're worried about being the only one there, don't be: Looks like we're going to have upwards of 100 people attending! If what I'm blabbering about is news to you (or you need to refresh yourself on the info and find the RSPV instructions), simply go back and read our archived AccessVegas.com Insider Vibe April 13, 2011
I'll be there as well as the show hosts of all your favorite Vegas Video Network shows. Don't worry, we'll make ourselves easy to find and we're all looking forward to saying hello. You'll find out that every single one of us has the same "love affair" with this great city as you do!
Enjoy This Issue!

Associate Editor: Amy Rayner-Cooley
News Researcher/Editor: Rick Ziegler
---
Historic California Hotel And Casino To Celebrate May Day With 14th Annual Lei Day Polynesian Festival û April 30 and May 1 – The California Hotel and Casino hosts the 14th Annual Lei Day Polynesian Festival on Saturday, April 30 and Sunday, May 1 from 9 a.m. to 6 p.m. both days. The annual Polynesian festival brings together musicians, dancers, artists, craftsmen and food and beverage vendors to showcase the very best of Hawaii. Entry to the two-day event is FREE.
Strip House Celebrates National Prime Rib Day With Exclusive Prime Rib Dinner On April 27 – Strip House at Planet Hollywood Resort & Casino celebrates National Prime Rib Day with a one-night-only Prime Rib Dinner on Wednesday, April 27. Available for $52 per person, Strip House's prime rib is slow roasted, crusted with mustard and rosemary over dry heat until tender and finished to order. The standing prime rib roast is a delectable, special occasion meal ideal for family gatherings and celebrations. Yorkshire pudding baked using hot prime rib drippings is served as the perfect accompaniment to the special one-night-only dinner.
Barry Manilow Celebrates One Year Anniversary At Paris Las Vegas – Music legend Barry Manilow celebrated the one year anniversary of his wildly successful show at Paris Las Vegas this past weekend. To commemorate the special milestone, Paris Las Vegas Regional Vice President and General Manager David Hoenemeyer, along with AEG Live Las Vegas Vice President John Nelson, presented Manilow and his cast and crew with a special anniversary cake and a champagne toast. "This past year has been truly magical and we have had a great time performing our new show in the Paris Theatre," said Manilow. "We are looking forward to another amazing year at Paris Las Vegas."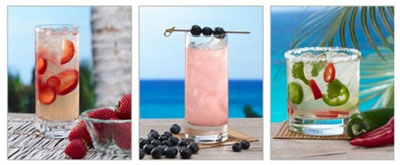 Sip Back, Relax And Taste Paradise – Tommy Bahama's Spring Cocktails Have Arrived – Tommy Bahama, the iconic island lifestyle brand offers you a little taste of paradise with three new seasonal cocktails for spring. These refreshing tonics take cues from Spring Farmer's Markets utilizing the freshest produce available from March through May. You can imbibe in these creative cocktails at Tommy Bahama's at Town Square or with a few simple and easy to find ingredients, create for yourself and friends. Click to read entire post for drink recipes.
Seven Additional Award-Winning Chefs Join Lineup Of 'Toques Off To Paul Bocuse' At MGM Grand May 7 – Eleven Elite Chefs Will Gather During Vegas Uncork'd By Bon Appetit To Present Dinner Of A Lifetime – Vegas Uncork'd by Bon Appetit today released new details regarding "Toques Off to Paul Bocuse," the lavish, multi-course dinner to be held Saturday, May 7, at MGM Grand. Joining previously announced chefs, Alain Ducasse, Hubert Keller, JoÙl Robuchon and Julian Serrano, will be Jean-Philippe Maury, Michael Mina, Bradley Ogden, Roland Passot, AndrÚ Renard, Jacques Torres and J. Joho, all of whom will prepare delectable courses for this unforgettable evening. Collectively, this group represents the brightest constellation of award-winning chefs gathered to prepare a formal meal.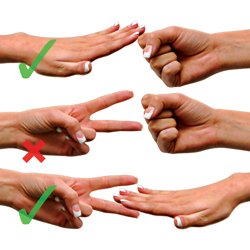 Rock, Paper, Scissor Mondays Take Over Rockhouse Las Vegas – Rock crushes scissors, scissors cut paper and paper covers rock. Easy enough to remember as Rock, Paper, Scissor Mondays kick off at Rockhouse on Monday, April 11. Rockhouse is starting its newest Monday night event, Rock, Paper, Scissor Mondays starting at 6 p.m. Every Monday revelers can test their RPS skills against the gorgeous Rockhouse bartenders for a chance to receive 50 percent off their round for beating the bartender in a best two out of three competition. Additionally, Rockhouse will also hold a RPS tournament on Mondays. Partygoers can buy into the weekly tournament for $5 and winner takes all at Vegas' only ultra-dive bar.
Awaken Your Skin And Body With Special Spring Services At Canyon Ranch SpaClub Las Vegas – This spring, Canyon Ranch SpaClub at The Venetian | at The Palazzo is reviving dull, wintery skin for its guests with special spring services for the skin and body. In addition to individual treatments, packages of multiple treatments include an allowance to Canyon Ranch SpaClub restaurants and access to the exclusive Aquavana experience.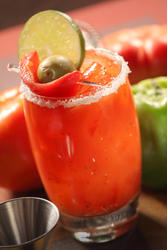 Tacos & Tequila Las Vegas Spices Up The Weekend With Red-Hot Mariachi Brunches – Tacos & Tequila spices up Saturday and Sundays with its red-hot Mariachi Brunch that makes guests want to shake their maracas every week from 11 a.m. until 3 p.m. The enticing mix of Mexican culture and Vegas flare features a high-energy Mariachi band, two-for-one margaritas and Bloody Marias, and a variety of authentic brunch selections, making it the perfect solution to recover from a wild weekend in Vegas.
Matsuri At Imperial Palace Introduces Locals Special – A Blend Of Beauty, Energy And The Unexpected – Matsuri is offering an incredible deal for locals to see their show at the Imperial Palace Hotel and Casino in Las Vegas. From now until May 31, 2011, locals can purchase tickets to the show for only $20 (plus box office fees and tax) with a Nevada ID. Since the terrible earthquake and tsunami struck Japan last month, the show has been collecting donations at each performance to assist with relief efforts at home. In addition, through the month of May, Matsuri will donate $5 for each locals ticket purchased to the American Red Cross. The show has already raised over $2,000 and hopes to reach $10,000 by the end of May.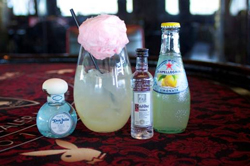 Playboy Club Las Vegas Keeps The Party Hopping With Its Signature Libation, The Bunny Tail – In honor of the upcoming Easter weekend and the fabled Easter Bunny, Playboy Club inside Palms Casino Resort highlights one of the most distinguished fashion traditions of the legendary Playboy Bunnies û the Bunny Tail, also the name of the nightclub's signature cocktail, available now. Created by Mixologist Dave Herlong, the libation is a creative blend of Limoncello, San Pellegrino Limonata sparkling soda and choice of Ketel One, Ketel Citroen or Don Julio Blanco. Garnished with a lemon wedge, the Bunny Tail is topped off with a puff of cotton candy.
May 1 Is Not Just May Day, It's Lei Day At Rockhouse Las Vegas – Prepare to get "Lei'd" at Rockhouse. Sunday, May 1 officially marks Rockhouse's first annual "Lei Day" celebration. Revelers can party all day and night with the sexy Rockhouse staff passing out lei's, while celebrating with $5 shots, two-for-one beers and complimentary admission for ladies looking to get "lei'd" at the ultra-dive bar. Day or night, it's always the right time to party at Rockhouse. Whether people watching on the rowdy Strip-side patio by day, or dancing on the bar with an 80-ounce guitar by night, the ultra-dive bar is one of Vegas' best-kept secrets.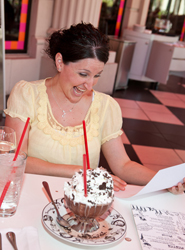 Serendipity 3 At Caesars Palace Celebrates Its Second Anniversary With 100,000 Traditional Frrrozen Hot Chocolates Served – Yesterday Serendipity 3 at Caesars Palace celebrated its second anniversary in conjunction with selling its 100,000th classic Frrrozen Hot Chocolate. The lucky 100,000th guest, Jennifer Genovese, visited the Strip restaurant to celebrate a special occasion with her boyfriend and ordered a Frrrozen Hot Chocolate. She was surprised when Serendipity 3 Chef de Cuisine Michael Wolf announced she had just ordered the 100,000th Frrrozen Hot Chocolate and won free Frrrozen Hot Chocolate for life. Genovese has lived in Las Vegas for nine years and works as a bartender and assistant general manager. Photo Credit: Erik Kabik/RETNA
---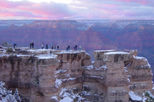 Grand Canyon South Rim by Tour Trekker û Las Vegas Sunrise Hot Air Balloon RideJourney through the Mojave Desert along historic Route 66 en route to the Grand Canyon South Rim. Your professional tour guide will drive and narrate through the beautiful mountains and ponderosa pine forests of the Coconino Plateau. At the South Rim you will have a three-hour guided tour of the Grand Canyon making stops at a variety of viewing areas for panoramic views of the canyon.
---
What We're Watching û Vegas Videos You'll Enjoy
---
Members Mania – We Love Our Readers!
We're doing Members Mania "live" this week at our event, getting together to talk Vegas and swap advice and stories. Hope to see you there!

We love to hear from you, and value your feedback! Here's how to participate:
Want to comment on a current reader post? Use the comment box on that particular web page. Many of the stories we post also have comment boxes at the end of the story. Make your voice heard!
Drop us an email at allvegastv@aol.com – We read them all!
Call our recorded comment line at 702-507-0055. We listen to every call.
---
More Las Vegas News – Concerts – Events
No related links found