Serving Las Vegas Visitors and Residents Since 1999
Welcome to the Insider Vibe! This is the official newsletter of AccessVegas.Com. We talk about the Las Vegas activities you really care about.
---
AccessVegas.com Quick Info Menu:
Las Vegas Essentials

Seasonal Vegas Information

Featured Shows
Newkirk's Notes – comments on Las Vegas from AccessVegas.Com publisher Ted Newkirk:
Hello From Las Vegas! I hope that all of our U.S. readers survived Tax Day on April 15'th. After dealing with all of that, you need a trip to Las Vegas!
For once, the weather is smiling on weekend visitors. This is quite the change of pace. It seems that the best weather we've had so far this year has fallen on weekdays. When the wind blows cold air and even scattered showers our way, it has been Friday – Monday. After a weekend where we flirt with 90, you're looking at very comfortable temps in the 80's all week long.
We're Having A Party, And You Are All Invited! – A few weeks ago, I hinted about a reader event at a cool, new Las Vegas Strip location with some complimentary drinks involved.
The plans are set, it is a go, and you are all invited! Here's the details:
Date and Time:

Thursday April 28, 2011 from 6 – 9 PM

Location:

The brand new Nikki Beach and Cafe at the "all new" Tropicana Las Vegas! What makes this so cool and special? This is

one month

prior to the big Grand Opening for The Trop. We're giving you a sneak peak at the beautiful new pool area and indoor/outdoor cafe.

Who will be there?

We're teaming up with our good friends over at the Vegas Video Network. I (Ted) will be there plus Scott and Melissa Whitney (Living In Las Vegas show) and many of the stars of other Vegas Video Network shows. More importantly, you guys (Vegas visitors and locals) will be on hand "do Vegas" with us. What is more fun than hanging out on what will most likely be a perfect evening (average high for April 28 here is 82 degrees F), sipping on a couple of free drinks, and enjoying the surroundings of Vegas' "newest" resort in the company of like-minded people!

The Cost:

This is Vegas, baby and we're doing it right because we love our readers/viewers. This event is complimentary. In fact…

The Bribe:

Each person

who RSVP's

will enjoy two drinks on the house. PLUS, happy hour food and drink prices extended through 9 PM for our RSVP'd guests.

Dress Code:

People have worried that Nikki Beach and Cafe is some snobby place for 22 year olds. Nothing could be further from the truth. Nikki (and The Tropicana in general) are nice surroundings aimed at a broad age range. Please don't come dressed like you just spent the day cleaning the garage. But don't worry about needing a suit.
| | |
| --- | --- |
| | |
| | |
| --- | --- |
| | |
More Event Frequently Asked Event Questions (RSVP Info Follows):
I'm a local and I hate going to The Strip. The traffic and parking are always terrible.

– Wait until you hear how easy this event is: The Tropicana sits on the very south end of The Strip. You don't have to fight that mid-Strip traffic. Easy to get to. Parking is super-simple as The Trop has a two-floor parking garage just south of their property. No weaving up 9 levels and forgetting where you parked.Plus, Nikki is only 100 feet inside of the hotel entrance from the parking garage. Walk into the hotel, down a short corridor, turn right, you are there. We couldn't have made it any more friendly for you. So locals… attendance is mandatory. Don't tell me that you have something better to do after work that day. Your DVR will wait. Come see the New Trop!

I'm concerned that I won't know anyone and I'll feel out of place.

– I've been on the other end ofá"Vegas Meetups" numerous times. Attending Vegas events where I was going in stone cold (not my event, didn't know anybody). I've never felt more welcomed including by people who are not my readers and had never heard of me.We all have the love of Las Vegas in common, which is plenty of stuff to talk about. If you wish, you'll make new friends simply by accident. And… remember that this isn't some meet/mingle or networking event where everyone is boxed in a room. Take your cocktail and roam the beautiful grounds of The Tropicana pool and outdoor Nikki Beach area if you are people-shy.

What about my friends? The aren't familiar with you guys, but I'd like to bring them.

– By all means, do so! I'm sure they'll enjoy themselves, and perhaps we may even turn them onto this newsletter and Scott's Vegas network. What do I care? We strong-armed Nikki Beach into picking up the complimentary drink tab.

I'm a Las Vegas blogger/podcaster/journalist/competitor and want to come but I don't want it to seem like I'm crashing your event

. – Don't even worry about it. The more, the merrier! Come on down and check out Nikki. Say hello to us. Get your free drinks. Bring some friends. Invite your readers. I'm a broken record here, but I can't emphasize enough how great a chance this is for

everyone

to check out the all-new Tropicana.

I'm not going to be in town on April 28. Is there another date?

– Sorry, but this one is set in stone.
So How Do I RSVP? Super simple: Each person coming does need to RSVP separately so we have you on the list for the complimentary drinks and extended happy hour pricing. Or you can send us a list of you and your friends, but we need an email address matching each person. No, we won't sell or rent your info. We simply want to be able to update and remind everyone coming of the date and late-breaking info. Please send your RSVP to AccessVegas@AccessVegas.com
Note: Must be 21 or over. Please don't RSVP unless you are planning to attend as Nikki Beach/Cafe is being very nice helping us pull this event off and they'll need a head count. If you are not sure up until the last minute, we'd actually prefer that you "crash" the event the day of. You won't get the 2 complimentary drinks, but you will be welcome.
Wow, That Was Quick – Sahara owner Sam Nazarian recently told the L.A. Times that his plan is to re-open the property in 2014 after extensive renovations. He notes that the plans are completed and the project is shovel-ready. Unfortunately, the hotel will bear his SLS company brand name (Style|Luxury|Service) instead of The Sahara name. Hopefully, he'll come to his senses and call it SLS Sahara Las Vegas or similar.
Now… any plans like this (especially in this economy and this city) have to be taken with a grain of salt. I believe that Nazarian will be looking at three factors before he decides to move forward:
The fates of the Fontainebleau and Riveira. If the Riviera stays open (all indications are that it will) and an improving economy allows completion of the Fontainebleau, The Sahara location goes from bad to workable.
How does The Tropicana do? Can you sink $100 million (plus) into an older property and make it desirable enough to be a good investment? Same with the recent Stratosphere renovations. By the way, The Strat is seeing some serious action even on weeknights. We've seen it ourselves and reader reports have been nothing but positive.
How are boutique hotels going to do in Las Vegas? It really hasn't been truly tried until recently with The Rumor and Artisan. (The Artisan ironically sits pretty much a stone's throw from The Sahara). Or… does he feel that he can capture the Hard Rock vibe and crowd? And how will the Hard Rock do after going through significant financial issues (basically foreclosure). Is that model viable in another location?
We'll let you know how it goes. In the meantime, the Sahara (as we know it) is less than 30 days from closure. Outside of some very minor rumblings of Boyd Gaming (Gold Coast, Orleans, failed Echelon project, etc) taking over the operations, it looks like a fence will be going around the place.
Enjoy This Issue!

Associate Editor: Amy Rayner-Cooley
News Researcher/Editor: Rick Ziegler
---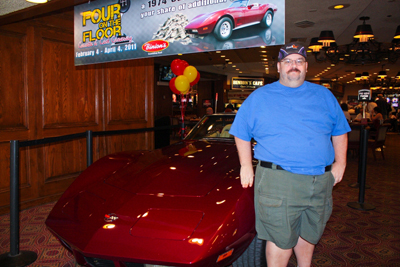 David Rocho Wins The 1974 Corvette Stingray At Binion's Gambling Hall – As the clock struck 10 a.m. at Binion's Gambling Hall on April 4, a crowd of hopefuls lined up as tickets were being pulled from the drum. The Four on The Floor Corvette & Cash Giveaway that started on February 4 was coming to a close. All of the participants had earned tickets by playing slots, video poker and table games at Binion's, but only one would hear his name called for that 1974 Corvette Stingray. And that lucky man was David Rocho, a loyal Binion's customer who originally hails from Minnesota and currently calls Las Vegas home. Mr. Rocho was thrilled with his prize and proudly posed with his new ride.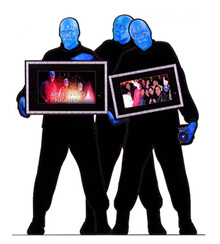 Blue Man Group Interactive Statue At Fashion Show Mall – Blue Man Group invites Las Vegas visitors and locals to discover its larger-than-life, interactive 15-foot-tall statue on the Plaza at Fashion Show, located on 3200 Las Vegas Blvd. South. Designed by YESCO LLC for Blue Man Group Las Vegas, the one-of-a-kind custom statue features two large, high-definition monitors and an interactive "fan cam." The fan cam records video of visitors and broadcasts it live on one of the monitors. The second monitor will feature exclusive Blue Man Group clips and content from the show.
Primm Valley Casino Resorts Hits A Hole-In-One With Spring Golf Special – Spring is in the air and Primm Valley Casino Resorts welcomes the warm weather by offering a spectacular stay and play package. Golfers can hit the green at one of Nevada's finest courses then enjoy an evening of leisure at The Spa at Primm. For $149 per person, the spring golf package includes:
One-night stay at Primm Valley Casino Resorts
One round of golf at one of two award-winning Tom Fazio-designed Primm courses, the Lakes Course or the Desert Course
Two free drinks at the golf course
50 minute treatment of your choice including Fusion Stone Massage, Caribbean Hand Therapy, Botanical Skin Resurfacing and more at The Spa at Primm, a 13,000-square-foot retreat
One steak and lobster dinner at GP's, the fine dining steakhouse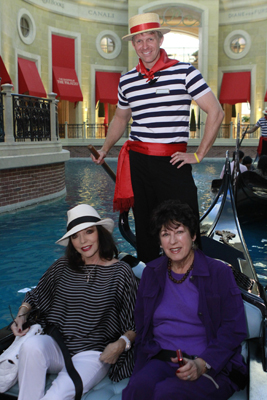 Joan Collins Enjoys a Vegas Vacation at The Venetian – "Dynasty" star and Hollywood royalty Joan Collins checked into The Venetian for a Vegas vacation this weekend. Looking every bit the style icon wearing a fedora and white Chanel purse, she enjoyed a gondola ride with close friend Judy gushing afterwards, "That felt like we were right in Italy!" The duo continued their girl's day with an afternoon of shopping at Barneys New York.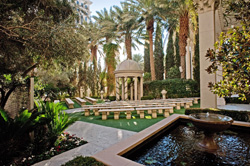 Say 'I Do' To Aromatherapy Wedding Packages At Caesars Palace Las Vegas – Caesars Palace, one of the world's top wedding destination resorts, now offers customizable, all-inclusive aromatherapy wedding packages. The amazing benefits of aromatherapy are now available in a unique wedding package. Each custom-designed package infuses the benefits of aromatic essential oils paired with an inspirational ceremony, for an unforgettable wedding experience.
The Gazillionaire Announces Starlet Angel Porrino To Join The Cast Of Absinthe Beginning April 19 – The Gazillionaire and his cast of eccentrics are thrilled to welcome Las Vegas starlet Angel Porrino to the cast of ABSINTHE, the new show at Caesars Palace that is being hailed by critics as the best new show to hit the Strip in years. After a memorable audition on the season finale of "Holly's World," Porrino was cast in the unique show and will be featured as The Weather Girl performing an exotic routine with (and in) a weather balloon. "I needed a reality star to helm my show, and I thought Angel would look better in a bikini than The Situation," said The Gazillionaire.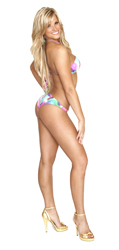 Fantasy Las Vegas Reveals Sexy Showgirl Of The Month, Koree – FANTASY, Luxor Hotel and Casino's steamy adult revue, has launched its sexy Showgirl of the Month campaign. Showcasing its gorgeous dancers, FANTASY's Showgirl of the Month will give fans a chance to get to know each one, up-close and personal. FANTASY'S April Showgirl of the Month is Koree. This gorgeous Pittsburgh, Pa. native likes to keep her sexy figure in tip-top shape by working out regularly at the gym and by taking pure barre classes to maintain her sexy dancer physique.
---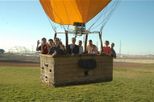 Las Vegas Sunrise Hot Air Balloon Ride û Las Vegas Sunrise Hot Air Balloon Ride. This spectacular balloon flight begins in the southwest valley, you will enjoy scenic views of Las Vegas' residential areas, the renowned Las Vegas Strip to the east and the majestic Red Rock Mountains and Red Rock Canyon to the west.
---
What We're Watching û Vegas Videos You'll Enjoy
This section will return next week. We were too busy setting up the Reader Event to sit around screening Vegas videos for you!
---
Members Mania – We Love Our Readers!
We'll get to a few quickies in this week:
---
Just returned from Vegas. We saw Absinthe at Caesars Palace. The show was good but they could have chosen a better location. It looked like a junk yard on the grounds.
Gerard McLaughlin
---
Enjoyed your newsletter as always. I read about the couples 40'th anniversary wanting to go to Top of the World at Strat. I couldn't agree with you more, not as good as it used to be.
If I could suggest: Eiffle Tower Restaurant, good food, absolutely the best view of the Bellagio fountains (better than at Bellagio); and Del Friscos Double Eagle restaurant, can't beat it.
Just a thought.
John Yates
---
Once again thanks for your informative newsletter. Just wanted to let you know I agree totally with you on The Boardwalk Hoteláwhere CityCenter now sits. We have been coming for 20-plus years and I really miss their hot dogs & strawberry shortcake. Lots of fun and clean.
As far as Ace & Deuce buses that run The Strip, you can pay exact amount on The Duece but an Ace ticket has to be bought before you board. They have little ticket dispensers at each Ace stop.
Yes and first time in our many years we had rain.
Thanks again,
Lyn
---
I am with you Ted. The Boardwalk is one of the casinos we always liked to stop at when in Vegas. Although we didn't stay there-had a ball and did take in a show or 2.
Kathy from Michigan
---
Just a note to say that the advice you gave regarding moving to Las Vegas is spot on in my opinion. This advice holds true to any retiree considering a change in residence any where in the world. I saw many unhappy folks who moved to Florida after retiring and found it wasn't the paradise that they envisioned. They missed friends, family and climate.
Bill (74 years old)
---
We love L.V. My wife an i visit yearly and play the slots at least 8-10 hrs a day for 3 weeks. What are your fans talking about, they should try staying longer, and playing more (taking one longer trip instead of multiple shorter ones). We travel 7 1/2 hours to get to your great city, and can't wait to come back in April.
Food is cheap, so the slots are tight, shows are priced OK. Try making it a vacation, you're not going to win a fortune, open your eyes an enjoy. It seems all your readers are negative, tell them to get a life, you only go this way once.
I enjoy your newsletter. See you in April.
Bob M.
We love to hear from you, and value your feedback! Here's how to participate:
Want to comment on a current reader post? Use the comment box on that particular web page. Many of the stories we post also have comment boxes at the end of the story. Make your voice heard!
Drop us an email at allvegastv@aol.com – We read them all!
Call our recorded comment line at 702-507-0055. We listen to every call.
---
More Las Vegas News – Concerts – Events
No related links found