Serving Las Vegas Visitors and Residents Since 1999
Welcome to the Insider Vibe! This is the official newsletter of AccessVegas.Com. We talk about the Las Vegas activities you really care about.
---
AccessVegas.com Quick Info Menu:
| | |
| --- | --- |
| Las Vegas Essentials | Featured Shows |
Newkirk's Notes – comments on Las Vegas from AccessVegas.Com publisher Ted Newkirk:
Hello From Las Vegas! I'd tell you all about the weather, but it can't seem to make up its own mind. Low 70's the last weekend of April, follow by a week of mid-90's and my air conditioner running all all hours except late-night into mid-morning. We're looking at cool-ish temps again for Monday and Tuesday (72F on Monday, brrrrrrr) then the 10 day forecast has us in the 80's.
I'd be remiss in noting our best for those in the U.S. that have been pummeled by tornadoes and floods. Our IT guy Robert lives in Northwest Alabama (we don't outsource our IT), not far from some of the hardest hit areas. Fortunately, he got lucky as the heavy tornadoes missed his area and even more lucky as a big tree fell into his driveway from wind, just missing his house. Add to that what the Mighty Mississippi is doing to areas of the heartland, it has been a tough Spring for many (to say the least).
Did We Have A Party, Or What? – Wow, a huge thanks to all who turned out for our event at Nikki Cafe and Beach at The Tropicana! The weather was flawless and in the upper 80's F. Both we at AccessVegas.com and the VegasVideoNetwork.com combined to bring a serious crowd to the outdoor patio overlooking the stunning new (redone) pool area at The Trop. Upwards of 80 RSVP's with just about everyone making it despite the two-week notice and mid-week timing. Fantastic!
My only regret is that I didn't have more time to spend with everyone who showed up, talking Vegas and finding out how your trip was going.
Nikki was fantastic and the patio was standing-room-only (and barely) as the evening wore on. Everybody raved about seeing the "new" Tropicana and seemed to have a great time. We WILL have future events, but probably have them on more of a regular basis and scale them down a little bit so everybody can get to know each other better. But this was one shindig I won't soon forget!
You can watch Vegas Video Network's recap of the event at Living in Las Vegas #106: Our Nikki Beach Happy Hour
More Good News For Las Vegas – I didn't plan on this being a regular feature, but at this rate it might be:
New Performing Arts Center Will Be A Bust (My Prediction) – Using a hike in rental car tax dollars, (what a nice way to screw over visitors… bilk them for renting a car so they can enjoy more of our area), downtown's new performing arts center is coming into the completion phase. Touted as a major piece of the revitalization of downtown, I'm just not seeing it perform (no pun intended) as advertised. We already have plenty of mid-sized venues, including the venues that host nationally (and internationally) televised award shows and concerts.
I'm not saying that events at the new performing arts center will fail to draw. But the kind of people who are going to enjoy a touring Broadway show or symphonic concert aren't exactly going to then flock downtown to hit Fremont Street or even the trendy East Fremont District. (It's not even a super-close walk). They are going to get in their car and drive home. This is supposed to help downtown how?
My Endorsement – We usually stay out of politics, but as an official Las Vegas resident (I actually live inside the city limits), I'll be voting for Carolyn Goodman (Oscar's wife) for Mayor. Opponent Chris Giunchigliani is a nice lady, sharp, committed. But the combined weight of Oscar Goodman and all that he's accomplished with his vision for downtown and now with his wife continuing the work, I feel that Carolyn is the best choice to continue to move downtown forward. Oh, and when Giunchigliani was in the State Assembly, she was directly responsible for the rental car tax used to build the performing arts center.áChris Giunchigliani, bilking visitors. Speaking of downtown…
Fitzgerald's Food Deals – To those who keep complaining that Las Vegas no longer has deals… stop it! Just got a flyer from Fitgerald's downtown and their Courtyard Cafe is offering Rib-Eye Steak with all the trimmings plus soup/salad bar for $8.99, or a half-rack of ribs plus trimmings and soup/salad bar for $6.99. (Applebees and Chili's will set you back more than twice that amount, without the salad bar). Both of these run 11 AM to 9 PM. Up earlier? $1.99 will get you 2 eggs, breakfast potatoes and toast from 7 AM to 10 AM.
Enjoy This Issue!

Ted Newkirk, CEO/Manging Editor
Associate Editor: Amy Rayner-Cooley
News Researcher/Editor: Rick Ziegler
---
World's Richest BBQ Contest; 'Ribba Ramma' Amateur Rib Cook-off To Benefit UNLV Athletics – The Festival Is Free And Open To The Public – As summer starts to sizzle in Las Vegas, so will The Orleans Hotel and Casino with more than 100 of the world's top-ranked professional grilling teams vie for their piece of the largest barbecue purse totaling $125,000 in prizes at The Orleans USA Barbecue Championships and food festival, May 21 and 22.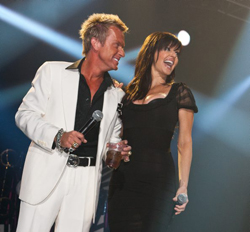 Zowie Bowie's Vintage Vegas Show Featuring Marley Taylor Runs Every Sunday At Green Valley Ranch – Celebrating his love for old "Vegas," Chris Phillips, aka Zowie Bowie, pays homage to the city's entertainment roots with Zowie Bowie's Vintage Vegas Show featuring Marley Taylor. The evening of classic tunes and the "Rat Pack" style banter can be seen every Sunday at 7 p.m. at Ovation inside Green Valley Ranch. "Ever since I took up singing and then moved to Vegas, I wanted to pay tribute to that old vibe that made the city what it is today," said Chris Phillips. "This show is really all about cufflinks and cocktails and going back to the maverick spirit that this city was based on in the first place." Photo Credit Erik Kabik
Bellagio Las Vegas Announces 2011 Epicurean Epicenter Series – Bellagio, recipient of 10 consecutive AAA Five Diamond Awards, proudly presents the 2011 schedule for its extraordinary Epicurean Epicenter Series. Guests will watch talented chefs prepare their masterpieces and then moments later will savor the cuisine paired with wine from the world's finest vintages. The series consists of culinary events featuring the unparalleled talents of renowned Bellagio chefs including Julian Serrano, Akira Back, Martin Heierling and Edmund Wong along with rare vintages and varietals from celebrated wineries including Williams Selyem, Husic Vineyards and Araujo Estate.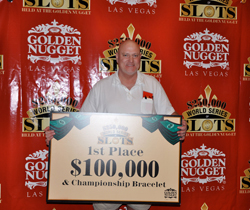 2011 World Series Of Slots In Las Vegas Awards Over $250,000 – The third annual World Series of Slots tournament, held at the Golden Nugget Hotel & Casino April 15-17, welcomed nearly 300 competitors from around the country battling through numerous exciting rounds, and awarded approximately $250,000 in prize money. Houston resident James Hudson, walked away as the world champion with the $100,000 grand prize and championship bracelet for his slot victory, followed by Lance Purcell in second place with $15,000, Gomer Hill in third place winning $10,000 and Alfredo Hasbunghattas rounding out the top four with $8,000 in prize money.
El Cortez Las Vegas Hotel & Casino May Promotions And Events – CafÚ Cortez Dinner Specials – Visit CafÚ Cortez for prime rib dinner for only $7.95. Meal includes choice of soup or salad. CafÚ also offers a fajita dinner for just $8.95. CafÚ Cortez also offers a full Chinese menu served from 4 to 10 p.m. Graveyard Specials – CafÚ Cortez serves a limited graveyard menu Sunday through Thursday from 10:30 p.m. to 7 a.m. Specials include: Two eggs with choice of bacon or sausage, breakfast potatoes and toast for $4.75 plus tax. Ham and two eggs, breakfast potatoes and toast for $7.25 plus tax. Bar Specials – Martini Madness û daily 2-for-1 happy hour from 5 to 7 p.m. û at all casino bars (martini menu only).
Revered Impressionist Rich Little To Kick Off New Headliner Showcase At The Riviera With A Three-Week Engagement – Legendary Comedian and Impressionist Rich Little is set to launch a new headliner showcase at The Riviera where the hotel brings classic Vegas back to the Strip. Little will bring his acclaimed show "Will the Real Rich Little Please Stand Up?" to the Starlite Theater, five nights a week from May 25 through June 12. "I'm thrilled to be home for an extended period after touring for the past few years," said Little. "This new series at The Riv is going to be a great tribute to Vegas of yesteryear and I'm honored that they chose me to launch this."
---

Maverick Indian Territory Helicopter Tour û This Grand Canyon landing tour takes you to the West Rim where you will enjoy spectacular views along Eagle Point and receive a brief introduction to the Hualapai Indian legends and culture.
---
What We're Watching û Vegas Videos You'll Enjoy
---
Members Mania – We Love Our Readers!
Just so you know (and I'm sure you do by the visitor counts), many of us love Las Vegas. I discovered Las Vegas in 1996, with my first business trip there. I've since been visiting there, at least twice a year since for both business and pleasure.
What I didn't know, was that my Mother, who passed away two weeks ago, was a dancer at the original El Rancho. She was part of the Ted Taft and His Debutantes act which played there from 1948-1951. I may be off a year in the dates, as my mom rarely spoke of her travels in her dancing career. She did speak of hanging with the likes of Jimmy the Greek and others. The girls in the show were also required to attend dinners with the guests. Tux's and gowns mandatory. I'm sure the each of us have differing views of Las Vegas, depending upon when we first saw the lights. Viva Las Vegas and the "haters" can stay away.
Kip from Woodland Park, Colorado
Ted Responds:
Very sorry to hear about your mother and our heartfelt sympathy on your loss. What an amazing story of her life! The El Rancho is long gone, but was one of the happening places of its day. Las Vegas was certainly more exclusive and "dress up" back in the day. As we noted earlier, Chris Taylor of Zowie Bowie is working to revive some of that tradition. (More on him next week).
Funny you mentioned Jimmy "The Greek" Snyder: When I was house-hunting here for the first time in the mid-90's, the home near downtown that he once owned was for sale. Unfortunately, it was a bit out of my price range at the time.

---
It is so hard to believe there are people out there who hate Las Vegas. If you don't like a place, don't visit it. If you live in a place you hate, MOVE!! I've lived in Anchorage, Alaska since 1973. I don't like it, but my husband was born and raised here so we stay. However, my dream is to live closer to Vegas, and we plan to do that when we retire (at least 5-10 years away).
We visit Vegas at least twice a year at my insistence. My house and office are all Vegas. My license plate says "VGSGIRL". I KNOW there are a lot more Vegas lovers and fanatics like me than there are "haters".
Carol "Vegas Girl" Jensen
Ted Responds:
We got quite a bit of response from last issue where I noted my surprise at how many people (during the worst of the recession when Las Vegas was really hurting) piled on their downright dislike and even hate of Las Vegas!
I'm with you: There are places I have no interest in visiting. Cities that are otherwise considered popular and "world class". But that doesn't mean I want bad things to happen to those places. They simply don't seem like my cup of tea. (I'm more surf, sand, and Jimmy Buffett when I get away).
We're happy you make the trek down as often as you can (don't know who you fly, but I'm a big fan of Alaska Airlines). Should you be able to make your move, you'll be moving from the ridged "wild west" to the sun-baked "wild west". We wish you the best!

---
Look forward to receiving your news letter. I go to Vegas once a year and have done so for the last 5 years.
Circus Circus is still very good value for money even with all the kids there. Why take kids to Vegas gets me every time? I can only tell you about my experience there and I am an avid Roulette player. The Circus Circus team really interact with the players on the tables. I also enjoyed the Venetian they also gave a great service.
Maybe one day if you are kicking about when I am there I could buy you a drink that would be cool and even get a photo with you?
Keep up the great news letter!
Vegas Pete
Ted Responds:
I think the way you do: Nothing wrong with the really nice places. I enjoy Venetian/Palazzo and Wynn/Encore and the rest. But… I'm not above hitting Circus Circus and The Riviera for a little old-school action.
Thanks for the drink offer. Much appreciated! We're trying to figure out how to balance all of this. I'd be out almost every night (and never get any work done) if I had my way, meeting everybody who was in town at a given time. What we are going to try to do is figure out how to let anyone and everyone who'd enjoy hanging with me and other readers tell us when they will be in town, and then picking dates and times that work for as many as possible on a regular basis.

We love to hear from you, and value your feedback! Here's how to participate:
Want to comment on a current reader post? Use the comment box on that particular web page. Many of the stories we post also have comment boxes at the end of the story. Make your voice heard!
Drop us an email at allvegastv@aol.com – We read them all!
Call our recorded comment line at 702-507-0055. We listen to every call.
---
More Las Vegas News – Concerts – Events
No related links found