Serving Las Vegas Visitors and Residents Since 1999
Welcome to the Insider Vibe! This is the official newsletter of AccessVegas.Com. We talk about the Las Vegas activities you really care about.
Send feedback to AccessVegas@AccessVegas.com

Share the info: Click to Email this newsletter to a friend! Missed an issue? Click to Read Back Issues Online.
---
AccessVegas.com Quick Info Menu:
| | |
| --- | --- |
| Las Vegas Essentials | Featured Shows |
---
Newkirk's Notes – comments on Las Vegas from AccessVegas.Compublisher Ted Newkirk:
Hello From Las Vegas! – What a difference a week makes. Last weekend, Saturday was a rainy 55 degrees F. Early this week, we're looking at a couple of days sneaking up on the 100 degree mark! The average high for April is only 78 and this just goes to show you that our high desert weather can be very unpredictable. Average is not the norm.
Junk (Bonds) For The Sahara – Standard & PoorÆs has rated the $300 million loan The Sahara owners want to take out (as part of a $744 million face lift) as a more risky debt in the "junk bond" category. They basically cited all of the reasons I've cited over time as to why turning the legendary property into an upscale hotel centered around nightlife and dining probably won't work (period) and absolutely won't work in that location. Listen… I live in that general area (within 2 miles of the property, which I can see from my front lawn). I drive by The Sahara running errands. The north Strip is a disaster.
One can argue that the upgrades at Stratosphere are paying off, but The Strat only spent $20 million to spruce the joint up. They aren't dreaming of catering to the trendy club crowd.
Now in their defense, we must note that the same was said about The Mirage. It was also financed by junk bonds and people laughed at the thought of that kind of upscale property working in Las Vegas (at the time). Note that I'm not rooting against The Sahara remodel. It would be great to get it open again. Even if they ended up defaulting on the loans, we'd have the hotel up and running and helping revive the north end of The Strip. But I'll take on all comers who want to bet on the success of the project. In related news…
The Sahara Roller Coaster Is Moving – Just across from Mandalay Bay sits an unassuming little strip mall (Google maps) that is home to McDonald's, Panda Express, a liquor store, and a radio station. I'm super familiar with it because it used to be the Panda (of which I'm a fan) I'd patronize when I lived down on the "South Strip" not too far from the outlet mall down that way. Big plans are in store: They are going to rebuild the ride, wrapping it around the mall. In addition, they are building a 26,000 sq. ft. nightclub/concert venue and 6000 sq. ft. worth of restaurant space. We'll keep you posted.
Photos Of Vegas From When The Mob Ran Vegas – We recently published a note from a reader who has been visiting Las Vegas for 60 years. I myself am 19 years into living here and have been reflecting on all of the changes I've seen over that time. If you remember parts of Las Vegas as they used to be (or are just curious about how different the town looked decades ago), check out the photo slide show Photos of Vegas when the Mob ran Vegas
Moody's (Investor Services) Notes Las Vegas Recovery – Wall Street has just figured out what I've been telling you for the past year: Las Vegas is back. Now, I'm not a stock analyst. This isn't what I'm writing about. My only question is "What took them so long!!!" Last year, Las Vegas nearly set a record for the number of visitors. The Strip and downtown are often packed, and have been for a long time now. Talk about old news…
Don't Feel Guilty – One of my pet peeves is when I read an occasional blog post or even newspaper article noting how unsustainable, non-green, wasteful, and similar that Las Vegas is. How a city shouldn't be in the middle of a barren desert. About all the water the resorts "waste". On and on and on…
Let's clear the air on a few things, so next time your snide friends turn up their nose at you for visiting Las Vegas, you have some answers:
The Las Vegas Strip sits 20 miles from the Colorado River, one of the major great tributaries in North American. Anywhere else in the world, a city taking water from a river 20 miles away would be considered normal. But for Las Vegas, it is somehow considered evil.
We've been criticized that everything we consume has to come in by truck or train. That we don't grow anything locally. However, A significant amount of the nation's agriculture occurs in California and even Arizona because of the year-round growing weather. States which are our next door neighbors.

So… it is bad for us to get our food one state away, but OK to sit in South Dakota and eat California oranges? (I'm not slightingáSouth Dakota. These are just examples). By the way, we have agriculture in Southern Nevada. Just not enough water rights to really do some serious growing.

The hotels are wasteful, right? Actually, not really. Most properties have green initiatives. (They are doing it to actually save money, just like I use those new light bulbs not because I like them, but they are cheaper to leave on all the time… as many visitors often do). But, green is green.

Most have extensive recycling programs. In fact, an architectural masonry company here in town takes an enormous number of empty beer bottles from the hotels and uses them in their product. That food you don't finish at the buffet or restaurant? It is taken to feed pigs at a pig farm in North Las Vegas.

People think the resorts waste water. Not true. Many of the big water features (Bellagio Fountains, Treasure Island Pirate Show) use recycled water that was originally first used inside the property (no, not the sewage). How about all those pools? Actually, a handful of pools serving many, many thousands of hotel guests at once is very efficient. What about all of the lush landscaping? Same story. It is being enjoyed by thousands of people per day.
Next Week – Next week is a scheduled week off for us. Rick has already headed back to his hometown in Connecticut for 10 days and my parents are in town all next week. So, we'll see you in a couple of weeks.
Enjoy This Issue!

Associate Editor / News Researcher: Rick Ziegler
Concerts and Headliners: Amy Rayner-Cooley
---
---
Mike Tyson Debuts Las Vegas Show "Undisputed Truth" – Boxing icon Mike Tyson hosted a star-studded grand opening event for his one-man show ôMike Tyson: UNDISPUTED TRUTH û Live on Stageö at MGM GrandÆs Hollywood Theatre. Tyson along with wife/producer/co-writer Kiki Tyson, producer/creator Adam Steck and director/co-writer Randy Johnson welcomed a packed house of friends, family, celebrities and VIPs. Photo credit: Erik Kabik/erikkabik.com
Mark Ruffalo and Chris Browning film scenes for "Now you See Me" at Golden Gate Casino – Mark Ruffalo and Chris Browning headed to downtown Las Vegas for a night at the Golden Gate û Las VegasÆ original casino û to film a scene for the upcoming movie ôNow You See Me.ö
The movie, scheduled to hit theaters in early 2013, pits a crack FBI squad in a game of cat and mouse against a super-team of the world's greatest illusionists, who pull off a series of daring bank heists during their performances, showering the profits on their audiences while staying one step ahead of the law.
The Barrymore To Offer MotherÆs Day Brunch – Treat Your Gem To A Memorable Dining Experience – The Barrymore at the Royal Resort will take care of the cooking on MotherÆs Day with a Sunday brunch dedicated to the women that take care of their families.
An array of refreshing libations including mimosas, champagne and bloody marys will set the tone for a relaxing brunch with mom. Savory selections include MeidenbauerÆs delicious lobster eggs benedict; a freshly baked English muffin topped with poached eggs, Maine lobster asparagus, and bernaise sauce, along with a side of crispy hash browns and traditional steak nÆ eggs featuring an eight-ounce hangar steak with two eggs any style, roasted tomato and hash browns. French toast served with whipped butter and a choice of maple syrup, fruit compote or banana-raisin compote will appease any momÆs sweet tooth.
Lynyrd Skynyrd BBQ & Beer Introduces Rock æNÆ Roll Brunch – Lynyrd Skynyrd BBQ & Beer introduces a new Rock æNÆ Roll brunch menu featuring traditional breakfast items and griddle specialties with live performances from rock bands every Saturday and Sunday from 9 a.m. to 2 p.m. at Excalibur Hotel & Casino.
Rockers will wake up with a choice of traditional egg-style combos like the Scramble of the Day, Steak and Eggs, Chicken Fried Steak or a Build Your Own Omelet all served with breakfast potatoes and toast. For specialties on the griddle, guests will enjoy breakfast favorites like French toast, waffles or biscuits and gravy with sides including bacon, sausage and toast.
Mother's Day Brunch And æMomosaÆ Drink Special At Sugar Factory Las Vegas – Every mom deserves an extra sweet day and there will be no better place to treat her well this MotherÆs Day than at Sugar Factory American Brasserie at Paris Las Vegas. The whimsical eatery will feature an unlimited ômomosaö drink special, priced at $15, to go along with their dozens of delicious brunch menu items on Sunday, May 13.
The dayÆs special term for a classic mimosa cocktail is just the beginning of the creative cuisine moms and families will get to experience at Sugar Factory American Brasserie. Original dishes include the Red Velvet Pancakes topped with cherry syrup, white chocolate shavings, candied orange and maple syrup, priced at $12. Another favorite is the Chocolate Decadence French Toast, which features rich, dark chocolate-stuffed brioche piled with strawberries and drizzled with a choice of white, milk or dark chocolate syrup, priced at $14.
Tender Steak & Seafood Celebrates MotherÆs Day With Special Dinner Menu – K.C. Fazel, executive chef of TENDER Steak & Seafood at Luxor Hotel and Casino, has created a special prix fixe menu priced at $49 per person in honor of MotherÆs Day, Sunday, May 13.
The elegant 12,000-square-foot restaurant features warm cherry wood walls and soft mood lighting for an upscale dining experience. Highlighted by leather seating and antler-crusted chandeliers, the interior offers guests a luxurious ambiance combined with a classic and intimate feel. TENDER has a relaxing main dining room, bar and lounge and two smaller private dining rooms for meetings and small parties accommodating 15 to 30 guests, respectively.
Comme Ãa Features Specialty Prix-Fixe Dinner In Celebration Of MotherÆs Day – Acclaimed Chef David Myers will treat mothers to an exquisite dining experience at his esteemed restaurant Comme Ãa at The Cosmopolitan of Las Vegas for MotherÆs Day on Sunday, May 13.
Chef Myers and Executive Chef Brian Howard have created a specialty prix-fixe menu priced at $55, which will be available all day. Guests may enjoy the French brasserieÆs sweeping views of the Las Vegas Strip while indulging in a decadent, three-course dinner that includes a glass of rosÚ wine. A bouquet of flowers will be presented to mothers upon being seated, adding a special touch to the holiday festivities.
Tacos & Tequila Celebrates Cinco De Mayo With Sexy Las Vegas Latina Lorena Peril – Tacos and Tequila (T&T) at Luxor Hotel and Casino will be the spiciest spot in town as singing starlet Lorena Peril from the steamy, adult revue, FANTASY, hosts a Cinco de Mayo fiesta Saturday, May 5 at 7 p.m. Following PerilÆs appearance, DJ Larry Lynx spins party beats from 8 p.m. to 11 p.m. as a few of FANTASYÆs sexy dancers meet fans and ôsalud!ö the holiday.
Fiesta-goers looking to start the party early can do so by enjoying T&TÆs signature Mariachi Brunch from 11 a.m. to 3 p.m. The midday feast will feature a high-energy Mariachi band, two-for-one house margaritas and Bloody Marias, the Mexican version of a Bloody Mary. The T&T signature Bloody Maria is made with Jose Cuervo Especial Tequila and Chipotle Tabasco, topped with fresh cucumber and olive juice, and served with a green olive, Panela cheese and tomato skewer in a Gusanos salted rim glass.
PBR Rock Bar & Grill Serves Up $5 Small Plates Menu For Cinco De Mayo – PBR Rock Bar & Grill at the Miracle Mile Shops inside Planet Hollywood Resort & Casino will treat patrons to a specialty menu in honor of the Cinco de Mayo holiday on Saturday, May 5.
Five will be the lucky number in Sin City as patrons will score some of the Strip-side eateryÆs most popular food and drink selections that will be served as small plates and priced at only $5 all day. The affordable menu will feature PBR Rock Bar favorites including BBQ Potato Chip Nachos, Queso Con Carne Dip with Tortilla Chips; Chicken and Cheese Enchiladas; Fresh Corn on the Cob, garnished with mayo, parmesan, butter and chili powder; and Cheese Quesadillas.
Rockhouse Announces Plans To Relocate To New Strip Venue – Free Drinks On Closing Night – After six successful years of rocking out all day and night at the heart of the Las Vegas Strip, the iconic hotspot Rockhouse Bar & Nightclub has announced plans to close its doors on Saturday, May 5. The Cinco de Mayo bash will be the ultra-dive barÆs final night of hard partying until its reopening at a new venue on the Strip later this year.
---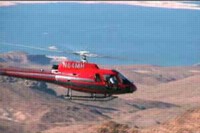 Maverick Grand Canyon Air Tour û Sit back and relax as you experience this spectacular air excursion through the Grand Canyon. Highlights of this trip include Hoover Dam, Lake Mead, Lake Las Vegas and Fortification Hill an extinct volcano. Fly through Black Canyon and on your return to the south Las Vegas valley.
---
David Copperfield by Guy Chapman
There are few entertainers that can boast the longevity and widespread appeal of master illusionist David Copperfield. His career has spanned decades with Broadway shows and Emmy winning television specials that have showcased everything from walking through the Great Wall of China to making the Statue of Liberty disappear. And now he brings that talent and wonder to reside in the Hollywood Theatre at the MGM Grand Hotel and Casino, in a 90-minute spectacle that will leave the audience breathless.
Country Superstars by Nicole Acevedo
Out in the country, theyÆre always ready to have a good time. The same is true for Las Vegas, so kick on yer leather boots, strap that silver buckle and top that nogginÆ with that good olÆ cowboy hat and get ready to sway those hips and kick them heels to the top hits of the todayÆs hottest country music superstars. This isnÆt a fancy karaoke, and certainly not a lip-syncing look-alike contest. These tribute artists rock the stage with an amazing five-piece band singing and performing to you live. They are so talented that you quickly forget you are watching a tribute show.
---
What We're Watching – Vegas Videos You'll Enjoy
---
Members Mania – We Love Our Readers!
I have gone to Las Vegas 32 out of the last 33 years. The earlier years, it seemed like nothing ever changed. BUT then starting 10 or more years ago what a change!! Giant mega casinoÆs a long ways to walk to get to from the strip, etc. But the excitement was and is still there. I enjoy going to Las Vegas more than anywhere in the world that I have been.
For a while it seemed like it was going to be just for the younger crowd but that seems to have changed some. And then back to when MGM Grand had the carnival atmosphere out back that isn't there any more and I think û good riddance. I never thought Las Vegas was a æfamily townÆ and that proved to be correct.
I have always enjoyed your wonderful newsletter!
Clearnce from Garden City, KS
Ted Responds:
Always great to hear the excitement of a long-time visitor. I too debate the "new" and "old" Vegas. I miss The Boardwalk (super easy, close parking and the casino sitting right on The Strip) and will miss O'Shea's. Seems like a visitor almost has to hit the treadmill before their trip just to prep for the miles of walking they are going to do every day. In fact, part of the popularity of downtown is that you can bop from casino to casino to casino in a concentrated space.
The old amusement park at MGM is indeed long gone. That area is now their massive pool complex and their "Signature" Towers. We're better at leaving that stuff to Disneyland, and parents with children (that aren't old enough to gamble) are probably better off vacationing elsewhere. Very few things make me more sad then to see a young couple pushing a stroller along The Strip or downtown on a super-hot summer night at 11 PM. I'm sorry, but that just isn't right.
Hopefully you enjoyed the old Vegas photos we linked to earlier in this issue. I know they certainly brought back some memories for me!

---
Love your newsletter!
Why doesn't some group come out with a card that says NO MORE ILLEGAL CARD SNAPPERS ALLOWED TO LITTER AND LOITER! I will buy some of those.
When we went to Vegas in February, there was a section of the sidewalk near Harrah's that barely had enough room for one person to pass in either direction. These damn card snappers were clearly hindering and blocking pedestrian traffic. What does that have to do with freedom of speech? And please don't tell me they do not litter. I watched them trying to place the cards in shrubs and on a fence on a windy day.
Am I allowed to drop trash and put my empty drink containers in the shrubs? Sorry, but I feel my rights are violated when I have a walk on a litter-covered sidewalk and see nothing but their trash strewn everywhere. Why have I never seen these dirt bags downtown?
John from Swanton, VT
Hi Ted. I read with interest your thoughts on cleaning up the strip.
With regards to the porn slippers I think one way is to move them from the tight sidewalk areas they usually ply their wares to the wider sidewalk areas where you can walk more freely to avoid them. The argument the city can use is for safety. The areas they currently occupy are restricting people traffic flow in a safe manner. I find it very unsafe where they currently stand and it also allows for tighter confines for pickpockets.
Not sure but this would allow them to continue (ugh) and allow for safe pedestrian traffic flow.
Thanks,
Jack
Ted Responds:
Plenty of fantastic points. áPinch points are under study. One of the worst is right in front of Margaritaville. I'm a fan of the joint, but whoever approved the design left way too little sidewalk.
I also have seen the pornslappers sticking their cards in bushes, to parts of light poles, you name it. As we've noted before, they way it works is that each card has a little code on it noting why gave it out. When someone avails themselves of the "service", the person handing the card out gets a commission. I think the problem is that police would actually have to be catching these guys in the act.
The good news is that this issue is that upper casino management and the county commission are finally sobering up long enough to finally realize we have a serious problem here. I'm just in shock that this has been a top complaint for years and years and years and years and years now, and it is finally seriously in the spotlight. They say that when there is a will, there is a way. At least the issue is on the front-burner now.
The Fremont Street Experience is a completely different beast than The Strip. It is private property essentially "owned" by the main group of casinos which fund the Experience. It is considered a public thoroughfare in to a point, but they can (if they so choose, as on New Years Eve) to close it off or charge admission if they wish.
A suggestion has been made to privatize the sidewalks on The Strip, giving the various properties control over who steps onto their property and what they do when on it. However, think of the uproar which you'd see in your town if they decided to give the business district sidewalks to the business owners! It would be an unprecedented move. One suggestion I'm going to hit my county commissioner with is to see if the hotels could lease the sidewalks from the county for $1 per year (on a year-to-year deal). The citizens would not give up their property, the deal would be easy not to renew if it created issues, and the hotels could better control detrimental activity.

---
We love to hear from you, and value your feedback! Here's how to participate:
Want to comment on a current reader post? Use the comment box on that particular web page. Many of the stories we post also have comment boxes at the end of the story. Make your voice heard!
Drop us an email at AccessVegas@AccessVegas.com – We read them all!
Call our recorded comment line at 702-507-0055. We listen to every call.
---
More Las Vegas News – Shows – Events
No related links found