Serving Las Vegas Visitors and Residents Since 1999
Welcome to the Insider Vibe! This is the official newsletter of AccessVegas.Com. We talk about the Las Vegas activities you really care about.
Need to contact us? Send feedback to AccessVegas@AccessVegas.com

---
AccessVegas.com Quick Info Menu:
| | |
| --- | --- |
| Las Vegas Essentials | Featured Shows |
---
Newkirk's Notes – comments on Las Vegas from AccessVegas.Com publisher Ted Newkirk:
Hello From Las Vegas! – Well, we're back in the saddle. I had a great week last week with my parents here. They aren't really into the "Vegas" side of things, but do enjoy Bellagio Fountains and similar. Plus, coming down from Portland, OR they really enjoyed the sun and warm weather. Rick enjoyed time with family and friends back in Connecticut. But on the 10 day trip, he started getting that "Vegas itch" about halfway through it.
Don't get me wrong: It is always great to get back to the hometown and see everybody. But once you've lived here more than a while, you get really, really bored really, really easy in most "normal" places. What, you can't just go hit Fremont Street because you have nothing to do? Is it ever going to stop being cloudy? Why do they roll up the sidewalks at 6 PM on a weeknight?
Interestingly enough, I've run into a fair number of people over the years who lived here a while, moved away, and ended up moving back because they just couldn't stand how "normal" other places were!
Goodbye O'Sheas – I'm devoting much of my section to the demise of Las Vegas' favorite Strip dive casino. Now, O'Sheas wasn't for everybody. It was a little on the dirty, beat up side. No high limit pit here. Those trendy 20 and 30-somethings who prowl the Cosmopolitan in 60's era suits with their eyes permanently glued to their iWhatever (because they think that they are so important, that they can't ignore their phone for even three seconds)? None of that at O'Sheas.
The significance is that we lost one of the final low roller, "real people" places on The Strip. Already gone are the Boardwalk, Silver City, and Frontier. San Remo became Hooters. The Hacienda was blown up to make way for Mandalay Bay (YouTube implosion video). Pretty much only Casino Royale remains.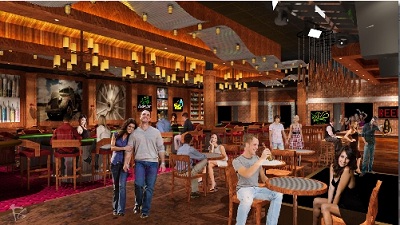 O'Sheas owners Caesars Entertainment have vowed to rebuild it as part of their Linq project (which we've covered extensively in previous issues). As you can see by the artist rendering above, the new O'Sheas looks more like something that belongs in CityCenter. It is going to take a lot of spilled booze and general abuse to get it looking like the O'Sheas we all knew and loved!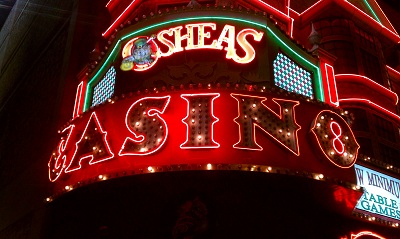 Last night of O'Sheas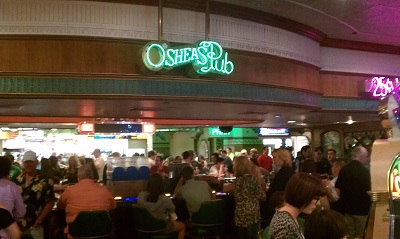 Last night of O'Sheas
Of minor note was the implosion of the parking garage about a day later. Obviously, not one of Las Vegas' more noteworthy implosions. But the first one we've had in quite some time. True personal story: I had forgotten about the 2:30 AM planned implosion time. I live just over 1.5 miles from O'Sheas (as the crow flies). I was sitting on my back patio (beautiful, warm late evening) watching some Netflix and all of a sudden, this super-loud "Boom, boom, boom, boom, boom…" was coming from The Strip.
It completely freaked me out and I thought that we'd be hit by a terrorist attack! After being jolted up out of my chair and spinning around to note if I could see anything, I realized that it was the implosion and my heart rate immediately started dropping back to normal!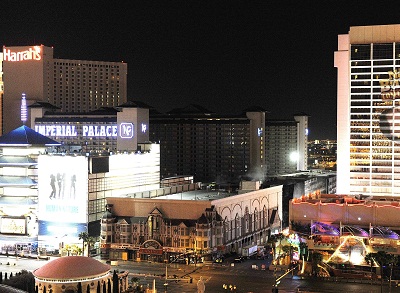 Photo Credit: Denise Truscello / WireImage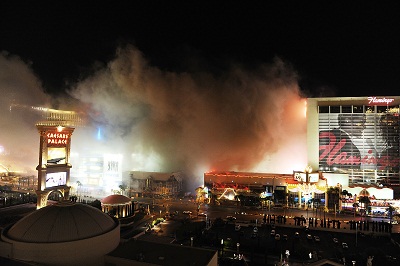 Photo Credit: Denise Truscello / WireImage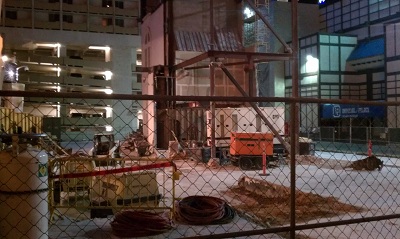 Project Linq Construction Continues
Between Carnival Court And Imperial Palace
On A Completely Unrelated Note – The porte-cochÞre at Golden Gate is basically done. Given that the former lobby entrance to the property was a "15 Minute Parking" loading spot on the curb of Main Street outside the hotel, this is quite a change.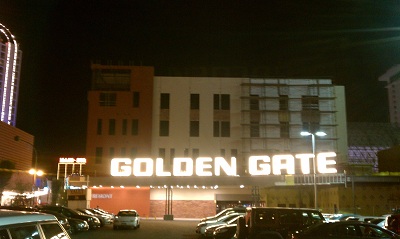 Boo Hoo Hoo (Lying, Cheating Cab Drivers) – In protest to more cabs being allowed in Las Vegas, cab drivers are claiming that they can't make a go of it. So, they are long-hauling more and more and more to bump up fares. We've linked to a video detailing the latest in our What Were Watching area later in the newsletter.
Once we go to a membership model and have the finances and staff, we plan to aggressively pursue this issue on behalf of you and all Las Vegas visitors. We'll take the rides (and turn in every cabbie who long-hauls us), we'll post detailed (for members) charts of how much it should cost to various areas from the airport, and create a little "cheat sheet" you can print out on how to handle it when you've been long-hauled. In the meantime, check out the video when you make your way down to that section.
Sahara Gets Financing – The company owning the shuttered Sahara actually got the $300 million in financing they need (roughly half the projected total renovation cost) to redo the property a la The Tropicana. I'm a little surprised and not particularly bullish on it (read previous issues), but will be happy to see the first domino fall on the revitalization of the North Strip. The owner seems bullish on the North Strip. Perhaps theyáare also expecting some of the new energy from downtown to waft down the street and help that area pick up.
One work of caution: The completion date isn't until sometime in 2014. So, don't look for ground breaking tomorrow. They are claiming that they want to finish hotel projects they have in other cities to create a group of customers they can market to. I think they are hedging their bets and playing a "wait and see" game regarding how well and quickly Las Vegas recovers. As always, we'll keep you posted.
Enjoy This Issue!

Associate Editor / News Researcher: Rick Ziegler
Concerts and Headliners: Amy Rayner-Cooley
---
---
Imperial Palace Hotel & Casino Front Drive Closed – Detour Route Map – There will be additional road closures at Imperial Palace Hotel & Casino for construction of The LINQ. Vehicle traffic will no longer be able to access Imperial Palace from the Las Vegas Boulevard entrances.
An Intimate Evening With Santana: Greatest Hits Live û Yesterday, Today & Tomorrow – The legendary Carlos Santana will perform An Intimate Evening with Santana: Greatest Hits Live û Yesterday, Today & Tomorrow.
For 40 years and as many albums later, Santana has sold more than 90 million records and reached more than 100 million fans at concerts worldwide. To date, Santana has won 10 GRAMMY« Awards, including a record-tying nine for a single project for 1999Æs Supernatural (including Album of the Year and Record of the Year for ôSmoothö). In 1998, the group was ushered into the Rock and Roll Hall of Fame.
The Barrymore Hosts Kentucky Derby Fans – Popular New Restaurant to Televise Kentucky Derby and Serve Traditional Cocktails – Mint juleps and bourbon smashes will set the mood for Kentucky Derby fans at The Barrymore on Saturday, May 5. The contemporary new restaurant at The Royal Resort will showcase the hand-crafted cocktails for just $5 and televise the Kentucky Derby on the flat screen TVs in the lounge and dining room.
In-between races, patrons can take the southern party outside on the patio and enjoy the traditional cocktails on the oversized couches and cozy chairs. Plus, guests can pair their cocktails with tasty new spring items from The Barrymore menu including the Kentucky Hot Brown or Monte Christo; a roasted turkey, aged ham, jalsberg Swiss cheese and brioche.
Comme Ãa To Captivate Guests With Patio Launch Of Riviera Nights – Introduce Seasonal French Small Plates Menu – Comme Ãa at The Cosmopolitan of Las Vegas will launch Riviera Nights, an unparalleled dining and lounge party experience on Thursday, April 26. Set on the restaurantÆs stunning patio, the weekly soiree will introduce a selection of French small plates and a signature sangaree.
Available from 8 to 11 p.m. every Thursday night, patrons will enjoy the striking views of the iconic Las Vegas Strip showcased from Comme ÃaÆs breathtaking patio. A French house DJ will be on-hand to spin the hottest tunes under a canopy of neon red lights glimmering from the ceiling.
2012 Fantasy Calendar Cover Girl Koree Is May æShowgirl Of The MonthÆ – Summer sizzles with the ôUltimate FANTASYö 2012 calendar cover girl Koree, who has been named MayÆs ôShowgirl of the Month.ö
A top performer in FANTASY, the adult revue at Luxor Hotel and Casino, Koree shows off her sexy dancer physique in the calendar, tantalizing fans in a silky, see-through nighty that shows off her pink bow tattoo. The gorgeous Pittsburgh native stays in tip-top shape by working out daily, taking Pure Barre classes and regularly taking her dog to the park.
---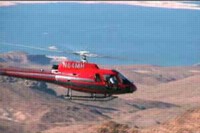 Maverick Grand Canyon Explorer Plane Tour û Fly aboard Maverick's Beechcraft 1900D aircraft on a 40-minute flight to the Grand Canyon's South Rim where your ultimate adventure will begin. Enjoy the awe-inspiring vistas, panoramic overlooks and trails that can only be accessed from inside the park as your journey continues with ground transportation into the Grand Canyon National Park.
---
Jersey Boys by Guy Chapman
For anyone looking for a true musical journey that will provide an evening of non-stop hits, one would be hard pressed to find a better or more satisfying experience than ôThe Jersey Boysö, a musical send up of the life and times of Frankie Valli and the Four Seasons. From their humble beginnings in New Jersey, to their meteoric rise to fame, and their eventual split careers, this is an ear-pleasing spectacle that any music lover wonÆt soon forget.
Having recently opened in the Paris Hotel and Casino, ôJersey Boysö is a fine addition to the ParisÆ theater. Part biography and part documentary, the production is a two-hour time machine that starts with the origins of the Four Seasons (including the many and multiple names and music genres the group went through before settling on their distinctive sound), and the discovery and emergence of a teenaged Frankie Castelluccio, who would later become Frankie Valli.
Human Nature – The Ultimate Celebration of Motown by T. D'Richards
WARNING: Attending a performance of Human Nature can lead to serious hand-clapping, foot-stopping, dancing-in-your-seat and aisles behavior û not to mention, singing along.
At a recent performance, audience members succumbed to all the above as Human Nature served up their unique brand of classic Motown with a subtle, yet distinct modern twist.
---
What We're Watching – Vegas Videos You'll Enjoy
---
We love to hear from you, and value your feedback! Here's how to participate:
---
Cinco de Mayo Las Vegas 2012 News – Shows – Events
---
More Las Vegas News – Shows – Events