Serving Las Vegas Visitors and Residents Since 1999
Welcome to the Insider Vibe! This is the official newsletter of AccessVegas.Com. We talk about the Las Vegas activities you really care about.
---
AccessVegas.com Quick Info Menu:
Las Vegas Essentials

Seasonal Vegas Information

Featured Shows

Photos and Wallpaper
Newkirk's Notes – comments on Las Vegas from AccessVegas.Com publisher Ted Newkirk:
Hello From Las Vegas! Summer is in full swing, and and all those people who claimed that Las Vegas was dead (or dying) are morons. Some thought that when I refuted the notion over the past couple of years, I was just holding out crazy hope and having wishful thinking. However, time-after-time you were writing me and telling me what my own eyes told me: Las Vegas is busy.
Last Monday, we took an afternoon cruise down the Las Vegas Strip. It was 106 F out. Traffic was bumper-to-bumper. The sidewalks had plenty of people on them. And this is a Monday (mid-weeks are slower) in June! That "Vegas is dying" stuff was just some sour grapes by people with with no life who don't like having fun. They were hoping that all of your fun would grind to a halt. They were wrong!
Bringing Fremont Street To The Strip – Harrah's (Corporation) is reviving its plans to build a bars/restaurants/shops/etc complex between O'Sheas and The Flamingo, including the concept of having huge Ferris wheel attraction in the back which would take visitors high over the Las Vegas Strip. I've heard people question that limited space there, but it won't be an issue:
That "alley" is a LOT wider than people think. It is the same spot we filmed Cinco De Mayo Las Vegas Strip 2010 Party
O'Shea's parking garage is used for Harrah's (Corp) employee parking. It would be perhaps converted to mixed use or torn down and employees could park on some of the empty space created when Harrah's tore down all of the apartments, timeshares, and Bourbon Street Hotel.
Las Vegas Strip resorts are getting wise to what is happening on Fremont Street downtown. It has turned into one great party every night. Nice and condensed limiting the long walks, plenty of diversions and entertainment, and growing crowds. If Harrah's can recreate that, they have a home run on their hands.
Don't Claim To Know Vegas If You Don't – A San Francisco based consumer reporter recently took a trip here and made some disparaging blog posts about Las Vegas (presumably to write off his trip — "work research"). He was particularly aggravated over paying $4 for a soft drink at a casino bar and otherwise painted Las Vegas as a rip-off. Truth is, he just didn't know how to save money on food and drink here! (He obviously isn't one of my readers).
I took the time to answer his charges and detailed all the ways to save on your libations, soft drinks, and noted that meal specials abound if you know where to find them.
Click over to read Consumer Reporter Tries To Bash Las Vegasà My Retort where I posted a link to his original comments plus my retort. You might even come across some ways to save on your food and drink here that you hadn't thought about! Safe to say that if you are a regular reader here, you are much better informed about Las Vegas than most of the wanna-be experts.
Super Hot Ticket – Bob Dylan with John Cougar Mellencamp opening play The Colosseum at Caesars Palace this coming August 18. Capacity is only around 4000. I see we still have some Box Seats (as of this writing) in the $100 range. If you want to jump on that (or simply jump on getting tickets for it), click to Bob Dylan Las Vegas Tickets
Air Traffic Down – …Slightly for the fourth straight month. Think nothing of it. Everybody is trying to connect it with tourism. The reality is that our stagnant population combined with 14% unemployment has locals flying a LOT less. The new Hoover Dam bridge (to be finished in November of this year) will put a small dent in that as well. Shaving 1/2 hour (or more at times) off the drive from Arizona and New Mexico plus the continued TSA and airport hassles will continue to keep people in their cars. Plus, regular visitors like having a car here so they can get off The Strip to local attractions like Red Rock Canyon, Hoover Dam, Lake Las Vegas and more.
Las Vegas Fireworks – Earlier in the week, we put fireworks listings for the Las Vegas Strip area online. We immediately put it out on Twitter and our What's Hot feed (which you can subscribe to by email at no cost). If you get this newsletter before heading to town and you'll be here for July 4'th, check out Las Vegas 4th Of July Events
Watch The Sunset – We have spectacular sunsets all year 'round. My pick to watch them (especially this time of year)? in the air-conditioned comfort of Stratosphere Tower Las Vegas. Here's why: From the inside observation area you can catch both The Strip and Downtown light up, and between those two your western view is the sun dipping below the mountains which surround our area. Outstanding.
Keep in mind that the sun can vanish quick here over the mountains, and our sunset is probably earlier than yours at home (as we sit on the very eastern edge of our time zone). Get up there with plenty of time to spare.
Enjoy This Issue!

Associate Editor: Amy Rayner-Cooley
News Researcher/Editor: Mark Jacobs
---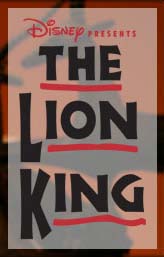 The Lion King Is Roaring
– DisneyÆs award-winning Broadway phenomenon THE LION KING celebrated its first anniversary on the Las Vegas Strip at Mandalay Bay. Though the production just pounced onto the Mandalay Bay Theatre stage one year ago, it already has a lot to celebrate. Within nine weeks of its Las Vegas debut, DisneyÆs THE LION KING broke the Mandalay Bay box office record previously held by MAMMA MIA! and then went on to break its own record four more times throughout the year.
B.B. King's Blues Club At Mirage Las Vegas Offers World Cup Specials – Fans wanting to view the World Cup can do so at B.B. King's Blues Club. B.B. King's Blues Club offers $9.95 breakfast and lunch specials daily throughout the World Cup. Patrons can also enjoy $12 pitchers of domestic draft beer. The games can be viewed on eight high-definition TVs around the club for no cover charge.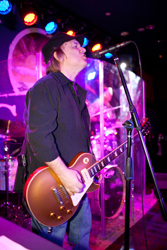 Celebrate Independence Day Las Vegas With Rock 'N' Roll Karaoke And $1 American Brews At Cabo Wabo Cantina – Cabo Wabo Cantina will celebrate America's Birthday with live rock 'n' roll karaoke and $1 American brews on Sunday, July 4. Revelers will enjoy a selection of domestic drafts for just $1 from 3 to 8 p.m. and live rock music by classic rock band 3 Digit IQ at 9 p.m.
Planet Hollywood And PH Towers: Latest Resorts To Participate In Harrah's Las Vegas Hotel Group "No Resort Fees" Program – Effective immediately, Planet Hollywood Resort and PH Towers eliminate resort fees. The two resorts will join the other Harrah's Entertainment Las Vegas properties, including Paris Las Vegas, Bally's, Rio All-Suite Hotel & Casino, Caesars Palace, Flamingo Las Vegas, Imperial Palace and Harrah's, in not imposing mandatory resort fees attached to a room reservation.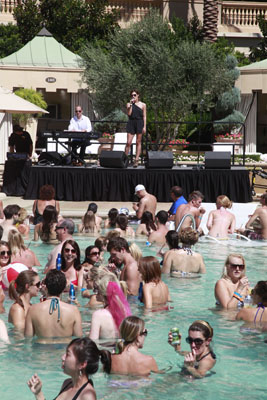 photo credit: IS Photography/ImagesofVegas.com
Katharine McPhee Kicks-off 'Stereo Love Saturdays' At AZURE Las Vegas Beach Club – American Idol alum, Katharine McPhee, made a special musical appearance at AZURE Luxury Pool on Saturday, June 26th for 'Stereo Love Live'. The sultry singer and songwriter graced the poolside stage and hosted the day time party to celebrate the launch of Belvedere Pink Grapefruit Vodka. Kat arrived with her husband to The Palazzo on Friday where they checked in at the VIP Lounge to their luxurious Siena suite. Kat was wearing a loose fitting cream crop top with cut-off jean shorts, flip flops and sporting her signature short, now brunette, hair do.
Macanudo Millionaire Contest 2010 – Win A Trip To Palms Las Vegas, Possible $1,000,000 – You can win a trip to the Palms Las Vegas resort and possibly become a millionaire in the Macanudo Millionaire contest! Grand Prize is a trip for four and a chance to win up to $1,000,000!
---
Las Vegas Shopping Notes
Ermenegildo Zegna Opens at Crystals – Ermenegildo Zegna, the leading Italian luxury menswear brand with a reputation for quality and service that is unparalleled around the world, opened its largest Las Vegas store at Crystals on June 5. At approximately 10,000 square feet, the two-level store showcases its extensive collection of suiting, sportswear, small leather goods and accessories.
La Martina Opens – Just opened at The Forum Shops, La Martina is the official supplier in the world of the sport of polo. They approach business the same way a high scoring polo player approaches polo – with passion, devotion and the utmost commitment to excellence. The storeÆs concept includes leather outfits, polos and shirts for men, women and kids, as well as accessories such as belts, bags, shoes, hats and more. Each and every product at La Martina is carefully designed, produced and tested to ensure it fulfills necessary quality standards required to compete and win at the very best tournaments all over the world.
---
Featured Tour û Enjoy Las Vegas!

Maverick Indian Territory Tour û This exciting tour begins by flying over the beautiful Lake Las Vegas, Lake Mead, the world famous Hoover Dam and Fortification Hill. Maverick Helicopters will descend and land in the Hualapai Indian Territorym 3,500 feet into the Grand Canyon. The excursion then journeys back through the Grand Canyon and lands on at the West Rim where you will enjoy spectacular views along Eagle Point and receive a brief introduction to the Hualapai Indian legends and culture. Guano Point, a breathtaking observation spot overlooking the Grand Canyon will follow.
---
Members Mania – We Love Our Readers!
We enjoy being responsive to our readers. Click on each post to view questions/comments and our tips and answers. Keep yourself informed on Las Vegas!

---
We love to hear from you, and value your feedback! Here's how to participate:
Drop us an email at allvegastv@aol.com – We read them all!
Call our recorded comment line at 702-507-0055. We listen to every call.
---
More Las Vegas News – Concerts – Events
---
Coming Hot Holidays
– The following dates are huge times to be in Las Vegas, and rooms are in high demand. Booking in advance is the best way to save. Visit our friends at
Las Vegas Hotel Deals
and spend one of the following hot dates having fun in Las Vegas:
Independence Day July 4
Civic Holiday, Canada July 31-August 2 (3 day weekend)
Labor Day, U.S September 4-6 (3 day weekend)
Labour Day, Canada September 4-6 (3 day weekend)
Jewish New Year September 9
Halloween October 31
Veteran's Day November 11
Thanksgiving Day, U.S November 25-28 (4 day weekend)
Hanukkah Dec. 2 – Dec. 9
Christmas December 25
New Year's Eve-Day December 31 – January 2 (3 day weekend)
Martin Luther King, Jr., Day, U.S (Observed) January 15-17 (3 day weekend)
Chinese/Lunar New Year February 3
Super Bowl Sunday February 6
Lincoln's Birthday, U.S February 12
Valentine's Day February 14
President's Day, U.S (Observed) February 19-21 (3 day weekend)
Washington's Birthday, U.S February 22
Mardi Gras March 8
St. Patrick's Day March 17
Easter Sunday April 24
Cinco de Mayo May 5
Mother's Day May 8
Memorial Day, U.S May 28-30 (3 day weekend)
Father's Day June 19
Link To Us! – Have a home page, web page, or blog? Link to us, and give yourself and your friends a quick link to find us from your site. Simply link to http://www.accessvegas.com and name the link Access Vegas!
RSS Feed – We now have an RSS/XML feed! Most RSS programs let you visit AccessVegas.com and automatically pull the feed. For those who want to enter it manually, the feed is:
http://www.accessvegas.com/xml/whats-hot.xml
No related links found