Serving Las Vegas Visitors and Residents Since 1999
Welcome to the Insider Vibe! This is the official newsletter of AccessVegas.Com. We talk about the Las Vegas activities you really care about.
---
AccessVegas.com Quick Info Menu:
Las Vegas Essentials

Seasonal Vegas Information

Featured Shows

Photos and Wallpaper
Newkirk's Notes – comments on Las Vegas from AccessVegas.Com publisher Ted Newkirk:
Hello From Las Vegas! After a bit of a temperature spike, things are staying under the 100 degree (F) mark. Pool weather hot, but not so bad that you think the street is melting under you! By the way, Las Vegas visitor numbers have risen for eight consecutive months now. So much for all the people who were celebrating the death of Las Vegas.
And The Rocket's Red Glare, The Fireworks Bursting In Air… – Just about this time of year, we get flooded with email asking where on The Strip you can see 4'th of July fireworks. Especially for those coming from other countries who want a taste of how we celebrate this special day in the United States. And usually I don't have any answers, and by the time word gets out, you are already on your way here and it is too late.
I'm thrilled to note that The Stratosphere will indeed be doing an all-day pool party. It is already planned and (I'm happily in shock)… they got us all the info already! Now… they aren't having their own fireworks (and we'll fill you in on those as word happens). However, you can enjoy their all-day bash with food and drink specials and special appearances from the cast of American Superstars and the sexy girls from BITE, and then head up to the tower to watch the fireworks that typically take place all over the Las Vegas Valley (well off The Strip). Click to read all the info: Stratosphere Las Vegas Celebrates Fourth Of July ôRed, White and Youö Pool Party And BBQ And yes, we'll have actual fireworks location info as it becomes available.
Fewer Free Drinks In Las Vegas Not Just Your Imagination – The stats are in and those "missing cocktail waitresses" are not your imagination. I blogged about the details, my thoughts on why this poses a problem to the gaming industry (here in Las Vegas) and also give you a chance to add your own comments. Which you should… they will make it to the proper ears. Click over to read Fewer Free Drinks In Las Vegas Not Just Your Imagination
REAL Concierge Service – Many of our readers are well-traveled and used to staying at nice hotels. One of the perks of a nice hotel is the hotel concierge. This is a person who helps you with local knowledge, helps in planning itineraries, obtaining dining reservations (with the help of their inside knowledge to help you pick the right place), tours, golf, and special requests (anything legal).
In many cities, a hotel concierge serves only for tips. They do a great job for you, you tip them in return. The top attainment by a concierge is to be on of Les Clefs d'Or (their professional organization). In Las Vegas… not so much. Concierge desks are often glorified ticket desks, and they have a tendency to "sell" you what they need to push. So it is with great pleasure we note that the MGM Grand has 12 certified Les Clefs d'Or (gold keys – they wear them on their lapel) concierges — more than any other hotel in the world. This team speaks 13 languages and has been specially trained in global etiquette.
Want a ticket service? Go to a ticket booth in your hotel. Want a real concierge? Go to the MGM concierge desks (and don't forget to tip them well for service well-rendered). If you typically enjoy concierge service when you travel, we strongly suggest you click to read MGM Grand Concierge Recognized By Esteemed Concierge Association Les Clefs d'Or – More Keys Than Any Other Hotel In The World
UFL Championship Game? – Help! I pride myself of having tape (DVD's now) of just about every big Las Vegas event on TV. Implosions, New Years, stunts, you name it. Screwed up and totally forgot the day that the upstart UFL was playing their championship game here. If anyone has it and can get me a copy, I'll send you a some cool Vegas stuff from our prize vault. Drop me a line: allvegastv@aol.com
Sometimes You Want It Now! – Many of you know that we have a What's Hot section on the main page of AccessVegas.com We post a tremendous amount of info all the time and it all ends up in the newsletter (often down in the "More" section). We select the best (and most interesting) for What's Hot. And… if you don't visit the site every day, you may miss something. But what if you could have a short, quick daily email with just a few of the top, most popular and helpfulápieces of news and information that we post?
Now you can! Click over to our AccessVegas.com What's Hot! Email Alert page, fill in your email, and once a day (no more than that), we'll send you a quick, short digest email with the best selected Vegas Visitor news we posted that day. Short and sweet, no hassle, no cost. Just another great service we want to offer you, our readers.
Enjoy This Issue!

Associate Editor: Amy Rayner-Cooley
News Researcher/Editor: Mark Jacobs
---
Las Vegas Is On Sale!
Get Great Rates At All Hotels:
---
Cheap Trick's "Sgt. Pepper Live" Opens In Las Vegas
– "Sgt. Pepper Live" opened to a packed house at the
Paris Las Vegas Theatre
tonight, as Cheap Trick returned to Las Vegas in their celebration of the iconic Beatles' album. Cheap Trick, the Sgt. Pepper Symphony Orchestra and even an authentic Indian Sitar band, rocked their live interpretation of the classic album.
Lionel Richie Returns To The Colosseum At Caesars Palace – World-renowned music icon Lionel Richie will bring his four decades of award winning hits to The Colosseum at Caesars Palace on Friday, July 30 and Saturday, July 31.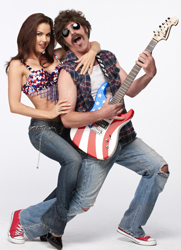 Las Vegas Rock & Rita's To Host July 4th Weekend Grand Opening – Rock & Rita's will bring its "Great American Party" to Circus Circus with a raucous grand opening celebration over Fourth of July weekend. Flair bartending, live music and festive signature dishes take center stage at the sprawling, 14,000-square-foot party spot.
Stratosphere Las Vegas Sizzles With Body And Soul Parties At Level 8 Pool – The weather is heating up and Stratosphere Casino, Hotel & Tower is hosting sizzling "Body and Soul" pool parties at Level 8 Pool for those hot summer days and nights. Partiers can dance to the world beat of Rhythmic Soul, a unique three-piece group featuring a DJ accompanied by live percussion and horn. Rhythmic Soul will perform on the pool deck Thursday through Sunday from 4 p.m. to 8 p.m. all summer long.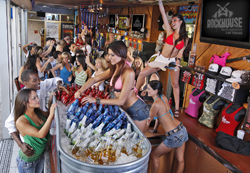 Rockhouse Las Vegas Weekly Lineup Of Specials And Events – Another Effen Monday û Rockhouse's industry night will top off with resident DJ Inferno spinning on the ones and twos, featuring $3 you-call-it Effen Vodka cocktails. Revelers that show an industry business card will receive bottle service starting at $100. Mid-Week Go Dirt Cheap û Too poor to party on the weekend? Party mid-week and get it dirt cheap at Rockhouse. Enjoy $2 drafts and wells on Tuesdays and $50 Smirnoff Vodka bottles on Wednesdays. Ladies Night û All ladies will drink on the house from 10 p.m. until midnight with resident DJ Joey Da Juice spinning party-inducing mash-ups all night long.
History Teams With eBay For Pawn Stars Las Vegas Charity Auction – The PAWN STARS can appraise the value of anything under the sun, but even the "Old Man" can't predict what a fabulous weekend in Las Vegas with HISTORY's biggest stars will fetch. Coinciding with season 3 of cable's No. 1 series (in adults 25-54), which premiered Monday, June 7 at 10/10:30 p.m. ET, HISTORY is joining forces with eBay for the first time ever to present a PAWN STARS Charity Auction. The charity auction will kick off Monday, June 14 at 10pm ET at www.ebay.com/pawnstars.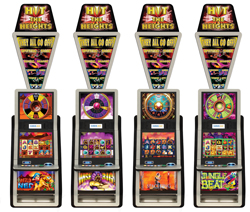 Gambling Talk: Video Slots – Hit The Heights – with Victor H. Royer. If you havenÆt read the last issue, Part 11 (A), please refer to it for the story that goes with The SkyÆs The Limit motto. It applies to this great game, as it did to the great pioneer of Las Vegas casinos.
Today, I am continuing with the game description for the 4 base games that are part of the Hit The Heights family of multiline video slots. Wish Big – This is a 25 line game, with 35-credit minimum (25 per line + 10 ante bet). The game is available in 1, 2 and 5-cent denominations, and provides a feature where you can win 10, 15 or 20 free games with 3, 4 or 5 scattered GEM symbols.
Click to Read Complete Article…
---
Featured Tour û Enjoy Las Vegas!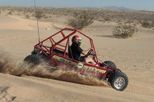 Nellis Dune Buggy Tour û Take an exhilarating shake, rattle and roll tour of the Nellis Dunes by dune buggy from Las Vegas. You'll feel the wind in your face as you traverse dry river beds, soar over sand dunes and experience the desert scenery like never before. Stops will be made at Look Out Dune and Rattle Snake Cliffs during the tour.
---
Members Mania û We Love Our Readers!
We enjoy being responsive to our readers. Click on each post to view their questions/comments and our tips and answers. Keep yourself informed on Las Vegas!

I am a subscriber to the another Las Vegas newsletter, but I think you newsletter is the best of the rest, it has information that I use when planning my trip to your fair city (July 13-21). I stay at the Imperial Palace and never have had any problem with that hotel, they are very accommodating and see to all my needs.
Keep up the fine work in your newsletter I look forward to it every week.
Carmine
We love to hear from you, and value your feedback! HereÆs how to participate:
Drop us an email at allvegastv@aol.com û We read them all!
Call our recorded comment line at 702-507-0055. We listen to every call.
---
More Las Vegas News – Concerts – Events
---
Coming Hot Holidays
– The following dates are huge times to be in Las Vegas, and rooms are in high demand. Booking in advance is the best way to save. Visit our friends at
Las Vegas Hotel Deals
and spend one of the following hot dates having fun in Las Vegas:
Father's Day June 20
Independence Day July 4
Civic Holiday, Canada July 31-August 2 (3 day weekend)
Labor Day, U.S September 4-6 (3 day weekend)
Labour Day, Canada September 4-6 (3 day weekend)
Jewish New Year September 9
Halloween October 31
Veteran's Day November 11
Thanksgiving Day, U.S November 25-28 (4 day weekend)
Hanukkah Dec. 2 – Dec. 9
Christmas December 25
New Year's Eve-Day December 31 – January 2 (3 day weekend)
Martin Luther King, Jr., Day, U.S (Observed) January 15-17 (3 day weekend)
Chinese/Lunar New Year February 3
Super Bowl Sunday February 6
Lincoln's Birthday, U.S February 12
Valentine's Day February 14
President's Day, U.S (Observed) February 19-21 (3 day weekend)
Washington's Birthday, U.S February 22
Mardi Gras March 8
St. Patrick's Day March 17
Easter Sunday April 24
Cinco de Mayo May 5
Mother's Day May 8
Memorial Day, U.S May 28-30 (3 day weekend)
Link To Us! – Have a home page, web page, or blog? Link to us, and give yourself and your friends a quick link to find us from your site. Simply link to http://www.accessvegas.com and name the link Access Vegas!
RSS Feed – We now have an RSS/XML feed! Most RSS programs let you visit AccessVegas.com and automatically pull the feed. For those who want to enter it manually, the feed is:
http://www.accessvegas.com/xml/whats-hot.xml
No related links found