Serving Las Vegas Visitors and Residents Since 1999
Welcome to the Insider Vibe! This is the official newsletter of AccessVegas.Com. We talk about the Las Vegas activities you really care about.
---
AccessVegas.com Quick Info Menu:
Las Vegas Essentials

Seasonal Vegas Information

Valentine's Day Events
Mardi Gras Events
St. Patrick's Day Events
March Madness Events
Spring Break Events
Cinco de Mayo Events

Featured Shows

Photos and Wallpaper
Newkirk's Notes – comments on Las Vegas from AccessVegas.Com publisher Ted Newkirk:
If it seems like it's been a while since the last issue, it has! We had a scheduled week off the second week of January and this past week foughtáinternet outages that our provider blamed on the rain.
Yes, I said rain. Lots of rain. Pacific Northwest type rain and clouds for the past entire week. These are the same storm systems that have been slamming California and Arizona. The last time I remember this kind of persistent cloudy, rainy weather was about five years ago. This coming week will bring clearing but still unfortunately cool temps topping out only in the mid-to-upper 50's F.
Barry Manilow Debuts New Album Live From Paris Las Vegas – Manilow has moved from the Las Vegas Hilton and is prepping for his run at Paris Las Vegas. He will be on QVC at 6 PM Pacific January 29 to perform some of his new music. Although the rumored start of his run was for Valentines Day, the actual first performance will be March 5. Click for Barry Manilow In Las Vegas Tickets
Speaking Of Valentines Day – We'll have news and events about Valentine's Day 2010 in Las Vegas starting next issue. However… it isn't that far off. With the incredible low room rates right now, how can you not afford take your special someone here for the special day! Visit our friends at Las Vegas Hotel Deals for great deals and current Las Vegas promotions.
World Renowned Pianist Danny Wright – now has a permanent home at Bar Moderno located inside the new Aria Las Vegas. He tinkles the ivories Wed. – Sun. starting at 7 PM. To find out if he's your cup of tea, Rhapsody users can check him out at http://www.rhapsody.com/danny-wright
Wrapping Your Mind Around CityCenter – Chances are you'll be checking out CityCenter on your next visit so you can see what $8.5 billion buys these days. The L.A. Times did a nice interactive graphical presentation that should help you get a feel for how CityCenter is set up: Interactive graphic: A new center in the city
Las Vegas' McCarran Airport – saw traffic fall nearly 9% in 2009. Much of this was due to capacity cuts by US Air (Airways… whatever). For the better part of two decades, America West Airlines used Las Vegas as a key hub. But as the merger with US Air was integrated, the redundancy of having hubs in both Phoenix and Las Vegas combined with US Air being less aggressive than America West with pricing has led to the cutting of Las Vegas as a hub.
For many years, American West ran a strong "third shift" operation at McCarran with hordes of planes landing around 11 PM for midnight red-eye flights to points around the nation. Generally speaking, the more hours per day an airline can keep an aircraft in the air, the more it can make against the fixed costs of owning or leasing the plane. However, the softer tourism demand of the past couple of years stopped making many of red-eyes feasible.
I'd love to see them return. Nothing beat parking myself at the airport viewing area about 11 PM on a hot summer night and watching continual landings and departures. And for many of you, nothing beat maximizing your time in Las Vegas by staying the entire final day of your trip before catching an overnight flight home.
A Great Place To Live If – For well over a year, I've been noting that Southern Nevada is a great place to move if one is financially stable (won't need to look for work here), including for retirees. Housing prices are at historic lows and all projections maintain low Las Vegas home prices throughout all of 2010.
Economic analysts are now jumping on that bandwagon, noting that seniors bring disposable retirement income while not consuming high-cost government services like schools. These analysts are suggesting that money be spent to market Las Vegas as a retirement location.
In related news, Las Vegas is looking at zero job growth in 2010 and recent reports predict around 100,000 people leaving Nevada in the next 5 years. Is the contractionáa bad thing? Not necessarily. Las Vegas grew WAY too fast, and a few years of stabilization will be good in the long term.
Las Vegas Growth Video – Sometimes it is difficult to comprehend how fast and huge Las Vegas grew in a mere 25 years. Check out the following short video: Growth In Las Vegas 1984 to 2009
But The Good News For You Is – Deals, deals and more deals! Hotels are fighting each other to out-offer bonuses for staying with them. Starting this issue, we'll be listing a number of those bonus offers each week.
Enjoy This Issue!

Associate Editor: Amy Rayner-Cooley
News Researcher/Editor: Mark Jacobs
---
Las Vegas Is On Sale!
Get Great Rates At All Hotels:
---
Jon Stewart To Perform At The Mirage February 5 And 6
– Television star and stand-up comic Jon Stewart, brings his award-winning talent to The Terry Fator Theatre at
The Mirage
Friday, Feb. 5 and Saturday, Feb. 6 at 10 p.m. Jon Stewart is considered one of America's top social and comedic voices. Over the past 10 years, Stewart has redefined political satire in American culture from his perch atop the anchor chair on Comedy Central's "The Daily Show with Jon Stewart." To date, Stewart and "The Daily Show" have received 28 Emmy Award nominations and won 13.
Bellagio Introduces Las Vegas' Most Stunning Sunday Brunch Experience – Fountains Brunch at Jasmine Delights Senses by Pairing Delectable Gourmet Dishes with Breathtaking Visual of Resort's Iconic Dancing Waters. For the first time in the AAA Five Diamond resort's history, guests of Bellagio are invited to partake in an unrivaled brunch experience, featuring a bevy of gourmet and traditional cuisine, while enjoying sweeping views of Bellagio's lake and world-renowned fountains. Fountains Brunch at Jasmine now redefines Sunday brunch in Las Vegas.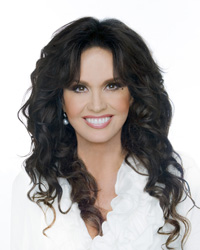 United Way's Annual Women's Leadership Luncheon Features Keynote Speaker Marie Osmond – United Way's Women's Leadership Council hosts its second annual Women's Leadership Luncheon at Paris Las Vegas on Thursday, Feb. 25, 2010 at 11:30 a.m. and welcomes celebrity keynote speaker – and renowned philanthropist – Marie Osmond. The exclusive event also honors three outstanding women leaders in United Way's focus areas of education, health and financial stability. Serving as the event's keynote speaker, internationally-recognized celebrity and local headliner Marie Osmond will discuss her own charitable work and the inspiring stories she's helped to create along the way. Osmond is the co-founder of the Children's Miracle Network, which has helped more than 17 million kids obtain quality healthcare. She also serves as the spokeswoman for the American Heart Association's "Go Red for Women" campaign.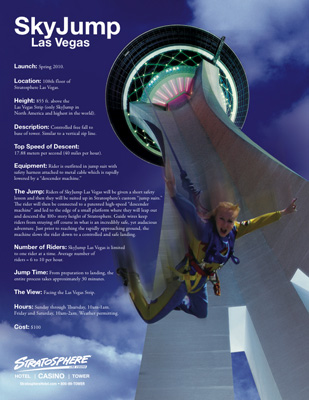 The Stratosphere Las Vegas Hotel & Casino To Add World's Highest "Skyjump" To Their Collection Of Thrills – The Stratosphere Las Vegas Hotel & Casino today announced the addition of their next big thrill – SkyJump Las Vegas. What will undoubtedly become one of the top tourist attractions in North America, the skyjump is best described as a "controlled freefall." Lucky adrenaline junkies and average Joes alike, will have the opportunity to plummet 855 feet at a scream-inducing speed of up to 40 mph – all while enjoying breathtaking views of the world famous Las Vegas Strip…if they can bear to keep their eyes open.
---
Featured Tour – Enjoy Las Vegas!
Ultimate Hoover Dam Tour – This is the "Best of the Best" Hoover Dam Tour! Your professional tour guides will educate and entertain you on all aspects of Hoover Dam in an informative and interesting way, allowing you to enjoy every moment of your visit. Not only will you join the Government's Power Plant Tour and Visitor Center Tour, the Ultimate Hoover Dam Tour is one of the only excursions from Las Vegas to offer an exclusive 45-minute Walk On The Top tour. Highlights: * Informative, friendly and professional guide * All entrance fees included * Lunch included
---
Members Mania – We Love Our Readers!
I just got back from Las Vegas a couple of weeks ago, why do they have all those people down by Paris handing out those cards of the girls? You try to ignore them and they snap them in your face. Very scary for two senior citizens. That spoiled our other wise nice vacation.
Lorraine
Ted Responds:
With the help of the ACLU, what they do (handing out the "girls to your room" cards) has been determined "protected" as free speech.
Just ignore them. They can't make any contact with you or touch you in any way (or it could be construed as misdemeanor battery) so I just continue on my way and stay my course. Others choose just to move to the other side of the sidewalk.
They are clustered together in certain areas of The Strip because laws were able to be made restricting the zones people can hand out solicitations in.

---
Was in Vegas over Thanksgiving. We read comments positive and negative about the Rio. Our stay was excellent. Our flight was early and we were allowed to check in @ 10:00 am. When we got to our room we had a problem with our safe. Help arrived in 10 minutes.
Our suite was very clean.The shuttle to the strip was great and on time. The only problem was on Friday the 27th around midnight. There was a shooting at Caesars and the strip was shut down.
We saw 4 great shows. David Copperfield, Carrot top, Love and Le Reve. Carrot Top was a great surprise. We are looking forward to returning in the spring for"Dinner in the Sky" which was canceled for the winter.
We have stayed at most of Harrah's hotels.Flamingo, Caesars, Bally's,and Rio.The only thing that I noticed that more and more kids are in the casinos. This was in almost every casino we went to. Wynn, MGM, Luxor not just our hotel. Thanks for your newsletters, they are great. Sorry for your loss.
Jerry Mclaughlin
Ted Responds:
Thanks for the condolences. Has been a tough few weeks.
You are going to get lots of kids over Thanksgiving weekend. Over the past few years, far-flung families have made it more and more of a tradition for everybody to meet up in Las Vegas. Everybody can get together for a Thanksgiving dinner at just about any restaurant ranging from buffets to fine dining.
The most common thing we hear about Carrot Top (and I agree) is that people didn't think he would be that great, and they ended up loving the show. He is really, really funny and full of energy. His success here is not a fluke.
Dinner In The Sky returns March 19 of this year! It is a little pricey but an experience you'll never forget. People can book it now: Las Vegas Dinner In The Sky

---
I just got back from Vegas and realized something. The job market is tough and competition for business is high. Why don't the casinos do a better job of hiring dealers that speak well and that are very friendly?? We went up to play at some of the tables and a word was never spoken by the dealers! It happened at several different casinos.
Don't the casinos realize that if you increase your customer service you will get more people coming in the door to your casino, there are many to pick from. Heck, the Walmart greeters are more friendly than most dealers. If they were required to learn everyones name and where they were from it would open up some dialog. And if the dealers were nice and smiled that may be a plus too!
P.S. If the dealers were more friendly don't they realize they would make more money from tips!
Gary Nawrocki
Ted Responds:
Funny this should come up because I recently saw a craps table where the dealer was so unfriendly and gruff that a couple of guys with hundreds of dollars of chips each in front of them literally scooped them up and went to the cage.
Here is what is happening (and yes, the dealers and others service industry workers are shooting themselves in the foot):
For decades, those living and working in Las Vegas knew it was all about the customer. Take care of the customer, the money will follow. People moving here and looking to get into casino work understood that it was the SERVICE industry.
As Las Vegas started to boom, word got out that Las Vegas was a great place to make good money doing marginally skilled labor. Instead of moving here for the weather or the libertarian live-and-let-live atmosphere, it was for the buck. And… the money was good through the boom. People got spoiled and started expecting it.
Now, the gravy train is over and the service workers are mad that you aren't spending like you used to. So instead of trying harder and really working to earn those tips (like they used to), now they just mope. When in reality, they should be thankful they have a job right now!
What can you do? Don't be bashful about withholding tips (when appropriate) or tipping low for lousy service. You don't own anyone your hard-earned cash unless they in return earn it. Also, if you really encounter a bad-attitude employee or simply terrible service, don't be scared to pull a pit boss or manager (whatever applies to the situation) aside and politely mention it.
I'm probably not making very many friends in the service industry with these comments, but guess what guys: Tips are earned.

---
Just got back from another fantastic trip. We go about twice a year. We stayed at the Sahara and to be honest I was a little worried after all the reports I was hearing but my worries were unfounded. The rooms were fabulous, the entire staff friendly and professional, and we actually won a little bit of money.
The Riviera on the other had was a complete disappointment, they should change the name of that place to the Morgue. There was no one there gambling and we went on two separate occasions, and to top it off after a couple hours of play nothing to show for it.
Thank you for putting out a wonderful newsletter, keep up the good work.
Gary & Crystal from Colorado
---
We love to hear from you, and value your feedback! Here's how to participate:
Drop us an email at allvegastv@aol.com – We read them all!
Call our recorded comment line at 702-507-0055. We listen to every call.
---
More Las Vegas News – Concerts – Events
---
Coming Hot Holidays
– The following dates are huge times to be in Las Vegas, and rooms are in high demand. Booking in advance is the best way to save. Visit our friends at
Las Vegas Hotel Deals
and spend one of the following hot dates having fun in Las Vegas:
Super Bowl Sunday February 7
Lincoln's Birthday, U.S February 12
President's Day, U.S (Observed) February 13-15 (3 day weekend)
Chinese/Lunar New Year February 14
Valentine's Day February 14
Mardi Gras February 16
Washington's Birthday, U.S February 22
St. Patrick's Day March 17
Easter Sunday April 4
Cinco de Mayo May 5
Mother's Day May 9
Memorial Day, U.S May 29-31 (3 day weekend)
Father's Day June 20
Independence Day July 4
Civic Holiday, Canada July 31-August 2 (3 day weekend)
Labor Day, U.S September 4-6 (3 day weekend)
Labour Day, Canada September 4-6 (3 day weekend)
Jewish New Year September 9
Halloween October 31
Veteran's Day November 11
Thanksgiving Day, U.S November 25-28 (4 day weekend)
Hanukkah Dec. 2 – Dec. 9
Christmas December 25
New Year's Eve-Day December 31 – January 2 (3 day weekend)
Link To Us! – Have a home page, web page, or blog? Link to us, and give yourself and your friends a quick link to find us from your site. Simply link to http://www.accessvegas.com and name the link Access Vegas!
RSS Feed – We now have an RSS/XML feed! Most RSS programs let you visit AccessVegas.com and automatically pull the feed. For those who want to enter it manually, the feed is:
http://www.accessvegas.com/xml/whats-hot.xml
Share the info: Click to Email this newsletter to a friend!
---
For comments or questions regarding our content
or this newsletter write us at
allvegastv@aol.com
.
New to the list? See our Newsletter Archives for back issues and subscription info. Don't hesitate to forward this newsletter to friends and associates.
All contents copyright 2010 Ted Newkirk. All Rights Reserved.
Hotel Rates Published Accurate At Time Of Publication


January 20, 2010 ISSN: 1529-2770 About Us Privacy Policy
No related links found