Serving Las Vegas Visitors and Residents Since 1999
Welcome to the Insider Vibe! This is the official newsletter of AccessVegas.Com. We talk about the Las Vegas activities you really care about.
---
AccessVegas.com Quick Info Menu:
Las Vegas Essentials

Seasonal Vegas Information

March Madness Events
Spring Break Events
Cinco de Mayo Events

Featured Shows

Photos and Wallpaper
Newkirk's Notes – comments on Las Vegas from AccessVegas.Com publisher Ted Newkirk:
We had one more day of rain to get rid of this past week, but we'll looking at weather in the 60's F and mostly sunny (pretty much average for this time of year) for the next couple of weeks. Not too shabby compared to the rain and snow blanketing large parts the Northwest and Southeast United States as this goes out. Stay warm and dry. Or… hop a plane our way!
Super And The Saints – If hitting Vegas for the Superbowl, St. Valentines Day or St. Patrick's Day sounds like fun, check out the event links in the Quick Info Menu (directly above this column). You may wish to check back to each link often as information for Superbowl and Valentines Day pours in almost daily.
Fontainebleau Is Sold – Financier Carl Icon looks like the winning bid for the unfinished Fontainebleau (the big, tall, blue building between The Riviera and Sahara). Before you make plans to attend the gala grand opening, hold your horses. Estimates to finish the nearly 4000 room property start at well over a billion dollars. That simply isn'táeconomically feasible right now. While the shell of the building is done, the floors remain unfinished.
What we'd like to see? Get the casino, restaurants, and bars open. At least space that fronts The Strip. Get some life in the place and a few bucks rolling in. Then as the economy improves, start to build out a few hotel floors at a time from the cash flow. We'll keep you posted.
Unhappiest State? – A recent poll ranked Nevada the 39'th least happy state in the union. At first, I figured they must have interviewed a known Las Vegas blogger who hates living here (yes, one really exists). But the survey was actually based on "… research suggest(ing) U.S. states with wealthier, better educated and more tolerant residents are also happier on average. The reasoning is that wealthy states can provide infrastructure and so it's easier for residents to get their needs met. In addition, states with a greater proportion of artists and gays would also be places where residents can freely express themselves.
I found that interesting because Las Vegas' "live and let live" attitude is pretty gay friendly and the arts scene has been developing the past few years (although no one will mistake us for New York City). The other weird thing? We must have gotten dinged on the education front (most residents have a lower-than-average level of education) and the recession has taken a toll on median income. Hey… I'm happy here no matter what the poll says.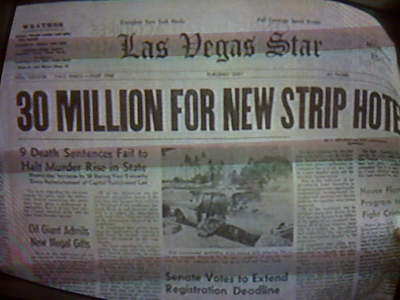 What Will A Dollar Buy? – We get regular emails bemoaning how Las Vegas is so much more expensive than it was 20 and 30 years ago. However… one sometimesáforgets to index things for inflation. This is a TV capture from a 1976 TV show and although fictional, it drove me to look a couple things up. It takes 3.5 times as many dollars to buy the same thing as it did 30 years ago. 1.8 times what it did 20 years ago. So for you long-time visitors remembering the $25 show you saw 30 years ago, keep in mind it is the equivalent of an $80 show today (and many of today's Las Vegas shows are far more spectacular). Puts it in perspective!
Aladdin Cards Winner – Doug Tao of California was one of 15 people who wrote in with the correct answer to our photo contest (see January 6 issue). He wrote:
The photo is where Binion's Horseshoe displayed their $1 Million. Binion's Hotel (now closed) used to be the Mint.
Now, somewhere in my old junk is a deck of cards from the Mint…
Hope I'm right,
Doug Tao
Well Doug, now you have a deck of Aladdin cards to join the Mint cards!
Probably the most interesting entry was this one:
That looks like the area of the Horseshoe (now called Binion's) where about 40 years ago, I had my picture taken next to a million dollars. I was 17 years old and the picture would not be ready until a day or 2. I made my father take me there to pick up my picture before going to the airport to go home. It's a good thing we didn't miss our flight! I still have my picture.
Linda from Bergenfield, NJ
Fighting Cancer? – When you think of the American Cancer Society, you probably think of a group looking for a cure for cancer, and educating the public on how to reduce cancer risk. So why are they suing the state of Nevada? Our smoking ban was amended to allow smoking at tobacco conventions. Normally, convention rooms and ballrooms are non-smoking (due to our smoking ban). The change in the law now allows smoking in an enclosed convention space specifically and only during tobacco retailer shows.
We're not talking about day care or restaurants or other situations where the smoke can drift into the public realm. The law simply and specifically exempts invite-only conventions of tobacco retailers.
Think of all the donation money being spent on lawyers for this crazy suit. Money that could be used to help continue to find cures and treatment for cancer. Think about that the next time the American Caner Society asks for your donation. With smoking on the rise for the first time in ages (despite smoking bans), perhaps it is time to spend more on youth education and less on lawyers and private bans. Speaking of…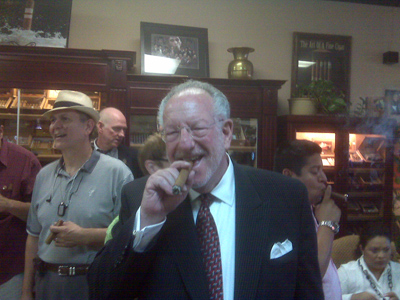 Goodman Bows Out Of Governors Race – After taking the steps needed to run and showing all indications that he would, Mayor Oscar Goodman has announced that he will NOT be running for Governor of Nevada. He cited the laws dictating that the governor must live in Carson City (Nevada's state capital) and that he doesn't want a job that would keep him from waking up next to his wife each day. His wife is very involved in Las Vegas business, society, and charities. And… may run for mayor herself. Now, the reality is that the governor can pretty much spend all the time he wants in Las Vegas except during legislative sessions. And technology lets work get done from just about anywhere.
The most likely reason? A few days before his announcement came dire predictions of state revenue shortfalls over the next few years (not to mention the projection of Nevada losing 100,000 residents by 2015). Goodman is no stranger to rolling up his sleeves in politics, but no one is going to come out of this a winner. The legislative battles will be brutal. My suggestion? Upon his retirement, the new mayor and city council should officially bestow him the title Mayor Emeritus with a four-year commission to continue to be an ambassador for the city at events locally and worldwide.
When Do You Like To Visit? – Help us test our new poll software by telling us your favorite time of year to visit Las Vegas! Simply go to AAAVegas.com and look for the poll on the right sidebar. Results will be displayed in real time.
Enjoy This Issue!

Associate Editor: Amy Rayner-Cooley
News Researcher/Editor: Mark Jacobs
---
Las Vegas Is On Sale!
Get Great Rates At All Hotels:
---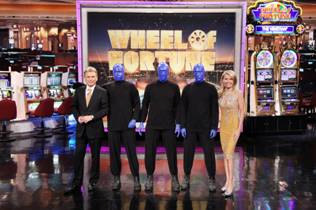 Blue Man Group Adds A Spin Of Excitement To A Special Las Vegas-Themed "Wheel of Fortune"
– Blue Man Group joins Pat Sajack and Vanna White for a special Las Vegas-themed "Wheel of Fortune" show on Monday, Feb. 8 (check local listings). The one-of-a-kind blue-faced trio will be on hand to entertain the crowd, as well as hosts Sajack and White, giving the audience a look into the exciting and euphoric experience only found at Blue Man Group's Venetian show.
John Mayer Brings "Battle Studies" Tour To Mandalay Bay Events Center Saturday, March 27 – Seven-time GRAMMY Award-winning singer/songwriter/guitar player/producer John Mayer will perform at the Mandalay Bay Events Center Saturday, March 27. The concert, scheduled to begin at 8 p.m., will feature Mayer along with special guest Michael Franti & Spearhead.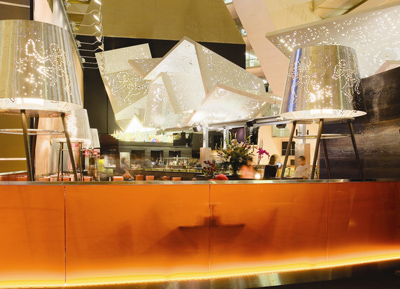 Fiesta Like A Rockstar Under The Sombrero At Tacos And Tequila – T&T Introduces Spicy Weekend Fiesta Friday And Saturday Nights – Friday and Saturday nights at Tacos & Tequila (T&T) just got even hotter with the spiciest party under the sombrero. T&T's Spicy Weekend Fiesta, hosted by the Sexy Elissa, is a delicious and exciting way to liven up the weekend with irresistible Mexican food, mouth-watering handmade cocktails, and of course, enough tequila shots to go around. For those that are over the "club scene," but still want some extra pep in their weekend lineup, T&T's Spicy Weekend Fiesta is on the mark.
Academy of Country Music, Dick Clark Productions & CBS Television Announce The 45th Annual Academy of Country Music Awards – Hosted By Reba McEntire to Be Broadcast Live From MGM Grand In Las Vegas Sunday, April 18 On CBS – Country Music's Party of the Year, the 45th ANNUAL ACADEMY OF COUNTRY MUSIC AWARDS, honoring country music's top talent and the industry's hottest emerging talent, will be broadcast live Sunday, April 18 at 8 p.m. live EST/delayed PST on the CBS Television Network inside the MGM Grand Garden Arena. The Academy also will tape an all-star concert special, ACM Presents: Brooks & Dunn – The Last Rodeo, from the MGM Grand Garden Arena Monday, April 19 which will air at a later date on the CBS Television Network.
Legendary Comedian Don Rickles Returns To Orleans Showroom February 20-21 – The much-honored comedian will launch his 51st consecutive year as a Las Vegas headliner when he brings his one-of-a-kind humor to The Orleans Showroom February 20 and 21, marking his third consecutive year of performances at The Orleans Showroom. Rickles took his first step toward national fame in 1957 when Frank Sinatra wandered into the small Hollywood nightclub where Rickles was performing.
Rousing Musical Review Oh What A Night! Brings The Hits Of Frankie Valli And The Four Seasons To The Suncoast Showroom February 27 and 28 – The extensive hit songbook of Rock and Roll Hall of Famers Frankie Valli and The Four Seasons comes to life in Oh What A Night! at the Suncoast Showroom, February 27 and 28. Oh What A Night!, written and directed by independent Motown producer and creative consultant George Solomon and award-winning producer and director Michael Chapman, is an exciting tribute show that takes audiences on a musical journey through the hits of the famed group that formed in 1960.
Embrace The Romance With S'Mooches, S'Mores And Snuggies At Rhumbar Celebrate With Rhumbar's Delicious Valentine's Day Cocktail – Snuggle up with your significant other this Valentine's Day at RHUMBAR. Beginning Monday, Feb. 1, the stylish cocktail lounge inside The Mirage will introduce its delicious S'mooches and S'mores cocktail, while inviting couples to smooch and snuggle on the intimate patio under the warmth of a Snuggie. Guaranteed to melt your lover's heart, "S'mooches, S'mores and Snuggies" will be ongoing throughout the month of February. In addition, for those that want to shower their lover with adoration, a promotional package is available for purchase, which includes a RHUMBAR embroidered Snuggie and a signature S'moches and S'mores cocktail for $35.
Former Mobster Frank Cullotta Presents Mob Chronicles At The Stratosphere – One-Time Charity Event To Benefit Opportunity Village – Former Las Vegas mobster and hit man Frank Cullotta will present the Mob Chronicles in the Stratosphere Theater of the Stars on Thursday, February 18th at 7:30 p.m. This one-time charity event will benefit Opportunity Village. After eight years of prison and 20 years of witness protection, Cullotta is going public with his speaking tour, Mob Chronicles, about the history of organized crime and his unique insights into the mob life. Joining him will be various members of law enforcement who worked for years in attempts to indict Cullotta.
Tito Ortiz's Punishment MMA Store To Celebrate One Year Anniversary At Hooters Casino With Autograph Session – On Friday, February 5th, Tito Ortiz, Jenna Jameson, Punishment Athletic and TapouT will celebrate the one year anniversary of the Punishment MMA Store located in Hooters Hotel & Casino. When you hear the name Tito Ortiz, you may think of the words "Huntington Beach Bad Boy" or you may think of his hip and trendy Punishment MMA clothing store at Hooters Casino Hotel. If you are thinking of the later, you may find it hard to believe that Friday, February 5th marks the One Year Anniversary of OrtizÆs Punishment MMA Store.
---
Featured Tour û Enjoy Las Vegas!
Las Vegas Double-Decker Bus of the Stars – Hop onboard with your favorite celebrities and tour the world-famous Las Vegas Strip! This one-of-a-kind tour takes place on an original London double-decker bus and every sightseeing show is varied, ensuring a unique experience every time!
Highlights: * Choice of several departures throughout the day * Choice of seating available * Receive discounts at selected restaurants, shops and attractions * Pick-up from a centrally located meeting point
---
These are only a few of the many Easy Vegas Deals we find each and every week (most of which happen too quickly for newsletter deadline). For a complete and constantly updated listing:
Bookmark and Visit EasyVegasDeals.com daily (Monday – Friday) or

Enter

http://www.easyvegasdeals.com/feed/

into your RSS feed list (for those of you who use RSS/XML feeds) or
---
Members Mania – We Love Our Readers!
Your newsletter continues to impress, keep it up, your the best.
Got back two weeks ago from my 18th Vegas visit and before I went I planned my daily schedule and I have to pass on recommendations to your readers about off strip casino-hotels. Along the Boulder Strip – Boulder Station & Arizona Charlies' are wonderful stops and within walking distance of each other. Very friendly laid back places.
Another 20 mins slow walk and Sam's Town is a total delight, I could've spent all day in there with a huge western store "Sheplers" too, but the jewel to me of the 'Alternate Strip' has to be The Eastside Cannery. The place looks futuristic in day time and amazing at night with it's exterior lighting show. Very friendly inside plus loose slots and high quality cheap meal places. I'd rate this a 6 star Vegas resort above the mega resorts (i.e. Bellagio, Venetian etc.) for customer service and friendliness. Easily reached from downtown on the 107 bus route.
Last recommendation is 'Longhorn Casino', a true local's casino with amazing meal-deals too ($4.25 steak and fries) and very loose slots (ended up in profit on the day thanx to Longhorn).
Next visit will probably be October 2010 and the 'Alternate Strip' will be my first stop.
Owen from South Shields, England
Ted Responds:
Great suggestions. I used to live out that way and enjoyed visiting all the places you mentioned! Plus… those locals casinos tend to have the best gaming odds year-after-year. You can't screw the locals and drain their wallets or you lose your customers, and all of those properties in close proximity have to compete for a set local audience.
For the first (and second and third) time visitor, obviously The Strip and downtown have plenty to do and see. However, seeing the "Boulder Strip" combined with visiting Hoover Dam is a great 3/4 day activity (start after brunch) to rent a car for. You can visit Boulder Station, Arizona Charlies East (much newer and nicer than the one on the west side of town), Sam's Town, Cannery, Lake Las Vegas, take a scenic drive along Lake Mead and end up at Hoover Dam. I've Google Mapped it here:
Hint: Returning from Hoover Dam is much, much quicker. Head back toward Las Vegas from Hoover Dam on the highway that crosses Hoover Dam. (Don't turn back off to the Lake Mead scenic drive). It will eventually turn into a freeway. In Henderson, get on to the Beltway (I-215) headed west until you reach Las Vegas Blvd. (The Strip).
If you want someone else to do the diving, we have a number of great Hoover Dam tours available on our Hoover Dam Tours page.

---
I live in Las Vegas and love your newsletter. Recently my 13 year old grandson came to visit. We were looking for inexpensive things to do with him, and happened upon the Las Vegas Speedway. Because it was not a race day, we were able to drive right up close and park by the fence right outside the speedway.
We walked over to what is normally the pit area. They were offering ride alongs but because we didn't want to spend any money, we just watched. It was really fun to watch the race cars go around, and my grandson really liked it. Just thought I'd pass this along.
Thanks,
Marlie
Ted Responds:
You know… I never even thought of that (and I'm a NASCAR fan). I'll suggest people check ahead to find out the times of day they do the ride alongs, but what a great way to see action at the track without fighting the crowds!

---
I plan to be in Vegas and we are staying at the Flamingo, but we would like to visit the new M. Which is the best or cheapest way to get there.
Bob Mangan
Ted Responds:
Visiting the M Resort is turning into a popular activity as people find out how really nice the place while maintaining that locals casino friendliness. We covered the free shuttle in our July 24, 2009 issue (second letter in Members Mania section).

---
Just come back from Vegas had a great time as usual. Stayed in the Excalibur and everyone there was friendly and the food was fab.
Gillian
---
More Las Vegas News – Concerts – Events
---
Coming Hot Holidays
– The following dates are huge times to be in Las Vegas, and rooms are in high demand. Booking in advance is the best way to save. Visit our friends at
Las Vegas Hotel Deals
and spend one of the following hot dates having fun in Las Vegas:
Super Bowl Sunday February 7
Lincoln's Birthday, U.S February 12
President's Day, U.S (Observed) February 13-15 (3 day weekend)
Chinese/Lunar New Year February 14
Valentine's Day February 14
Mardi Gras February 16
Washington's Birthday, U.S February 22
St. Patrick's Day March 17
Easter Sunday April 4
Cinco de Mayo May 5
Mother's Day May 9
Memorial Day, U.S May 29-31 (3 day weekend)
Father's Day June 20
Independence Day July 4
Civic Holiday, Canada July 31-August 2 (3 day weekend)
Labor Day, U.S September 4-6 (3 day weekend)
Labour Day, Canada September 4-6 (3 day weekend)
Jewish New Year September 9
Halloween October 31
Veteran's Day November 11
Thanksgiving Day, U.S November 25-28 (4 day weekend)
Hanukkah Dec. 2 – Dec. 9
Christmas December 25
New Year's Eve-Day December 31 – January 2 (3 day weekend)
Martin Luther King, Jr., Day, U.S (Observed) January 15-17 (3 day weekend)
Link To Us! – Have a home page, web page, or blog? Link to us, and give yourself and your friends a quick link to find us from your site. Simply link to http://www.accessvegas.com and name the link Access Vegas!
RSS Feed – We now have an RSS/XML feed! Most RSS programs let you visit AccessVegas.com and automatically pull the feed. For those who want to enter it manually, the feed is:
http://www.accessvegas.com/xml/whats-hot.xml
Share the info: Click to Email this newsletter to a friend!
---
For comments or questions regarding our content
or this newsletter write us at
allvegastv@aol.com
.
New to the list? See our Newsletter Archives for back issues and subscription info. Don't hesitate to forward this newsletter to friends and associates.
All contents copyright 2010 Ted Newkirk. All Rights Reserved.
Hotel Rates Published Accurate At Time Of Publication


January 27, 2010 ISSN: 1529-2770 About Us Privacy Policy
No related links found