Serving Las Vegas Visitors and Residents Since 1999
Welcome to the Insider Vibe! This is the official newsletter of AccessVegas.Com. We talk about the Las Vegas activities you really care about.
---
AccessVegas.com Quick Info Menu:
Las Vegas Essentials

Seasonal Vegas Information

Valentine's Day Events
Mardi Gras Events
St. Patrick's Day Events
March Madness Events
Spring Break Events
Cinco de Mayo Events

Featured Shows

Photos and Wallpaper
Newkirk's Notes – comments on Las Vegas from AccessVegas.Com publisher Ted Newkirk:
If you were not in Las Vegas the past week, bummer for you as our part of the country was one of the few that escaped the bitter cold that extended all the way down into Florida. We're looking at plenty of sun and highs right at the 60 degree (F) mark the next 10 days or so. If you need to thaw out, a spur-of-the-moment Vegas trip is in order! As always, visit our friends at Las Vegas Hotel Deals for really great hotel rates.
New Years Eve Was HUGE – No recession in sight as 315,000 people flocked to Las Vegas to welcome the new decade. The fireworks were shot off from seven hotel roofs giving just about everyone who braved the cold (upper 30's, roughly 10 degrees colder than normal) on the Las Vegas Strip. Every hotel and nightclub had numerous indoor parties for the less hardy who enjoyed watching the fireworks on high-def big screens.
New York can have their boring ball drop where the crowds were searched, no bags allowed, no booze allowed and people just about froze to death waiting for an anti-climatic one-minute countdown. The only reason we have not far surpassed them as North America's #1 New Years destination is that by the time our party is in full swing, much of the U.S. is already asleep due to the time zone differences and never gets to see it live on TV.
Don't take my word for it. Many of you probably watched that ball drop (hope it didn't get you blood pressure up too much… yawn). Check out the first link in this story list and watch the full 7 1/2 minutes of what Vegas did to ring in 2010:
Planet Harrahswood Is Close – All seems to be in place for the Harrah's (corporation) buyout of enough Plant Hollywood debt to take over the place. Many have mixed feelings on this one. Some really like Harrah's properties. Others are lamenting the loss of what is considered an "indie" property that really tried harder with good gaming value and solid customer service.
My prediction? The new Tropicana (currently undergoing extensive remodeling to a South Beach theme) is poised to become the new Plant Hollywood. The upgrades and re-theming will make the once-aging property very attractive and hip. The "old-school" executives and management who have left other properties to go to The Tropicana will likely bring back some of the more traditional good gaming odds and customer service that some see as currently lacking.
Speaking Of… Look What I Found! – Down in the bottom of a box from my move almost a year ago, I found a deck of playing cards from The Aladdin (the hotel that became Planet Hollywood). These were used in actual play, have been sealed every since, and are now obviously a collectors item.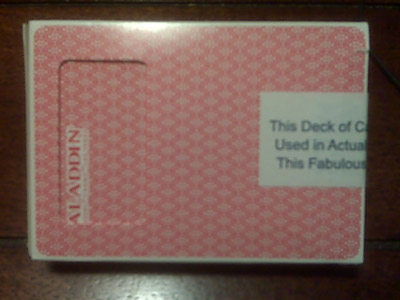 Guess what? I'm giving them away. But… I'm making you work for them. You need to tell me two things about the following picture: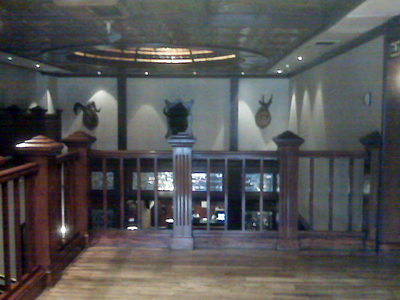 The location in the above picture used to be the exact spot of a world famous Las Vegas exhibit seen by hundreds of thousands (perhaps millions) over many decades. 1. What hotel is this? 2. What exhibit used to occupy this spot? Send an email with the word Aladdin in the subject line to allvegastv@aol.com and the answer to both questions. On January 20'th, 2010 we'll pick a random winner for those answering both questions correctly.
Holidays In Las Vegas – Just about every year prior to Thanksgiving, I note that more and more extended families decide to come together and meet in Las Vegas. While not originally the case in decades past, Thanksgiving and Christmas (when it falls on or near a weekend) are now two more popular times of year here. 2009 was no exception as business was brisk on both holidays!
We are always searching for Vegas comments on blogs to gauge the pulse of how the world sees us. I recently saw a number of posts saying (to paraphrase): Vegas must be dying. We were there the week before Christmas and it was dead. DUH! These people obviously were not here on Thanksgiving, Christmas or especially New Years Eve. In fact…
Hint for December 2010 – The week before Christmas has always been the slowest time of the year. If you want the cheapest room rates, least amount of crowds, and virtually no lines, visit 7-10 days before Christmas (and especially on weekdays). My advice? This coming year, get your holiday shopping done early then reward yourself with a pre-Christmas trip to Las Vegas!
Nevada Unemployment Drops – While this may look like a good sign for the state, I borrow from the famed broadcaster Paul Harvey and note that you need to hear "the rest of the story". For about the first time in 100 years, Nevada's population dropped almost 30,000 people from 2008 – 2009. People are simply "getting out of Dodge" which has helped employment pressures.
To those thinking of moving here, I continue to give this advice: Only move to Las Vegas if you are independently wealthy or have a very stable job that allows you to live just about anywhere you have an internet connection and can get to an airport. If you fall into those categories, Las Vegas housing prices are very attractive. If you don't fall into the above categories, just keep enjoying the historic low hotel rates and dining values on your visits. (Hint: Find them by following our EasyVegasDeals.com blog). There has never been a better time to stretch your dollar in Las Vegas!
You Too Can Jump Off The Stratosphere Tower – This is breaking news so we'll have full info next issue. The Stratosphere is going to give peopleáthe opportunity to plummet 855 feet off the side of the tower. The "ride" will be called SkyJump. Stay tuned next issue for full details and a photo.
Welcome To 2010 – Can you believe that this coming May will mark 11 years I've been publishing this newsletter? It started out as Las Vegas' very first blog (way before the term was coined). Look where we are today. I wish you and yours a far better 2010 than 2009, and know that your 2010 trip(s) to Las Vegas will be some of the highlights of your year. We'll do everything we can to help that happen.
Enjoy This Issue!

Associate Editor: Amy Rayner-Cooley
News Researcher/Editor: Mark Jacobs
---
Las Vegas Is On Sale!
Get Great Rates At All Hotels:

Bally's from $39,

El Cortez from $40,

Fitzgeralds from $23,

Hooters from $24,

Orleans from $33,

Riviera from $29,

Sahara from $27,

Stratosphere from $26,

Tropicana from $28,

Tuscany from $25,
More Savings At All Vegas Hotels!
---
Disney's The Lion King Shatters Its Own Box Office Record At Mandalay Bay Theater In Las Vegas
– Disney's landmark musical event, THE LION KING, has broken its own
Mandalay Bay Theater
box office record with a gross of $1,314,161 during the eight-performance week of December 21-27, 2009. The previous Mandalay Bay Theater record held by THE LION KING was a gross of $1,200,128 (set week ending July 26, 2009). For Las Vegas, Disney hand-selected an international cast of performers who have won acclaim in productions of THE LION KING across the globe, including Broadway, Taipei, South Africa, London, Los Angeles, Australia, Toronto, Shanghai, Paris and Holland.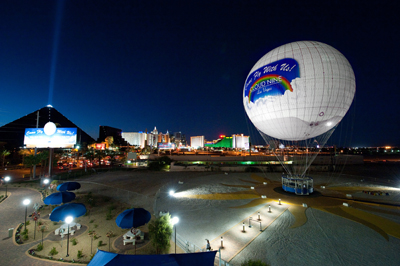 World's Largest Helium Balloon On THE Las Vegas Strip – Cloud Nine offers breathtaking 360-degree views of the famed Las Vegas skyline from nearly 500 feet in the air. The balloon is tethered to the ground and can quietly/safely elevate up to 30 passengers at a time. Ticket prices start at $17.50 for children and $22.50 for adults.Tickets are available for purchase at the location. Directly across from the Mandalay Bay Resort & Casino. Cloud Nine, the world's largest land-tethered, helium-filled balloon and is open to the public.
Devi Kroell Now Open At The Forum Shops – Borrowing from the aesthetic traditions of iconic Viennese artistsùfrom Gustav KlimtÆs rich, saturated palette to Adolf LoosÆ streamlined structuresùAustria-born , New York-based Devi Kroell debuted her eponymous collection in Spring 2004. First focusing on understated, sculptural handbags rendered in exotic materials, Kroell expanded into footwear in Fall 2006, and unveiled her first ready-to-wear collection for Spring 2009.
Mandarin Oriental Grand Opening Gala – Taiko drummers rhythmically set the pulse as guests filed in to the richly decorated morning ceremony, hosted on the hotel port-cochere. Speeches included comments by Edouard Ettedgui, Group Chief Executive, Mandarin Oriental Hotel Group, Jim Murren, Chief Executive Officer and Chairman of the Board, MGM MIRAGE, William Grounds, President and Chief Operating Officer of Infinity World Development Corp., Congressman Dean Heller and General Manager Rajesh Jhingon. Guest proceeded to the hotel's 23rd Floor Sky Lobby for a champagne reception and preview tours.
The Gallery To Present 'Chihuly At CityCenter' – Dramatic Exhibition Venue To Feature Stunning Chihuly Collection Upon December Debut – Chihuly at CityCenter debuts a dynamic exhibition space located within Crystals at CityCenter in Las Vegas. Spanning 4,350 square feet, the compelling presentation features a diverse representation of world-renowned artist Dale Chihuly's sculptures, drawings, editions and prints. Recognized for his masterful use of color, fluid forms and large-scale glass installations, Chihuly's CityCenter exhibitionáhighlights a number of his important works.
MMA Retail Stores Debut At Mandalay Bay and Luxor – Fans of Mixed Martial Arts (MMA) can punch-up their wardrobes at two new retail stores dedicated to this increasingly popular sport û Fight Museum within Mandalay Bay and LX Fight Shop at Luxor.
Mandalay Bay – Fight Museum features trendy, MMA-associated clothing brands such as Xtreme Couture, TapouT, Silver Star Clothing and Hitman Fight Gear. Collector's items such as signed memorabilia and clothing worn by well-known fighters can be purchased as well. Location: Near main lobby
Luxor – LX Fight Shop also sells fashionable MMA-related attire as well as books, DVDs and a wide range of energy drinks, diet supplements and other sundries associated with this intense action sport. Location: Atrium Level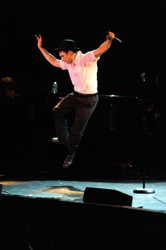 Rick Faugno Reprises Acclaimed, One-Man Song And Dance Show At South Point Casino Showroom January 24 – Rick Faugno, one of the Strip's popular Broadway imports who currently stars as Frankie Valli in "Jersey Boys," will reprise his critically-acclaimed, one-man song and dance show and release his first CD, "Songs My Idols Sang (And Danced!)" on Sunday, Jan. 24, at 3 p.m. in the 400-seat South Point Casino Showroom. The triple-threat Faugno, with his professional dancing, singing and acting talents, premiered his solo show last August and sold out two performances in 48 hours. "I'm especially excited about my first CD and re-creating the magic that I was able to capture on stage with my musical director Keith Thompson, my band and in the recording studio," said Faugno. "And I'm thrilled about sharing some of my favorite music from the Great American songbook, as well as presenting it in a new light."
---
These are only a few of the many Easy Vegas Deals we find each and every week (many of which happen too quickly for newsletter deadline). For a complete and constantly updated listing:
Bookmark and Visit EasyVegasDeals.com daily (Monday – Friday) or

Enter

http://www.easyvegasdeals.com/feed/

into your RSS feed list (for those of you who use RSS/XML feeds) or
---
Members Mania – We Love Our Readers!
Why don't you run a commentary about the outrageous car rental prices now being charged at the airport? Also what drew people to Vegas was the cheap food and cheap Hotel rooms 10-20 years ago. Maybe the hotel owners should get together and go back to their roots and roll back prices to bring affordability back into focus for the average Joe.
Perry
Ted Responds:
We were vocally against the rental car tax increases last year (to fund a performing arts center). We also noted just a few weeks ago that you can rent a car at a number of hotels on The Strip and avoid the very high airport rental tax. Use a shuttle to get to your hotel, then rent a car only for the time/days you need it.
Hint: When you go to respective car rental websites, ignore the searches that include major airports. Instead, search by zip code. 89119 if you are staying south of Flamingo Blvd. (on the Strip), 89119 if north of Flamingo, 89101 if staying downtown.
I agree that you should not need to pay outrageous airport rental car taxes when alternatives are available. Cities don't understand the bad taste high rental car taxes leave on a visitor. You get somewhere and have rented a car for $50 a day only to find out the fee (after taxes) is nearly double. And… that is your very first impression of a place after stepping off the airplane!
Hertz has a booth at many of the major resort casinos. Also, Enterprise will "pick you up" so you may want to look into them as well.
As we've been discussing over the past few months, the economy has forced properties to start to make changes. For example, Harrah's (corporation) has just stopped charging resort fees, meaning no hidden surprise when you check in or check out. For gambling, walk your business downtown where the table game rules tend to be better for the player, the food cheaper, and the machines seem to be looser.

---
My partner and myself are coming for the first time to Vegas around the 25th of June 2010 for 7 nights and would like to know what show stars are appearing at Vegas at that time. Can you give me some help and what site to book tickets? Your help would be most appreciated.
Thanks in advance,
Steve Easthope
Ted Responds:
In every newsletter on the right hand sidebar, we list all coming concerts that are booked at any given time. By clicking on any of the concert and artist links here in the newsletter, you can buy tickets.
You can also go to http://entertainment.accessvegas.com and check your dates and see what is available.
The best way to stay up-to-date info on all coming happenings, what's new in Las Vegas, and other information you need is to simply stay subscribed!

---
I have a suggestion for David from Canada regarding cash (ATM's and similar). I also don't like to carry too much cash so I opened a "line of credit" at one of the casinos. I am now able to cash a check without being charged a fee. Usually I carry only two checks with me with the amount in my checking account "set" so I can't get carried away. Asking for a "marker" and then settling up at the end of the trip is also an option. But, you MUST be disciplined so you don't gamble away your house:-)
Diane Podemski
Ted Responds:
Good suggestion, although you are correct: Many might perhaps feel an obligation (or temptation) to gamble more than they otherwise would. Which is the reason casinos give you a line of credit in the first place!

---
Just returned from Vegas, staying at the Hilton. Great hotel! Visited the Palazzo and while playing a slot machine ordered a Chivas on the rocks. The drink arrived but it sure wasn't Chivas. I had a couple of sips and then left the drink. Why should the Palazzo receive so many diamonds when they serve a cheap replacement for Chivas? My first and last visit to the Palazzo has just happened.
Neil Thompson
Ted Responds:
Interesting note. Chivas has a very definitive taste so no question you'd know if you were getting it or not.
I've heard rumblings that some properties pour generic booze even if you ask for something specific (sometimes depending on what level you are playing at). I know that I've called for Jack/rocks and what I got wasn't Jack Daniels, which has a specific, recognizable taste as well. Be interesting to see if we get any other stories about this or if Venetian responds.

We love to hear from you, and value your feedback! Here's how to participate:
Drop us an email at allvegastv@aol.com – We read them all!
Call our recorded comment line at 702-507-0055. We listen to every call.
---
More Las Vegas News – Concerts – Events
---
Coming Hot Holidays
– The following dates are huge times to be in Las Vegas, and rooms are in high demand. Booking in advance is the best way to save. Visit our friends at
Las Vegas Hotel Deals
and spend one of the following hot dates having fun in Las Vegas:
Martin Luther King, Jr., Day, U.S (Observed) January 16-18 (3 day weekend)
Super Bowl Sunday February 7
Lincoln's Birthday, U.S February 12
President's Day, U.S (Observed) February 13-15 (3 day weekend)
Chinese/Lunar New Year February 14
Valentine's Day February 14
Mardi Gras February 16
Washington's Birthday, U.S February 22
St. Patrick's Day March 17
Easter Sunday April 4
Cinco de Mayo May 5
Mother's Day May 9
Memorial Day, U.S May 29-31 (3 day weekend)
Father's Day June 20
Independence Day July 4
Civic Holiday, Canada July 31-August 2 (3 day weekend)
Labor Day, U.S September 4-6 (3 day weekend)
Labour Day, Canada September 4-6 (3 day weekend)
Jewish New Year September 9
Halloween October 31
Veteran's Day November 11
Thanksgiving Day, U.S November 25-28 (4 day weekend)
Hanukkah Dec. 2 – Dec. 9
Christmas December 25
New Year's Eve-Day December 31 – January 2 (3 day weekend)
Link To Us! – Have a home page, web page, or blog? Link to us, and give yourself and your friends a quick link to find us from your site. Simply link to http://www.accessvegas.com and name the link Access Vegas!
RSS Feed – We now have an RSS/XML feed! Most RSS programs let you visit AccessVegas.com and automatically pull the feed. For those who want to enter it manually, the feed is:
http://www.accessvegas.com/xml/whats-hot.xml
Share the info: Click to Email this newsletter to a friend!
---
For comments or questions regarding our content
or this newsletter write us at
allvegastv@aol.com
.
New to the list? See our Newsletter Archives for back issues and subscription info. Don't hesitate to forward this newsletter to friends and associates.
All contents copyright 2009 Ted Newkirk. All Rights Reserved.
Hotel Rates Published Accurate At Time Of Publication


January 6, 2010 ISSN: 1529-2770 About Us Privacy Policy
No related links found