Serving Las Vegas Visitors and Residents Since 1999
Welcome to the Insider Vibe! This is the official newsletter of AccessVegas.Com. We talk about the Las Vegas activities you really care about.
---
AccessVegas.com Quick Info Menu:
Las Vegas Essentials

Featured Shows

Photos and Wallpaper
Newkirk's Notes – comments on Las Vegas from AccessVegas.Com publisher Ted Newkirk:
Hello From Las Vegas! Usually I tell you how busy things have been on the Las Vegas Strip, but we experienced a little bit of that June lull mid-week this past week. With the weather getting nice in the northern hemisphere and graduation taking center stage, June represents soft travel to Las Vegas. Things are set to pick back up again as summer gets into high gear!
We continue to add fireworks, concerts, and other events to our Fourth of July 2009 page. If you are coming for The 4'th, keep an eye on it. We add to it every couple of days as information becomes available!
Summer Of '68 Giveaway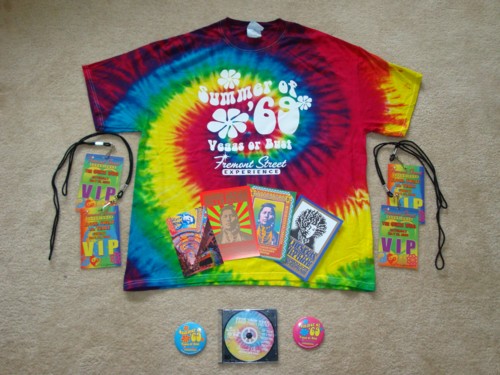 We have brand new software to help us do promotions and giveaways, and you are going to help us crank it up. All summer long, the Fremont Street Experience downtown is doing a Summer of (19)69 celebration and we got our hands on a grab bag of cool promotional stuff. We don't sell, trade, or share entry emails. You can enter with confidence. More details and email entry form:
Ensign Oooops – We don't do much politics here, but occasionally I'll offer a little local insight on a national story that has Las Vegas connections. This past week, US Senator John Ensign (R-Nevada) admitted to a 9 month affair with a close family friend. Given Ensign's family values platforms, this obviously wasn't his best career move.
Having said that… the fallout is pretty tepid. This is a real "live and let live" state. I'm not defending his actions, but the buzz surrounding this story seem to pale as compared to the new of the cause of Danny Gans' death. Speaking of…
Danny Gans Death – Was determined to be from a very powerful painkiller that was in his system. He had a prescription for it, but that prescription was five years old. Although he hid it well, those close to Gans said that he was in constant chronic pain from years of athletic endeavors (including a stint in minor league baseball) and from the pounding his body took during his show.
Obviously, plenty of conjecture as to why. It was noted that the pain medication in combination with his high blood pressure medication and a heart/blood condition may have all come together in a very bad way. Word to the wise: Before digging out that old prescription, make sure it doesn't mix poorly with what you presently take or any physical conditions that may have worsened over time.
Miracle Mile Shops at Planet Hollywood – Photographer Greg McFalls got a pile of great new photos from the Miracle Mile, including their new indoor fountain show! Go shopping in Las Vegas with out spending a dime by clicking on either of the photos below and enjoying the entire photo set:
MGM CityCenter Progress – Shopping not your thing? CityCenter is roaring toward completion and towering over the middle of the Las Vegas Strip. Greg McFalls also got a huge set of incredible shots of Las Vegas' newest monstrosity. Click on either photo below to enjoy the entire photo set:
Enjoy This Issue!

Ted Newkirk
CEO/Managing Editor
Associate Editor: Amy Rayner-Cooley
News Researcher/Editor: Mark Jacobs
---
Las Vegas Is On Sale!
Get Great Rates At All Hotels:

Bally's from $49,

El Cortez from $23,

Fitzgeralds from $23,

Hooters from $20,

Orleans from $28,

Riviera from $27,

Sahara from $22,

Stratosphere from $26,

Tropicana from $28,

Tuscany from $32,
More Savings At All Vegas Hotels!
---
George Wallace: I Be Thinkin'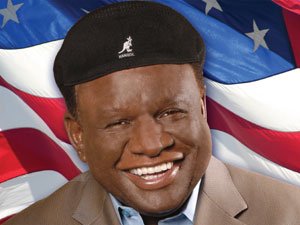 George Wallace has been thinkin', and his audience is privy to the hilarious results in his show, I Be Thinkin', in the Flamingo Hotel Showroom.
Attendees are treated to a classic show experience similar to what visitors of Vegas' heyday must have experienced. Guests aren't merely herded into a huge theatre constructed with hundreds of seats. Instead, a more genteel, supper club atmosphere is arranged in the showroom, more conducive to a comedy or variety show. A tuxedoed maitre 'D greets guests and politely ushers audience members into the intimate yet comfortably sized showroom.
---
Bite: A Glimpse Into The Dark Side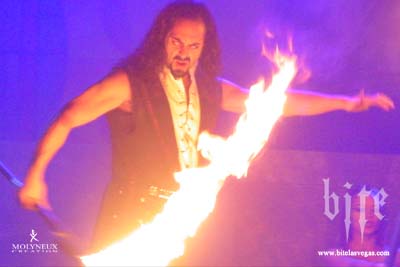 A vampire king that is who strikes a not so surprisingly similar look to that of the James Bond character DR-Death from the movie Live and Let Die. Throw in some magic coffins that make women disappear, a large black grand piano that helps the vampire ladies appear and some rather predictable rock tunes (Born to be Wild) and you have an erotic but decently priced show that caters to an audience who are very comfortably accommodated in an excellent cocktail lounge.
---
No Doubt To Rock The New Joint At Hard Rock Hotel & Casino Friday, August 7
– No Doubt will return to Las Vegas this summer with special guests Panic at the Disco and The Sounds to deliver a high-energy show to their fans in Vegas' top rock venue. No Doubt will take the stage at The new Joint at
Hard Rock Hotel Casino
on Friday, August 7. The legendary high energy live act No Doubt were formed in Anaheim, CA and reached international success with their 1995 release Tragic Kingdom. That album, including the mega hit "Don't Speak" among many others, has sold over 15 million copies worldwide.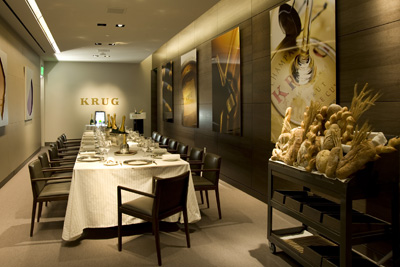 Krug Announces The Creation Of The First Krug Room In The United States At Restaurant Guy Savoy At Caesars Palace Las Vegas – Representatives of Krug, the world's premiere champagne, and acclaimed French chef Guy Savoy today announced the opening of The Krug Room at Restaurant Guy Savoy at Caesars Palace Las Vegas û the first of its kind in the United States. A proven success story. Krug Rooms are private dining rooms in exclusive locations around the world where groups can gather to enjoy superb cuisine, stimulating conversation and, of course, exceptional champagne.
---
Easy Vegas Deals
These are only a few of the many Easy Vegas Deals we find each and every week (many of which happen too quickly for newsletter deadline). For a complete and constantly updated listing:
Bookmark and Visit EasyVegasDeals.com daily (Monday – Friday) or

Enter

http://www.easyvegasdeals.com/feed/

into your RSS feed list (for those of you who use RSS/XML feeds) or
---
Members Mania – We Love Our Readers!
My husband and I have been traveling to Vegas for several years now and enjoy each trip. We just recently returned from a 6 day holiday. We stayed and The Venetian and once again, it was excellent. The rooms are large, beautiful and most of all clean! The Grand Lux coffee shop is well priced with huge portions. Actually we found pricing better in comparison to Bally's coffee shop.
After several years of saying we'll try it, we had dinner at Battista's – A Whole in the Wall. It was fantastic and brought back memories especially drinking wine out of the juice glasses! That's how it is in Italy – Mama Mia!
For the first time though we found it very annoying all the people trying to sell time shares or "tickets for free". They were everywhere we turned it seemed and in our face all the time.
I been an avid reader of your newsletter for years! Thanks for keeping me informed of my favorite city in the world!
Grace Pochodaj
á
Ted Responds:
Thanks for the great letter! The casinos are trying to make an extra buck with the time share people (who rent the space they use). The best way to ditch them? Tell them you are leaving the next day (or that you live here).
Battista's Hole In The Wall is loved by regular visitors from around the world. A true one-of-a-kind place. It is a little tough to find: It sits in a mini-mall just behind the Flamingo Hotel at Flamingo and Audrie (just where the monorail crosses Flamingo). The nice thing? It is literally a 3 minute walk from The Strip and well worth the time for a visitor to at least poke their head in and take a peek!

---
I've been enjoying your newsletter, but I miss your podcasts. Your genuine enthusiasm and really knowledgeable comments and news were fun to hear. The newsletters are great, but there was something special about hearing you podcasting.
In all the years I've been coming to Las Vegas, I've only ventured downtown once since the old days and that was just to see the fabulous sound and visual display, the Fremont Experience. However, since my primary gambling is craps and blackjack, I've been interested in your suggestions about heading down there because of the looser slots and possibly lower minimum bets. The slots have almost no appeal for me, but I have always enjoyed the live excitement of the table games. Since I came of age in a time when the men played the tables and the ladies played the slots, I've always felt uncomfortable sitting at those silly machines. Now they are even sillier since they look like video games for kids.
The trouble is that over the years, the minimum bets have risen way beyond the $5.00 or $10.00 bets I was able to feel comfortable with. When I was a lot younger and learning how to play craps, there was a particularly memorable visit downtown where I could, risk as little as 25 cents on the pass line! I don't expect the MBA types who are likely are running the show these days can understand how on earth they could make much money that way. The fact is that one visit made me a lifetime craps player, because I was able to play long enough to learn the game well.
The result is that even though my hotel preferences are Bellagio, Mirage, etc. because of the ambiance, pools, spas, lounges, shows, etc., I don't get much of a chance to have fun gambling anymore, since after a few bad rolls of the dice, my daily self-imposed limit is reached and exceeded. Yes, I could afford to play the higher priced minimum tables, but the fact is that it's not fun anymore, because I would lose money more than I care to.
Could you do a quick survey and let us know whether there are any $5-$10 craps and blackjack tables in the downtown area? Maybe there are some other casinos, not too far from the strip where I might go. What about the places actual locals go? Many years ago, when my parents were living in Vegas, they always knew the best casinos where you had a reasonable chance. They also knew all the best restaurant deals too. They are gone now, but fortunately we have Ted Newkirk to give us good advice from his unique perspective as a resident and enthusiastic Las Vegan (?) (but you do eat meat, right?).
Thanks for the terrific job you do!
David Durbin
á
Ted Responds:
We are still hoping to get back to the podcasts. We are finally (and I mean FINALLY) wrapping up an expansion that has taken over a year. As we've gone along, things just got bigger and bigger. We've added many things we never envisioned a year ago like our new EasyVegasDeals.com, Twitter feed, and huge expanded restaurant listings including the ability to make restaurant reservations online (going live in the next couple of weeks).
Soon will also be debuting a vastly expanded activities section where you can find out about (and book) activities ranging from Dinner In The Sky to VenetianáRomance Packages (think gondola and a romantic meal) to Tandem Skydiving over Las Vegas! Then, we'll look to dust off the podcast equipment.
Table limits are always in a constant state of flux (depending on time of week and time of year), but $3 games can still be found in many downtown casinos. The Orleans is rumored to have a $2 game some of the time, but we have yet to confirm that.
Although people who live in Las Vegas are called Las Vegans, I certainly am no stranger to a good steak!

---
Ted, I love reading this newsletter. I think one of the failing casinos should hire you to run it (I will be your assistant) as you know and understand why people who made this city come here. We come to eat cheap, drink cheap, sleep cheap, with the hopes of winning enough to pay for it. If any of these three are not available we stop or cut back on our visits. The high rollers didnÆt make this city and they wonÆt bring it back! Keep up your hawking of down town we love it!!!!
Howard
---
We love to hear from you, and value your feedback! Here's how to participate:
Drop us an email at allvegastv@aol.com – We read them all!
Call our recorded comment line at 702-507-0055. We listen to every call.
---
More Las Vegas News – Concerts – Events
Coming Hot Holidays – The following dates are huge times to be in Las Vegas, and rooms are in high demand. Booking in advance is the best way to save. Visit our friends at Las Vegas Hotel Deals and spend one of the following hot dates having fun in Las Vegas:
Canada Day, Canada July 1
Independence Day July 4
Civic Holiday, Canada August 1-3 (3 day weekend)
Labor Day, U.S September 5-7 (3 day weekend)
Labour Day, Canada September 5-7 (3 day weekend)
Jewish New Year September 19
Halloween October 31
Veteran's Day November 11
Thanksgiving Day, U.S November 26-29 (4 day weekend)
Hanukkah Dec. 2 – Dec. 9
Christmas December 25
New Year's Eve-Day December 31 – January 2 (3 day weekend)
Martin Luther King, Jr., Day, U.S (Observed) January 18-20 (3 day weekend)
Lincoln's Birthday, U.S February 12
President's Day, U.S (Observed) February 13-15 (3 day weekend)
Chinese/Lunar New Year February 14
Valentine's Day February 14
Mardi Gras February 16
Washington's Birthday, U.S February 22
St. Patrick's Day March 17
Easter Sunday April 4
Cinco de Mayo May 5
Mother's Day May 9
Memorial Day, U.S May 29-31 (3 day weekend)
Link To Us! – Have a home page, web page, or blog? Link to us, and give yourself and your friends a quick link to find us from your site. Simply link to http://www.accessvegas.com and name the link Access Vegas!
RSS Feed – We now have an RSS/XML feed! Most RSS programs let you visit AccessVegas.com and automatically pull the feed. For those who want to enter it manually, the feed is:
http://www.accessvegas.com/xml/whats-hot.xml
Share the info: Click to Email this newsletter to a friend!
---
For comments or questions regarding our content
or this newsletter write us at
allvegastv@aol.com
.
New to the list? See our Newsletter Archives for back issues and subscription info. Don't hesitate to forward this newsletter to friends and associates.
All contents copyright 2009 Ted Newkirk. All Rights Reserved.
Hotel Rates Published Accurate At Time Of Publication


June 17, 2009 ISSN: 1529-2770 About Us Privacy Policy
No related links found