Welcome to the Insider Vibe! This is the official newsletter of AccessVegas.Com. We talk about the Las Vegas activities you really care about.
Can't see all the great photos and graphics? Click to Read This Issue Online! Need to contact us? Send feedback to AllVegasTV@aol.com
---
AccessVegas.com Quick Info Menu:
Las Vegas Essentials

Featured Shows

Photos and Wallpaper
Newkirk's Notes – comments on Las Vegas from AccessVegas.Com publisher Ted Newkirk:
Hello From Las Vegas! So much to say this week, so let's dive on in…
Last Chance To See Some Classic Vegas Video – Years before the popularity of YouTube, we were one of the first travel sites in the world doing streaming video at AllVegasTV.com. And… admittedly we were a little ahead of our time. We shelved it.
Times have changed, and most of you have broadband. We're going to be producing new Vegas related video and getting all new promo video as to enable you to make the best Vegas decisions possible! If you want to take a last look at some of the video and promos from years gone by (mixed in with more modern Vegas content), check our our All Vegas TV 24/7 Stream (broadband only). This will be the last time some of that "classic"ácontent is available.
Fall Weather In Las Vegas Is Perfect – While many other areas start to feel a chill (and rain and cold and some first snows which will be here before you know it), we'll still be "chilling" ourselves… by the pool! Yes, airfare and gas prices are no fun, but Vegas room prices are way down to make up for it.
Extend your summer well into the fall! Check out our friends at Las Vegas Hotel Deals and see some of the deals they are cranking out, even for our "high" season of incredible fall weather.
Follow The Yellow Brick Road In August – Local favorite band Yellow Brick Road are playing Harrah's Carnival Court every Monday night in August (except Aug. 18). If you want to see everything from The Beatles and Led Zep to Queen, U2, Pink Floyd and similar done to perfection with a band that rips up the stage giving a true concert experience, don't miss it. Don't take my word for it. You can walk by Carnival Court and see for yourself!
Oh… we're sending our News Editor Mark Jacobs there this coming Monday (August 4, 2008) to photograph the event. If you see him with our logo shirt on, make sure to say hello!
Newsletter Member Numbers Have Been CLIMBING… Thanks For Telling Your Friends! You'd think with all the news about the soft USá economy and Vegas being on hard times that we'd be losing newsletter readers. Not The Case! This is in large part to so many of you telling your friends, posting about us in forums, mentioning us on your blogs and really help getting the world out and we really appreciate it.
As you can imagine, we put a ton of work into each issue. As I often note, we are a small group of people who just love Las Vegas and we need you to make sure others hear about this newsletter. Thank you so much for continuing spread the word. People can to go any page of AccessVegas.com and use the newsletter sign-up form at the top of each page.
Enjoy This Issue!

Ted Newkirk
CEO/Managing Editor
Associate Editor: Amy Rayner-Cooley
News Researcher/Editor: Mark Jacobs
---
Can't Make It To Vegas?
See If A Hot Event Is Playing Near You!
ColdPlay, Jonas Brothers, Eddie Vedder, Dave Matthews Band, American Idols Live, Jimmy Buffett, John Mayer, Rascal Flatts, Kenny Chesney, Madonna, Toby Keith, Journey, The Police, Bruce Springsteen, Foo Fighters, NASCAR, Baseball, NFL Football, College Football, All Major Concerts and Events
---
Mother From New Mexico Wins $727,099 At The Sahara Hotel & Casino – Shawnta R. Taylor, a 28-year-old mother from Gallup, New Mexico, hit a $727,099 penny Temple of Treasure jackpot at the Sahara Hotel and Casino early Sunday, July 13. The lucky winner was in town vacationing with family members. Sunday was their last day visiting Las Vegas, so Taylor decided to play the lucky machine one more time while the rest of her family slept in. Click to Read The Full Story …
Cannery Casino & Hotel's End of Summer Bash Closes Out the Season with a Rockin' Good Time – The Cannery Casino & Hotel says goodbye to summer with the End of Summer Bash featuring musical acts and loads of food, drinks and fun. The festival will take place Saturday, August 30 beginning at 4 p.m. at The Club. The musical line-up includes Gary U.S. Bonds, Booker T of Booker T and the MG's, Chris Montez and Bryan Highland. Tickets to the End of Summer Bash are free and are available to the public at the Cannery Casino & Hotel's ticket sales counter located at the front desk. Click to Read The Full Story …
Kid Rock To Perform At The Pearl Concert Theater On September 20 – The infamous rocker with the bad ass attitude returns to The Pearl Concert Theatre at the Palms Casino Resort on Saturday, September 20, 2008, at 8:00 p.m. (Tickets) Click to Read The Full Story …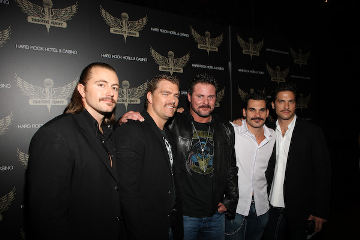 The new rock lounge Wasted Space at Hard Rock Hotel & Casino hosted a special grand opening event for the club's weekly local industry night "Wasted Wednesdays." The party was also a birthday celebration for Wasted Space co-owner Carey Hart. People lined up outside the club to get a glimpse of the action sports super star who was joined by NY Yankees baseball star Jason Giambi (also a co-owner) with his wife Kristian, good friend John Dolmayan (drummer for System of a Down), managing partner Cory McCormack and his wife Shannon DuPont.
Celebrate Mexican Independence Day Weekend With Enrique Iglesias & Aventura At Mandalay Bay Events Center Saturday, September 13 – Enrique Iglesias and popular band Aventura are set to bring their much anticipated tour to the United States. The King of Pop and the Kings of Bachata are the perfect combination for a unique show that will captivate the public. The tour will make a stop at the Mandalay Bay Events Center Saturday, Sept. 13 to celebrate Mexican Independence Day Weekend and the concert is scheduled to begin at 8 p.m. (Tickets) Click to Read The Full Story …
---
Las Vegas Is On Sale!
Get Great Rates At All Hotels:

Bally's from $69,

Barbary Bill's from $45,

Caesars from $120,

Flamingo from $63,

Harrah's from $58,

Imperial from $35,

Paris from $90,

Rio Suites from $58, ,
More Savings At All Vegas Hotels!
---
Members Mania – We Love Our Readers!
A few regular segments like this one and our show reviews will return next issue. In fact, coming reviews are of both Barry Manilow and Bette Midler's very popular shows.
Wish I could tell you I was goofing off, but the reality is that we're just about to launch a much bigger, much improved AccessVegas.com. Over 1000 new pages of content, huge improvements to our online photo gallery, and too much more to mention. Around Labor Day (US), we'll bring it all live.

---
We love to hear from you, and value your feedback! Here's how to participate:
Call our recorded comment line at 702-507-0055. We listen to every call.
Drop us an email at allvegastv@aol.com – We read them all!
---
More Las Vegas News – Concerts – Events
Coming Hot Holidays – The following dates are huge times to be in Las Vegas, and rooms are in high demand. Booking in advance is the best way to save. Visit our friends at I4Vegas Discount Las Vegas Reservations and spend one of the following hot dates having fun in Las Vegas:
Civic Holiday, Canada August 2-4 (3 day weekend)
Labor Day, U.S August 30-September 1 (3 day weekend)
Labour Day, Canada August 30-September 1 (3 day weekend)
Grandparent's Day September 7
Jewish New Year September 30
Columbus Day October 11-13 (3 day weekend)
Thanksgiving Day, Canada October 11-13 (3 day weekend)
Halloween October 31
Veteran's Day November 11
Thanksgiving Day November 27-30 (4 day weekend)
Hanukkah Dec. 22 – Dec. 29
Christmas December 25
New Year's Eve-Day December 31 – January 1
Martin Luther King, Jr., Day, U.S (Observed) January 19-21 (3 day weekend)
Chinese/Lunar New Year January 26
Lincoln's Birthday, U.S February 12
Valentine's Day February 14
President's Day, U.S (Observed) February 14-16 (3 day weekend)
Washington's Birthday, U.S February 22
St. Patrick's Day March 17
Easter Sunday April 12
Cinco de Mayo May 5
Mother's Day May 10
Father's Day June 21
Canada Day, Canada July 1
Independence Day July 4
Link To Us! – Have a home page, web page, or blog? Link to us, and give yourself and your friends a quick link to find us from your site. Simply link to http://www.accessvegas.com and name the link Access Vegas!
RSS Feed – We now have an RSS/XML feed! Most RSS programs let you visit AccessVegas.com and automatically pull the feed. For those who want to enter it manually, the feed is:
http://www.accessvegas.com/xml/whats-hot.xml
Share the info: Click to Email this newsletter to a friend!
---
For comments or questions regarding our content
or this newsletter write us at
allvegastv@aol.com
.
New to the list? See our Newsletter Archives for back issues and subscription info. Don't hesitate to forward this newsletter to friends and associates.
All contents copyright 2008 Ted Newkirk. All Rights Reserved.
Hotel Rates Published Accurate At Time Of Publication


July 30, 2008 ISSN: 1529-2770 About Us Privacy Policy
No related links found