Serving Las Vegas Visitors and Residents Since 1999
Welcome to the Insider Vibe! This is the official newsletter of AccessVegas.Com. We talk about the Las Vegas activities you really care about.
---
AccessVegas.com Quick Info Menu:
Las Vegas Essentials

Featured Shows

Photos and Wallpaper
Newkirk's Notes – comments on Las Vegas from AccessVegas.Com publisher Ted Newkirk:
Hello From Las Vegas! A "cold and windy" Las Vegas as I write this on Wednesday afternoon (with the Hawaii/La. Tech game on ESPN). The thermometer outside is reading 72 degrees F. Yes… after 16 years here, that feels COLD to me! Temperatures are expected to hover around the 80 degree mark the next 10 days or so, nice and balmy.
We're Expanding! – My comments will be brief today as I've been knee-deep in the acquisition and expansion process for us to enter a number of new cities. We've secured the ownership of:
AccessReno.com
AccessLaughlin.com
AccessBiloxi.com
AccessAtlanticCity.com

AccessPhoenix.com


(sites are not yet active and/or are undergoing major upgrades under our tutelage and do not currently reflect our plans or design)
It's Good To Be Me – Have you ever thought that my job sounds fun? We're planning to launch a bi-weekly newsletter for each city and looking for help. If you are a regular visitor (or better yet a resident) of Reno, Laughlin, Biloxi, Atlantic City or Phoenix who is in touch with the latest "what to do and see" and would be interested in doing a "Newkirk's Notes" type column every other week in a newsletter for your city, please contact us at allvegastv@aol.com so we can further discuss it.
All of the news gathering and other newsletter aspects would be handled by our staff. We are simply looking for someone to write the opening few paragraphs for each issue plus a couple of "Members Mania" readers questions answered in each issue.
Don't Be That Guy – I got a kick out of the article The 10 Most Annoying Passengers, As Told by a Flight Attendant. Flight Attendants have a lot of latitude regarding what they can do to make your trip more enjoyable (including sometimes sneaking you a first-class goody or re-seating you if you end up next to the crying baby or someone's knees constantly in your seat-back). I especially likes this Bonus Tip: Bring any kind of candy for a crew member, and you are pretty much getting special treatment from that point on. We always remember those nice folks toward the back who brought us some Hershey's Kisses …
Speaking Of Flying – Check out this Top Ten Airlines Most Likely to Be Delayed on the Tarmac article which lists the airlines most likely to have flight delays lasting more than three hours. Sometimes it might be worth it to pay a few more bucks and travel on a carrier that is less delayed.
I should be back in full force next week. We make this look easy, but prepping to launch into multiple new cities really chewed up some time. As always, this issue is still packed with tons of Vegas stuff you need to know.
Enjoy This Issue!

Ted Newkirk
CEO/Managing Editor
Associate Editor: Amy Rayner-Cooley
News Researcher/Editor: Mark Jacobs
---
Las Vegas Is On Sale!
Get Great Rates At All Hotels:

Bally's from $39,

El Cortez from $26,

Fitzgeralds from $20,

Hooters from $25,

Orleans from $30,

Riviera from $27,

Sahara from $20,

Stratosphere from $25,

Tropicana from $30,

Tuscany from $19,
More Savings At All Vegas Hotels!
---
Lesnar Faces 'Biggest' Test To Date Against Colossus Carwin At UFC 106 At Mandalay Bay Saturday, Nov. 21 – Brock Lesnar has faced some of the best heavyweight fighters in the world. The Ultimate Fighting Championship heavyweight title holder dominated seasoned veteran Heath Herring and put away former UFC champions Randy Couture and Frank Mir. On Saturday, Nov. 21, Lesnar will have to pick on someone his own size when he takes on the undefeated 6-foot-3, 262-pound top contender Shane Carwin at UFC 106: LESNAR vs. CARWIN live from the Mandalay Bay Events Center. One of the brightest stars in UFC history also will return as former light heavyweight champion Tito Ortiz battles UFC Hall of Famer Mark Coleman in what promises to be a war of epic proportions.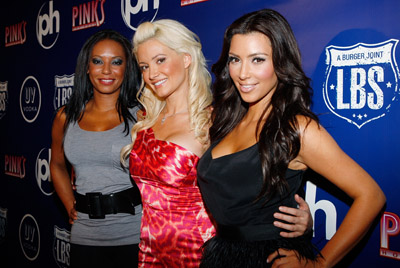 Viva Pink's Vegas! – Heavyweight Champs And Hollywood Hotties Help Launch Pink's Hot Dogs Las Vegas At Planet Hollywood Resort Casino – Pink's Hot Dogs hosted a knock-out grand opening in Las Vegas tonight, as actresses and athletes graced the pink carpet to mark the opening of the Las Vegas location of the legendary Los Angeles hot dog joint. Celebrities in attendance included model and actress, Kim Kardashian, PEEPSHOW star Holly Madison, former Spice Girl Mel B., boxing stars Tommy "Hitman" Hearns and James "Lights Out" Toney, and Las Vegas entertainer Frank Marino, who appeared in drag as Joan Rivers.
---
These are only a few of the many Easy Vegas Deals we find each and every week (many of which happen too quickly for newsletter deadline). For a complete and constantly updated listing:
Bookmark and Visit EasyVegasDeals.com daily (Monday – Friday) or

Enter

http://www.easyvegasdeals.com/feed/

into your RSS feed list (for those of you who use RSS/XML feeds) or
---
Members Mania – We Love Our Readers!
As someone who has just made the move to Las Vegas, I would say that your recommendations are spot-on. We made many trips, and took over a year, to finally find the house we wanted.
I would add one caveat — avoid the short sales. In a short sale, all the power lies with the bank and seller. You have no rights. We had to back out of one short sale that gave us a lot of headaches.
Keep up the good work!
Glen Frederiksen
Ted Responds:
Glad to be of help! While we will never let this newsletter turn into a real estate newsletter, we know that many regular visitors monitor our market with the thought of buying a vacation home here (or even making the permanent move). Between my length of time living here and my family's background in home building, I'd like to think that I carry a pretty good read of the market.

---
Do you know if there are any day tours to Red Rock Canyon, similar to the ones to Laughlin. We aren't interested in renting a car to travel out of the city.
Thanks for any info you can give me.
Linda
Ted Responds:
There are but they start at about $65 per person, making it cheaper to rent a car. Car rentals are available at many hotels including The Flamingo.
If you still want a guided tour, we suggest the following:
By the way, don't confuse the drive to Laughlin with the drive to Red Rock. Red Rock Canyon literally sits on the edge of Las Vegas, about 30 minutes from The Strip in traffic. Las Vegas Strip to Red Rock Canyon Google Map. Laughlin is indeed almost two hours (depending on traffic).

---
My friend and I will be in Las Vegas for my 35'th birthday Jan. 2010 for a week (I take my birthday preparations very seriously). As we are traveling from Scotland, I have bee trying to find alternative means to flying from LA to Vegas but I'm coming up seriously short. I found a coach that costs $88 and takes almost 5 hours, but we can fly for half that price and half that time.
Are there inexpensive ways to travel between Las Vegas and LA?
Cheers,
Trey from Edinburgh
Ted Responds:
Nothing wrong with planning ahead! International travelers often plan months in advance because coming to the West Coast of the U.S. is a big trip.
Very few people take a bus from L.A. to Vegas. Flying is very popular and (as you found out) not overly expensive. You could always rent a car if you want to make the drive, but there honestly isn't much to see once you get outside of the L.A. area. If you want to see some truly amazing Desert Southwest scenery, check out Red Rock Canyon once you get here.
Plus, when on vacation, time is money. I'd just fly. Get here quick and get the fun started!

---
Love your newsletter! We enjoyed our recent trip to Vegas and still say Wynn is the best place to stay… Encore is beautiful too. We like the size of these hotels better than the huge casinos. The restaurants are fabulous. Wish I had better luck on the slots like I used to many years ago; However, Vegas is still fun and one of a kind.
Sara from Houston
---
We love to hear from you, and value your feedback! Here's how to participate:
Drop us an email at allvegastv@aol.com – We read them all!
Call our recorded comment line at 702-507-0055. We listen to every call.
---
More Las Vegas News – Concerts – Events
---
Coming Hot Holidays
– The following dates are huge times to be in Las Vegas, and rooms are in high demand. Booking in advance is the best way to save. Visit our friends at
Las Vegas Hotel Deals
and spend one of the following hot dates having fun in Las Vegas:
Halloween October 31
Veteran's Day November 11
Thanksgiving Day, U.S November 26-29 (4 day weekend)
Hanukkah Dec. 2 – Dec. 9
Christmas December 25
New Year's Eve-Day December 31 – January 2 (3 day weekend)
Martin Luther King, Jr., Day, U.S (Observed) January 18-20 (3 day weekend)
Super Bowl Sunday February 7
Lincoln's Birthday, U.S February 12
President's Day, U.S (Observed) February 13-15 (3 day weekend)
Chinese/Lunar New Year February 14
Valentine's Day February 14
Mardi Gras February 16
Washington's Birthday, U.S February 22
St. Patrick's Day March 17
Easter Sunday April 4
Cinco de Mayo May 5
Mother's Day May 9
Memorial Day, U.S May 29-31 (3 day weekend)
Father's Day June 20
Independence Day July 4
Civic Holiday, Canada July 31-August 2 (3 day weekend)
Labor Day, U.S September 4-6 (3 day weekend)
Labour Day, Canada September 4-6 (3 day weekend)
Jewish New Year September 9
Link To Us! – Have a home page, web page, or blog? Link to us, and give yourself and your friends a quick link to find us from your site. Simply link to http://www.accessvegas.com and name the link Access Vegas!
RSS Feed – We now have an RSS/XML feed! Most RSS programs let you visit AccessVegas.com and automatically pull the feed. For those who want to enter it manually, the feed is:
http://www.accessvegas.com/xml/whats-hot.xml
Share the info: Click to Email this newsletter to a friend!
---
For comments or questions regarding our content
or this newsletter write us at
allvegastv@aol.com
.
New to the list? See our Newsletter Archives for back issues and subscription info. Don't hesitate to forward this newsletter to friends and associates.
All contents copyright 2009 Ted Newkirk. All Rights Reserved.
Hotel Rates Published Accurate At Time Of Publication


September 30, 2009 ISSN: 1529-2770 About Us Privacy Policy
No related links found