Serving Las Vegas Visitors and Residents Since 1999
Welcome to the Insider Vibe! This is the official newsletter of AccessVegas.Com. We talk about the Las Vegas activities you really care about.
---
AccessVegas.com Quick Info Menu:
Las Vegas Essentials

Featured Shows

Photos and Wallpaper
Newkirk's Notes – comments on Las Vegas from AccessVegas.Com publisher Ted Newkirk:
Hello From Las Vegas! Just as quickly as the 110 degrees came, they are gone and we're looking at a beautiful Labor Day weekend. Fall is our second summer (our first is Spring) and the reward for dealing with never, ever, ever feeling cool (let alone cold air) for nearly 100 days.
Fall Mirage Volcano Hours – The Mirage's volcano (directly in front of the hotel) will be erupting every hour from dusk to 11 PM during the fall. If you haven't seen the show in a year or more, you'll find an upgraded presentation with a new soundtrack by Grateful Dead drummer and Rock and Roll Hall of Fame member Mickey Hart, and Indian tabla sensation Zakir Hussain.
Winner, Winner, Chicken Dinner – Our own Mark Jacobs recently hit a Royal Flush at Binion's downtown. That alone is pretty cool, but here's the amazing part of it: The royal was dealt to him. All five cards right out of the chute! It paid $1000 on a $1.25 bet.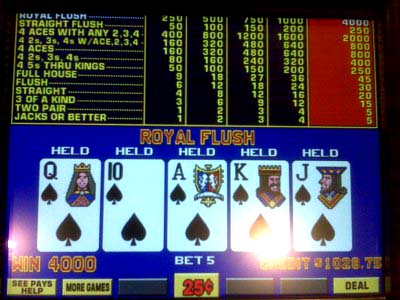 Ironically, I had one dealt to me about a decade ago also downtown (Plaza Hotel Casino for mine). Also in spades. One big difference over the years: I had to wait for a hand-pay (where an attendant brings your winnings to you). Remember… that was before the popularity of the ticket-in, ticket-out machines. Mark simply hit the cash-out button and took it to the casino cage: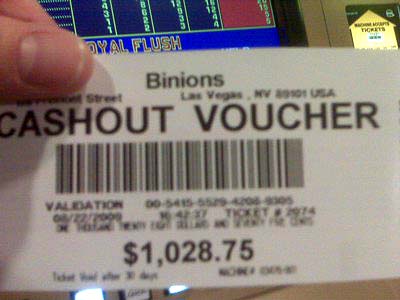 If any of you have been on a cold streak your past couple of visits, hang tough. People are still winning in Las Vegas!
Obama-uh-oh – The dearth in Las Vegas business travel every since President Obama insinuated that having a convention in Las Vegas doesn't look good in today's economy continues to have fall-out. McCarran passenger traffic took an even bigger dive in July, and this time we can't chalk it up to lack of local residents flying.
Much of the drop was specifically attributed to the drop in convention activity. Ruth's Chris steakhouse on West Flamingo also has closed their doors (hoping to re-open next year) citing the same. Ruth's Chris on Paradise does remain open. Thousands who make a good living in convention-related trade (setting up the shows, catering to attendees) are struggling with reduced hours or no jobs.
I want to be very careful that we don't get too political here, as I realize we have people of all views as readers. But we do report what's happening here in Las Vegas, let's just say that Obama might not be the most popular guy in town right now.
Best Free Show In Town? – We continue to be big fans of the Twin Keys dueling piano show at Harrah's 9 PM to 2 AM Tuesday through Saturday. They are loud, irreverent, very entertaining (plus cute and sexy, but in a completely fun way). Note: Small cover on weekends, but absolutely no charge on Tue. – Thur. nights!
Local Housing Market – Many experts are now suggesting 2012 as the time when the local housing market starts turning around, which falls in line with what I've been telling people for a number of months now.
We are in a second wave of foreclosures, and we'll see a third wave before all is said and done. Some are thinking that the opening of CityCenter will make a dent in unemployment numbers, but honestly… it will be a drop in the bucket, and will do nothing to affect the construction industry (which represents the greatest percentage of unemployed Las Vegans).
The average price of a local home is around $125,000 with decent condos going for half of that. The glut of homes has rental rates extremely low. If you are looking to buy a vacation condo, come look around. If you are buying units to rent… make sure you can ride out the storm if current rent prices get even softer.
Wines And Vines – Our old buddy Les Kincaid is closing in on 20 years of broadcasting his "Wines and Vines" show live from various Las Vegas restaurants. If you enjoy the good life (and as one of our readers, we know you do), check him out at 7 PM Pacific Time live on the Cable Radio Network. Our local paper recently had a really nice article about him and the show: Local radio show host talks wine, food
Enjoy This Issue!

Ted Newkirk
CEO/Managing Editor
Associate Editor: Amy Rayner-Cooley
News Researcher/Editor: Mark Jacobs
---
Las Vegas Is On Sale!
Get Great Rates At All Hotels:

Bally's from $39,

El Cortez from $9,

Fitzgeralds from $21,

Hooters from $25,

Orleans from $31,

Riviera from $27,

Sahara from $17,

Stratosphere from $26,

Tropicana from $31,

Tuscany from $16,
More Savings At All Vegas Hotels!
---
Chef Pierre Gagnaire To Open First U.S. Restaurant In The New Mandarin Oriental, Las Vegas At CityCenter
– Mandarin Oriental, Las Vegas, prominently situated at the entrance of CityCenter, the extraordinary new urban resort destination, will introduce the award-winning cuisine of three-star Michelin Chef Pierre Gagnaire at the hotel's signature restaurant, Twist by Pierre Gagnaire. Opening in December 2009, Twist will be Gagnaire's first restaurant in the United States. The innovative menu will infuse the simplicity of classic French cuisine with a modern spin, relying on a pairing of flavors and textures for which Gagnaire is known. Located on the 23rd floor of the hotel, the Adam D. Tihany designed signature restaurant, seating 74, will feature a dramatic, glass staircase leading up to a suspended wine loft.
Country Superstar Wynonna Sings The Chapters Of Her Life At The Orleans Showroom September 25-27 – Iconic country singer Wynonna brings her 2009 tour and a stunning glimpse into her 25-year epic musical journey to The Orleans Showroom for three nights only, September 25, 26 and 27. Audiences will witness Wynonna sing the chapters of her life as she performs an eclectic assortment of country, rock, blues and soul-bearing standards from her current album, Sing: Chapter 1. The album, Wynonna's seventh solo effort, is powered by emotional sonnets that formed the backbone of The Judds' own musical standards.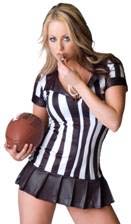 PT's And Sierra Gold Kickoff The Start Of Football Season With Drink Specials And Free Food – Football season is back and PT's and Sierra Gold give fans throughout the Las Vegas Valley a reason to celebrate with kickoff parties on Thursday, Sept. 10 from 5 to 10 p.m. Partygoers at all taverns will enjoy a free stadium buffet, complete with hot dogs, burgers, boneless wings and more, Bud and Bud Light specials, and Absolut Peppar Bloody Mary specials. All tavern locations will also be hosting contests and giving away prizes, including official football merchandise, throughout the first NFL game of the year between defending Super Bowl Champions the Pittsburgh Steelers and the Tennessee Titans.
---
These are only a few of the many Easy Vegas Deals we find each and every week (many of which happen too quickly for newsletter deadline). For a complete and constantly updated listing:
Bookmark and Visit EasyVegasDeals.com daily (Monday – Friday) or

Enter

http://www.easyvegasdeals.com/feed/

into your RSS feed list (for those of you who use RSS/XML feeds) or
---
Members Mania – We Love Our Readers!
First let me say that I really enjoy your newsletter and look forward to reading each one.
We started going to Las Vegas in 1986 and have been going every year for the past 10 years. The last 5 years we have been staying downtown on Fremont Street at the Four Queens. We usually go up to the Strip once or twice during our week stay. This year we did not go up to the Strip but enjoyed our week downtown.
We went to the "Marriage Can Be Murder" mystery dinner show at the Four Queens and enjoyed every minute. Christy Copeland and Eric Post did a wonderful job of keeping the audience laughing throughout the evening with their comments. We also went to the "Kevin Burke Show" at Fitzgerald's and was pleasantly surprised at how good the show was.
Please keep up the good work and keep the newsletters coming.
Mary Ann from Albany, New York
Ted Responds:
Thanks for reading and thanks for the great report. The Vegas that people came to know and love over the years is still very much alive downtown!

---
We just returned from our annual 10 day visit to Las Vegas and as usual had a great time. Went down to the Town Square and spent the entire evening between the Yard House the Blue Martini. The Surf and Turf burger at the Yard House was delicious and worth the price. The taxi fare was rather expensive and would recommend either private auto or the bus.
Went into New York New York Tuesday night and to our surprise found very few people there playing slots or tables. Our best time as always was in old Vegas. The casinos there seem to go out of their way to make the experience enjoyable. The casinos on the strip should take lessons.
Keep up the great work Ted – we enjoy the newsletters!!
Linda and Rich
Ted Responds:
We're big fans of Town Square and I only regret that a recent move (which brought me more centrally located in Las Vegas) leaves me not as close to Town Square. Info at www.townsquarelasvegas.com
Blue Martini continues to have their half-priced happy hour daily (7 days a week) featuring their entire menu and all martinis. Yard House has a beer selection that only the most hardy beer drinker would ever be able to work their way through plus a large, varied menu. Our advice? Get to Blue Martini just a little before 4 PM and enjoy the perfect fall weather on their large outdoor patio. (Seats first-come first-served and fill up fast). Have a martini and appetizer, then make your way down the stairs and a short walk to Yard House for dinner. Walk off all those amazing calories with a nice, long stroll around the beautiful grounds, streets, and shops.
Town Square is only 1.5 miles south of Mandalay Bay and those double-decker Deuce buses that serve The Strip actually do continue on South. Make sure to ask the driver to let you off at Town Square. You'll also get to pass the famous Las Vegas sign on the way.

---
We look forward to reading this newsletter each time it arrives. Our first trip to Vegas was in 2001 and we were hooked immediately. We get to Vegas a couple times a year. We have stayed at numerous hotels like the MGM, Flamingo, Monte Carlo, IP, and Hooters. We prefer to gamble and stay in the more economical locations. Why? The overall service, drink service, hospitality, and atmosphere are WAY better.
A prime example is the IP. It's location is ideal in the middle of the strip. The table limits are reasonable, there is a non-threatening atmosphere, the drinks flow, the rooms are reasonable(even on the weekends), and there is always an electric energy in the place. However, walk into some of the larger casinos and you can hear a pin drop.
This might be why we enjoy Freemont Street so much too. We love walking through all the larger casinos but recommend hotels like Bill's Gambling Hall, Hooters, Tropicana, Golden Nugget and Imperial Palace for the real Vegas experience. Remember you don't go to Vegas to spend time in your hotel room… all need is a clean place to sleep and shower.
What is the latest on the implosion of the Tropicana and IP?
Regards,
Gilles & Cori from Regina, Sk. Canada
Ted Responds:
This email came in before our recent report regarding all of the new improvements on the way for Tropicana. See Pimping The Trop in our August 5 issue.
We never thought that the IP (Imperial Palace) would end up going down. With new shows and a great location, the Imperial Palace will around for a long time.
I'm happy that we still have some of the mid-market stalwarts. I miss the Boardwalk (MGM CityCenter location), San Remo (Hooterized), Stardust and even the Klondike. Don't get me wrong: plenty of amazing shows and great dining (plus the plus resort accommodations) of the upscale properties. But… sometimes something comfortable about the mid-level places.

---
Just returned from our first trip trip Vegas and it was awesome! We stayed at the Flamingo and loved it. I read many negative comments about the rooms and service but we were totally pleased. Everyday there were at least 4 people on our floor cleaning rooms and we never came back to a dirty room. Took in the Donny & Marie show and it was great… high energy and great vocals and Marie is gorgeous. We will be back ASAP and will stay at the Flamingo again and see Donny and Marie again.
We found the Strip to be very tight with gambling winners so next trip we will spend our gambling funds downtown. The Fremont Experience was very impressive.
Thanks for the interesting newsletter, we look forward to each issue
Mike & Cindie
---
We love to hear from you, and value your feedback! Here's how to participate:
Drop us an email at allvegastv@aol.com – We read them all!
Call our recorded comment line at 702-507-0055. We listen to every call.
---
More Las Vegas News – Concerts – Events
---
Coming Hot Holidays
– The following dates are huge times to be in Las Vegas, and rooms are in high demand. Booking in advance is the best way to save. Visit our friends at
Las Vegas Hotel Deals
and spend one of the following hot dates having fun in Las Vegas:
Labor Day, U.S September 5-7 (3 day weekend)
Labour Day, Canada September 5-7 (3 day weekend)
Jewish New Year September 19
Halloween October 31
Veteran's Day November 11
Thanksgiving Day, U.S November 26-29 (4 day weekend)
Hanukkah Dec. 2 – Dec. 9
Christmas December 25
New Year's Eve-Day December 31 – January 2 (3 day weekend)
Martin Luther King, Jr., Day, U.S (Observed) January 18-20 (3 day weekend)
Super Bowl Sunday February 7
Lincoln's Birthday, U.S February 12
President's Day, U.S (Observed) February 13-15 (3 day weekend)
Chinese/Lunar New Year February 14
Valentine's Day February 14
Mardi Gras February 16
Washington's Birthday, U.S February 22
St. Patrick's Day March 17
Easter Sunday April 4
Cinco de Mayo May 5
Mother's Day May 9
Memorial Day, U.S May 29-31 (3 day weekend)
Father's Day June 20
Independence Day July 4
Civic Holiday, Canada July 31-August 2 (3 day weekend)
Link To Us! – Have a home page, web page, or blog? Link to us, and give yourself and your friends a quick link to find us from your site. Simply link to http://www.accessvegas.com and name the link Access Vegas!
RSS Feed – We now have an RSS/XML feed! Most RSS programs let you visit AccessVegas.com and automatically pull the feed. For those who want to enter it manually, the feed is:
http://www.accessvegas.com/xml/whats-hot.xml
Share the info: Click to Email this newsletter to a friend!
---
For comments or questions regarding our content
or this newsletter write us at
allvegastv@aol.com
.
New to the list? See our Newsletter Archives for back issues and subscription info. Don't hesitate to forward this newsletter to friends and associates.
All contents copyright 2009 Ted Newkirk. All Rights Reserved.
Hotel Rates Published Accurate At Time Of Publication


September 2, 2009 ISSN: 1529-2770 About Us Privacy Policy
No related links found