Serving Las Vegas Visitors and Residents Since 1999
---
AccessVegas.com Quick Info Menu:
Las Vegas Essentials

Seasonal Vegas Information

Featured Shows

Photos and Wallpaper
Newkirk's Notes – comments on Las Vegas from AccessVegas.Com publisher Ted Newkirk:
The "winds of change" are blowing into Las Vegas literally as we get ready to turn 2009 into 2010. Those of you who watched the Las Vegas Bowl saw conditions so windy that one of the field goal nets was blown into the goalposts and the overhead camera (the one that runs on wires above the entire field) had to be taken down for saftey reasons. From time-to-time, we do get the reminder that we live in the middle of a desert!
We're crossing our fingers for NO wind on New Years Eve so that the world-famous fireworks can go off without a hitch. Might be a little chilly New Years Eve with an overnight low of 32 degrees (F), probable temp of around 38 degrees at midnight. Granted… that is the 10 day forecast and with any luck, we'll be a bit warmer. Temps at midnight have traditionally been in the low-to-mid 40's when the fireworks bring in the new year. So… bundle up or check the sidebar of our newsletter and get a ticket to one of the hot indoor parties!
Bellagio Conservatory Christmas Display – As has been our Christmas tradition for many years now, we present to you photos from the always amazing holiday display at the Bellagio Gardens. You have an added incentive to view it this year if in town the next three weeks: It is on your way from the Bellagio casino to the CityCenter tram.
Hint: Once you go to the individual photo pages, you can click on the Full View link, which will then bring up the full screen version that you can save to your computer or right-click on to use as your holiday computer wallpaper.
Merry Christmas and Happy Holidays from AccessVegas.com!

Associate Editor: Amy Rayner-Cooley
News Researcher/Editor: Mark Jacobs
---
Las Vegas Is On Sale!
Get Great Rates At All Hotels:

Bally's from $39,

El Cortez from $26,

Fitzgeralds from $21,

Hooters from $20,

Orleans from $24,

Riviera from $29,

Sahara from $22,

Stratosphere from $28,

Tropicana from $28,

Tuscany from $20,
More Savings At All Vegas Hotels!
Special Offer: Guests who stay at El Cortez and pay for two consecutive nights in January will receive a complimentary two night stay in April.
---
Carrie Underwood Brings 'Play On Tour' To Orleans Arena May 22
– One of country music's most prolific and versatile power vocalists, Carrie Underwood, announced her new headline "Play On Tour" and a stop at the
Orleans Arena
May 22 with tickets for all shows going on sale next Friday, December 18. Underwood's new headline tour kicks off March 11, 2010 with special guests Craig Morgan and Sons of Sylvia. "I am getting so excited about next year as we are currently working through all the big plans for the tour," says Underwood. "I cannot wait to perform new music and see familiar faces across the U.S. and Canada!"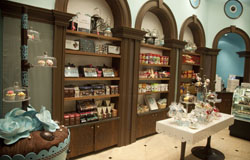 Sweet Surrender Cupcake Shop Now Open At The Palazzo Las Vegas Please Bow, Cupcake Royalty Has Arrived! – Cupcakes, cookies, lollipops, toffee, licorice, hard candies and dipped treats, oh my! The Palazzo Las Vegas cupcake and candy store, Sweet Surrender, brings together remarkable pastry chefs and the finest ingredients to create irresistibly indulgent treats.
Aria Resort & Casino Opens Forever Changing The Las Vegas Strip – Grand Opening Day And Gala Party Highlighted By Rooftop Fireworks Finale – Under a canopy of fireworks illuminating the night sky, ARIA Resort & Casino opened its doors and welcomed its first guests. Located at the heart of CityCenter, ARIA is the centerpiece of this extraordinary urban resort destination. Its debut signifies the official grand opening of this city-within-a-city, following two weeks of celebrations for the reveals of Vdara Hotel & Spa, Mandarin Oriental, Las Vegas and Crystals retail and entertainment district.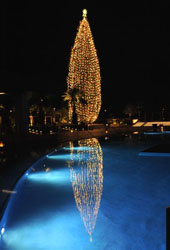 M Resort Lights Nations Tallest Christmas Tree – Our White Fir came on the largest allowable flatbed truck, a 900-mile journey from Oregon and on Saturday it "came alive" with thousands of lights. M Resort Spa Casino Chairman and CEO Anthony A. Marnell III and his children flipped the switch to lit the tree. More than 3,000 people came out to our piazza. Hot chocolate, sugar cookies, warm cider, candy canes put smiles on faces. The lighting was hosted by KSNE 106.5's Melanie and Michael and a special thanks to Cannon Junior High School, Las Vegas Academy Advanced Women's Choir, Dance Zone and Phat Strad.
A Classic Taste Of Motown, The Temptations Return To The Orleans Showroom January 22-24 – For more than 40 years, The Temptations have shined as pioneers of popular music with decades of smash hits and sold-out performances. Otis Williams, Bruce Williamson, Terry Weeks, Ron Tyson and Joe Herndon bring classic Motown back to The Orleans Showroom January 22, 23 and 24 starting at 8 p.m. each evening. The Temptations are central characters in the history of contemporary American pop. An essential component of the original Motown machine invented by Berry Gordy, The Temptations began their musical career in Detroit in the early '60s.
The 2nd Annual Tribute Palooza To Rock – Fremont Street Experience For New Year's 2010 Weekend – Las Vegas' famed Fremont Street Experience is ready for a rockin' New Year's 2010 Weekend celebration with its 2nd Annual TributePalooza. The spectacular New Year's Eve includes live concerts by eight of the world's best tribute bands, a 2009 year-in-review show on the Viva Vision screen, followed by a countdown to midnight.
Famous Faces Wish Las Vegas A Happy Holiday Season On Miracle Mile ShopsÆ Strip-Side LED Screens – Some of the cityÆs most recognizable residents, headliners and show cast members wish Las Vegas a happy holiday season in a series of special video messages on Miracle Mile ShopsÆ Strip-side LED video screens. Every half-hour from 10 a.m. to midnight today through Dec. 31, Miracle Mile Shops at Planet Hollywood Resort & Casino will broadcast a few special holiday messages from famous Las Vegas personalities, headliners and show cast members. Each video is unique and can be seen and heard by anyone cruising The Strip.
More than 20 different messages will be shown throughout the month, including greetings from Mayor Oscar Goodman, Blue Man Group, Chester Bennington, PEEPSHOW star Holly Madison, rocker Sammy Hagar,áDonny and Marie Osmond, Zowie Bowie, George Wallace, Coach Lon Kruger, Gordie Brown, and Santana band members among many others.
Authentic Coal From The RMS Titanic Makes Fun Last Minute Stocking Stuffer! – This is coal you WANT to find in your stocking this year! Whether a prince or a pauper, every history buff can have a memento of the RMS Titanic now available at the retail shop inside Titanic: The Artifact Exhibition at Luxor. Come see the half million dollar, 55 pound piece of coal currently on display and if $500,000 is slightly out of the budget, pieces are available for $20 and $45.
---
These are only a few of the many Easy Vegas Deals we find each and every week (many of which happen too quickly for newsletter deadline). For a complete and constantly updated listing:
Bookmark and Visit EasyVegasDeals.com daily (Monday – Friday) or

Enter

http://www.easyvegasdeals.com/feed/

into your RSS feed list (for those of you who use RSS/XML feeds) or
---
Members Mania – We Love Our Readers!
---
After seeing all the stereotypes on television and in the movies of seedy hotels and nothing but drinking and sleaze, we decided to take our first trip to Las Vegas back in March to see for ourselves. IÆm glad we went against what we were made to believe because I immediately fell in love with the city.
To our surprise, it was absolutely gorgeous! The media didnÆt capture a fraction of the beauty we saw in person. We didnÆt gamble, barely drank, and didnÆt do too much partying; just admired the gorgeous lights and buildings when we werenÆt enjoying some R&R in the Trump which made it the perfect, well-needed getaway for us.
I love that Las Vegas has something to offer everyone no matter what each personÆs tastes are and is a trip IÆm now looking forward to every year. Trying to bump my March 2010 trip up sooner 😉
Candice
Ted Responds:
You found what others find out on their first visit: We're simply a world-class resort destination with virtually unlimited activities to suit almost every taste and palate. One can go to New York to see a Broadway-style show and pay $400 a night for a good hotel room, or come here and see the same (and more) staying in a world-class hotel for $150 a night.
The other great thing is that you have an option on how much or little R&R you want to get. Some people come and sleep only 3-4 hours a night and cram as much possible into their trip (as we're truly the city that never sleeps). Others come just to unwind.
Trump is a solid choice for those who want a more peaceful stay. Those rooms were originally meant to be condos but are rented out as hotel rooms until the market improves enough for them to be sold, and you don't walk through a big, noisy casino to get to your room.
Since you'll be telling all your friends about Las Vegas, make sure to tell them to subscribe to our newsletter!

---
I just wanted to say its not the economy that keeps my wife and I from returning to Vegas this year. We have been regular Vegas customers for 15 to 20 years now. Last year we had such tight slots all four days that we was there we ran out of money early in day and then was bored to death. Aside from that meal prices have skyrocketed, hotels have turned to the charge you extra for every little thing, such as a $9.00 charge for a phone in your room that no one uses.
They need to go back in time with better gaming, cheaper meals, and better comps. Other wise we have no reason to return to Vegas with almost every state now having casinos. Again I say its not just the economy keeping people from returning to Vegas.
Michael Vigor
Ted Responds:
I continue to agree. Las Vegas has always been recession-proof. We don't have a recession problem. We have a "casinos tried to screw people too hard in the mid-2000's" problem and it is going to take a while to reverse some of the negative memories.
The good news is that things are changing. We're hearing about people winning again, and there is a buzz of electricity on The Strip not seen in quite some time. Follow our Vegas Deals Blog EasyVegasDeals.com and you'll see we are listing food and drink specials with regularity again. And… room rates will stay at historic lows throughout 2010!

---
Thanks for putting out an awesome newsletter so often! Las Vegas is my favorite city in the world!
Geno from Ontario, Canada
---
We love to hear from you, and value your feedback! Here's how to participate:
Drop us an email at allvegastv@aol.com – We read them all!
Call our recorded comment line at 702-507-0055. We listen to every call.
---
More Las Vegas News – Concerts – Events
---
Coming Hot Holidays
– The following dates are huge times to be in Las Vegas, and rooms are in high demand. Booking in advance is the best way to save. Visit our friends at
Las Vegas Hotel Deals
and spend one of the following hot dates having fun in Las Vegas:
Christmas December 25
New Year's Eve-Day December 31 – January 2 (3 day weekend)
Martin Luther King, Jr., Day, U.S (Observed) January 16-18 (3 day weekend)
Super Bowl Sunday February 7
Lincoln's Birthday, U.S February 12
President's Day, U.S (Observed) February 13-15 (3 day weekend)
Chinese/Lunar New Year February 14
Valentine's Day February 14
Mardi Gras February 16
Washington's Birthday, U.S February 22
St. Patrick's Day March 17
Easter Sunday April 4
Cinco de Mayo May 5
Mother's Day May 9
Memorial Day, U.S May 29-31 (3 day weekend)
Father's Day June 20
Independence Day July 4
Civic Holiday, Canada July 31-August 2 (3 day weekend)
Labor Day, U.S September 4-6 (3 day weekend)
Labour Day, Canada September 4-6 (3 day weekend)
Jewish New Year September 9
Halloween October 31
Veteran's Day November 11
Thanksgiving Day, U.S November 25-28 (4 day weekend)
Hanukkah Dec. 2 – Dec. 9
Link To Us! – Have a home page, web page, or blog? Link to us, and give yourself and your friends a quick link to find us from your site. Simply link to http://www.accessvegas.com and name the link Access Vegas!
RSS Feed – We now have an RSS/XML feed! Most RSS programs let you visit AccessVegas.com and automatically pull the feed. For those who want to enter it manually, the feed is:
http://www.accessvegas.com/xml/whats-hot.xml
Share the info: Click to Email this newsletter to a friend!
---
For comments or questions regarding our content
or this newsletter write us at
allvegastv@aol.com
.
New to the list? See our Newsletter Archives for back issues and subscription info. Don't hesitate to forward this newsletter to friends and associates.
All contents copyright 2009 Ted Newkirk. All Rights Reserved.
Hotel Rates Published Accurate At Time Of Publication


December 23, 2009 ISSN: 1529-2770 About Us Privacy Policy
No related links found