Serving Las Vegas Visitors and Residents Since 1999
Welcome to the Insider Vibe! This is the official newsletter of AccessVegas.Com. We talk about the Las Vegas activities you really care about.
---
AccessVegas.com Quick Info Menu:
Las Vegas Essentials

Seasonal Vegas Information

Featured Shows

Photos and Wallpaper
Newkirk's Notes – comments on Las Vegas from AccessVegas.Com publisher Ted Newkirk:
I'm back in the saddle, but with a bit of a heavy heart (which I'll briefly note later). CityCenter has been in the process of opening and parent company MGM Mirage (and other agencies associated with it) have been very gracious in extending me all of the top level invites. I opted to sit out as my heart just wasn't in it. However we have been running all the info and linking to all of the major stories and continue to do so.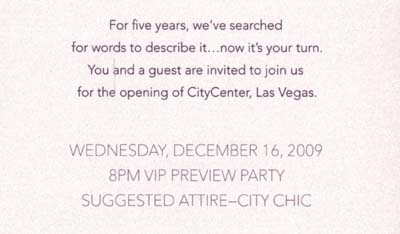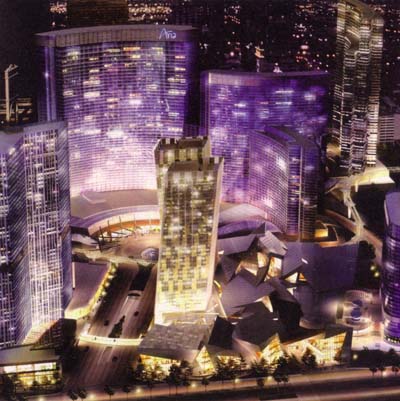 You see… this section and all of the "rah-rah Vegas" I write about isn't just an act for me. I couldn't do this in Orlando or Chicago (with all due respect to those fine cities). I'm going on 17 years living here and I still — to this day — get a tingly feeling in my body when I'm on The Strip. That surge of electricity. I love everything about this town more than ever.
Some people move here for a while, but they never really like it. You'd have to pay me incredible money to even get me to think about living somewhere else. The main road in my neighborhood has a view of half of The Strip and even just driving home, I never tire of it.
And… what I write is from the heart. The joys of this amazing vacation destination. So, for the past two issues I stayed active behind the scenes (and penned the New Years Eve tips in our last issue) but just had to sit out writing my column. I am happy to be back.
Oh, and as for coverage of CityCenter? Those of you coming in the next few weeks will (and must) certainly check it out. What $8.5 billion can build is beyond breath-taking. If your hotel plans are still up in the air, you have no choice: Stay at Aria. There isn't anything else quite like it. More details and great rates: Aria Resort at CityCenter Las Vegas (Make sure to click on the Photos and Rooms tabs).
If your vacation is a little further off, have no fear: Starting in January, we'll be doing a six-part story (one for each of the hotel/condos and one about the shopping) accompanied by lots of fantastic photos. Stay subscribed!
CityCenter Latest News And Updates
Clarification – Last issue in the New Years Eve tips I noted a new "best kept" parking secret for New Years Eve if you want to get to The Strip and enjoy the action, but don't want to end up parking well over a mile away (or get stuck in street closings). I need to clarify the following:
This is a "best kept secret" because it is only a couple of blocks from CityCenter but in an area filled with No Parking signs. With one exception: Harmon Ave. between Polaris and Ziebart has parking allowed on the south side of the street. Google Map
Governor Goodman Alert – We were way ahead of the curve letting you know that Las Vegas Mayor Oscar Goodman had a high probability of running for Governor (something gleaned through a conversation I personally had with the man himself). Goodman has just (as of today) switched his party affiliation from Democrat to Independent, something that he noted would be doing if he ran.
Goodman was a registered Republican up until he moved here in the mid-60's. He told me that as an attorney living in Las Vegas in that era, you were a Democrat and that-was-that (explaining his Democrat party affiliation).
With the financial crisis facing Nevada State government for the next few years, being governor won't be an enviable job. However… Mayor Goodman is now dipping more than just a toe in the water.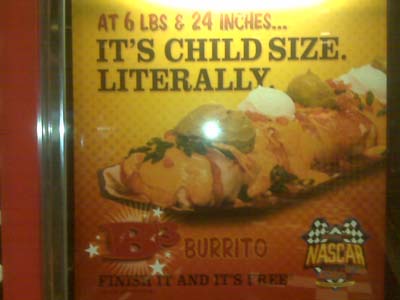 Sahara Closing? – I took the above picture recently at The Sahara. Their "big as a baby" burrito is free if you can finish it all! Sahara has also been in the news because they recently closed two of their hotel towers and their buffet. Some are calling it the demise of The Sahara. Not so fast:
One of their towers remains open with more rooms available than most hotels in the U.S. even dream of having. The two shuttered towers look to be used during New Years Eve and also will be brought back online when demand increases. Why? With the opening of Aria flooding the market with even more rooms, rates are really low and people who would normally stay at The Sahara are taking advantage by staying at higher end properties for cheap.
The buffet closing is said to be seasonal. They note it has been closed for periods of slow demand in the past. Note: If you have a car and miss the Sahara's sub-$10.00 dinner buffet, take the three minute drive to Palace Station where prices and selection are similar.
I was over at The Sahara the week before Thanksgiving (traditionally a slow/dead week) on a weeknight and the place was hopping! All of the tables in the party pit were full, craps tables were full, slots and table games had nice crowds. Not exactly the picture of a place fixing to close permanently.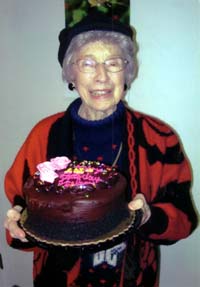 In Loving Memory – This newsletter is all about Las Vegas. If I have a health issue or my dog has fleas (actually, I don't have a dog) or if I get in a fender-bender… that has nothing to do with Las Vegas. We're here to bring the Vegas Vibe to you, give you a "being in Las Vegas" feeling when you can't be here, and get you all revved up for your next trip.
However, I had the great misfortune of losing my Great Aunt Helene recently (pictured to the left on her 100'th birthday). My paternal grandparents died when I was young and my maternal grandparents lived 1000 miles away. Helene and (Great Uncle) Harold couldn't have kids and lived in the same town as us, becoming default grandparents. Some relationships with relatives are closer than others, but Helene's kind and undying support and encouragement from my very earliest days as a child to even my most recent years was unparalleled. Always helpful, always willing to listen, always full of kind words, never overly judgmental.
Financial help in school, early endeavors, and even in the early days of this business (no one knew what the internet was in 1996) can't be understated. Even more important was the thoughts, prayers, notes, cards, and letters. Even though she now lived almost 1000 miles away, we wrote back-and-forth every couple of weeks with her last letter to me coming just a couple of weeks before her passing.
She would have been 102 in January and until this past year lived a wonderful life in great health. Trust me… we should all only hope to be that lucky. She took a serious fall a few months ago, had some complications, and went downhill from there. Knowing that she'd need a walker and could never garden again (her true passion) took its toll and she decided to call it a day. She was content knowing where was going. I will miss her until my final day.
I've been sharing my joy Las Vegas with you for over ten years now in this newsletter. Thank you for allowing me to share this memory with you.

Associate Editor: Amy Rayner-Cooley
News Researcher/Editor: Mark Jacobs
---
Las Vegas Is On Sale!
Get Great Rates At All Hotels:

Bally's from $39,

El Cortez from $26,

Fitzgeralds from $21,

Hooters from $20,

Orleans from $25,

Riviera from $29,

Sahara from $21,

Stratosphere from $27,

Tropicana from $29,

Tuscany from $20,
More Savings At All Vegas Hotels!
---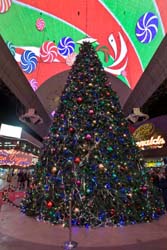 Mayor Oscar B. Goodman Turns On The Holiday Lights At The Fremont Street Experience Tree Lighting Ceremony
– Mayor Oscar B. Goodman brought holiday cheer to the Fremont Street Experience on Tuesday, December 8 when he flipped the switch to light Las Vegas' official Christmas tree.
The 50-foot tree was garnished with festive decorations and will stand below the 12.5 million lights of the Viva Vision screen. Directly following the ceremony, Fremont Street Experience's holiday show, Candy & The Canes, performed a live song and dance show to holiday music hits. Also in attendance were Mayor Pro Tem Gary Reese, Fremont Street Experience President, Jeff Victor, and Santa Claus. The official Las Vegas Christmas tree will be on display at the Fremont Street Experience through the Christmas holiday.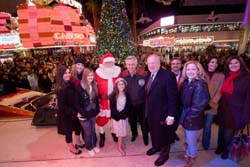 Mayor Oscar Goodman, along with Santa Claus, Mayor Pro Tem Gary Reese and Fremont Street Experience President, Jeff Victor and friends, pose in front of the Fremont Street Experience Christmas tree moments after flipping the switch.
Chef Pierre Gagnaire To Open First U.S. Restaurant In The New Mandarin Oriental, Las Vegas At CityCenter – Mandarin Oriental, Las Vegas, prominently situated at the entrance of CityCenter, the extraordinary new urban resort destination, will introduce the award-winning cuisine of three-star Michelin Chef Pierre Gagnaire at the hotel's signature restaurant, Twist by Pierre Gagnaire. Opening in December 2009, Twist will be Gagnaire's first restaurant in the United States. The innovative menu will infuse the simplicity of classic French cuisine with a modern spin, relying on a pairing of flavors and textures for which Gagnaire is known. Located on the 23rd floor of the hotel, the Adam D. Tihany designed signature restaurant, seating 74, will feature a dramatic, glass staircase leading up to a suspended wine loft.
Grand Opening Of Crystals At CityCenter Brings Unprecedented Shopping Experience To Las Vegas Strip – Crystals at CityCenter opened its doors to the world, showcasing an unparalleled array of the world's most exclusive retailers and forever redefining the Las Vegas retail experience. Opening day activities gave invited guests an early preview of this unique retail and entertainment district at the core of the extraordinary urban resort destination, CityCenter. Festivities began at noon with an invite-only shopping event for several thousand Las Vegas locals, for which a portion of the proceeds were donated to local charities including Nevada Cancer Institute, Keep Memory Alive, Nevada Ballet Theatre and The Smith Center for The Performing Arts. Crystals opened its doors to the public at 5 p.m.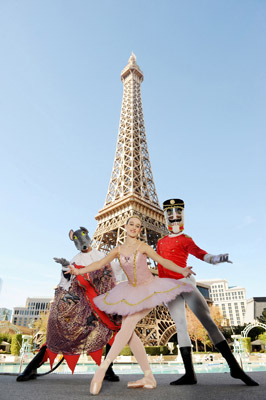 Vanity Is Las Vegas' Favorite Sin – Hard Rock Hotel & Casino Opens Opulent New Nightclub With Grand Opening Party Hosted by Diddy – Celebrate your inner "Vanity" this New Year's Eve inside the latest indulgent nightlife creation at Hard Rock Hotel & Casino. Located in the luxurious new HRH Tower, Vanity nightclub opens its doors Thursday, December 31st to ring in 2010, followed by the official grand opening party January 2nd with illustrious party host Diddy. Brought to you by The Nightlife Group (Body English, Rare 120, Rehab, Wasted Space) and co-owner Jason Giambi, Vanity focuses on the most important person in the room û you.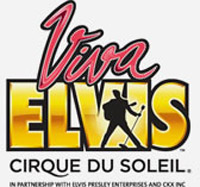 Cirque du Soleil's Viva Elvis Tickets Available! – Viva ELVISÖ by Cirque du Soleil«, at Aria Resort & Casino in Las Vegas is a harmonious fusion of acrobatics, dance and live music, and a tribute to the life and music of Elvis Presley.
Created in the image of The King of Rock 'n' Roll – powerful, whimsical, sexy, truly unique and larger than life – the show highlights an American icon who transformed popular music and whose image embodies the excitement, freedom and turbulence of his era.
Significant moments in his life blend with the timeless songs that remain as relevant today as when they first hit the top of the charts.
Las Vegas Rocks Cafe At Neonopolis Is Open – Downtown Las Vegas' Newest Restaurant Is A Historical Dining Experience – The Las Vegas Rocks CafÚ downtown at Neonopolis, located at the corner of Fremont Street and Las Vegas Blvd., had the outdoor sign installed and opened at 11 a.m. on Wednesday, Dec. 9, 2009. After a remodel, the restaurant's founder Tony Sacca, longtime producer, host and entertainer, is unveiling his Las Vegas history-themed restaurant in the space once occupied by Jillian's. The new eatery, open daily from 11 a.m. to midnight, offers themed-style foods, an atmosphere filled with a historical perspective on Las Vegas, and live entertainment.
Hash House A Go Go Opens At Imperial Palace Las Vegas – Sin City's Favorite Twisted Farm Food Makes Strip Debut – One of Las Vegas' favorite restaurants, Hash House A Go Go is proud to open the doors of its newest restaurant today inside the Imperial Palace. The Imperial Palace location of Hash House A Go Go will offer the same over-the-top, unique and mouth-watering menu as its now famous off-the-Strip location and will operate under the direction of Hash House A Go Go co-owner and Nevada Restaurant Association's 2009 "Nevada Restaurateur of the Year," Jim Rees.
Two Legends Collide At UFC 109 When Randy Couture Battles Mark Coleman At Mandalay Bay Saturday, Feb. 6 – Scheduled Fights Include Josh Koscheck vs. Paulo Thiago II; Antonio Rogerio Nogueira vs. Brandon Vera; Nate Marquardt vs. Chael Sonnen and Matt Serra vs. Frank Trigg. In 1998, two of the greatest amateur wrestlers in the United States û Randy "The Natural" Couture and Mark "The Hammer" Coleman û were scheduled to meet in a relatively new battleground called the Ultimate Fighting Championship. The colossal meeting of Hall of Fame fighters in the making for more than a decade will be live on pay-per-view from the Mandalay Bay Events Center and presented by Bud Light.
---
These are only a few of the many Easy Vegas Deals we find each and every week (many of which happen too quickly for newsletter deadline). For a complete and constantly updated listing:
Bookmark and Visit EasyVegasDeals.com daily (Monday – Friday) or

Enter

http://www.easyvegasdeals.com/feed/

into your RSS feed list (for those of you who use RSS/XML feeds) or
---
Members Mania – We Love Our Readers!
My wife and I visited Vegas from Nov.8 to Nov. 13. We had a great time and felt relatively safe, but I have a concern.
We were in Las Vegas in the early '80' s. It was nothing to see people walking on the streets with drinks, but I don't remember ever seeing anyone intoxicated, or witnessing any rowdiness whatsoever. When the city was catering to families, I noticed drinks on the street were cut to a minimum.
This time I wasn't surprised, since the focus is on adults again, to see the drinks, as before, but the control seemed to be missing. Many people were drunk and very, very boisterous. When at a machine in the Flamingo, I heard shouting right behind me and turned in time to see a man pick up a chair and forcefully throw it at another person. Others in the group tried to intervene. The security guard that arrived was an elderly man who just stood there, because he certainly couldn't physically handle the situation and then a girl who was thin and seemed to be not much more than 5 ft. tall, and she couldn't stop it either. The police arrived very soon and broke everything up.
My memory in my last visits to Vegas was that the casinos seemed to have complete control over the behavior and atmosphere, and the security guards were physically able to handle security problems. Consequently, I never saw anything like this before. In Casino Royale, a man was so inebriated, that, as he was trying to cash money at the cashier's cage, he fell down and had to be helped to his feet by the security guard who leaned him against the counter and walked away.
On the street, as I was crossing from the Bellagio to the Planet Hollywood, I met a young man who walked leaning on the girl he was with. He had shaken a beer bottle so it was foaming and he was yelling vulgar comments about it as loudly as he could. He stare at me and I just smiled. He then yelled, "You think I'm crazy!" and started cursing at me. The girl dragged him away and I kept walking.
As I mentioned, I still felt quite safe during the extent of my stay. I'm wondering, though, if this type of atmosphere continues, it inevitably could worsen and adversely affect safety in the future and discourage people from coming.
Fred
Ted Responds:
The hotels have privately (and sometimes not so privately) lamented that the extremely low room rates have brought in more of a "spring break" crowd year-around. You'll see that start to fade away over the next 12-18 months as rates bounce back to normal (for Las Vegas). When you are letting people essentially rent a luxury sports car for the same price as a compact, you're going to get people who take the thing out and crash it.
You'll likely never see the return to the "100% family friendly" Las Vegas. That experiment was tried throughout the 90's and deemed a failure. People with kids along generally don't spend as much. You can't gamble while keeping track elementary school kids, nor are you likely to take them to a high-end celebrity chef restaurant.
The exception is our upscale international visitors who who come to the U.S. for a couple of weeks at a time, spending a few days in a number of western U.S. cities and tend to enjoy shows such as The Lion King and some of the finer dining with their families.
Per security having control of things: I think that Las Vegas hotels made a major (and I mean major) mistake about 10 years ago when they decided to quit arming their security guards. Side Note: Many are still armed with a concealed weapon, not something publicly visible.
The notion was that they didn't want the patrons to be scared by seeing a gun on an officer. It felt too wild-west. Big mistake. I know that I felt much safer seeing security armed. And believe me… all but the most rowdy drunk is going to pipe down at the sight of an armed officer.

---
I really enjoy your newsletter and have been a subscriber for a few years. I live in Las Vegas and would like to see a section for locals and special deals on show tickets etc.
Thanks,
Jeaninne Oliver
Ted Responds:
As only 11% of our newsletter readers are locals, we really can't go overboard with locals only deals in the newsletter. However… Much of that stuff goes on our EasyVegasDeals.com site and our Access Vegas Twitter Feed.
Thanks for reading and telling your friends!

---
I really enjoy your newsletter and have been a subscriber for a few years. I live in Las Vegas and would like to see a section for locals and special deals on show tickets etc.
Thanks,
Jeaninne Oliver
Ted Responds:
As only 11% of our newsletter readers are locals, we really can't go overboard with locals only deals in the newsletter. However… Much of that stuff goes on our EasyVegasDeals.com site and our Access Vegas Twitter Feed.
Thanks for reading and telling your friends!

---
My wife and I have been coming to Vegas once or twice a year on business for a little more than 20 years. We decided to celebrate our 35 wedding anniversary in your great city this year. Here are just a few of the stats from our jam-packed 5 day stay at Trump Las Vegas.
We played slots and table games in 19 casinos. We placed bets in 5 different sports books. We ate in 10 different restaurants. We took 17 cab rides. We perused 5 different hotel and retail shopping malls. We went to 8 shows. (I failed to count the adult beverages consumed.)
Our results: Newest, cleanest casino û The M. Best slot win û BallyÆs. Best table win û Palms. Best sports book win û CaesarÆs. Best restaurant (and view) û VooDoo Cafe atop the Rio. Best cab ride û All but 3. Best shopping û CaesarÆs. Best show (and the most fun) û The Improv Comedy Club at HarrahÆs. Best adult beverage û Toby KeithÆs.
Thanks for all of your insights that keep us up to date between visits. WeÆll be back in March 2010!
Chuck & Elaine From Maine
Ted Responds:
Thanks for the fantastic report and congratulations on your 35'th anniversary!
I second the best view being Voodoo Cafe atop The Rio. Especially at sunset watching The Strip light up (although keep in mind that they don't open until 5 PM so it might be February before they open in time for sunset).
Crystals at CityCenter is going to give Caesars Forum Shops a run for the money. Make sure to check it out on your next visit!

---
We love to hear from you, and value your feedback! Here's how to participate:
Drop us an email at allvegastv@aol.com – We read them all!
Call our recorded comment line at 702-507-0055. We listen to every call.
---
More Las Vegas News – Concerts – Events
---
Coming Hot Holidays
– The following dates are huge times to be in Las Vegas, and rooms are in high demand. Booking in advance is the best way to save. Visit our friends at
Las Vegas Hotel Deals
and spend one of the following hot dates having fun in Las Vegas:
Christmas December 25
New Year's Eve-Day December 31 – January 2 (3 day weekend)
Martin Luther King, Jr., Day, U.S (Observed) January 16-18 (3 day weekend)
Super Bowl Sunday February 7
Lincoln's Birthday, U.S February 12
President's Day, U.S (Observed) February 13-15 (3 day weekend)
Chinese/Lunar New Year February 14
Valentine's Day February 14
Mardi Gras February 16
Washington's Birthday, U.S February 22
St. Patrick's Day March 17
Easter Sunday April 4
Cinco de Mayo May 5
Mother's Day May 9
Memorial Day, U.S May 29-31 (3 day weekend)
Father's Day June 20
Independence Day July 4
Civic Holiday, Canada July 31-August 2 (3 day weekend)
Labor Day, U.S September 4-6 (3 day weekend)
Labour Day, Canada September 4-6 (3 day weekend)
Jewish New Year September 9
Halloween October 31
Veteran's Day November 11
Thanksgiving Day, U.S November 25-28 (4 day weekend)
Hanukkah Dec. 2 – Dec. 9
Link To Us! – Have a home page, web page, or blog? Link to us, and give yourself and your friends a quick link to find us from your site. Simply link to http://www.accessvegas.com and name the link Access Vegas!
RSS Feed – We now have an RSS/XML feed! Most RSS programs let you visit AccessVegas.com and automatically pull the feed. For those who want to enter it manually, the feed is:
http://www.accessvegas.com/xml/whats-hot.xml
Share the info: Click to Email this newsletter to a friend!
---
For comments or questions regarding our content
or this newsletter write us at
allvegastv@aol.com
.
New to the list? See our Newsletter Archives for back issues and subscription info. Don't hesitate to forward this newsletter to friends and associates.
All contents copyright 2009 Ted Newkirk. All Rights Reserved.
Hotel Rates Published Accurate At Time Of Publication


December 16, 2009 ISSN: 1529-2770 About Us Privacy Policy
No related links found